ALACHUA COUNTY, FL - Alachua County encourages residents to take advantage of legal assistance available through the Federal Emergency Rental Assistance Program (ERAP), which offers services to renters who may be experiencing tenant issues, including evictions or legal barriers affecting their housing stability.
There are three ways for people to receive assistance.
1. County residents who make 50% or less than the area medium income (AMI) can receive direct legal aid and representation when facing eviction by reaching out to:
Florida Legal Services eviction prevention helpline - 888-780-0443
Three Rivers Legal Services - 352-372-0519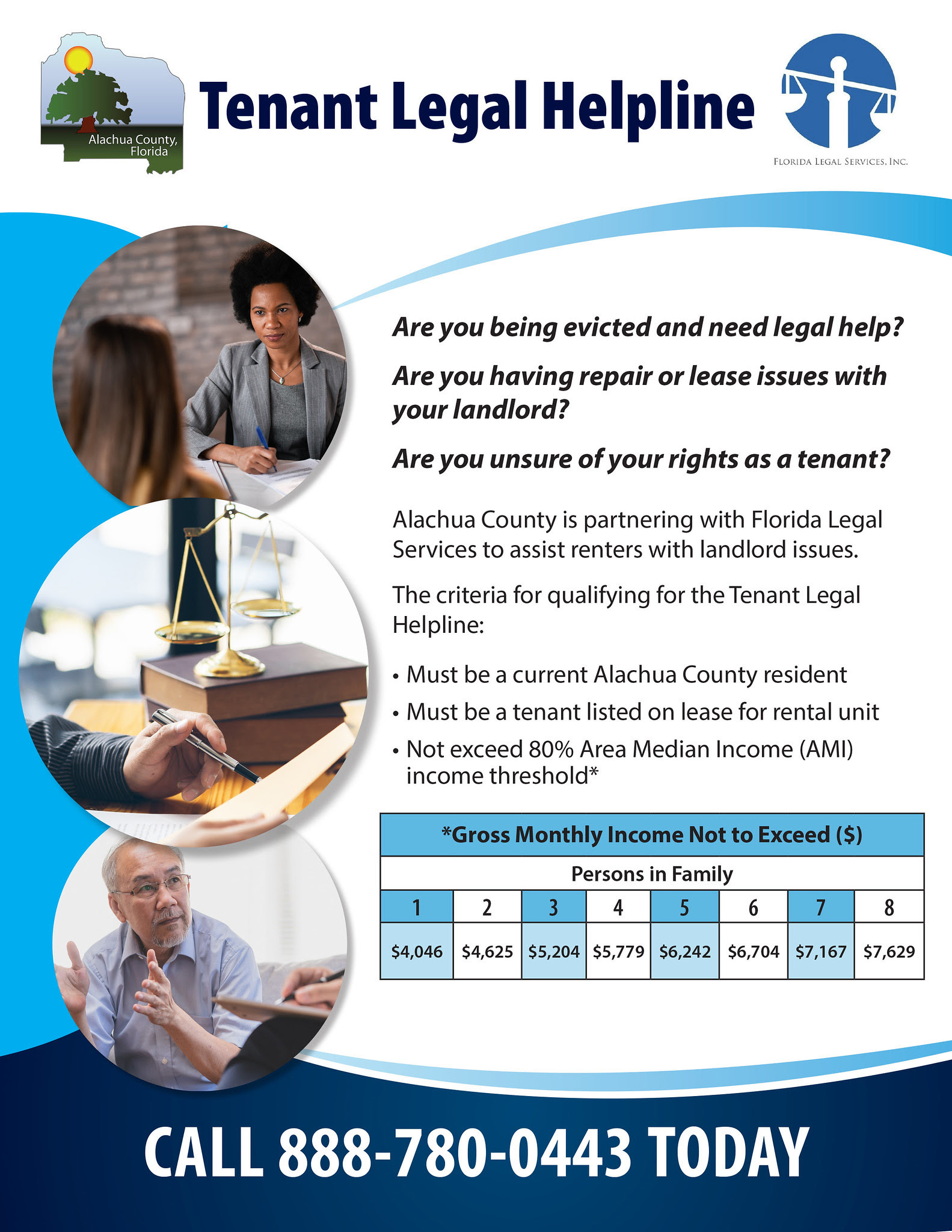 2. Florida Legal Services (FLS) and the county are offering monthly tenant legal workshops that are available to the public where county residents can ask questions and speak with attorneys on-site to discuss their own situation. For information on upcoming workshops, call 888-780-0443.
3. Those who make 80% or less of the AMI and have additional questions concerning landlord/tenant issues are encouraged to call the FLS helpline at 888-780-0443.
Since January 2021, Alachua County has received more than $32.9 million in grants to go toward various ERAP initiatives, which include rent, utilities, housing stability, affordable housing and administrative costs. To date, Alachua County has received more than 4,600 applications for ERAP assistance.
For more information, contact Alachua County ERAP Case Manager Yvonne Herring at 352-264-6720.
# # #
Email editor@
alachuatoday.com
Add a comment
ALACHUA ‒ While the day after Thanksgiving is typically reserved for recovering from overindulging in too much turkey and pumpkin pie or joining in the holiday season shopping fray, there is a group of dedicated individuals who are on a mission. And odds are they wear green and gold and proclaim themselves "Hornets."
Just as surely as Thanksgiving falls on the fourth Thursday in November each year, by the following day, A.L. Mebane High School alumni are busy putting the finishing touches on their homecoming celebration, which traditionally commences on Friday and continues into the weekend.
This year was no different as the A. L. Mebane High School Homecoming Reunion put into motion a full schedule of weekend festivities that brings former students and the community together as each graduating class boasts its preeminence over the others.
Sponsored by the A.L. Mebane High School Alumni Association, the event serves to keep the school's history alive. In 1996, the Alumni Association held their first Homecoming event. For the Alumni Association, keeping their history alive is a matter of community pride with an eye to the future.
This year on Saturday, Nov. 25, crowds began to gather on the sidewalks along Main Street in anticipation of the upcoming parade. Alumni classes designed a float or decorated a car, along with some community organizations and churches that also participated. Led by a police escort, the parade kicked off with sirens wailing and lights flashing.
Sidewalks were lined with spectators as cars and trucks carrying homecoming queens and dignitaries were interspersed with floats sponsored by the various alumni classes, many tossing candy for the excited children attending the parade.
The A.L. Mebane High School Alumni Association holds various fundraisers and community projects throughout the year in Alachua and surrounding communities. Money raised during the weekend's festivities contributes to the scholarship fund of the alumni association.
# # #
email editor@
alachuatoday.com
Add a comment
NEWBERRY – Some Newberry residents are unhappy about a solar development that will be located near their homes. At the Nov. 27 Newberry City Commission meeting, a presentation by Florida Renewable Partners (FRP), a solar development company operating in Florida, garnered a number of citizen comments. RFP's representative, Scott Scoville, met with citizens prior to the meeting and addressed the Commission in a presentation designed to respond to citizen concerns.
FRP recently acquired land in Newberry with intent to develop a solar farm. The property is located in southwest Newberry, west of County Road 337 and south of Southwest 30th Avenue. In August, residents in the vicinity of the proposed solar farm transmitted a letter to the City expressing concerns about the development and identifying suggested conditions for solar farm developments, including the proposed FRP project.
FRP plans construction of a Newberry sited solar farm in 2027 after necessary upgrades to the transmission system have been completed by Duke Energy. FRP anticipated submitting an application for site and development plan consideration in 2026.
Concerns voiced about solar farms included that transmission lines may impact pacemakers, pollution from runoff of solar panels, excessive concrete under the panels and other structures would make the land non-permeable and fences that would negatively impact wildlife as well as the proposed size of the vegetative buffer.
Scoville responded to those claims by saying he had not seen any studies showing negative impacts to pacemakers. He also said the only studies he had seen about panels polluting soil had to do with grinding up the panels for recycling and distributing on soil, which they had no intention of doing. He said they would consider planting a vegetative buffer with smaller plantings now so that they would grow into larger plantings by the time the site was operational.
Concrete under the panels was not an issue, Scoville said, because there was a minimal amount of concrete used on the site. He said the panels were on steel poles planted into the ground and the poles would be removed along with the panels when dismantling the site.
Scoville said the planned fencing would be six feet high near the right-of-way, but was "red top" fencing at four-feet high everywhere else, which would allow deer and other animals to jump the fence line. He showed photos of a panther and birds that had re-inhabited a solar array site after construction was completed.
In March 2019, the City Commission approved land development regulations for solar farms in Newberry's agricultural zoning districts. Changes to the existing solar panel ordinance will be reviewed during the first quarter of 2024. While Newberry Mayor Jordan Marlow said this was an opportunity to consider "tweaking" the existing solar farm ordinance, he cautioned that any changes would not be required of FRP as they were approved under the existing ordinance.
# # #
Email cwalker@
alachuatoday.com
Add a comment
NEWBERRY ‒ With the Champions Park management and operations contract with RADDSports set to expire on Dec. 31, 2023, the Newberry City Commission on Nov. 27 tabled renewal talks to the December meeting.
Director of Parks, Recreation and Facilities Travis Parker addressed the Commission requesting renewal of the contract with RADDSports. Parker said that the interlocal agreement with Alachua County on the park was set to expire in September 2025. He also said that the park was second, behind UF Gator games, to put "heads in the beds" of hotels in Alachua County, leading to a large return to the County's bed tax. Parker initially suggested the City renew the agreement for a two-year term with a renewal option of three years.
Options at this time include either an extension of the current contract with no alterations or going out to bid for the management and operations of the park. Considering the timeline, future planned events, and the interlocal agreements expiration date of September 2025 with the County, Parker recommended granting an extension and revisiting the arrangement at the end of 2025. "This approach provides stability while allowing for a thorough reevaluation of the future of Champions Park," said Parker.
In consideration for operating rights, RADDSports annually pays the City five percent of gross tournament revenues and 20 percent of gross non-tournament revenues. Monthly payments of $25,000 are made to the City. Those funds are specifically designated for capital projects at the park, designed to ensure ongoing improvements and maintenance. Parker cited substantial turf repairs at the batting circles and pitching mounds during 2023.
Parker also said that approximately $2 million would be required to bring the park up to the standards it should be. However, the organization holding the event gets most of the funds along with bed tax allowances.
In talks with Alachua County regarding funding of the park, Parker said they suggested the City use Newberry's Wild Spaces Public Places funds for the park. Parker said those funds have already been allocated to other projects.
Parker said that contract terms provide flexibility for extension by means of entering into a new agreement, contingent upon the condition that no alterations, amendments, or modifications are introduced to the original contract. If ownership of the park transfers to the County, the City may terminate the agreement with RADDSports immediately without penalty.
The City Commission expects to make a decision regarding the RADDSports contact at its December commission meeting.
# # #
Email cwalker@
alachuatoday.com
Add a comment
ALACHUA ‒ One of Florida's largest residential property insurers will soon be calling Alachua home. A groundbreaking ceremony took place on Tuesday, Nov. 28 for Tower Hill Insurance's new headquarters in Alachua.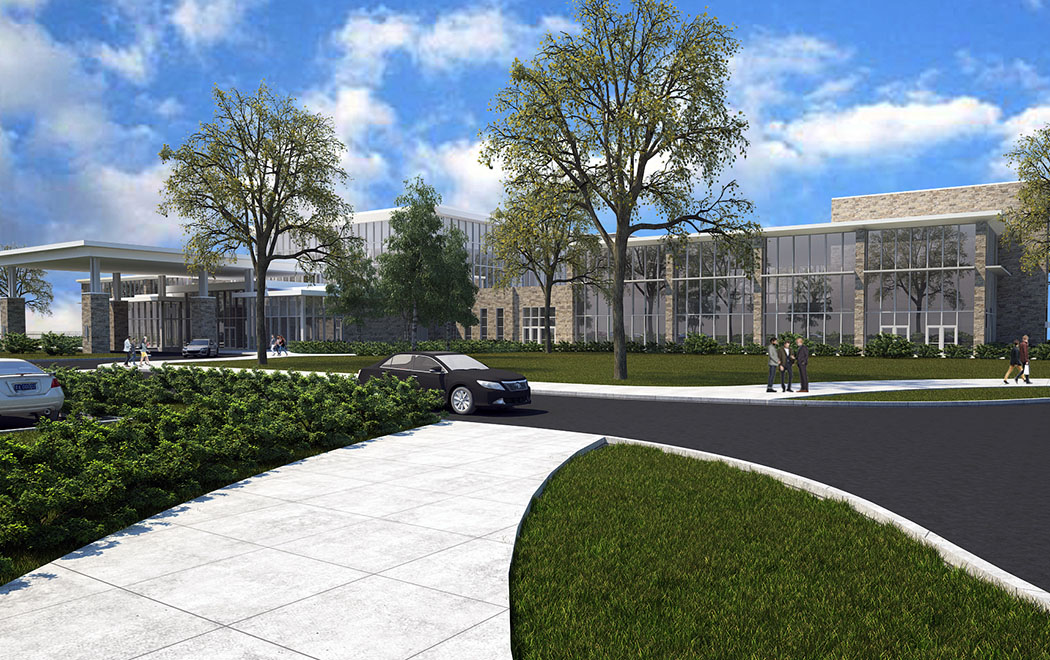 The state-of-the art 65,000 sq-ft two-story building will feature more than 25,000 sq-ft of energy efficient glass and was designed by local architectural firm Paul Stresing Associates. When completed, the facility will house 300 of the company's 500-plus employees. Tower Hill currently has offices in Gainesville, Palm Beach Gardens, Fla., and Lexington, Ky, and operates in 17 states in the U.S. Anticipated construction completion is planned for spring 2025.
The soon-to-be headquarters for the 50-year-old firm will be accessed from U.S. Highway 441 at Northwest 167th Boulevard traffic signal south of where the Alachua Publix is located. CHW serves as the project civil engineer and Scherer Construction is the project contractor.
Tower Hill Insurance was founded in 1972 by William T. Shively as a mobile home insurer based in Miami. His son, Bill Shively, now carries on the family business. Bill Shively has long had a vision of building Tower Hill's headquarters in Alachua on the property he has owned for some 30 years.
When founded, Tower Hill offered only mobile home insurance. Today its portfolio has grown to include residential and commercial property insurers offering homeowners, rental property, condominium, and flood insurance, among others.
On hand for the groundbreaking was Tower Hill Insurance Group CEO Kirk La who spoke of the company's vision for the property and its corporate responsibility as a member of the Alachua business community. La said that in the face of insurance woes that have plagued Florida, Tower Hill is unyielding in its commitment to the state in which it was founded.
Also present at the groundbreaking ceremony was Alachua Mayor Gib Coerper who included in his remarks that many people know the property as the former home to an ostrich farm. Joining Coerper representing the City of Alachua were Alachua Vice Mayor Dayna Miller and Commissioners Jennifer Blalock, Shirley Green Brown and Ed Potts. Also on hand was a large contingent of the Tower Hill executive team and employees.
Alachua Chamber of Commerce President Mitch Glaeser also addressed the crowd of well over 150 people about the impact of Tower Hill on the Alachua community. Glaeser likened the groundbreaking as a moment in time that in the future will be remembered as a watershed moment marking a turning point in the economic evolution of the city.
# # #
Email editor@
alachuatoday.com
Add a comment
This information is public record and the booking report is provided by the Alachua County Sheriff's Office Department of the Jail. The charges listed are at the time of arrest and and all suspects are innocent until proven guilty in a court of law. For more details on a specific inmate use the Sheriff's Office inmate search (for inmates currently at the jail). More specific information on charges is available by searching court records.
Jail booking logs are removed from the Alachua County Today website after 30 days.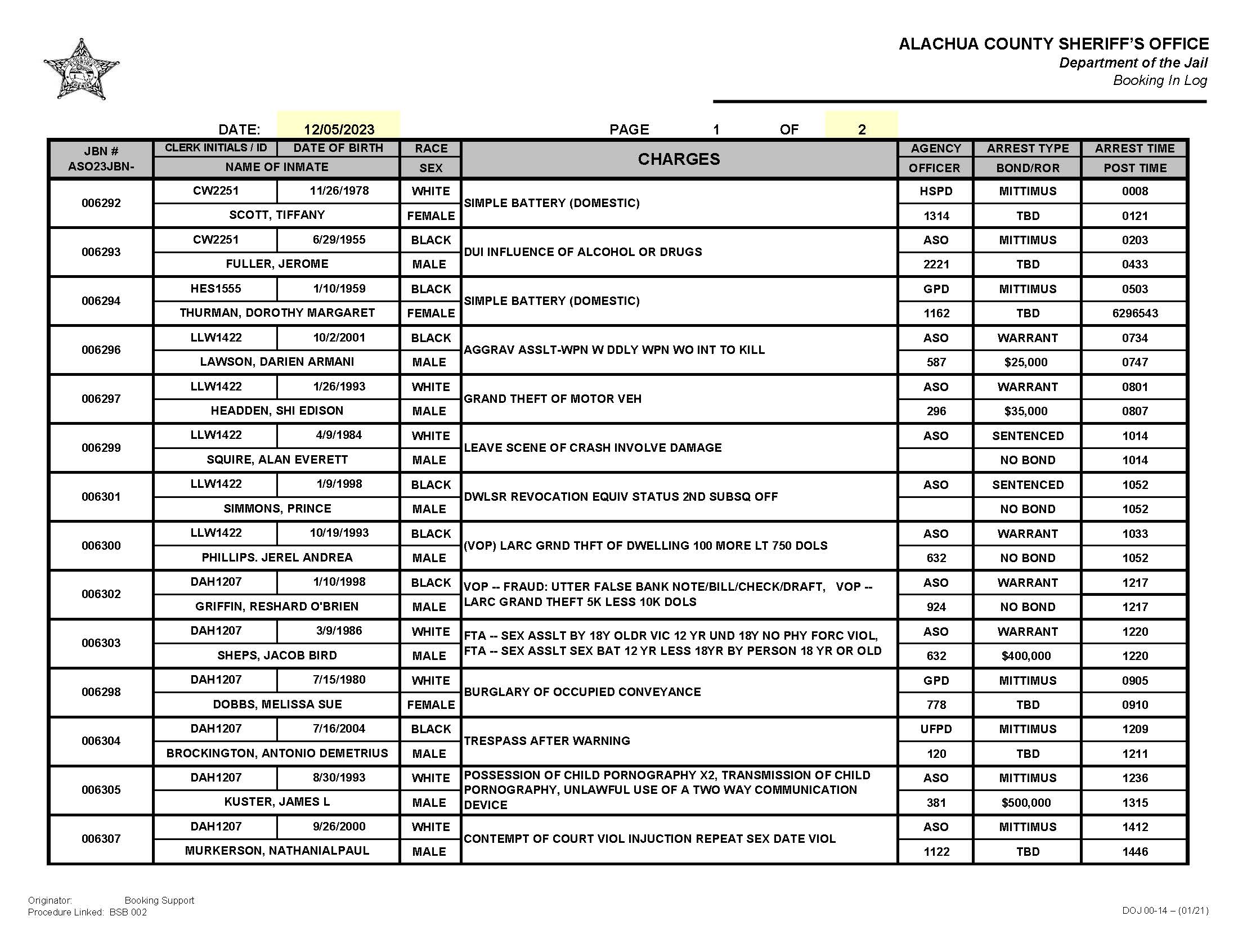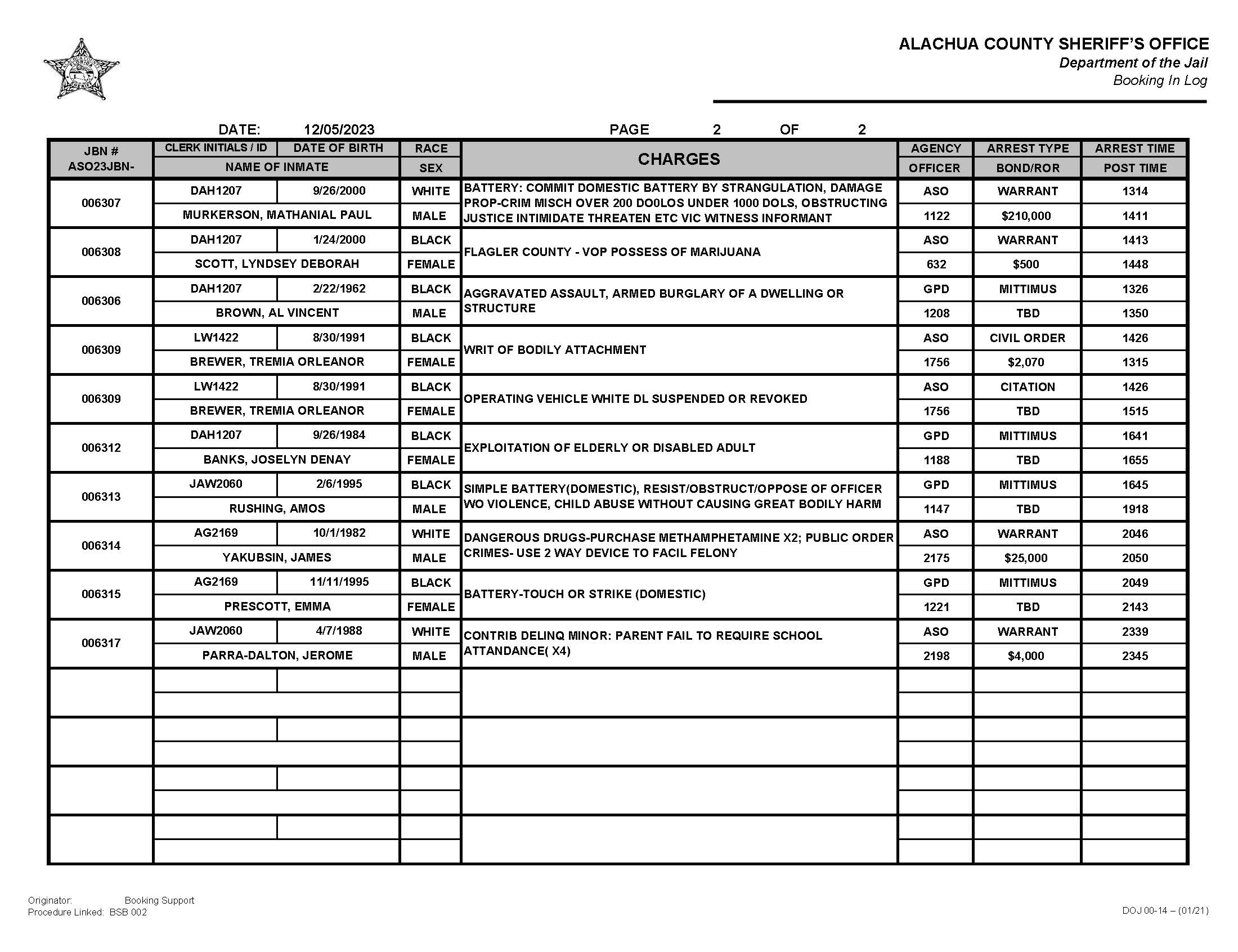 Add a comment
GAINESVILLE, Fla. — With $1 million in support from University of Florida President Ben Sasse's strategic funding initiative, investigators at the Evelyn F. and William L. McKnight Brain Institute will launch a new project that combines basic and clinical research with artificial intelligence to improve stroke treatments.
Stroke is the fifth leading cause of death and the No. 1 cause of disability in the United States, and it presents a growing health care challenge among Florida's aging population.
"We are grateful for these strategic funds, which will further propel our multidisciplinary research efforts in stroke prevention and treatment," said Jennifer Bizon, Ph.D., the director of the McKnight Brain Institute and the chair of the UF College of Medicine's Department of Neuroscience. "This project, under Dr. Brian Hoh's leadership, exemplifies our mission to build research collaborations among clinical and basic science investigators across our UF and UF Health campuses to improve outcomes and change lives."
The Transforming Stroke Care initiative will unite investigators across disciplines and colleges who will benefit from UF and UF Health's exceptional resources, including the HiPerGator supercomputer, the UF Health Shands Comprehensive Stroke Center, the OneFlorida+ Clinical Research Network, and the McKnight Brain Institute.
"We are thrilled that President Sasse has given us this opportunity and the resources to transform stroke research and care for the future," said Hoh, a UF Health neurosurgeon and chair of UF College of Medicine's Lillian S. Wells Department of Neurosurgery. "As the flagship university in the state, where stroke is particularly prevalent among Florida's aging population, the University of Florida is uniquely positioned to lead the nation in stroke research."
By forming teams of investigators (studying all aspects of stroke, from prevention and treatment to rehabilitation and imaging) and pairing them with experts in artificial intelligence, machine learning, and data science, the project will provide a multidisciplinary learning experience for students. This will position UF as a leader in training the next generation of stroke researchers.
"We need more experts to specialize in stroke research, and the Transforming Stroke Care project is illuminating that need," Sasse said. "We want this initiative to help create training pathways for UF students to become stroke AI researchers, and that is a critical step toward innovation."
UF Health recently became the first in Florida to launch a Mobile Stroke Treatment Unit program, featuring state-of-the-art stroke ambulances equipped with a computed tomography (CT) scanner and clot-busting drugs to save lives and reduce disability. Hoh — who is also leading the Comparison of Anticoagulation and anti-Platelet Therapies for Intracranial Vascular Atherostenosis (CAPTIVA) stroke-prevention clinical trial — believes the new research project will help propel UF's stroke research efforts to new heights.
"Our vision is to create the top stroke AI research center in the country," Hoh said. "It will expand UF Health's reach and impact to patients, clinicians, and researchers throughout the world, and attract the top scientists and faculty for the future."
# # #
Email editor@
alachuatoday.com
Add a comment
BROOKSVILE, Fla.- This week, while conducting enforcement efforts on I-75 IN Sumter County, Florida Highway Patrol (FHP) Troopers conducted a traffic stop for excessive speed and a tag violation on a 2018 Cadillac Escalade.
The driver, Yajaira Martinez, 39, of Riverview, Florida, advised Troopers that she had no paperwork for the vehicle, and it had dealer plates attached. The vehicle identification number (VIN) on the front windshield did not appear professional and appeared to have been tampered with. After requesting to check the vehicle's secondary VIN, it appeared to have been tampered with.
The dealer tag was checked and returned not assigned to the vehicle it was attached to. The VIN indicated it was assigned to a 2020 Cadillac Escalade, although the vehicle that Troopers had stopped was a 2018 Escalade. Both VIN decals had been swapped from the factory issue (2018 Cadillac Escalade) to reflect a 2020 Cadillac Escalade. A comparison of both VINs and the attached tag confirmed that the stopped vehicle was stolen from Pennsylvania.
After the driver consented to a search of the vehicle, materials that belonged to the original vehicle (2018 Cadillac) were found within it. Ms. Martinez then advised Troopers that she owned a car dealership in Tampa that had recently closed called Champa Bay Auto Brokers, first licensed in April 2022, and closed in April 2023.
Troopers continued their investigation by responding to the vicinity of the dealership, where they located a 2022 Cadillac Escalade that was confirmed to have been stolen from Clearwater, Florida, in June 2023 and had been "re-vinned."
The driver, Yajaira Martinez was arrested and transported to Hernando County Jail on the following charges:
This investigation remains active and ongoing. Additional information is not available at this time.
# # #
Email editor@
alachuatoday.com
Add a comment
WASHINGTON - U.S. Senator Marco Rubio's (R-FL) office will host Mobile Office Hours this week to assist constituents who were affected by Hurricane Idalia. These office hours offer constituents who do not live close to one of Senator Rubio's eight regional offices a more convenient way to receive federal casework assistance.
FEMA Assistance Mobile Office Hours
Friday, December 8, 2023
Columbia County and Hamilton County
10:00am – 1:00pm EST
Hamilton County Courthouse Annex
Conference Room
1153 US Hwy. 41 NW
Jasper, FL 32052
Lafayette County and Suwannee County
10:00am – 1:00pm EST
Live Oak Public Library
Main Meeting Room
1848 Ohio Ave. S.
Live Oak, FL 32064
# # #
Email editor@
alachuatoday.com
Add a comment
WEST PALM BEACH, Fla. - BioFlorida, the leading voice of Florida's life sciences industry, announced that Mark A. Glickman, MBA, will serve as its new President and Chief Executive Officer. Mr. Glickman's appointment follows Nancy K. Bryan's announcement of her retirement – after 11 years of service and spearheading significant organizational and industry growth. Mr. Glickman will serve as the chief advocate and spokesperson for the life sciences in Florida, continuing to drive the growth of the industry and further elevate Florida as a global leader for the industry through member-driven initiatives that improve lives and promote economic benefits to the state.
A longstanding member of Florida's life sciences community, Mr. Glickman brings over 30 years of experience and leadership to BioFlorida. His proven track record includes building organizations, transitioning clinical companies into commercial success, launching 13 new products, negotiating major licensing deals, overseeing mergers and acquisitions, reconfiguring infrastructures, integrating acquired companies, and achieving notable revenue and profit gains, ultimately delivering significant value for shareholders.
Most recently, Mr. Glickman served as the Co-Chief Executive Officer and Principal Executive Officer at TherapeuticsMD (Boca Raton), leading the company through a landmark sale to Mayne Pharma. Mr. Glickman has also served in leadership roles at Esperion Therapeutics, Aralez Pharmaceuticals, Auxilium Pharmaceuticals, Kos Pharmaceuticals (Miami), and other biopharmaceutical companies. Mr. Glickman's extensive background in the life sciences industry positions him as an ideal leader to guide BioFlorida into its next phase of growth and innovation.
"We are thrilled to welcome Mark Glickman as BioFlorida's new President and CEO," said Robert Finizio, Chairman of the Board for BioFlorida. "Mark's experience, strategic vision, and deep understanding of the life sciences ecosystem make him the ideal leader to build upon the strong foundation laid by Nancy Bryan. Under Mark's leadership, we're excited to continue to drive BioFlorida's growth as Florida's premier life sciences industry organization and further elevate Florida as a global leader."
"I've always loved collaborating with our state's life sciences community, and today am excited to lead that community as we collectively work to deliver innovative, affordable treatments and cures to patients," said Mr. Glickman. "I look forward to collaborating with the talented team at BioFlorida and our community of 8,600 establishments and research organizations that employ nearly 107,000 Floridians. Together, we are going to continue to drive innovation, foster partnerships, and advance the growth of the life sciences sector in the state, at the Capitol, and on the international stage."
Mark Glickman will officially assume the role of President and CEO of BioFlorida on December 9, 2023.
# # #
Email editor@
alachuatoday.com
Add a comment
GAINESVILLE, Fla. — For many individuals living in the rural 23-county area of North Central Florida served by the UF Health Cancer Center, access to mammography services for breast cancer screening is limited.
But now, with a $1.5-million grant awarded through University of Florida President Ben Sasse's strategic funding initiative, the UF Health Cancer Center will launch an initiative called Expanding Access to Breast Cancer Screening in North Central Florida. A mobile mammography unit will be outfitted with leading-edge technology to bring services directly to the community. The unit will be the first of its kind in North Central Florida – a region larger than Massachusetts, Rhode Island, and Connecticut combined.
"As a National Cancer Institute-designated cancer center, the UF Health Cancer Center is charged with addressing the burden of cancer in the large area we serve, with a strong focus on rural and aging populations," said Jonathan D. Licht, M.D., director of the UF Health Cancer Center. "This innovative mobile unit will enhance our evidence-based outreach efforts in unprecedented ways. Our goal is to reduce the burden of late-stage cancer diagnoses and mortality through early detection and personalized services that help people access the treatment they need."
Breast cancer is among the most prevalent cancers in North Central Florida, with rural communities having higher rates of advanced stages of the disease (cancers that are the hardest to treat), as well as higher mortality. These rural communities also have high poverty rates, which often lead to significant barriers for those trying to access preventive health care.
Mobile mammography units are powerful tools that help detect cancer in its early stages so that treatment can begin as quickly as possible (before the disease spreads). These units are cost-effective, reducing the need for physical infrastructure and easing the burden on health systems. And studies have shown that mobile mammography units are effective for reaching underserved communities.
The mobile unit will also be equipped to provide screening for other diseases, including cervical and colorectal cancers. To increase the unit's impact and ensure continuity of care, highly trained community health workers will help patients access primary care services and connect with UF research studies. The team also will help uninsured community members apply for vouchers from the Florida Department of Health to cover mammography costs.
"By bundling cancer screening services, we will leverage the mobile unit to reach more people, encouraging community members to opt for multiple screenings closer to where they live (and to bring their friends and family to get screened, too)," said Ramzi Salloum, Ph.D., the associate director for community outreach and engagement at the UF Health Cancer Center. "The deployment of a mobile unit to enhance access to risk-reduction education and preventive services in our neighboring communities, as well as to foster a meaningful relationship with rural community providers, will allow UF Health to provide high-quality care beyond our walls (where it is needed most)."
The UF Health Cancer Center has been hosting mobile mammography clinics with its community partners (using rented units) for the past year, but the need is outpacing the units' availability, Salloum said. There is a pressing need for a dedicated unit due to the significant disparities in this region, such as lower screening rates compared with the rest of the state of Florida. Late-stage diagnosis rates for Black women living in the area are also higher than both state and national rates.
To meet this need for care quickly, the mobile unit is expected to begin operating this fall. Along with a matching investment from the UF Health Cancer Center, funds from Sasse's strategic initiative will support the unit's development, its 3D mammography equipment and screening supplies.
"The University of Florida can eliminate barriers to cancer screenings, and this initiative will help us get there," Sasse said. "The project will be instrumental in bringing breast cancer awareness and improved health to underserved communities."
# # #
Email editor@
alachuatoday.com
Add a comment
GAINESVILLE, Fla. – Former Republican state lawmaker Joe Harding of Ocala, the sponsor of Florida's controversial law limiting discussions of gender and sexuality in public schools, was sentenced to four months in prison on charges of defrauding the government of $150,000 in pandemic aid.
Judge Allen Winsor sentenced Harding in U.S. District Court in Gainesville on Thursday. Harding's family and friends wept throughout the proceedings. One spectator wept audibly after his sentence was read.
Harding's brother, Pastor Daniel Harding, told the judge that his brother was a committed family man and pious Christian who taught kids softball instead of advancing his business interests.
"I ask for mercy," he said.
Tallahassee political consultant Brett Doster said that Harding received advice to frame his prosecution as political persecution, but that he decided to be honest and take responsibility instead. Harding, who resigned from the Legislature, repaid the $150,000.
Winsor said that it was a difficult and sad case, and that Harding received a tremendous amount of family and community support. Prosecutor Justin Keen said he has no reasons to doubt any of the positive aspects of Harding's character described in court.
Harding declined to answer questions as he left the courthouse.
When he is released from prison, Harding will be required to serve two years of supervised release and pay a $300 fine. He was ordered to turn himself into custody by noon Jan. 29.
Harding resigned from office in December shortly after being indicted on two counts each of wire fraud, money laundering, and making false statements. Had he been convicted on all counts, Harding could have faced up to 70 years in prison.
Harding initially pleaded not guilty to all charges, but as part of a plea deal with prosecutors, he ultimately pleaded guilty to one count of each charge, cutting the maximum prison sentence to 35 years.
Despite serving just over a single two-year term in the Florida House from 2020-2022, Harding gained notoriety for being the sponsor of the Parental Rights in Education Act, a bill derided by critics as the 'Don't Say Gay Bill,' which banned discussions of sexual orientation and gender identity in public schools from kindergarten through third grade. The law was later expanded to cover fourth through 12th grades.
According to court records, Harding defrauded the federal government through loan applications with the federal government's Economic Injury Disaster Loan program for two companies he owned that were inactive. He applied for a loan for both companies, but only one was approved.
Prosecutors said Harding used part of the money to pay his credit card balance. Some funds were shifted to the bank account of an oil company owned by his brother-in-law, Patrick Walsh. In January, Walsh was sentenced to five-and-a-half years in prison for defrauding the federal government of $7.8 million in COVID-19 loans, some of which was used to purchase an island in the Gulf of Mexico.
During the sentencing, Keen noted it was Walsh who initially advised Harding to file the fraudulent applications as he had himself done. Winsor said he didn't know if this case would've happened if Harding had a different brother-in-law.
Both men admitted to falsifying the number of employees, gross revenue and status of the businesses in their loan applications. Walsh's younger brother, Tampa businessman Caleb Walsh, faced scrutiny from federal investigators during the summer over his own COVID-19 loans totaling $4.3 million.
# # #
Email editor@
alachuatoday.com
Add a comment
The Editorial Board of Alachua County Today has rarely taken to endorsing candidates in local political races; however, there are times when it becomes necessary. Such is the case in the City of High Springs commission races scheduled for Nov. 7, 2023. Up for consideration are four candidates in two races. In Seat 1, electors in High Springs will have the opportunity to select between the incumbent, Ross Ambrose, and Andrew Miller. In Seat 2, voters will consider incumbent, Gloria James, and Steven Tapanes.
For many years, the City of High Springs experienced considerable political tumult, so much so that it created harsh divisions within the community. Over the last few election cycles, voters have managed to regain control of their commission, placing on the dais community-minded, non-partisan commissioners who have been focused on moving High Springs forward, into a more fiscally sound and responsible direction.
Tax increases are rarely, if ever, welcomed by the taxpayers, but tax increases are sometimes necessary. The City of High Springs, like every other small town, is feeling the financial pinch of inflation. We all feel the financial pinch of inflation. Without an increase in taxes this year, the City of High Springs would be setting itself up for financial straits in the years to come. Simply put, the City has to pay someone to fix water pipes, respond to emergencies, put out fires, and maintain the City's infrastructure. That is to say nothing of the business of running the City. There is no doubt that there are some, including former commissioners, who want to sow divisions, but these efforts are not productive for the citizens.
Some candidates, and one commissioner, who is not up for election this cycle, have criticized the incumbent commissioners for approval of the FY 2023-24 budget, which did include an increase in the millage rate. It's easy for one commissioner to sit by and criticize, without solution, a budget which she knows will pass while she avoids the political hit by voting against it.
To be sure, there is always work to be done on tightening the belt on government, reducing waste, and finding new and innovative ways to deliver governance and the services the citizens have come to appreciate and expect. The City of High Springs does not exist in a vacuum however, and for that reason, there are simply some economic conditions the City cannot avoid.
It is because of the work done by commissioners like Ross Ambrose and Gloria James that the City has reached a state of stability, a posture that is allowing the City to get its legs underneath it. After years of political disarray and infighting, the City is finally beginning to make headway on projects that hold great promise for the City of High Springs and its residents.
This is not the time to pull the rug out from underneath the commission and management. Instead, voters should reelect Gloria James and Ross Ambrose while encouraging them to seek common ground on budget issues, attempt to increase efficiency, and hold themselves and management accountable.
# # #
Email editor@
alachuatoday.com
Add a comment
I am writing in support of Ross Ambrose for High Springs City Commission. First let me say that I have nothing negative to say about his opponent, and I'm grateful that we have wonderful people willing to serve our great little town. That said, I have plenty of positive reasons to support Ross in this election.
I have known Ross for at 15 years as a neighbor and friend in town. Ross showed his commitment to this town for years by serving on city boards before he ever ran for office. He has always taken anything he does seriously and professionally and that goes for the City Commission as well.
Ross makes it his business to understand every issue and the effects of city, county and state law on the issue, and how everything works together. When he makes a decision one way or the other on anything, I expect that he has researched it thoroughly. I feel like I don't have to understand everything little thing that comes before the city, because he literally does that hard job for us. He has run a successful business for 10 years and he understands fiscal responsibility as well as investment and looking at the big picture to prepare us for the future.
Perhaps the biggest reason I support Mr. Ambrose is that he is truthful, even when the truth is not what I want to hear. My example is that I emailed him about the proposed Bridlewood subdivision, coming out strongly against it. Like many in High Springs, I love our small town, and the surrounding open spaces. I don't want the town to be swamped with traffic and see the beauty around us turn into South Florida-style crowding and sprawl. I want to protect the springs at all costs. I would be very happy to see zero new large-scale subdivisions here.
Ross took the time to email me back and carefully explain how the property that was Tillman Acres/proposed Bridlewood was zoned for crazy-dense zoning many years ago, and that the City can't undo that and could be subject to a lawsuit if we tried. He was hoping to get the most palatable deal out of a bad situation.
He also told me about several other subdivisions: one along U.S.441, one adjacent to Bailey Estates, where the City had refused to allow an up-zoning to higher density for all the same reasons I state above.
I believe Mr. Ambrose wants to preserve the unique character of High Springs, but is also realistic in knowing you have to play the hand you were dealt.
I went to a candidate forum and one of the other candidates said High Springs needs better infrastructure before any new development is allowed. That sounds great but isn't always possible, for reasons like the one above and the need to find funding for said infrastructure. I know that Ross Ambrose leaves no stone unturned in looking for funding sources aside from local tax revenue. The effort he puts into this job is Herculean.
Frankly I think we are extremely lucky to have such a dedicated, knowledgeable and hard-working commissioner.
Stacey Breheny
High Springs, Florida
Add a comment
An election will be held in High Springs on Nov. 7. There are two seats up for election. Since this is an odd-numbered year, the turnout will be poor. Every registered voter in the city needs to read up on the candidates; do the research to see what each is for, and vote.
Things have been running smoothly in the city for some time. Voting for someone merely because they are new is not a good idea.
Ross Ambrose and Gloria James do their homework, are knowledgeable and make decisions for all of High Springs. They are not driven by politics but by what they think is best for the city. For the good of the city, let's keep them doing what they've done so well. Just remember that you need to vote.
Thomas R. Weller
High Springs, Florida
Add a comment
This letter is to express my support for Steve Tapanes and Andrew Miller for City of High Springs Commissioner.
I have watched several of the commissioner's meetings on line and have noticed on several occasions that although the audience is jammed with people who are concerned about certain issues, that their concerns seldom make a difference in the decisions made because the decisions appear to have been made prior to the meetings.
I would like to see new blood on the board of commissioners as I feel the incumbents get in a rut and although they claim to have the best interests of the citizens in mind some of them don't seem to be listening. The newer members seem to be the ones listening.
Steve and Andrew both have businesses in High Springs and I feel their freshness would more closely represent the majority of citizens' current views.
It's time for a change, time for the younger generation to have a say in what happens for High Springs' future. Vote Steve Tapanes and Andrew Miller.
Leah Currier
High Springs, Florida
Add a comment
The High Springs Chamber of Commerce would like to send a special thank you to all our volunteers and local businesses who gave their time, talents, and treasures to bring our community together for the annual Fall Festival.
Please support these businesses and tell them thank you the next time you see them. Decades on Main & Renee;
Oliver & Dahlman; Thompson Flower Shop; The Birds Nest; High Springs Church of God; LifeSpring Church; Plantation Oaks Assisted Living & Memory Care; Dawn Cross, Photography; McDonald's in Alachua; Ronald McDonald House; Hardee's in High Springs; Hillary Cowart the Magic Man; Line Dancing Debbie; Bryan's Ace Hardware in High Springs; Winn-Dixie in High Springs; Fort White Garden & Produce; Jennifer Lee & Caleb Henderson, The Perfect Home; Troop 69, Boy Scouts; Willard's Restaurant & Lounge; BlueStar Grill; Nancy's Bake Shop; Chantels' Cakery; Station Bakery & Café; Tom & Sue Weller, Kiwanis Club of Santa Fe; High Springs Police Department; Aunt Lydia Springs, Cake; Louanne Rigano, Cake; Vella Miller, Ballon; Don Decker, Trains; Museum for being open during the Fall Festival hours
There are so many who came together to make this year's Fall Festival one our community will cherish for years to come.
I love our quaint little town with all its southern charm.
Sharon Decker
High Springs Chamber of Commerce
Add a comment
This letter is in support of Ross Ambrose and Gloria James' re-election for High Springs City Commission.
Over the many years that we've known both Ross and Gloria, we've witnessed firsthand their dedication to the City of High Springs. They've served not only as commissioners but have been active in many service organizations. They are strong leaders in our community, and we need for them to continue to serve as City Commissioners.
We encourage you to vote for Gloria James and Ross Ambrose on Nov. 7.
Scott and Lynn Jamison
High Springs, Fla.
Add a comment