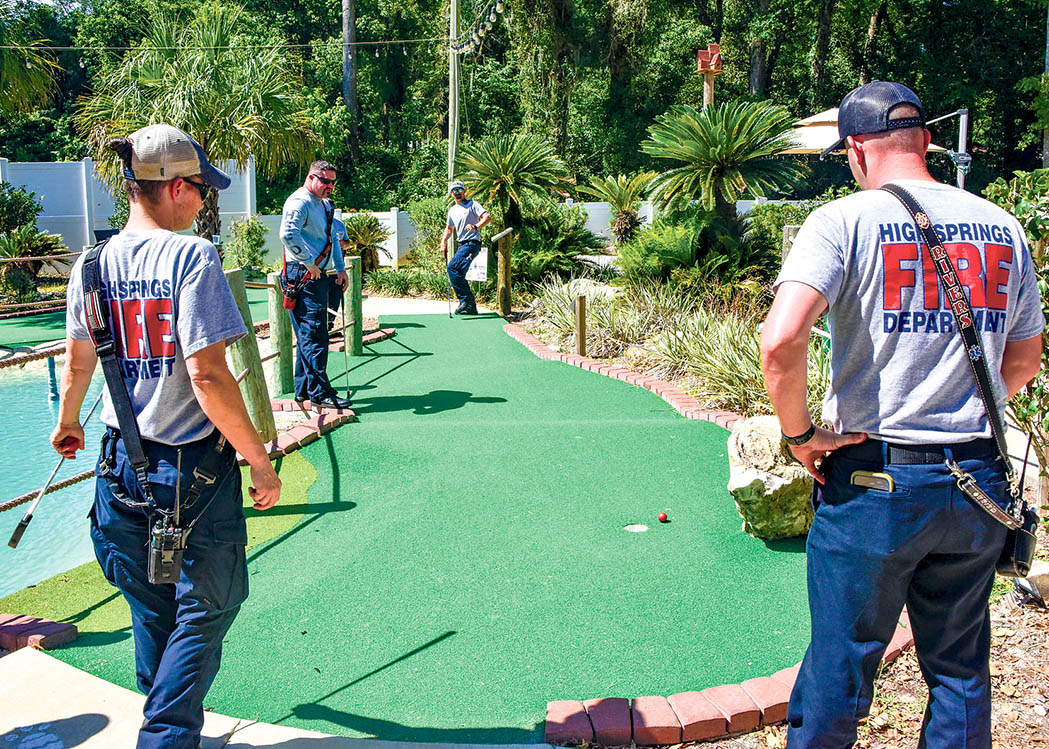 HIGH SPRINGS ‒ The Kiwanis Club of Santa Fe held its 3rd annual mini golf tournament at the Pink Flamingo in High Springs on Saturday, April 15. Competitors and spectators turned out not just for the competition, but also to help raise money for the various charity projects the Kiwanis Club sponsors for children. Each player paid $8 per adult and $6 for ages 7-12 to play 18 rounds of mini golf along with five specialty "hole-in-one" prizes. Players were teamed up in groups from particular clubs, businesses or City of High Springs departments to compete for the top four places.
While the tournament is designed as a friendly competition and an opportunity for recreation, the main purpose is charity. Kiwanis is a global organization of over 550,000 volunteers dedicated to improving the world one child and one community at a time. Local clubs look out for needs in their own communities while the international organization takes on large-scale challenges, such as fighting disease and poverty. The organization believes that when children are given the chance to learn, experience, dream, grow, succeed and thrive, great things can happen, and many children need the support of the community and organizations like the Kiwanis to achieve their potential.
Besides bragging rights, the top four teams in Saturday's competition also won prizes from 16 sponsoring businesses. The 1st place team received $100 gift certificate from the Great Outdoors Restaurant, along with $75 from Winn Dixie, and $50 from Publix along with gift certificates from Hardees, the High Springs Brewery and the Pink Flamingo. The next three winners received similar prizes in a reduced amount. The eight competing teams included one team of City of High Springs employees and the fire department. The City teams also hold a separate competition for a trophy every year for City champions title, and the fire department team won that trophy for the second year.
The Kiwanis Club of Santa Fe works locally, holding multiple events throughout the year to raise money. "We raised over $3,000 at the mini golf tournament this weekend, which will be distributed to the various programs we support," said Kiwanis member Tom Hewlett. "We are especially concerned with making sure lower income families have proper food supplies, especially for holidays."
Hewlett said that the club sponsors a Thanksgiving and Christmas meal program as well as supplying students with backpacks to take meals home over the weekend. The local Kiwanians also hold an annual BBQ for vets' event, provide funds for kids to attend the Sherriff's Youth Ranch, and provide toys for the annual Christmas Cheer gifts that are distributed to needy families that might otherwise have a very limited Christmas. "While we do these events to raise funds, we also try to make it fun and get members of the community to gather together for a good cause and to help those in need," said Hewlett.
# # #
Email rcarson@
alachuatoday.com
Add a comment