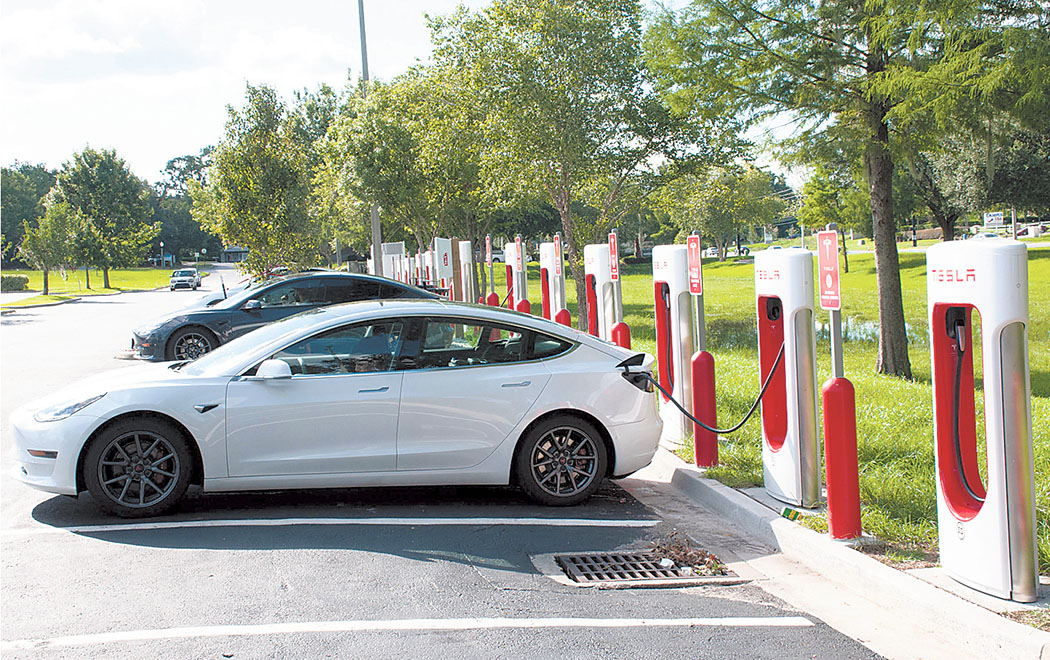 ALACHUA ‒ People shopping at Alachua's Hitchcock's grocery store may be in for a surprise. The store's parking lot may appear typical with its marked off parking spots and cart corrals. But for those taking a closer look, an array of shiny almost sci-fi-like white structures dotting the perimeter of the store's property along U.S. Highway 441 says otherwise.
Blame it on rising gas prices or concerns about climate change, but there is undoubtedly an increasing demand for hybrid and electric cars. With An average EV car getting about 250 miles on a full charge, and with the burgeoning sales of EV cars, a growing problem is the limited number and availability of public charging stations.
And that's where Hitchcock's, Tesla and the parking lot sentries enter the picture. As the largest manufacture of EV cars, Tesla has created a network of 35,000 Supercharger stations to support their vehicles. The stations are located on major routes near convenient amenities and gas stations to create a network to support longer travel and road trips.
Tesla had already built stations in Gainesville and Jacksonville, but not to the north in rural Florida, leaving drivers in North Central Florida with the only option of driving to major hubs when not charging at home.
Hitchcock's owner Carlos Alvarez is also a Tesla owner, and he saw a need for a supercharging station in the Alachua/ High Springs area and the surrounding rural communities. Alvarez believed the location of the store, close to I-75 and along U.S. Highway 441, offered an ideal spot for a station. It took over a year of negotiations, but Tesla finally agreed to build a station at Hitchcock's and cover all costs. The City of Alachua provided access to the City's power supply, and two months ago, 12 stations of Supercharger stalls were installed along the north perimeter of the Alachua Hitchcock's parking lot.
Daughter of Carlos Alvarez, Giselle Alvarez says, "We saw a need for the station for the community and travelers, so we made the offer to Tesla. In our opinion this was a good concept and has proven to be very successful with multiple cars there every day."
Using the Tesla app, Tesla owners can view Supercharger stall availability, monitor their charge status or get notified when you're ready to go after charging. For trips, they can enter a destination on the car's touchscreen and the Trip Planner app will automatically calculate the route with Superchargers along the way. However, the key to the whole system is providing stations along the way.
While Tesla provides the station for their car owners, the charging stations are not free, but offer a much lower cost than gas, especially with this year's surge in prices. Electric vehicles are less expensive to fuel than gasoline powered vehicles. The average person drives between 10,000 and 15,000 miles and spends between $1,400 and $2,100 on gasoline per year. In comparison, the cost of electricity to power a Tesla over the same distance is up to four times lower.
Over the six-year average length of car ownership, that's between $6,600 and $9,600 in gasoline savings. The average Supercharger cost of $0.25 per KW to fully recharge a Tesla or other EV car for 250 miles of range costs approximately $22. The stations are free to any Tesla owner who bought their car before 2018.
The Supercharger network allows EV drivers to plug in at a convenient location, take a break, do a little shopping or get a bite to eat. "This station not only benefits the citizens of Alachua and High Springs, it also provides travelers on I-75 a chance to explore our community and businesses after using the station," said Giselle Alvarez."
# # #
email rcarson@
alachuatoday.com
Add a comment