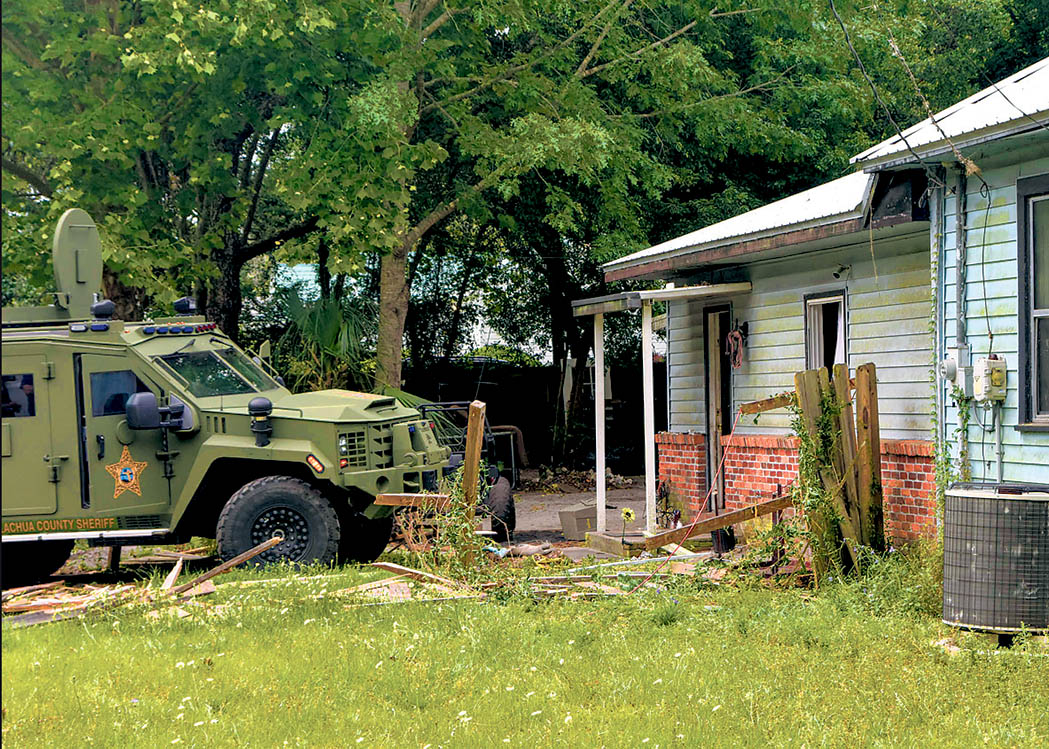 HIGH SPRINGS ‒ Around 8 a.m. on Monday April 17, Alachua County SWAT team members (ASO), along with state Florida Law Enforcement (FDLE) and federal DEA agents, executed a search warrant at a suspected drug house on Northwest 240th Street and 187th Avenue in High Springs. The suspect, Anthony Rizzotto, 38, initially refused to come out. Knowing that Rizzotto was armed, law enforcement brought in an armored SWAT vehicle with a ram and knocked in two doors. Even with the entrance points available, the police waited the suspect out. "We knew he was armed and didn't want to initiate a gunfight where either the suspect or our team could get hurt," said an ASO officer. "We wanted a peaceful resolution and finally convinced him after about two hours to surrender."
"They started making a lot of noise and telling the guy to come out," said witness Charlie Brown. "He didn't come out. Finally, the girlfriend came out...Several hours later after they had pushed down the fence trying to encourage him to come out...they finally opened the sliding glass door with a device on the front of the vehicle."
Neighbors say they have been suspicious of activity going on at the house. "Lots of traffic, at all hours," said Mark Bertocci. "Lot of cars coming in, a parade of cars. It's kind of actually known and kind of not really hidden in a way."
"All the cars coming and going all the time and they never show their license plate," said Brown. "They always go around the back of the house."
Rizzotto's neighbors had expressed their concerns to the High Springs Police Department who kept an eye on the house and notified State and Federal agents who put the house under surveillance. Once authorities documented the behavior, agents raided the house.
When Rizzotto surrendered, he provided the combination to his safe, and agents searched the house. Inside were two pistols, along with a magazine drum, a WWII-era submachine gun, and a 22-caliber rifle. Deputies also found meth in the home, and Rizzotto admitted to putting additional drugs down the drain.
Rizzotto has an extensive criminal history, and in addition to charges for drug production and distribution and resisting arrest, he also faces charges for weapons possession by a convicted felon. Additional information from law enforcement is limited due to the ongoing nature of the investigation.
Only two days after the drug raid, first responders were back at the house—this time it was firefighters putting out a fire in the attic. Around 7:30 p.m. on Wednesday, firefighters responded to fire reports at the same house on Northwest 240th Street and 187th Road. When they arrived, smoke was pouring from the roof of the single-story home. Firefighters were able to keep the fire from spreading from the attic to the rest of the home. A man and woman were in the home at the time, but no one was hurt. The cause of the fire is now under investigation by the Alachua County Fire Marshal and no further information was available.
# # #
Email rcarson@
alachuatoday.com
Add a comment