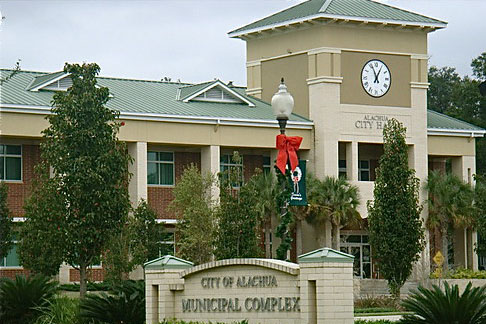 ALACHUA ‒ The Alachua City Commission has finalized a contract with Mike DaRoza, currently the City's Interim City Manager, to become the next city manager for Alachua. At the July 25 City Commission meeting, DaRoza was issued a three-year contract.
In other business, the Commission recognized students of the Bhaktvedanta Academy who had their artwork featured on display in the foyer of City Hall as part of the Art in City Hall program. Alachua Mayor Gib Coerper and lead teacher Susan Reed presented Artist Appreciation certificates to the student artists.
The Commission also presented a Certificate of Appreciation to Dr. Marc Cauchon, owner of Alachua Dental Center, for his 24 years of service to the community of Alachua as a businessman and for his dedication to the Chamber of Commerce.
In other business, Clay Sweger of EDA Consultants, Inc. presented a request for a Small-Scale Comprehensive Plan Amendment (SSCPA) on the Future Land Use Map (FLUM) and to rezone the Official Zoning Atlas on High Point Crossing, a proposed development.
The 27.88-acre property is located north of the U.S. Highway 441 and Interstate-75 interchange, and north of Northwest 161st Terrace. The property is undeveloped and is comprised of a mixture of cleared lands and naturally wooded areas.
The proposed amendment would change the FLUM Designation and Official Zoning map from Corporate Park to High Density Residential. High Density Residential allows residential development at a density up to 15 dwelling units per acre, as well as certain complementary uses, such as a limited range of neighborhood-scale retail and services. Both ordinances were approved on first reading with a second and final reading to be held at a later date.
Sweger also requested approval of a second and final reading for a Large-Scale Comprehensive Plan Amendment (LSCPA) to change the FLUM Designation of Agriculture on 162.5 acres into three designations. These designations are Community Commercial on seven acres, Low Density Residential on 115.5 acres, and Moderate Density Residential on 40 acres. Also requested was rezoning the Official Zoning Atlas from Agricultural (A) and Agricultural (Alachua County) to Planned Development-Residential (PD-R) on 155.5 acres and Community Commercial (CC) on seven acres. The property is located south of the intersection of Northwest U.S. Highway 441 and Northwest 188th Street. The property is undeveloped and is primarily comprised of lands used as a tree farm and planted pine.
The Commission also considered a request from John C. Vick III of V3 Capital Group, to amend the City of Alachua Land Development Regulations (LDRs). The proposed amendments would revise use-specific separation requirements for "Vehicle Sales and Services," which regulate development and spacing of commercial businesses dealing with automobile and boat repair services and sales.
Current LDRs require a minimum separation of 250 feet from schools, day care centers, residential uses, or vacant land in residential zone districts. The V3 Capital Group contends that the separation requirement does not consider intervening roadways or how enhanced buffering can serve as an additional separation tool between uses.
The amendment reduces the minimum separation to 100 feet and to 50 feet when an enhanced landscape buffer is provided A second condition that would permit a reduction in separation is when the "Vehicle Sales and Service" use fronts U.S. Highway 441. The City has established U.S. Highway 441 as a commercial corridor, which allows for commercial development along the roadway. The applicant contends that by reducing the separation requirement, the City will maximize existing and future land use patterns along this corridor, which promotes a planned and logical development pattern.
In other business, Sweger also proposed to amend the Future Land Use Map (FLUM) and Official Zoning Atlas on a 51.7-acre property from Agriculture and Rural/Agriculture (Alachua County) to Moderate Density Residential. This property is located south of Peggy Road, east of Interstate – 75, and north of the CSX rail right-of-way. There is currently one existing residential unit on the property. The Moderate Density Residential FLUM Designation would permit a density of up to four dwellings per acre with a maximum of 206 dwelling units.
The Commission heard a request by Logan Peters, P.E., of JBPro, Inc., applicant and agent for Tara Baywood, LLC for approval of the Final Plat for Tara Baywood Phase 1 for a subdivision on a 20.25-acre property into 61 lots, with associated right-of-way and common areas. The property is located west of Baywood Subdivision, and north of Lowe's Home Improvement Store.
The proposed development will be required provide for 179 replacement trees to be planted to mitigate for trees to be removed. The City requires tree replacement of trees taken down during development to replace healthy regulated trees, and requires regulated trees to be replaced on a one-for-one basis, and for heritage and champion trees to be replaced on an inch-for-inch basis
The Commission also heard a request for approval of the final plat of Tara Forest East Phase 1, which proposes a subdivision on a10.86-acre property into 32 lots, with associated right-of-way and common areas.
The Commission approved a resolution establishing 5.3900 as the Proposed Millage Rate for Fiscal Year 2022-2023, which is 8.1 percent more than the Rolled-Back Rate of 4.9860. The City is currently developing its upcoming Fiscal Year budget based on the proposed General Fund millage rate of 5.3900 mills, which is the same as that in the current fiscal year. The first public hearing on the Milage rate change will be held Sept. 12.
# # #
email rcarson@
alachuatoday.com
Add a comment