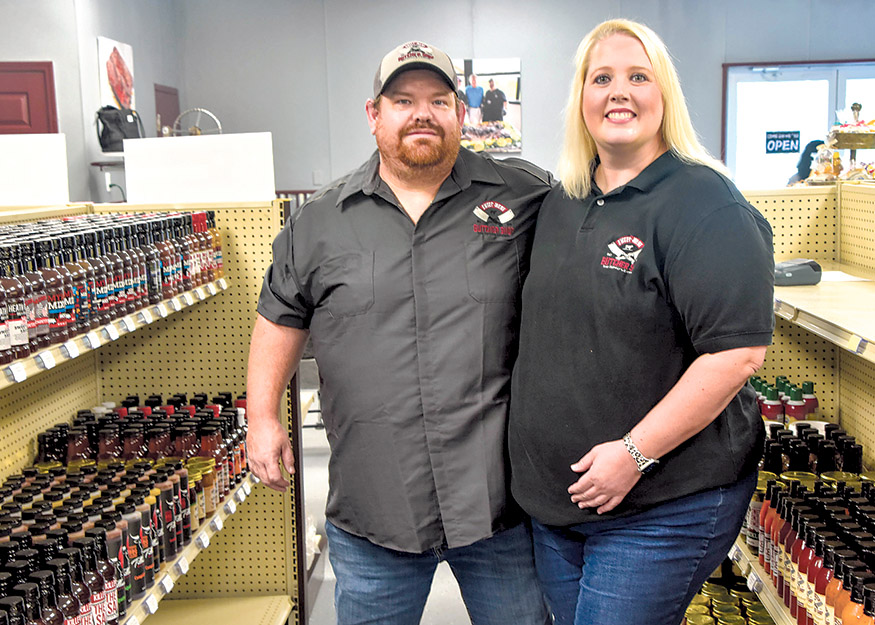 HIGH SPRINGS ‒ It may be BBQ like you've never had before and its coming to High Springs. Bobby and Crystal Gay have been involved with competition Bar-B-Q for a long time and have placed or won many contests including across the Southeast, from the Big Pig Jig in Georgia to the Jimmy Jam BBQ Slam in Florida. They were also featured on the Food Network's BBQ USA show.
Burnt out in the corporate world and eager to find a business to match their passion for BBQ, inspiration struck during a lunch break when Crystal Gay called her husband and suggested they should open their own barbecue business.
In November 2022 Bobby and Crystal purchased a three-acre plot with a 3,100-sq-ft building in High Springs on Highway 441 near Bev's Burgers toward Alachua. Naming their business Sweet Meats BBQ, the couple set out to share their expertise with the public and provide a high-quality butcher shop.
Crystal says they were surprised to find there were no butcher shops or BBQ supply stores in the area, and although they live in Gainesville, property values were too high to buy property there.
"We didn't want to rent in case a landlord changed the rent or ownership since we wanted to establish a permanent business where we had control and the ability to expand," said Crystal. "So, we looked at other locations in the area." Crystal says they both fell in love with High Springs and its small-town feel.
Coming from a small town in Georgia, Bobby is a firm believer that BBQ is a great way to bring people together. "We wanted to keep a family feel to our shop" he said. "Our business will be more than just a butcher shop, we will be a barbecue supply store, smoker manufacturing company with a variety of smokers, including one with a built-in sound system for backyard parties and catering company.
Sweet Meats BBQ will also be offering BBQ cooking classes from some of the most renowned experts in competition class styles and has been approved by the City of High Springs to build a pole barn to hold cook-outs, events and concerts as well.
"We want to be a destination point for everything BBQ for the community and a place to gather as well," said Bobby. "We plan to expand our services over the next year to include whole hog cooking on a brick pit doing old-school style."
While the store will focus on the full-service butcher portion of the business, Bobby and Gay want to make it a community gathering spot as well with events, concerts and, of course, food and cookouts.
The butcher shop will offer a wide variety of high-quality competition and commercial meats, including pork, beef, ribs, chicken, lamb and Wagyu beef.
"We will offer better quality custom cut meats at a lower price than supermarkets," said Bobby. "We want people to be able to customize their order in any way they want."
Sweet Meats will also offer cooked meats and BBQ for takeout and a catering service for delivery. The classes will offer lessons on BBQ cooking and education on cooking styles and what meats are best for each style. Bobby says they want to help customers increase their skill level of grilling no matter where they start out.
Sweet Meats is planning a grand opening on Friday, Sept. 1 from noon to 5 p.m. Regular store hours will be from 9 a.m. to 5 p.m. Tuesday through Saturday. More information and takeout or catering can be done by phone at 352-474-3040.
"We want to make this site a one stop location for all things BBQ and provide a place for the community to gather and have a good time," said Bobby. "BBQ is an American tradition that brings family and friends together."
# # #
Email rcarson@
alachuatoday.com
Add a comment