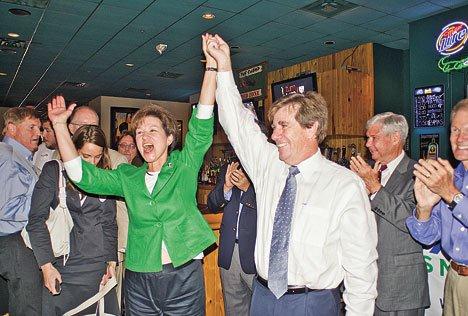 L-R: Alex Sink and Rod Smith ignite a rousing crowd of supporters Monday at Gators Dockside in Gainesville as they pushed through the area on a final campaign stop.
Gubernatorial candidate Alex Sink and running mate and longtime Alachua resident Rod Smith made a final push through Alachua County Monday afternoon in hopes of tilting the scales in their favor. By Wednesday afternoon, however, Sink, democrat, conceded the tight race to opponent Rick Scott, republican.
The razor thin margin apparently couldn't be overcome as Sink pulled in 47.66 percent of votes compared to Scott's 48.93 percent of votes statewide. Sink and Smith did carry Alachua County with 59.21 percent of the vote.
Flanked by big name supporters like former governor and U.S. Senator Bob Graham and current Senator Bill Nelson, Smith and Sink spoke to a crowd of about 150 or more supporters at Gators Dockside on Newberry Road in Gainesville.
Smith, a well-known local attorney, was elected to the State Senate in 2000. In 2006, Smith sought to win the primary for democratic gubernatorial candidate. Smith then returned to private practice where he serves as senior partner in Avera and Smith. In 1992, Smith was elected as the State Attorney for the Eight Judicial Circuit. He gained significant recognition regionally and nationally for his successful prosecution of the penalty phase of Danny Rolling, the man convicted in the 1991 murdering of five college students in Gainesville.
Smith and wife DeeDee reside on their rural Alachua County farm on the outskirts of the city of Alachua.
Add a comment