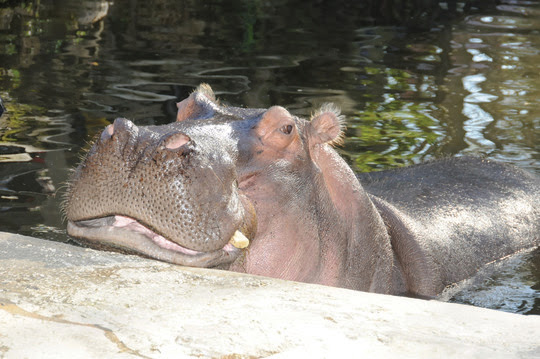 HOMOSASSA, Fla. – Today, the Florida Department of Environmental Protection's Ellie Schiller Homosassa Springs Wildlife State Park is celebrating the historic 60th birthday of Lucifer (Lu), the resident hippopotamus.
Lu is a longtime resident of Homosassa Springs Wildlife State Park, with fans around the world. For his special day, a celebration was held this morning where visitors, staff and volunteers joined together to sing Lu Happy Birthday as he enjoys his specially-made birthday cake.
"We're proud that Lu calls Homosassa Springs Wildlife State Park home," said Florida Park Service Director Eric Draper. "He is an impressive sight and a valuable partner who helps engage visitors in learning about wildlife."
"Lu is an iconic part of our park and all of Citrus County. He is loved by all and has been an inspiration to generation after generation," said Park Manager Tricia Fowler. "We could not be prouder to celebrate 60 years with Lu and the happiness that he has brought to the community and countless visitors."
In the afternoon, another celebration took place during the park's alligator and hippopotamus program, providing park visitors another opportunity to join the birthday celebration of Florida's only resident hippopotamus. A giant birthday card was available for visitors to sign to wish Lu a happy birthday, and the card was presented to Lu during the second ceremony. Lu's fans can also send him a birthday greeting on his Facebook page.
Lu, an African hippopotamus, was born at the San Diego Zoo on Jan. 26, 1960. Like all hippos, Lu is a vegetarian and his diet consists of alfalfa hay and assorted vegetables and fruit. Hippos typically live from 40 to 50 years old. At 59, Lu is the oldest hippo in North America.
A fixture at Homosassa Springs since 1964, Lu was a movie and television star with the Ivan Tors Animal Actors troupe, which wintered at the park while it was in private ownership. His credits include the 1960s movies "Daktari" and "Cowboy in Africa," and television specials such as the "Art Linkletter Show" and "Herb Alpert Special."
For more than five decades, Lu has been a mainstay among the animals at Homosassa Springs Wildlife State Park. When the Florida Department of Environmental Protection's Florida Park Service purchased the attraction in 1989, the state planned to shift the emphasis of the park to native Florida wildlife and find homes for all of the exotic species, including Lu. Public support, however, led the state to grant Lu special Florida citizenship in 1991. Since then, he has become an icon at the park, attracting visitors from around the globe.
For more information about Homosassa Springs State Park, visit the park's webpage
Add a comment