HIGH SPRINGS – As the investigation of a High Springs Community School behavioral resource teacher for kindergarten through fourth grade and part-time swim coach continues, investigators have determined that seven young boys so far have fallen prey to sexual overtures by their coach. More victims have been rumored, but Gainesville Police Department (GPD) investigators will not substantiate a specific number until the investigation has been completed.
Joseph Michael Diaz, 31, 3003 NW 30th Terr., Gainesville, was arrested late Thursday afternoon, April 24, after a teenage boy told GPD detectives that Diaz had pushed him to take inappropriate photos and videos of himself using Diaz' cell phone.
Although Diaz bonded out of jail Friday morning at 3:15 a.m. after posting his $65,000 bail, he was again arrested that same afternoon after a younger teenage boy alleged Diaz had sexual contact with him several times a month over a three-year period beginning when the child was 10 years old.
Diaz was booked into the Alachua County jail on a charge of sexual assault by an adult on a victim under 12 years of age and is currently being held under $750,000 bond according to the Alachua County Sheriff's Office website. He remains in jail as of press time.
Diaz has been placed on administrative leave by the Alachua County Public Schools (ACPS) pending the results of the criminal investigation. ACPS spokeswoman Jackie Johnson said, "Law enforcement officials said they don't believe any students at High Springs Community School are involved."
However, school principals at High Springs Community School and at other schools where Diaz has taught in the past are taking no chances. High Springs Community School Principal Jeff Means sent a letter home with students telling parents Diaz was placed on administrative leave Friday pending results of the criminal investigation.
Wiles Elementary Principal Barbara Buys sent a letter home to parents of students who would have come into contact with Diaz when he taught second grade from 2009-2013. The letter noted that the investigation is ongoing and that parents who suspect their child might have been victimized by Diaz should contact police detectives.
Littlewood Elementary School Principal Jen Homard sent a similar letter home to parents of fifth-grade students as Diaz was a fourth-grade teacher at Littlewood during the 2008-2009 school year.
The investigation into the allegations involving the younger teen is ongoing. Although GPD investigators originally said they believed it was likely additional victims would be identified as their investigation continued, they reported earlier that they expected two more incidents of children coached by Diaz in which he might have engaged in sexual conduct or sexual promotion of minors. "We have physical evidence and statements that lead us to believe there may be more victims," said GPD Public Information Officer Ben Tobias on Friday, April 25.
However, on Tuesday, April 29, Tobias confirmed seven cases had been reported at that time and said, "We are still interviewing potential victims and the case is unraveling very slowly."
Diaz was a part-time swim coach at Makos Aquatics Club of Gainesville, presumably the location where he met the young boys. However, one of his victims said the actual sexual encounters with Diaz occurred at the coach's residence. He was able to describe the street, the layout and the inside of the house in detail for investigators.
According to Tobias, the first arrest came after police were contacted by the Florida Department of Children and Families on Wednesday, April 23. Officials said that a confidential report had been filed with their agency alleging that a teenage boy was involved in an inappropriate relationship with Diaz. The following day, a bench warrant was issued on charges of cruelty toward a child by directing the sexual performance by a child and possession of child pornography.
GPD investigators praised the first victim for coming forward. "We understand that this must be a very difficult and embarrassing time for him, but he deserves justice and his coming forward has likely saved other children from being attacked by Diaz," said investigators.
Due to the sensitive nature of the investigation, GPD issued a statement Wednesday that they will not be providing a running tally of possible victims in this case.
"The investigation is complex and very involved and will continue until we have identified each possible victim. We understand that these allegations may be extremely embarrassing or confusing for the victims, and we don't wish to put them through any additional grief," said Tobias.
# # #
Email cwalker@
alachuatoday.com
Add a comment
Add a comment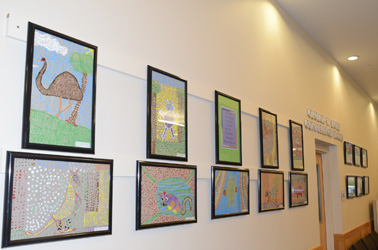 CARL MCKINNEY/ Alachua County Today
These pieces now hang in City Hall. The art depicts various animals native to Australia, created by students of Irby Elementary.

ALACHUA – The City of Alachua partnered up with some students from Alachua Elementary to redecorate City Hall.
Students of the school worked on art that was given to the city last fall. The students learned how colors relate to each other, how to match them and how to use the color wheel.
At the Jan. 27 city commission meeting on Monday, the city officially acknowledged the art and awarded the students certificates.
"The kids have done a great job," said Kathleen Requesens, art teacher at Alachua Elementary.
Fourteen students were presented certificates from the city, including one who will have his work displayed at the Florida Museum of Natural History.
"I'm very proud of these students," she said. "Wait till you see what's coming next."
The Alachua Elementary students got their art back, and new works from students of Irby Elementary are now on display.
# # #
Email cmckinney@
Add a comment
Add a comment
HIGH SPRINGS – A High Springs man was arrested this past Sunday night, Sept. 22, for driving his car into his neighbor's house.
Dexter Delano Burnett Jr., 26, was originally arrested for leaving the scene of a crime, said Steve Holly, police chief.
Three officers responded to a complaint that Burnett was firing a gun near Marvin Epp's house on 22737 NW Railroad Ave., at around 6:51 p.m. that night, Holly said. When law enforcement arrived, they saw a car had damaged Epp's house. Burnett was nowhere to be found at the scene.
They spoke with Epps, whose house mailbox and yard were damaged, according to the report.
Burnett said he drove the car into the house because he was being shot at.
Officers found him at his home at 23522 NW 179 Place and arrested him for a hit and run.
There was no evidence Burnett was drinking that night.
After the arrest, Burnett was found with a .22 caliber round, Holly said, allowing him to be charged with possession of a concealed weapon.
Burnett is being held in Alachua County Jail with a $75,000 bond.
# # #
Email zkapadia@
alachuatoday.com
Add a comment
Add a comment
TALLAHASSEE – Commissioner of Agriculture Adam H. Putnam and the Florida Department of Agriculture and Consumer Services' Florida Forest Service are highlighting the dangers of wildfires and encouraging Floridians to use caution with all outdoor fire.
"While the recent summer rains have temporarily decreased Florida's wildfire danger, we are approaching the dry fall and winter season and we must remain vigilant," said Commissioner Putnam. "National Fire Prevention Week serves as a reminder of the important work our firefighters in the Florida Forest Service do to protect Floridians and an opportunity for residents to learn how they can help protect Florida's homes and natural resources."
In keeping with Fire Prevention Week's national theme of "Prevent Kitchen Fires," the Florida Forest Service urges citizens to be careful with outdoor cooking fires and campfires. Nearly 80 percent of all wildfires in Florida are caused by human carelessness. Citizens can safely use Florida's "outdoor kitchens" by following these tips:
Clear a 10-15 foot diameter area around the campfire – away from tents, shrubs, trees, overhanging branches and other flammable objects.
Use an existing fire ring or build an appropriate pit for the campfire.
Avoid burning during dry or windy conditions.
Keep the campfire small and under control.
Never leave a campfire unattended.
Make sure the campfire is totally extinguished and cold before you leave it.
Since the beginning of the year, 1,933 wildfires have burned 47,256 acres throughout Florida.
The Florida Forest Service manages 1 million acres of public forest land while protecting more than 26 million acres of homes, forestland, and natural resources from the devastating effects of wildfire.
# # #
Add a comment
Add a comment
HIGH SPRINGS – F
On Tuesday, Sept. 10, former High Springs Mayor Larry Travis, 72, died from bladder cancer. Travis left behind a legacy for friends, family and co-workers to continue.
Travis was well-known throughout the High Springs area. Mayor Susan Weller said she considered Travis as one of the most welcoming people she has ever met. When Weller and her husband moved to High Springs in 2000 she said she was pleasantly surprised to find out that Travis was her next-door neighbor. Weller had made a friend for the next 13 years. She said she remembers Travis as a unique and wonderful individual who cared deeply about the city.
"He was just one of those individuals who when you met him it was as though you were long lost friends," Weller said. "He treated everyone he met that way."
The Rev. Byran Williams and co-workers like city clerk Jenny Parham said Travis' kindness and compassion is what gained him respect from community members like. Working for the city was more than just a job for Travis, Parham said. It would be hard not to like him, she added.
Williams and Weller both recounted hearing numerous stories of Travis' compassion. It did not matter what race or creed you were he was a big man with a big heart, Williams said.
"He had a great love for the city and cared deeply for its citizens," Weller said. "If the mother of someone was ill, he would stop by and see them on multiple occasions."
"Larry just did it when he heard something. You didn't even need to ask," Williams said.
Travis didn't just focus on High Springs. He worked with the Municipalities Fire Authority (MFA) trying to make sure that every city in Alachua County had fair fire department coverage. Beyond the MFA, Travis also worked with the Mayor's Youth Council and the Mayors Economic Development Task Force.
"He really was a natural leader," Parham said. "The kind of person you just want to stand by."
Travis did his best to be fair, Parham said. For him, it was about what was good for the city, even if he did not like it.
# # #
Email zkapadia@
alachuatoday.com
Add a comment
Add a comment