ALACHUA COUNTY – Governor Rick Scott asked the state legislature to set aside $55 million in the budget this year for springs and river protection and restoration, and some residents of Alachua County have ideas on how the area could benefit if the money comes to fruition.
A good way to protect the water supply in North Florida would be to focus on conservation, rather than restoration, said Chris Bird, director of the Alachua County Environmental Protection Department.
"It doesn't all have to be about big engineering projects," he said. "Some of it is just education."
Money could be spent on education efforts to help local residents do a better job conserving water, Bird said.
In Alachua County, 55 million to 60 million gallons of water are pumped out of the ground each day, he said. About half of that is municipal, with the other half being agricultural.
A lot of water usage comes from homeowners watering their lawns, Bird said.
"That is more of a luxury item than growing food," he said. "Growing food is more important than having your grass green."
The state could also spend money to offer incentives to farmers for growing crops that require less water, Bird said.
Subsidies helping farmers install more efficient and state-of-the-art irrigation systems could help too, he said.
If the legislature includes Governor Scott's $55 million in the budget, the county plans to be competitive in getting some of the money, Bird said.
"We think there's a chance we're going to get some of it," he said.
Legislation is being introduced that contains a list of springs that have priority for funding for conservation and restoration projects. The county is working with its legislative delegation to try and get some of the local springs on the list, Bird said.
One project the county is looking for funding for is an upgrade to the septic system at Poe Springs. Nitrates in human waste can seep into the water and can cause algae growth, which can strangle other aquatic plants.
Some septic systems the county has looked at cost around $100,000, Bird said.
Although Alachua County wants to be in the running should the state set aside the $55 million, some of it might be better spent going to the local cities, he said.
"The Alachua County government doesn't necessarily need the money, as long as it helps the region," Bird said.
For instance, it could be used to help cities upgrade wastewater treatment facilities so they can supply water to power plants, reducing the amount of water taken from the aquifer.
Merrillee Malwitz-Jipson, president of Our Santa Fe, a conservation group, wants to see less money spent on restoring Florida's waterways and more focus on protecting them.
She worried that more restoration projects will encourage the state to issue more permits for land use.
"They don't need to throw around millions of dollars to fix the problem," she said. "The State of Florida just needs to manage what we have."
Rather than spending the money, the state should enforce the rules already on the books and hold businesses and citizens accountable, she said.
"I don't think it takes $55 million to do that," she said. "It's just more taxpayer money that will encourage the overuse of water."
# # #
Email cmckinney@
alachuatoday.com
Add a comment
Add a comment
ALACHUA – An apartment building near Hitchcock's in Alachua was evacuated on Monday after a laundry-room fire ignited in an apartment on the second floor.
One51 Place was the gathering site for three different fire-rescue departments at around noon on Monday. The affected building was already evacuated by the Alachua Police Department when the High Springs Fire Department arrived on the scene. Shortly after, the Alachua County Fire Rescue and LaCrosse Fire Rescue joined the responders.
A resident of apartment 2059 called for help around noon, said Jessie Sandusky, public information officer for the Alachua Police Department.
Kyle Miller, of the High Springs Fire Department, was one of the first on the scene. Engine 21 was the closest fire rescue services to the building. The fire didn't seem to spread far, Miller said.
"It was mainly contained to the laundry room," he said.
Nobody was hurt in the fire.
The fire seemed to be caused by a dryer in the laundry room exploding, according to several firefighters who were at the building.
Damage appeared to be minimal, said Mark Havelock, of the Alachua County Fire Rescue.
"There was a little soot on the wall, that's about it," he said.
# # #
Email cmckinney@
alachuatoday.com
Add a comment
Add a comment
Newberry – A new item could find its way onto the bills of customers of Clay Electric Co-op.
The City of Newberry is one of the few towns in Alachua County that Clay Electric doesn't have to pay a franchise fee to do business in. Newberry might soon be looking to change that.
A franchise fee is essentially a tax that a utility business sometimes must pay to operate in a certain area, said Derick Thomas, district manager for Clay Electric in Gainesville and Lake City.
"What you're paying for, in theory, is use of the city's right-of-ways and road crossings," he said. Right-of-way refers to permission to use a city or county's infrastructure, such as power cables, water lines and public roads. Many of Newberry's roads are county or state roads, Thomas said, so the franchise agreement probably wouldn't be worth a lot of money.
Since road maintenance is paid for by residents through tax, it is fair Clay Electric pays for their upkeep as well, said Newberry City Manager Keith Ashby, especially with all the wear and tear from the heavy vehicles they must use.
As of now, the city's attorneys are drafting a letter for Clay Electric, which could take a week or two, Ashby said.
The next step would be negotiating with the power company.
"The city can't just unilaterally do it," Thomas said.
Clay Electric would sit down with the city and they would determine what a fair market value for access to public infrastructure would be.
A Newberry ordinance was passed 12 years ago that asked for a franchise agreement with the company, but it was never enforced, Ashby said.
If the franchise fee is enacted, business would still continue as usual for Clay Electric, Thomas said.
The fee would be itemized on the bills of the company's customers.
"This isn't a tax on Clay Electric, but on the citizens of Newberry," he said.
Franchise fees are not uncommon, Ashby said. They are the norm across the state, and nearly every city in Alachua County that the power company operates in collects one.
"High Springs just got their franchise fee into play with Clay Electric," he said.
# # #
Email CMcKinney@
alachuatoday.com
Add a comment
Add a comment
ALACHUA – Over the past decade, the United States has seen an increase in the amount of imported seafood. With the increase in the seafood industry, many consumers, corporations and farmers have started to question whether or not they are receiving truly what they have paid for.
To answer these questions, companies like Applied Food Technologies (AFT) Inc., located in Alachua's Sid Martin Biotech Incubator, have received federal funding to help further research into proper labeling and mislabeling of foods.
LeeAnn Applewhite, CEO and founder of AFT, estimated that 90 percent of all seafood in the United States is imported and a little over 33 percent of seafood is mislabeled or misrepresented.
According to Applewhite, mislabeling of seafood products can be either intentional or unintentional. The intention of AFT is to help combat fraud in the industry whether it is malicious or not.
In the past, AFT used protein tests to identify whether or not a fish has been labeled properly. This protein test has become a thing of the past. The protein test had a variety of issues from compromised sample to sheer length of testing, which could span over days.
AFT now utilizes a molecular method called DNA barcoding, which tests the DNA of the fish in question and compares it to AFT's database of seafood. The new molecular test is much faster, spanning only a few hours, and is thorough and accurate, Applewhite said.
Through this particular method of testing, AFT was able to identify two similar species of South Asian catfish being substituted as cod or grouper by Vietnamese fishing companies. Mislabeling like this can cause a slew of problems for consumers ranging from economic fraud, health issues, allergic reactions and even religious issues that depend on the food being kosher.
With over 350 different species of grouper and cod, research techniques used by companies like AFT are important for the safety of consumers, Applewhite said. Currently AFT is estimated to be allocating 50 percent of their efforts into commercial testing while the rest is being put into furthering research techniques.
"What drives me is the research side of things," she said, "We are always looking to improve."
Applewhite sees the future of AFT developing even further beyond the seafood industry. Within the next decade product testing will be on the upswing and Applewhite envisions her company branching out into the testing of fruits, vegetables, coffee beans and other food products.
# # #
Email zkapadia@
alachuatoday.com
Add a comment
Add a comment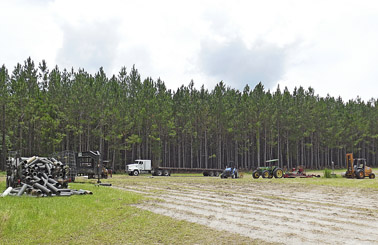 The City of High Springs is turning the city's wastewater sprayfield into a sod growing operation which will aid in repairs and upkeep of local ball fields.
HIGH SPRINGS – The city's plan to use the wastewater sprayfield to grow sod has finally taken root. Suwannee Valley Grassing, Inc. (SVG) of Lake City has agreed to plant the city's 17-acre sprayfield and turn over three acres of Bermuda sod grass to the city for ball field repairs, according to High Springs City Manager Ed Booth.
Booth said the wholesale price of Bermuda grass sod is $10,000 per acre, which means it would have cost the City $30,000 to purchase the sod commercially.
"Their [SVG] people are out there right now clearing the area of weeds and grasses so they can eventually plant the Bermuda grass," said Booth. "Planting should take place within the next three weeks. Then it takes about a month to get the sod established."
Once the field is planted and growing Bermuda grass, SVG will come in and cut it. The city will then transport their share of the sod to the ball fields, "unless SVG decides to transport it as a civic gesture," he said. "This should happen between November and February, when the soccer ball fields are not in use," said Booth.
Commissioners have agreed that if the funds are available in the next fiscal year's budget, a part-time recreation director will be hired. Booth, who anticipates being able to hire the position, explained that it will be up to the recreation director to get the sod laid on the fields.
There appears to be no downside to this project. The city sprays the field anyway and will now reap the benefit of that in the form of sod to improve the less than perfect city-owned ball fields. In addition, growing sod on the sprayfield removes some of the nitrates from the soil. "Had we not decided to do this, we would have had to move the sprayfield to a new location because it was becoming too nitrate rich," said Booth. "This solves several problems at once."
Depending on how this works out for the city, "we may look into it as an enterprise fund later," Booth said.
Previously he explained to the city commision that one city he knew of uses this method to earn money by selling sod to homeowners and businesses in their area. "I don't think we're quite ready for that yet, but it might be possible for the future," he said.
# # #
Email Cwalker@
alachuatoday.com
Add a comment
Add a comment