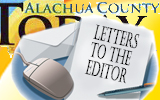 It is with great honor and pleasure that I announce my candidacy for the City of Alachua City Commission, Seat 4.
I am excited about this opportunity to serve the citizens of Alachua. I will retire in June and will commit my time and energy to improving programs for our youth, increasing sporting events for our recreation department, better roads, job opportunities and the revitalization of the "Good Life" Community.
During the past 31 years, I have been employed by the School Board of Alachua County as a Speech & Language Pathologist at Alachua Elementary and W.W. Irby Elementary schools in the city of Alachua. I am a team leader serving on the Principal's team, Social committee chair and National Achievers representative for Santa Fe College Center of Excellence.
Currently, I am a member of St. Luke AME Church, FPAC Representative for the State of Florida Special Olympics, President of the Alachua Woman's Club, Former President of the Friends of the Library and a member of Alpha Kappa Alpha Sorority, Inc.
I obtained residency in the city of Alachua in the 1970s. I have volunteered and served on W.W. Irby, Alachua, Mebane and Santa Fe High SAC Committees, volunteered with the recreation department, coached a basketball team, Safety Patrol sponsor at Alachua Elementary and tutored students in the Alachua area.
I am humbled to share that Alachua City Commissioner Orien A. Hills has endorsed me after serving 15 years on the Commission. I ask that all citizens join me in thanking Commissioner Hills for his service and his commitment as he leaves office in April. He will continue to be a "mover" and a "shaker" for this community.
As your next commissioner, I will represent all citizens of Alachua focusing on what's best for our community.
I am committed to bringing a "New Vision" and a "New Voicecialis online to the City of Alachua.
I ask for your vote on April 10, 2012.
cialis online
cialis online
cialis online