Details

Published on

Saturday, 03 March 2012 22:06

Written by Special to Alachua County Today
Hits: 4125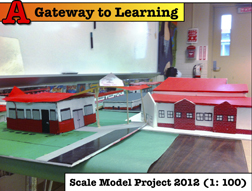 ALACHUA – Mebane Middle School eighth-grade students in Timothy Hinchman's advanced math classes recently put their mathematics skills to use as part of a special project. Students were assigned a building on the school campus and tasked to build a scale replica of the structure.
Using skills they developed in the classroom, the young mathematicians were required to measure the length and width of the building in meters, and using trigonometric ratios, to determine the height of each building.
Students also had to sketch a map of the building, labeling all doors and windows, and had to know the distances of each to build the scale model. Using the correct formulas and measurements to calculate the area and perimeter of the building, they made a scale drawing using graph paper, drawing the walls, windows, doorways and closets. With materials of their choice, they then created the scale model structures representing structures throughout the school campus.
Add a comment
Add a comment
Details

Published on

Sunday, 19 February 2012 14:22

Written by Special to Alachua County Today
Hits: 7598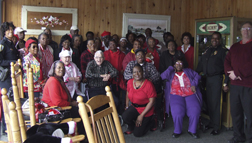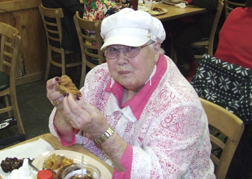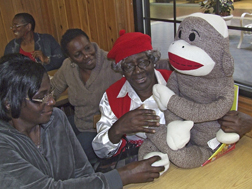 Seniors from Alachua and Lake City enjoyed a super-sweet Valentine's Day luncheon celebration. Many of the seniors wore Cupid's favorite colors of red and pink, contributing to the head-over-heels party atmosphere.
Add a comment
Add a comment
Details

Published on

Saturday, 04 February 2012 15:53

Written by Special to Alachua County Today
Hits: 6769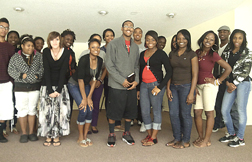 Christian Fellowship Group members meet every other Monday at the High Springs Civic Center

HIGH SPRINGS – The Christian Fellowship Group of High Springs met on Jan. 23 at the High Springs Civic Center. The group of young adult believers, whose ages range from 16-30, meets every other Monday evening for fellowship, bible study, free tutoring, open discussion and games. Participants also enjoy prizes, food and fun. Minister Adam Joy encourages young adults searching to experience the love of God to join the group for the Valentine's Day Social and Fellowship, which will be held Monday, Feb. 6 at 6:30 p.m. at the Civic Center.
For further information, "LIKE" Christian Fellowship Group on Facebook, or visit www.cfgministries.org.
Add a comment
Add a comment
Details

Published on

Saturday, 11 February 2012 20:12

Written by Special to Alachua County Today
Hits: 14399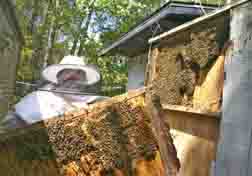 Local beekeeper Chappie McChesney is a bee's best friend. The founder of the Alachua County Beekeepers Club answers the call when homeowners discover swarming bees near their homes. McChesney safely removes the bees and relocates them to an area where they can safely start a new colony.
ALACHUA – The sound of buzzing makes some people duck and run for cover, especially if they look up to see thousands of honeybees flying around a bush, tree, or even on the side of a house. What if you see a huge ball of bees clinging to a branch or other area near your home?
What do you do? Panic? Run away screaming? Call an exterminator?
Or do you do the right thing and calmly call Chappie McChesney to come out and remove the honeybees safely?
McChesney, who is the founder of the Alachua County Beekeepers Club and many other clubs in surrounding counties, has made it his passion to help save as many honeybees and other pollinators as possible. McChesney says that people should start helping the honeybees that are disappearing at an alarming rate instead of killing them every time they appear on someone's property.
Honeybees provide people with the many foods we love to eat. Without the pollinators, our diets would be bland consisting of mainly corn, wheat and rice. Honeybees help produce millions of dollars' worth of crops in Florida and around the world. They help ensure a variety of fruits, nuts, vegetables, and beautiful flowers and trees to enjoy.
At this time of year, honeybees are trying desperately to survive by finding a new home to start another colony. This is when the bees are seen just about anywhere they can find a cavity to build their nest. It only takes a 1/8 of an inch hole to allow them to enter and start the cycle of life over again for a new year.
Many people have heard of colony collapse disorder (CCD), where honeybees just disappear from their hives leaving the queen behind to die. Scientist have been working on finding the cause and a solution for over seven years now and still cannot say what is causing this problem.
The public can do their part locally by using fewer chemicals on gardens and flowers, and try using more natural controls to get rid of unwanted pests. Honeybees are not pests and the human race relies on them for producing food.
Home gardeners who want to produce a good crop from their garden this year or have beautiful flowers need honeybees around their home. Honeybees help keep the world beautiful and productive if people will take the time to help them survive.
On another front, the beekeeping community is fighting a constant battle trying to keep unhealthy honey out of stores. Much of the commercial honey consumed comes from China and other countries that do not control the chemicals or harmful heavy metals that are in imported honey.
Always buy local honey if possible to make sure you are eating pure honey and not some adulterated syrup that is often passed off as honey. Know your beekeeper….there is one near you. Having a hive of bees at home will guarantee that pollination will be done efficiently in the garden, and eating pure local honey that local bees produce is something few folks enjoy today. Bees will continue to swarm and reproduce throughout the spring and early summer in this area and club members will be ready to assist in safely removing them.
For people who want to learn more about how to help find a solution to the problems facing honeybees, McChesney can be reached at 386-462-2637 or at This email address is being protected from spambots. You need JavaScript enabled to view it. , or call for assistance with any honeybee problem and he will come out and remove honeybees for free.
Local bee clubs offer a wealth of information and help for the new beekeeper. Everyone is welcome to attend beekeeper club meetings in North Central Florida. More information, including a video of bees being removed from homes and swarms being captured, can be found on the Alachua County Beekeepers Club website at http://alachuabees.org/.
Add a comment
Add a comment
Details

Published on

Saturday, 28 January 2012 15:55

Written by Special to Alachua County Today
Hits: 7842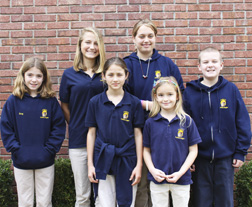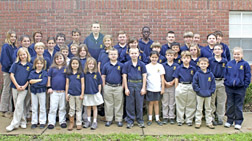 Photo 1: L-R: Forest Grove Christian Academy students on the "Straight A Honor Roll" are Olivia Ward, Kimberly Vickers, Oakleigh Barber, David Bowden, Lindsey Leroy and Lila Horner (Kaitlyn Mosher not shown).Photo 2: Front Row, L-R: Forest Grove Christian Academy students on the "A-B Honor Roll" are Jessica Bryan, Faith Hart, Ashley Chesser, Natasha Palmer, Logan Taylor, Austin DeGraff, Maria Espinosa, Seth Mantlo, William Fuller, Garrett Wilson, (Nathan Hall and Thomas Jackson not shown). Middle Row, L-R: Sierra Roberts, BJ Vickers, Tyler Grubbs, Devan Davis, Mackenzie Vacchiano, Jessica Vickers, Olivia Hall, Martin Pickard, Ben Chesser, Sarah Harmeier, Sam Roberts, Dallas Hunter. Back Row, L-R: Alyssa Harmeier, Katlyn Strope, Amber Holder, Hannah Strope, Owen Williams, Zephan Toundas, Matthew Brooks, Daniel McConnell, Isaiah Brantley, Kevin Cauthen, Charles Pickard, Marybeth Pickard, Eddie Otto and Matthew Delaney.
Add a comment
Add a comment