Details

Published on

Sunday, 08 January 2012 14:45

Written by Special to Alachua County Today
Hits: 6333
ALACHUA COUNTY – Alachua County school officials are encouraging students who will be heading to high school this fall and their families to learn more about the district's wide variety of highly-successful career academies by attending this year's Career Academy Forum.
The annual event, which usually draws well over 500 people, will be held Thursday, Jan. 12 from 6 to 8 p.m. at Buchholz High School in Gainesville at 5510 NW 27th Avenue. Students and families will be able to view displays and talk to teachers and current students of each of the district's thirteen career academies. They can also learn about the eligibility requirements and application process.
"This is a wonderful opportunity for incoming high school freshman and their families to learn more about the many programs we offer," said Nancy Iafrate of the district's career and technical education department. "Those programs will help them get a head start on a lucrative career while they earn their high school diplomas."
More than 1,100 Alachua County high school students are currently enrolled in the career academies, which offer a rigorous curriculum in a wide range of fields, including health care, information technology, marketing and finance. Students in the programs have access to internships and many will graduate from high school with state certification in their chosen fields, making them much more marketable when it's time to look for a job. Students can also earn college credits and scholarships while attending the academies.
"These programs are a terrific pathway into both post-secondary education and the job market," said Iafrate. "Students are developing skills in some of the fastest growing careers of the next decade."
Each career academy will also have its own open house in January and early February. A link to the complete open house schedule is available on the district's website at www.sbac.edu. The link can be found under 'Upcoming Calendar' on the right-hand side of the home page. More information is also available through the district's Career and Technical Education office at 352-955-7600.
Add a comment
Add a comment
Details

Published on

Saturday, 31 December 2011 22:14

Written by Special to Alachua County Today
Hits: 7713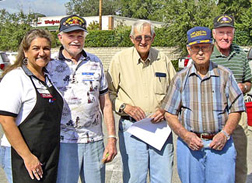 ALACHUA
– It's never too late to honor community heroes. And in commemoration of Veterans Day, Capital City Bank recognized members of local law enforcement, firefighters and other community heroes at a special "Hometown Heroes" celebration at the Alachua office. The event was open to the public and featured a Blood Drive hosted by LifeSouth Blood Bank, which resulted in 15 donations of the gift of life.
Members of the Alachua County Sheriff's Department, City of Alachua, area police departments and fire stations attended by special invitation as guests of honor. To show appreciation for the service these honored guests perform daily and to say "thank you" to the donors who came out to share the gift of life, bank associates served a feast of hot dogs, chips, cookies and beverages free of charge. The Capital City Bank-designated "Hometown Heroes Week" is scheduled each year to coincide with the Veterans Day holiday.
Add a comment
Add a comment
Details

Published on

Saturday, 17 December 2011 20:48

Written by Special to Alachua County Today
Hits: 6493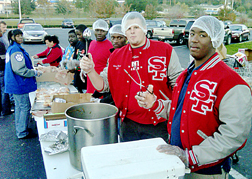 The Santa Fe High School boys basketball team put in time off the court last Friday. The team was hands on helping with their annual steak dinner fundraiser held in the parking lot of Hitchcock Markets in Alachua.
Add a comment
Add a comment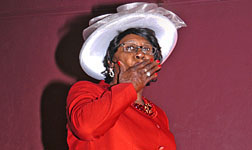 The annual fashion show highlights area seniors showcasing their favorite outfits. Favorite fashion colors this year were red, gold, black and white.
ALACHUA – Synonymous with razzle-dazzle, glitz and glam, the 6
th
Annual Senior Fashion Show packed the house Sunday afternoon.
The high fashion event, which was themed "Winter Wonderland," brought out the area's style conscious seniors to model the latest fashions at the Alachua Women's Club.
Wilma Rogers and Roger King introduced the models who displayed a variety of dazzling outfits and accessories while taking to the runway accompanied by the music of Bill Rogers. Special guests included Alachua Mayor Gib Coerper and City Manager Traci Cain along with special guest Clovis Watson, Jr.
This year's senior models included Robert Pollard, Carrie Pollard, Inez Williams, Ralphine White, Jean Ward, Deloris Merricks, Bessie Clark, Wilmon Brown, Corrine Waddell, Martha Collins, Katie Holmes, Roger Holmes, Elmo Williams, Mae Ella Todd, Edward Todd, Louise Queall, Ella Thomas, Velma Edwards, Marilyn Barnes, Ollie Williams, Archie Williams, Christine Howell, Annie Welcome, Mamie Collins and Rosa Bethel.
For the second year, "Youth in Fashion" featured children dressed in their best. Youth models included Queondric Boykin, Destiny Perkins, Tony Brooks, Rodney Peterson and Quiana Towns.
While the spotlight is on the dazzling models, each was escorted across the stage by a stylishly outfitted escort. Saturday's escorts included Roger Holmes, Jerry Johnson, Damon Massina, Horace Jenkins, Porter Peterson and Clifford Williams.
Adding to the excitement, City of Alachua Police Department Chief Joel DeCoursey and staff helped with a Santa's giveaway to children attending the fashion show.
Special entertainment was provided by the Alachua Senior Cha-Cha's dance team as they energized the afternoon with their choreographed dance moves.
The Senior Fashion Show is sponsored by the City of Alachua and the Hathcock Community Center and is made possible by a group of volunteers and organized each year by Reatha Peterson and Rose Brown. Among volunteers assisting with this year's show were Jackie Edwards, Julia Kelly, Brian Walker and Barbara Dukes.
City of Alachua Recreation Director Hal Brady attends the show each year, helping with transportation and last minute needs to ensure the event goes smoothly. "The fashion show offers an afternoon of entertainment where you actually know the stars of the show," said Brady. "It's a lot of fun for the seniors as well as their families."
Add a comment
Add a comment
Details

Published on

Monday, 12 December 2011 23:43

Written by Special to Alachua County Today
Hits: 5220
TALLAHASSEE
– Florida's graduation rate has risen to its highest level ever, continuing a six year upward trend despite a challenging budget year. According to results released today from the Florida Department of Education, Hispanic and African-American students continue to graduate at higher levels, with Hispanic students increasing graduation rates 13 percentage points since 2006-07, and African-American students increasing 11.5 percentage points during the same timeframe.
Overall, the Sunshine State's graduation rate rose more than one full percentage point to 80.1 percent, up from 79.0 percent last year and up nearly 10 percentage points since 2006-07.
"I want to commend Florida's teachers, students, parents and school leaders for their dedication to helping their students learn and earn their high school diplomas," said Education Commissioner Gerard Robinson. "As educators, we each play a significant role in helping our students achieve academic success, and graduation is one critical step toward the path to college and career."
This year's graduation rate for Hispanic students is 77.3 percent, up two percentage points from last year, and African-American students remained steady from 2009-2010 with a graduation rate of 68.4 percent. White students' graduation rate rose to 86.8 percent, up 1.4 percentage points from last year.
Dropout Rate Continues to Decrease
Following the upward progress in graduation rates, Florida's dropout rate also declined for the sixth straight year to 1.9 percent. This is the first time the state's dropout rate has fallen below two percent, and the rate represents a decline of 0.1 percentage points from last year and a decrease of 1.7 percent since 2006-07.
The graduation rate approved by the State Board of Education uses a formula recommended by the National Governors Association (NGA), which includes standard and special diplomas as graduates but excludes all GEDs (General Educational Development). The NGA rate replaces Florida's previous calculation method that included GEDs. Florida's graduation outcomes, calculated using the federal uniform rate required for federal accountability reporting purposes beginning in 2011-12, will be released in January 2012. This rate is based only on standard diploma graduates.
Since 1998-99, Florida has used a data collection method that ensures an accurate calculation of the graduation rate by following every student from ninth grade to graduation. The calculation defines the group of students on the same schedule to graduate and measures the percentage of these students who graduate within four years of their first enrollment in ninth grade.
To view the state and district graduation and dropout rates, visit http://www.fldoe.org/eias/eiaspubs/pubstudent.asp.
Add a comment
Add a comment