Details

Published on

Sunday, 22 April 2012 16:42

Written by Special to Alachua County Today
Hits: 1321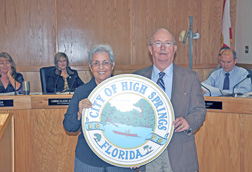 HIGH SPRINGS – After many years of High Springs commissioners having an empty wall behind them in their chambers at City Hall, a colorful city logo will now be proudly displayed.
The new decoration was thanks to a request by High Springs resident Leda Carrero, who asked Festival Sign Service to help bring a little color to the commission chambers.
The beautiful logo was made by and generously donated by Festival Sign Service, the same company that made the city gateway signs as well as other signs throughout town. The donation of the signs was Festival Sign Service's way of saying "thank you."
Submit your story by emailing This email address is being protected from spambots. You need JavaScript enabled to view it.
Add a comment
Add a comment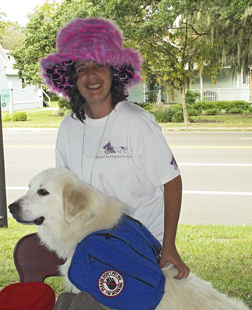 GAINESVILLE, Fla. - It all started with an unexpected meeting in a local club.
Tracie King, manager at Quality Cleaners in Gainesville, and a friend went to a club in Ocala one night where she noticed another woman at the bar.
"She was sitting over at the bar and I saw her and thought, she has this amazing positive energy coming from her, so I went over and started talking to her," King said.
The woman she was talking about is Morriston, Fla., resident Jennifer Bogumil, 35, a cancer patient who started the not-for-profit organization Hats for Happiness.
King said once she started talking to Bogumil she was hooked. "Jennifer had given me her card when I started talking to her and then about a month later I found it and looked up her Hats for Happiness website."
Bogumil's Hats for Happiness organization collects hats of all kinds, scarves, shawls and even children's bonnets, and donates them to cancer patients going through chemotherapy and struggling with the loss of hair.
After reading Bogumil's story, King knew she wanted to be a part of this organization and help others.
"I know people who have struggled with cancer, from co-workers to friends, and I would like to see people who go through chemo not just have to wear the bandanas and the scarves; I want them to have a wider variety," King said.
King contacted Bogumil and the two helped pick up hat donations from various people in the Ocala area.
Now, about a year later, King has continued to help Bogumil collect hats, and spreads the word about it every chance she gets.
King believes out of all cancer awareness organizations, Hats for Happiness is one that can help anyone and doesn't exclude particular groups of people.
"Whether you're a man, a woman or a child, it doesn't matter," said King. "If you want a hat and want a little bit of hope through the cancer struggle, Hats for Happiness is the perfect organization for that."
The organization's roots are a powerful story in itself.
Bogumil was diagnosed with uterine cancer in 2009 and started a blog called "The Adventures of CancerGirl and SuperDog," detailing her experience with cancer, being a student and how to manage both while trying to run a household.
The blog features Bogumil as a superhero and her "alter-ego" Clarice Kentwood.
The idea about the organization spawned within a week or two of Bogumil's start of chemotherapy treatment, as she had multiple people willing to give her hats at the start of her hair loss.
"I heard over and over again from people, 'Oh I have about five or six hats around someplace, let me send them to you,'" Bogumil said. "It occurred to me that if the handful of people I know have a number of hats each, I bet there are a lot more people who have hats they have never worn."
Hats For Happiness has come a long way since then, collecting around 500 to 600 hats a month from people and organizations all over Florida and nationwide.
Bogumil has about 200 volunteers for the organization from all over the country who help collect hats from their area and send them to further the cause.
"While distributing hats is our main mission, I think that the support and community that comes from the volunteers and patients coming together to support each other through the good and bad times is most important," Bogumil said. "I always tell people 'Cancer isn't contagious, but happiness is' and I have found that to be the truth."
To learn more about Hats for Happiness, visit www.hatsforhappiness.org.
Add a comment
Add a comment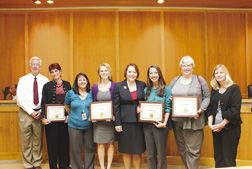 Alachua's teachers of the year were recognized by the Alachua City Commission Monday night. Michele Faulk of Santa Fe High School, Jennifer Barns of Mebane Middle School, Kathryn Rickets-Pyle of Alachua Elementary and Kathryn Lehtola of Irby Elementary received plaques honoring their selection as 2012 Teacher of the Year for their respective schools.
ALACHUA – At Alachua Elementary, Katheryn Ricketts-Pyle isn't afraid of acting goofy to get the lesson across to her third and fourth graders. She keeps granola bars in her classroom in case the children need a snack, and her class motto to keep behavior positive is "Do the right thing because it's the right thing to do."
After teaching for four years, she has been awarded Alachua Elementary Teacher of the Year. But she is just one of four teachers that are being honored in the city of Alachua for outstanding performance with the children in the community.
Coach and Athletic Director Michele Faulk at Santa Fe High School, Jennifer Barns at Mebane Middle School and Kathryn Lehtola at Irby Elementary also won the award for Teacher of the Year.
"Honestly, I feel like it's a reward in itself to have this job and to work with these kids every day," Ricketts-Pyle said.
She moved to the Alachua County area from Polk County, where her mother was her biggest influence. After being in education for 22 years, her mother retired as a school principal. It was through her mother that she learned how a school stays successful, she said.
Ricketts-Pyle earned a Bachelor of Elementary Education from the University of Florida, and was fortunate to be offered the job at Alachua Elementary during her internship at the school. Since third grade, she said she always knew that teaching was the right place for her.
Now, she works with her kids to ensure that they all go through her class with confidence, knowing that they can succeed.
"We have a lot of hats," Ricketts-Pyle said. "We're nurses. We're counselors. We're friends."
At Irby Elementary, Kathryn Lehtola was voted by her peers to be Teacher of the Year for the school. She currently teaches first grade after teaching kindergarten for 30 years. She's been with Irby Elementary "since the door opened," she said.
Most of her childhood friends went off to join the Peace Corps, but Lehtola –remembering JFK's famous speech about what an individual can do for his or her country – decided to stay stateside and help the children.
"It's our job to give them everything so that they can go on to be the best they can be," she said.
Lehtola is the Technology Chair for the school, is a member of the Science and Math Committee and is the Chairman on the Student Advisory Committee.
Times have changed, she said, and feels that technology education has become an important aspect of a student's education. Most students are not started in computer classes until later on in their education career, but Lehtola feels that young children pick up technology easier.
"They're fearless at this age," she said.
Jennifer Barnes, Teacher of the Year at Mebane Middle School, never thought she was going to teach. But after taking on a substitute job, she fell in love with middle school and the children.
"I make it a point to get to know all of my students," she said.
It's important for them to have someone to connect with when they are this age, she said.
Barnes has a Bachelors degree in Criminology. But after deciding to teach, she earned certifications in language arts and science for grades sixth through eighth. Currently, she teaches grades sixth and seventh. Since she started teaching five years ago, she has taught all three grades at the middle school level.
Barnes makes it a point to attend her students' extracurricular activities. She asks students for their schedule of softball games, football games and band performances. She still has students that have moved on to high school return and ask for her to attend their current games.
Santa Fe High School coach Michele Faulk is inspired to instill confidence in her high school students.
Since her elementary school physical education teacher, Dolphus Peppers, made P.E. exciting, Faulk has always wanted to go into teaching. After earning a bachelor's degree in Physical Education and Health Sciences from the University of Florida, she worked six years in Interlachen before returning to Santa Fe High, where she did her internship.
"The day that I get into my car and feel like I'm coming to work," Faulk said, "I'm going to hand in my keys."
Her job has been an adventure, she said. She labeled Santa Fe High School a little slice of heaven for the teachers. The children here have respect and manners, she said. Plus, the parents tend to be incredibly involved in their child's education.
Faulk said she was honored and humbled to be named Teacher of the Year. In addition to teaching P.E., Faulk is the Interact Club advisor, Athletic Director, Head Volleyball Coach and mother of a Santa Fe High School senior. She has taught for 19 years at the school.
"It's flown by," she said.
Add a comment
Add a comment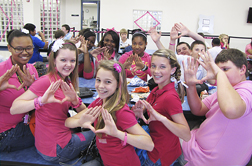 Fellow students of D'Aisha Porter form diamonds with their hands to show support for the Mebane Middle School student who has been undergoing treatment for Clear Cell Sarcoma.
ALACHUA – Forget black and gold; on March 23, Mebane Middle School's colors were pink and white.
Inspired by D'Aisha Porter, the students of Mebane donned the colors for D'Aisha's Pink Passion Day. Only 13 years old, D'Aisha has been fighting a rare form of cancer, Clear Cell Sarcoma, since 2009.
After 15 surgeries, she has exhausted all possible treatments available at Gainesville medical facilities as well as the St. Jude Children's Research Hospital in Memphis, Tenn. Now, D'Aihsa's parents are looking at treatment options available outside of the United States.
The treatment will cost an estimated $10,000, which the students at Mebane intend to pay for. Through bracelet sales and monetary donations, they have already raised over $1,400. Students wore pink and white shirts and "I Support D'Aisha Porter" bracelets during Porter's Pink Passion Day, which focused around a student rally held in the cafeteria.
Alisha Williams, club advisor for the Student Government Association, said it was impressive to see all the pink at the rally, supporting D'Aisha. Members of the Mebane Alumni Association, churches from around the community and Alachua Mayor Gib Coerper attended the event, among many more.
"We are extremely proud of our student body that they have a desire to help raise funds for their fellow classmate," said Anntwanique Edwards, Assistant Principal. "The students have been very encouraging. They understand that D'Aisha is in a battle and support her every step of the way."
During the week of March 19 through March 23, the school's 420 students were encouraged to bring in donations. When they did, they received "Think Pink" stickers and pencils.
"As president of the student body, I speak for all my peers and fellow student government representatives when I say that I support D'Aisha Porter and will do everything I can to help her," said eighth grader Jessie Stalnaker in a press release.
The cancer has spread to Porter's lungs, spine, lymph nodes and legs. Without the proposed treatment, her chance of survival is between 45 to 60 percent.
"I'm very proud because it shows how the students think about people other than themselves," said Williams. Most of D'Aisha's fellow students have been with her since she discovered she had cancer, she added.
Diagnosed with the rare cancer when she was in fifth grade, Porter is now in seventh grade and a member of the National Achievers. In 2009, D'Aisha was cheering for a local Pop Warner football team and remembers a pain in her leg. Not long after, doctors discovered a tumor the size of a cantaloupe in that leg.
According to the Manuel of Clinical Oncology, clear cell sarcoma accounts for less than one percent of all cancers.
But despite all the hardships, D'Aisha keeps a smile on her face.
"I found out myself that frowning just makes me sicker," D'Aisha said.
D'Aisha's parents, Tonnetta and Wayne, feel their daughter's strength is incredible. Despite her struggles, Wayne said, D'Aisha remembers to keep a smile on her face in and out of the hospital.
"She does not allow her sickness to hold her back, and in spite of it she still manages to keep up with her school work, chores at home and enjoys free time with friends," said Tonnetta.
Community members interested in helping can send kind words and encouraging thoughts to D'Aisha Porter at P.O. Box 913 Alachua, FL 32615, and forward donations to the following account: Capital City Bank Account number 9611870820.
Add a comment
Add a comment
Details

Published on

Saturday, 03 March 2012 22:06

Written by Special to Alachua County Today
Hits: 4225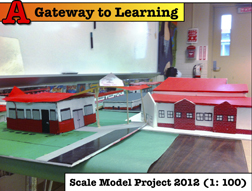 ALACHUA – Mebane Middle School eighth-grade students in Timothy Hinchman's advanced math classes recently put their mathematics skills to use as part of a special project. Students were assigned a building on the school campus and tasked to build a scale replica of the structure.
Using skills they developed in the classroom, the young mathematicians were required to measure the length and width of the building in meters, and using trigonometric ratios, to determine the height of each building.
Students also had to sketch a map of the building, labeling all doors and windows, and had to know the distances of each to build the scale model. Using the correct formulas and measurements to calculate the area and perimeter of the building, they made a scale drawing using graph paper, drawing the walls, windows, doorways and closets. With materials of their choice, they then created the scale model structures representing structures throughout the school campus.
Add a comment
Add a comment