Details

Published on

Tuesday, 22 May 2012 23:28

Written by Special to Alachua County Today
Hits: 973

The High Springs Civic Center was humming with activity last Friday evening and into Saturday morning as hundreds participated in the Alachua/High Springs 2012 Relay for Life. It was a community affair as numerous teams comprised of local businesses, not-for-profits and individuals formed teams to participate in the annual event. One such group, the High Springs Yellow Bellied Sliders Bicycling Society, was on hand with plans to ride the track around the Civic Center and raise money for research and programs of the American Cancer Society.
Add a comment
Add a comment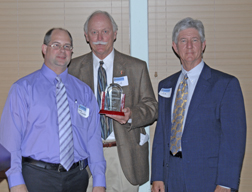 Walgreens' store manager David Flinchum accepts the Alachua Chamber of Commerce Business of the Year Award from Alachua Mayor Gib Coerper and Chamber President Jim Brandenburg.
ALACHUA – The room was packed to capacity for the Alachua Chamber of Commerce's annual banquet held Thursday evening. The banquet featured award presentations as well as the ever popular silent auction. And before the evening was over, outgoing President Jim Brandenburg passed the gavel to newly-elected President David Pope, and a new Board of Directors was installed.
Brandenburg presented a year in review accompanied by a video highlighting a variety of historical locations, landmarks and businesses throughout the community as they appeared years ago.
Alachua City Manager Traci Cain delivered a state of the city address, outlining achievements over the past year. In spite of the economic downtown, and decreases in revenues, the city is in a strong financial condition Cain said, pointing to the most recent audit of the city's finances.
Annually, the Alachua Chamber of Commerce names a Business of the Year. Thursday, the Chamber bestowed that award upon the local Walgreens. Accepting the award was David Flinchum, manager of the store located at the intersection of Alachua's Main Street and U.S. Highway 441.
Presenting the award to Flinchum, City of Alachua Mayor Gib Coerper lauded Flinchum and Walgreens for their strong involvement in the community.
The local Walgreens routinely contributes to various school and community functions, and each Christmas provides at no charge photos of area children taken with Santa at the downtown Hitchcock's Park.
The prestigious Officer of the Year award went to Jesse Sandusky, a detective and the public information officer at the Alachua Police Department (APD). APD Chief Joel DeCoursey presented the award to Sandusky.
Volunteer of the Year was awarded to outgoing Chamber President Jim Brandenburg, who served as the longtime principal of Alachua Elementary, and retired at the end of the 2010-2011 school year.
Brandenburg handed over the gavel to incoming Chamber President David Pope. Pope then conducted an installation of the 2012-13 Board of Directors and Officers. The 2012-2013 Board of Directors are President, David Pope; Vice-President, David Flinchum; Treasurer, Sandy Burgess and Secretary, Bob Page. Board members include Marvin (Rack) Bingham, Jim Brandenburg, Bud Calderwood, Linda Rice Chapman, Julius Davenport, Crystal Hancock, Alan Hitchcock, Amanda Payne, Merrie Shaw, Jerry Smith, Ted Wilson and Gib Coerper, who serves as the city liaison.
Add a comment
Add a comment
Details

Published on

Sunday, 22 April 2012 16:42

Written by Special to Alachua County Today
Hits: 1034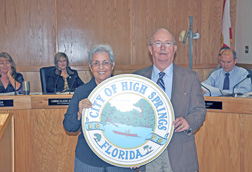 HIGH SPRINGS – After many years of High Springs commissioners having an empty wall behind them in their chambers at City Hall, a colorful city logo will now be proudly displayed.
The new decoration was thanks to a request by High Springs resident Leda Carrero, who asked Festival Sign Service to help bring a little color to the commission chambers.
The beautiful logo was made by and generously donated by Festival Sign Service, the same company that made the city gateway signs as well as other signs throughout town. The donation of the signs was Festival Sign Service's way of saying "thank you."
Submit your story by emailing This email address is being protected from spambots. You need JavaScript enabled to view it.
Add a comment
Add a comment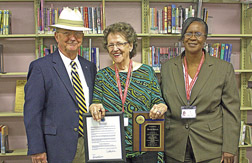 HIGH SPRINGS – The bare walls of Martha Roberts' office reveal evidence of spaces where picture frames used to hang. Trinkets and gifts that once dotted the desk have been packed away and taken home. A room rich in memories cleared and left behind by the woman who affected so many lives.
After 40 years at the High Springs' Library, head librarian Martha Roberts retired on Friday, April 27. In her honor, the City of High Springs dedicated the day to her, proclaiming it Martha Roberts' Day.
"It's been such a wonderful trip," Roberts said.
Roberts started her journey in 1971 in a small, two-room building next to the Priest Theater. With such small quarters, her office extended inside a closet. She worked 16-hour weeks as the only employee. Still, even with limited shelving, the library collection housed 300 books, said Phillis Filer, Roberts' former supervisor.
The community dreamed of a real library, and it pulled together to make those hopes a reality. In 1976, Roberts said the town raised enough money between donations from Friends of the Library and the City of High Springs to start construction on property donated by Loncala Phosphate.
Roberts has fond memories of the move from the old space to the newly finished City of High Springs Library. Children from the town celebrated the day by forming a human chain and moving the books from one building to the next. By allowing the community to literally touch each book as the collection was moved, everyone felt like it was really their library, Filer said.
Ten years later, the City of High Springs gave the library property to the Library District. Roberts remembers this as one of the greatest and most challenging moments in her career.
Even though Roberts felt the library fought for its existence every year before merging with the Alachua County Library District, others in the community have different thoughts.
Filer said prior to that time, Roberts was the library.
"Sometimes I don't think Martha really realizes the impact she's had on the community and the library district as a whole," Filer said.
Roberts believes the staff behind her made her years a success. If not for all the individuals and organizations in the community, she said the library would have never been a reality.
"I've just had a love of the people and a love of books," she said. "High Springs is my town."
Roberts thought of the library as the "living room" of High Springs, where the people of her community could visit, hang out and explore the books offered. She said she's always felt like High Springs was a big family, her family.
Even though Roberts never imagined herself as a babysitter, Filer said children in the community constantly flocked to the library to play games, participate in the summer reading program and involve themselves in other services available for youngsters. Many of the children learned important lessons from Roberts, Filer said, such as if he or she played with a game, it should returned to its designated spot.
The children Roberts read to during the library's popular Story Hour years ago now have grandchildren coming to the library. She said they were really what inspired her to be a librarian. She used to work at High Springs Elementary for a reading program and part-time at the library, but the library always had her heart.
She knew she wanted to have an influence on the lives of children in her small town, helping them to have a safe place and to create fond memories of High Springs.
For Roberts, deciding to retire was the one of the hardest decisions she's ever had to make. The library is updating to a new system, and she doesn't want to learn everything over again.
"It's a good time to bow out," she said.
But she will still be around, visiting the library and participating in the same organizations. She will still be involved in the Garden Club, the Women's Club, AARP, the High Springs Theater and her High Springs' church, First Baptist.
"Martha put her whole heart into this place," Filer said, looking around at the pale purple walls that were home to the woman that turned the library into what it is today.
Add a comment
Add a comment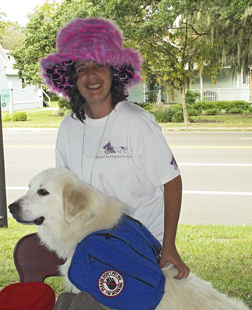 GAINESVILLE, Fla. - It all started with an unexpected meeting in a local club.
Tracie King, manager at Quality Cleaners in Gainesville, and a friend went to a club in Ocala one night where she noticed another woman at the bar.
"She was sitting over at the bar and I saw her and thought, she has this amazing positive energy coming from her, so I went over and started talking to her," King said.
The woman she was talking about is Morriston, Fla., resident Jennifer Bogumil, 35, a cancer patient who started the not-for-profit organization Hats for Happiness.
King said once she started talking to Bogumil she was hooked. "Jennifer had given me her card when I started talking to her and then about a month later I found it and looked up her Hats for Happiness website."
Bogumil's Hats for Happiness organization collects hats of all kinds, scarves, shawls and even children's bonnets, and donates them to cancer patients going through chemotherapy and struggling with the loss of hair.
After reading Bogumil's story, King knew she wanted to be a part of this organization and help others.
"I know people who have struggled with cancer, from co-workers to friends, and I would like to see people who go through chemo not just have to wear the bandanas and the scarves; I want them to have a wider variety," King said.
King contacted Bogumil and the two helped pick up hat donations from various people in the Ocala area.
Now, about a year later, King has continued to help Bogumil collect hats, and spreads the word about it every chance she gets.
King believes out of all cancer awareness organizations, Hats for Happiness is one that can help anyone and doesn't exclude particular groups of people.
"Whether you're a man, a woman or a child, it doesn't matter," said King. "If you want a hat and want a little bit of hope through the cancer struggle, Hats for Happiness is the perfect organization for that."
The organization's roots are a powerful story in itself.
Bogumil was diagnosed with uterine cancer in 2009 and started a blog called "The Adventures of CancerGirl and SuperDog," detailing her experience with cancer, being a student and how to manage both while trying to run a household.
The blog features Bogumil as a superhero and her "alter-ego" Clarice Kentwood.
The idea about the organization spawned within a week or two of Bogumil's start of chemotherapy treatment, as she had multiple people willing to give her hats at the start of her hair loss.
"I heard over and over again from people, 'Oh I have about five or six hats around someplace, let me send them to you,'" Bogumil said. "It occurred to me that if the handful of people I know have a number of hats each, I bet there are a lot more people who have hats they have never worn."
Hats For Happiness has come a long way since then, collecting around 500 to 600 hats a month from people and organizations all over Florida and nationwide.
Bogumil has about 200 volunteers for the organization from all over the country who help collect hats from their area and send them to further the cause.
"While distributing hats is our main mission, I think that the support and community that comes from the volunteers and patients coming together to support each other through the good and bad times is most important," Bogumil said. "I always tell people 'Cancer isn't contagious, but happiness is' and I have found that to be the truth."
To learn more about Hats for Happiness, visit www.hatsforhappiness.org.
Add a comment
Add a comment