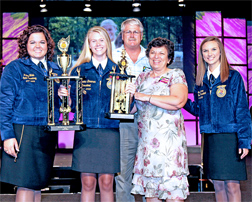 Catherine Bowman of Santa Fe High School was named the State Star Farmer by the Florida FFA Association during the 84th Florida FFA State Convention in Orlando
ORLANDO – A new star shines over the Academy of Agriscience at Santa Fe High School. The Florida FFA Association recently selected finalists in the highly coveted "Stars of Florida" award recognition program. This program symbolizes the highest recognition for FFA members and their Supervised Agricultural Experience program. More than 200 applicants were considered during the selection process. Each candidate was then interviewed by a team of FFA, industry and Agriculture Education representatives.
Catherine Bowman of the Santa Fe FFA Chapter was named as the State Star Farmer during the 84th Florida FFA State Convention which was held in Orlando. During the convention FFA members come together to celebrate the achievements of past and present generations of agriculturalists while continuing to develop their potential for premier leadership, personal growth and career success.
The awards continued to accumulate for Bowman. When the Florida FFA announced the finalists for the 2012 Agricultural Proficiency Award program, Bowman's name appeared in three categories. She was named as a top four State Finalist in three categories - Agriscience Research, Emerging Agricultural Technology and Goat Production. More than 350 applicants throughout Florida submitted applications for recognition within this program. The Agricultural Proficiency Award program rewards FFA members at the local, state and national levels for exceptional accomplishments and excellence in a Supervised Agricultural Experience program. These supervised programs are planned, practical activities that are conducted outside of class time that help students develop and apply agricultural knowledge and skills learned inside the classroom in a real world environment. Bowman will travel to Indianapolis, Ind. to compete at the National FFA Convention in October.
Bowman truly works hard for her family on a 120-acre family farm that has a hay operation, a herd of Boer goats, a rabbitry and a horse training business. She has attended the Made for Excellence Conference, Advanced Leadership Conference, Florida FFA Chapter Presidents Conference, Chapter Officer Leadership Training Conference, Florida State FFA Convention and the National FFA Convention. She was a State Star Greenhand Finalist and a National Agriscience Fair Gold Medal Award winner.
At the 2011 State FFA Convention Bowmane was the Agriscience Student of the Year, a top four State Finalist in the Equine Science Placement Proficiency and also a top four State Finalist in the Forage Production Proficiency. Three years ago she started an Agriculture Research project in which she studied the effects of Army Worm infestations on Coastal Bermuda grass hay fields. Bowman is an excellent leader and role model. She was a four year student in the Veterinary Assisting Program in the Academy of Agriscience at Santa Fe High School. She has maintained a weighted GPA of 4.131 while taking Advance Placement courses in high school. May this new star continue to shine brightly.
# # #
Submit your story by
Emailing This email address is being protected from spambots. You need JavaScript enabled to view it.
Add a comment
Add a comment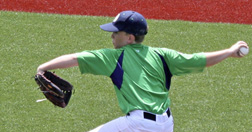 Baseball teams faced off at Nations Baseball Park last week, with the Chain Dirtdawgs winning the inaugural tournament.
NEWBERRY – Some spent the Fourth of July at barbeques or family functions, but several teams travelled to Newberry for the first week of baseball tournaments at Nations Park.
The teams arrived on Saturday evening and the last game was played on Thursday. The championship game between the Chain Dirtdawgs and the South Florida Blaze ended as the clouds began to roll overhead. The Georgia-based Chain Dirtdawgs won the inaugural tournament for the park.
Coach Mike Rhodes said winning the inaugural games was especially rewarding to him. He was part of the Class of 1995 at the University of Florida.
The Chain Dirtdawgs got an early lead in the first inning, but the South Florida Blaze caught up toward the second half of the game, tying the score at 8 each. Finally, the Chain Dirtdawgs closed out the game with a two-point lead, making the score 11-9 by the end of the 7th inning.
Though the tournament was part of a soft opening for the park, park developer Lou Presutti said he felt encouraged by the positive feedback from the opening tournament. There are still little things to be fixed before the grand opening of the park, such as fans in the parent seating areas, Presutti said.
Parents at Thursday's game said that though fans in the parent seating would make the Florida heat more bearable, the inaugural games of the $7 million park were off to a smooth start.
"Our opinion matters because we've been to about every baseball park between here and about seven states," said 35-year-old Chain Dirtdawgs parent Steve Hall.
Others noted that Newberry has been accommodating for the teams. South Florida Blaze parent Dave Marks, 46, said Newberry's Backyard BBQ has been a popular spot for the traveling teams to grab a bite after a long day of playing games. Marks called Newberry an "up and coming town."
Another parent from the same team, Jen Volpe, 41, said she's enjoyed the shopping and sites in Gainesville, such as the UF campus.
Compared to the Cooperstown Dreams Park, on which the park is based, grandparent Armand Scatena, 64, said the layout is pretty similar and the kids seem to be having a great time at the park. This tournament is a lot smaller compared to the Cooperstown Dreams Park, which may have as many as 106 teams at the park, he said.
The first tournament of the park is history, but there are still two more tournaments to be played during the soft opening of Nations Park. On Saturday, about a dozen more teams arrived for the second week of games, which will conclude this Thursday.
The final week of the inaugural games will take place the week of July 28.
# # #
Email This email address is being protected from spambots. You need JavaScript enabled to view it.
Add a comment
Add a comment
Details

Published on

Saturday, 16 June 2012 14:20

Written by Special to Alachua County Today
Hits: 1027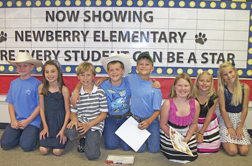 Newberry Elementary School 2012 graduates included L-R: Eric Hester, Julia Martin, Kade Purvis, Ryan Blackwell, Wyatt Parrish, Alexa Stinton, Katie Thomas and Emma Parrish.
NEWBERRY – Newberry Elementary School held graduation ceremony for the 4th graders that will be going to Oak View Middle School next year. Approximately 80 children were promoted by teachers, Celeste Hof, Helen Saltzgiver, Susan Dann, Alice Ann Ferguson, and Dana Mitchell. Coach Randolph, Annette Short, Susan Ling and Patty Duval also gave awards for special classes. Principal Lacy Redd congratulated everyone and handed out awards. The 4th grade parents decorated the stage and organized a reception after the ceremony. Parents and students enjoyed refreshments and were able to take pictures of their children and their friends. Congratulations to the Class of 2020!
# # #
Submit your story by
Emailing This email address is being protected from spambots. You need JavaScript enabled to view it.
Add a comment
Add a comment
Details

Published on

Monday, 09 July 2012 19:52

Written by Special to Alachua County Today
Hits: 1043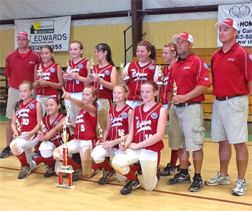 L-R back row, Coach Clint Anderson, Christianna Norfleet, Riley Butler, Monikalyn Gay, Taylor Deen, Paige Beach, Coach Scott Holley, Coach Scott Guthrie. Front row from left: Grace Guthrie, Jenna Holley, Jose NesSmith, Chesney Overstreet, Hannah Hickox
ALACHUA – The SVL Lightning all-star team placed runner up in their district tournament played in Alachua and will advance to state in Ocala on July 4 – 8.
# # #
Submit your story by
Emailing This email address is being protected from spambots. You need JavaScript enabled to view it.
Add a comment
Add a comment
Details

Published on

Monday, 11 June 2012 14:15

Written by Special to Alachua County Today
Hits: 1085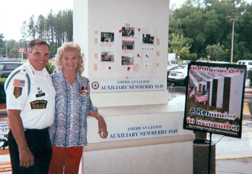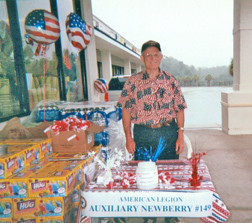 Photo 1 L-R:Terry Martin-Back and Betty Lynn Brown; Photo 2: Larry Spears, member of Post #149 helped set up a display to sell poppies
NEWBERRY – On Memorial Day, American Legion Auxiliary Newberry Unit 149, Inc., was actively supporting veterans through poppy sales, and offers thanks to many people for their contribution toward veterans, their families, children and youth and to the community. Among those individuals who helped were Terry Martin-Back for donating signs, Mr. Kim, Manager of Newberry's Hitchcock's for allowing the Auxiliary to distribute poppies at the store on Memorial Day, and Larry Spears, a member of Post 149, for helping set up the poppy booth.
Demi Hunt, who was voted as Girls State Representative for Unit 149, and who will be going to Tallahassee on June 15 for a week to learn more about local government, stopped by and made a contribution.
Ongoing activities include monthly service when members of Newberry Unit 149 serve coffee and doughnuts to veterans and their families at Malcolm Randall Veterans Administration Medical Center.
Volunteers are welcome to call American Legion Auxiliary President Betty Lynn Brown at 352-378-3583 about the opportunity to serve.
# # #
Submit your story by
Emailing This email address is being protected from spambots. You need JavaScript enabled to view it.
Add a comment
Add a comment