The High Springs police and fire departments joined forces, and along witih community support, delivered "Holiday Cheer" to High Springs families just in time for Christmas.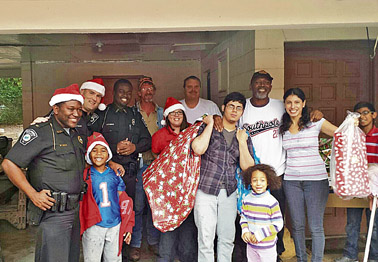 HIGH SPRINGS – Thirty-two children in High Springs received gifts this year courtesy of efforts by the High Springs Police and Fire Departments and donations by individuals and service organizations.
One of those programs was "Operation Holiday Cheer 2014," which turned into a joint operation as the city's fire department formally joined forces with the police department to provide and deliver gifts to 21 children in eight different families.
The operation was spearheaded this year by Angela Robertson of the High Springs Police Department (HSPD).
Until the wrapping party, which took place Dec. 20 with the help of members of city service organizations and other volunteers, Robertson's office looked more like a children's playroom with a desk in the middle. Toys, wrapping paper, bicycles and lists upon lists were in evidence. Although the scene may have appeared chaotic, it was anything but. Robertson knew exactly who needed what, the children's shoe sizes, how many boys, how many girls and which children still needed to have gifts provided for them.
By the afternoon of Monday, Dec. 22, everything had been wrapped and placed in bags for delivery. City Public Works Director David Benton took off from police headquarters at about 1 p.m. with a trailer in tow, along with a High Springs fire engine and High Springs police officers. Of course, Robertson had another one of her famous lists...this time with addresses where gifts were to be delivered. Lights flashing and sirens blaring, the entourage looped around the city delivering gifts to individual families.
By the time the afternoon was over and all of the gifts had been delivered, 21 children had presents they might not have had otherwise, courtesy of the efforts of the City of High Springs and the donations of gifts and time to wrap and deliver them all.
# # #
Email Cwalker@
alachuatoday.com
Add a comment
Add a comment
HIGH SPRINGS – High Springs City Manager Ed Booth received unanimous thumbs up from commissioners as they discussed and approved an employment contract that will run for two years, from Jan. 1, 2015 through Dec. 31, 2016. As part of his contract, Booth will receive an increase in his yearly salary from $70,304 to $75,000.
The increase represents the same percentage of increase approved for all City of High Springs employees and is already part of the current approved budget. Booth will also be entitled to the same cost of living increases approved for and paid to regular employees.
Regarding Booth's retirement, the City will contribute the percentage amount set by the Florida Retirement System for Senior Management Member Class.
High Springs City Attorney Scott Walker pointed out that, inadvertently, the commission created an agreement one year earlier that lowered the retirement contribution Booth should have received. This agreement will restore Booth to the amount he should be receiving for his position. It will not reimburse him for the difference in what he should have received and what he did receive the previous year.
The agreement stipulates also that it will automatically renew on its anniversary date unless termination of the agreement is given 45 calendar days before it expires.
City staff presented a table showing the results of a survey of other cities with comparable populations. City managers' salaries were shown for each. Cities ranging in populations from 4,957 to 7,702 were sampled. As of the middle of last month, city managers' salaries for those populations ranged from a low of $70,000 to a high of $150,039, with Booth's salary being the second lowest.
In other personnel related matters, commissioners decided that the current monthly salary amounts would remain at $550 for the mayor and $500 for commissioners. While reasons to increase the amounts might be appropriate, all seemed in agreement that the time to address the question was during the budgetary process.
# # #
Email cwalker@
alachuatoday.com
Add a comment
Add a comment
Details

Published on

Sunday, 14 December 2014 17:46

Written by Special to Alachua County Today
Hits: 6436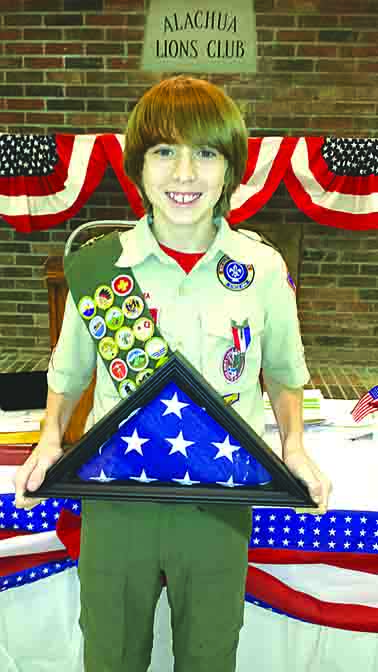 ALACHUA – Marcus Enfinger of Alachua, Florida, has earned the highest advancement award the Boy Scouts of America offer in scouting. Enfinger was awarded the rank of Eagle Scout on Aug. 26, and was formally recognized at an Eagle Scout Court of Honor ceremony on Saturday, Nov. 8 at 5 p.m. at the Alachua Lions Club.
Enfinger is a member of Boy Scout Troop 88, chartered by Alachua Lions Club. To become an Eagle Scout Enfinger organized and led a community service project that included over 160 service hours for the City of Alachua in two of the city's parks. Along with his many scout activities he earned 29 merit badges.
His project involved procuring donations and volunteers to build and place two concrete benches in the Hitchcock's Theatre Park on Alachua's Main Street and six benches in Copeland Park. The benches provide a place for people visiting the parks to have a place to sit and relax. Enfinger's leadership skills were valuable in helping him complete his project.
The son of Mark and Loretta Enfinger, Marcus Enfinger is a student at Santa Fe High School. He is the Senior Patrol Leader of Troop 88 and has served as Assistant Senior Patrol Leader, Historian and Librarian. He has been in scouting for over 10 years, starting off in Tiger Cubs. He earned the Arrow of Light Award, the highest award offered at the Cub Scout level, and then moved up to the Boy Scout level.
Special guests attending the Court of Honor from the City of Alachua were Alachua Mayor Gib Coerper and City Commissioner Ben Boukari, Jr. Representing Boy Scouts of America were Alachua District Chairman of Eagle Board Mr. Pat Whitmer, Alachua District Eagle Chair Mike Grantham, and Alachua District Unit Commissioner Mike Rhodes. Among other special guests attending were grandparents Mr. and Mrs. Harold Blalack, Mr. and Mrs. Max Enfinger and Rev. Bryant and Susan Bechtold.
# # #
Email editor@
alachuatoday.com
Add a comment
Add a comment
Details

Published on

Wednesday, 17 December 2014 23:33

Written by Special to Alachua County Today
Hits: 7440
CORAL GABLES – Coquí RadioPharmaceuticals Corp., a medical isotope company working to become the first U.S. commercial producer of Molybdenum-99 (Mo-99), has signed a contract with INVAP to design its Medical Isotope Production Facility (MIPF) in Alachua, Fla. The new 100,000 square-foot facility, with a capital investment of $227 million, is the only of its kind in the country and one of only three or four in the world. The average annual compensation for workers will be $70,000.
Mo-99 is the parent isotope of Technetium-99, which is used in 80 percent of nuclear medicine procedures worldwide. The medical isotopes are used in nuclear medicine for the diagnosis and treatment of many diseases including Alzheimer's, cancer, renal disease, and occult bone traumas. The company chose Alachua because it provides an attractive location given its proximity to the University of Florida's research reactor, potential for collaboration with the Colleges of Engineering and Medicine and setting within a research park oriented toward complementary biomedical-related activities. In 2012, Congress passed legislation making it a national priority to produce Mo-99, an isotope necessary to detect a wide range of diseases, including cardiovascular disease and cancer.
"The signing of this contract cements a key step in implementing proven technology to produce Mo-99 for patients requiring lifesaving medical diagnostics," said Carmen I. Bigles, Coquí Pharma President and CEO. "Today, Coquí Pharma together with INVAP has built a bridge between the U.S. and Argentina, uniting our efforts to ensure the availability and reliability of the most essential radioisotope in nuclear medicine and with the added benefit of making the world a safer place for generations to come by utilizing proven non-proliferation, low-enriched uranium technologies."
Coquí Pharma is preparing its construction permit application for submission to the U.S. Nuclear Regulatory Commission. Coquí Pharma will utilize existing commercially proven technology with tested designs to license and build a facility that has the capability of reliably supplying a large portion of the U.S. market and international needs.
Due to recent and future projected shortages, the issue of U.S. domestic medical isotope production has been discussed at great length within the industry and U.S. federal government. Coquí Pharma reviewed options available to manufacture Mo-99 and determined that only the INVAP process provides a real, tangible and reliable solution to solve the medical isotope crisis.
# # #
Email editor@
alachuatoday.com
Add a comment
Add a comment
ARCHER— Archer Mayor Frank Ogborn opened the Oct. 27 special commission meeting by recognizing Vice Mayor Doug Jones for taking on the responsibilities of mayor during his absence. Ogborn then thanked the other commission members and apologized to the citizens for the breakdown of the technology that he and the city had planned on using to make sure he could virtually attend meetings while out of town.
"There have been some people that have questioned my commitment to this city," Ogborn read from a prepared statement. "But I assure you that my commitment has not wavered."
Ogborn attended his first commission meeting Monday night after being out of town for the past four months. The Oct. 27 meeting was a continuation of the meeting from Oct. 13 that ran out of time as per the city's policy for prodecural time limits.
According to Ogborn, he had been on vacation for the past four months with his wife, which had been approved before he had left. It was brought up at the last meeting that some citizens were unhappy with the mayor's absence.
Commissioner Fletcher Hope had asked at the Oct. 13 meeting to discuss the mayor's "excessive, unexcused absences" as well as the city managers overdue annual evaluation and review.
The meeting was cut short after it extended past 10:30 p.m., the procedural cut off time for commission meetings, which is why the Oct. 17 meeting needed to take place.
Despite the controversy surrounding the previous meeting, Mayor Ogborn thought that the meeting on Tuesday went well.
"I think it was business as usual. I did not feel any tension," Ogborn said.
Ogborn walked into the commission meeting and jokingly asked, "Where do I sit?"
Several citizens and commissioners welcomed Ogborn back and several commented that it was good to see him.
Ogborn held up a check made out to the City of Archer in the amount of $800 and said in his statement that because he was unable to attend the meetings as planned, he was returning his salary for the past four months to the city manager.
He then handed the check to City Manager Al Grieshaber, Jr. who accepted it.
"I think my gesture of returning the money to the city… diffused any criticism or comments that could have been or might have been said," Ogborn said.
At the commission meeting, the issue of the overdue evaluation of City Manager Al Grieshaber was tabled indefinitely. According to Ogborn, he had only received forms from two of the commissioners and the city would wait and give the remaining commissioners time to fill out their forms as well.
There was no mention of the mayor being dismissed at this meeting or any mention of the conflict from the previous meeting. The meeting covered all the topics on the agenda, and finished in less than an hour and a half.
# # #
Email jhundley@
alachuatoday.com
Add a comment
Add a comment