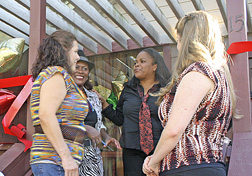 HIGH SPRINGS – Saturday, Oct. 13, High Springs Chamber President Sandra Webb cut the official red ribbon signaling the grand opening of Southern Soul Restaurant & Lounge, 15 NE 2nd Avenue. Owner Joe Darlings and her staff looked on as Webb cut the ribbon with Chamber members and area business owners looking on.
"We are all here to help welcome and support new businesses to High Springs," said Webb with a smile.
A buffet of Southern Soul's signature foods was featured as part of the celebration. Garlic blue crabs, garlic shrimp, deviled eggs, greens, corn bread and an assortment of chicken wings were served as the Southern Soul Trio entertained the crowd musically with a jazz, R&B, Top 40 and light rock musical assortment.
The trendy restaurant/lounge has a jazz theme throughout the menu, the décor and the entertainment. Photos of jazz greats dot the walls and the menu boasts Charlie Parker Sweet Catfish Dinner, Bo Didley Southern Fried Chicken and Duke Ellington's Pork Chop.
# # #
Email This email address is being protected from spambots. You need JavaScript enabled to view it.
Add a comment
Add a comment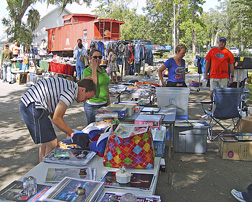 HIGH SPRINGS – Dozens of vendors and more than 200 buyers were on hand Saturday, Oct. 13, at the James Paul Park in High Springs to participate in the Chamber of Commerce Fall City-wide Yard Sale. The semi-annual event attracted sellers and bargain seekers from Williston, Hawthorne, Archer, Alachua, Ft. White and, of course, High Springs and the surrounding unincorporated areas.
The yard sale is a fund-raiser for Chamber events. Although it is unclear exactly when the Chamber began the project, Chamber President Sandra Webb said the Chamber has been sponsoring and organizing the event for at least the past 10 years.
Buddy and Cyndi Roban of Ft. White said this was their third year participating in the yard sale. "We sold quite a bit today," explained Cyndi Roban. "They really like glass stuff," she said and "they've bought quite a bit of tools from us today as well."
John and Jennifer Pruitt, owners of Alachua Door Co. in Alachua, seemed like seasoned pros, although they indicated they were first time sellers. When asked if the event was a lot of work, John Pruitt laughed and explained his wife organizes a large consignment sale in Gainesville called "Just Between Friends" in early December.
"This was easy compared with that," he said. "We'll definitely be back to do this again," Jennifer Pruitt said. "We enjoyed it," she added. "Our biggest sellers here seemed to be knick-knacks and housewares."
Michael Ryon, who owns Gypsy Palace in Gainesville, and lives in Alachua, was also a first-time seller. He said the "traffic was good. People seemed most interested in buying DVDs, women's clothing, incense and other small items."
Bob and Mary Fitzgerald, who live between High Springs and Ft. White, agreed there were a number of lookers. Mary Fitzgerald said, "Buyers were steady all day with a few lulls here and there." The Fitzgeralds had small children's stuffed toys, household goods, a Christmas tree and other small Christmas items for sale. "People were not really ready to buy for Christmas," she said. "But we sold enough to want to do this again," she said.
Another first-time couple, Patti and Terry Bird, who live just past the Santa Fe River in Columbia County, characterized the traffic as "sporadic" during the day. They brought furniture items, including a rocking chair, fishing gear, plant stands, toys, old bottles and antiques." Patti Bird said sales were "good." "We would definitely come back," said Terry Bird.
Cheryl Thacker and Danny Gouge of Williston have been selling at the yard sale for the past four years. "We will definitely do this again," said Thacker. Housewares and yard items seemed to sell best at their table.
Mason Marvel from High Springs was assisted by his daughter, Margaret Marvel, from Monticello. Mason Marvel said he has done the yard sale about three or four times. With a chuckle, he characterized the experience as "The best way I know to clean house…short of a fire."
He brought smaller items they no longer used. Pottery, ceramics, knick-knacks, tools and various wood items like old orange crates that people love to use to create a shabby chic style were his specialty items.
"A lot of these items are sort of nostalgic for me," he said. Pointing to a metal crate used to bring his two daughters' cats back from Southeast Asia in 1972 he said, "We've never used the crate since, but it just brings back memories. "These items aren't hard to part with now because I have no use for them anymore," he said, "but the memories still linger."
The High Springs Chamber of Commerce will schedule another city-wide yard sale for spring, said Sheila Smith, event coordinator. "Folks who didn't participate this time can look forward to doing their spring cleaning and doing so next time," she said with a smile.
# # #
Email This email address is being protected from spambots. You need JavaScript enabled to view it.
Add a comment
Add a comment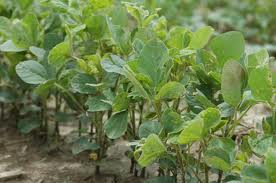 ALACHUA – Pasteuria Bioscience, Inc., located in the University of Florida's Sid Martin Biotechnology Incubator in Alachua's Progress Corporate Park is being acquired by Swiss-based Syngenta, an agricultural technology company. Under terms of the agreement, Syngenta will acquire Pasteuria Bioscience for aggregate payments of $86 million, plus up to $27 million in deferred payments.
In 2011 Syngenta and Pasteuria Bioscience entered into a global exclusive technology partnership to produce nematode control products based on Pasteuria spp., a naturally-occurring soil bacteria long recognized as a promising biological control agent against nematodes. A revolutionary in-vitro production process will enable the development of cost-effective nematicides. The first product will be a seed treatment for soybean cyst nematode to be launched in the U.S in 2014.
Nematodes are a major pest across all crops and there are few commercial products available making it one of agriculture's largest unmet pest control needs. The acquisition will facilitate the introduction of key products to complement Syngenta's existing chemical nematicide range and to support integrated solutions across a broad variety of crops such as soybean, corn, cereals, sugarbeet and vegetables.
Al Kern, Executive Chairman and President of Pasteuria Bioscience said, "Pasteuria Bioscience is excited to become part of the Syngenta team. We've been working closely together over the past year and have made significant progress on a number of nematode control products in a variety of crops. Syngenta recognizes the potential with the Pasteuria platform and can commercialize it in a broad range of products for the global marketplace."
Syngenta's John Atkin said, "Results from our partnership have shown that Pasteuria provides superior control of nematodes in a wide variety of applications. Pasteuria Bioscience has developed critical knowhow for in-vitro production of Pasteuria, enabling commercial scale manufacturing.
Pasteuria Bioscience, Inc., was founded in 2003 in the University of Florida's Sid Martin Biotechnology Incubator where it remains headquartered. The company was developed to commercialize its revolutionary technology for production of biological nematode control products based on the Pasteuria platform. The first Pasteuria-based product Econem® was commercialized in 2010 for sting nematode control in the golf and sports turf markets.
Syngenta, which is traded on the New York Stock Exchange (SYT), is headquartered in Basel, Switzerland and employs 26,000 employees in some 90 countries including the United Kingdom, India, France, China, Brazil and the U.S. Operations in the U.S. are located in Research Triangle Park, North Carolina, Greens Bayou, Texas, Omaha, Nebraska and St. Gabriel, Louisiana. It is expected that Pasteuria Bioscience will remain at its current Alachua location.
# # #
Email editor@
alachuatoday.com
Add a comment
Add a comment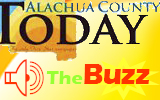 HIGH SPRINGS – The High Springs City Commission has selected three candidates to interview for the city manager position last occupied by Jeri Langman. Applicants Scott Lippman, Kathleen Margoles and Isabel Smith will move forward in the City's hiring process.
Each commissioner reviewed all of the 16 submitted resumes and narrowed the applicant pool, as agreed upon at the commission's Sept. 27 meeting. However, confusion about whether a possible applicant for the interim city manager position, Lee Vincent, was also interested in applying for the permanent position, led to his name being chosen as one of the candidates as well.
Vincent initially indicated he would not consider the position permanently as he is retired. During the Sept. 27 meeting, Vincent indicated he was willing to serve in the temporary position for up to six months.
Meanwhile, commissioners agreed to review four more applicants' resumes and come back to the next meeting, scheduled for Tuesday, Oct. 9, ready to name two more candidates.
Andrew DeCandis, Edwin Booth, Marty Simone and Douglas Hewitt are applicants currently under review to add to the shortlist.
City whittles list of attorney applicants
On another hiring front, commissioners held a special city commission meeting Tuesday, Oct. 2, and interviewed two out of five of the attorneys vying for the vacant city attorney position
City attorney applicants Crystal Patterson Talley, currently assistant state attorney for felony prosecutions for the Third Judicial Circuit, Hamilton County, and Steven Warm, currently serving as city attorney for Bronson were on hand to answer questions and discuss their experience and availability to take on the position.
Tally, a graduate of the University of Florida, has worked as a misdemeanor and felony prosecutor for Suwannee and Hamilton counties, respectively, since 2009. Tally indicated she would like to move her family back to Alachua County, where her husband currently works, and would not continue in her present position if hired by the City of High Springs.
Warm, a graduate of Rutgers University, Newark, NJ, has been and will remain city attorney for the Town of Bronson, and also maintains his own law practice in Gainesville. Meetings in Bronson occur twice monthly on Mondays, so both city's schedules would be compatible, he indicated.
Interim City Manager/City Clerk Jenny Parham was asked to contact the remaining three applicants and request they appear at another special commission meeting to be held on Tuesday, Oct. 9 at 6:30 p.m.
# # #
Email This email address is being protected from spambots. You need JavaScript enabled to view it.
Add a comment
Add a comment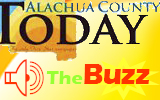 HIGH SPRINGS – It is almost a certainty that High Springs residents will not see an increase in city levied taxes this year. Last year's millage rate of 6.15 mills will likely be maintained into the 2012-2013 fiscal year, unless changes are made during the final workshop, scheduled for Thursday, Sept, 13 at 3 p.m. or the first public hearing, scheduled for 6:30 p.m. the same evening.
The City previously advertised a tax millage rate increase to 6.39 mills, but over the past few weeks the annual budget has been reduced by $507,000 to a new total of $6,166,805. But the reductions are coming at a cost, as the commission slashed line item after line item of the original budget.
Although residents may not feel the pinch of higher taxes, they will notice an increase of $2 per month in the cost of solid waste pickup fees after Oct. 1. The additional charge is expected to garner the City approximately $40,000, which will help offset the budget amount.
Changes residents will more likely notice include a possible four-day work week at City Hall as hourly employees may see their work week – and their pay – reduced from 40 to 32 hours weekly. If that budget reduction plan stands, City Hall will likely be closed on Saturday, Sunday and Monday of each week.
The commission has requested High Springs Finance Director Helen McIver to show them various amounts of across-the-board hourly employee reductions while not increasing the total budget amount.
That request was made by Commissioner Linda Gestrin during the Tuesday, Sept. 11 special commission meeting following comments by Vice-Mayor Bob Barnas that he would like to see the part-time position in the city clerk's office, previously cut from the budget, funded. The position, presently filled by a temporary employee, would disappear as of Oct. 1.
If an across-the-board pay cut goes into effect, City Hall is expected to remain open a full work week, but hourly employees will be paid less per week.
The pay cut would not affect police, who are represented by the Police Benevolent Association (PBA), with a new contract currently being negotiated, but would affect all other hourly employees. One option expected from McIver is the percentage of decrease in hourly wages needed to maintain fire and police at full-time status.
The City is also reducing expenses by replacing its current health insurance plan by offering employees a "barebones" policy with a $2,500 deductible and no prescription coverage. In order to have a better plan with more coverage, employees would have to pay the difference between $290.41, which is the amount the City has budgeted per employee, and the cost of one of the other plans, which would be $40-$150 more per month per employee.
If the proposed budget is approved following the first and second public hearings on Sept. 13 and 24, employees will no longer have access to compensatory time or overtime pay as overtime pay was not budgeted. Salaried employees are not eligible for overtime pay and are required to work until the job is done.
Gestrin, vowing to stop compensatory time accrual, spearheaded a motion to end an employee's ability to obtain compensatory time as of the end of this fiscal year, Sept. 30, and specified employees must use any accumulated compensatory time prior to Jan. 1, 2013.
During the Sept. 6 special commission meeting, Barnas suggested that $10,000 be transferred from the Community Redevelopment Agency (CRA) fund to the City to pay for a half-time executive director at approximately $17.25 per hour.
Commissioners approved the transfer pending the CRA's approval, which was obtained from CRA members at their meeting, held immediately thereafter.
For last minute updates on the final budget to be presented at the Sept.13 first public hearing, visit www.alachuacountytoday.com.
# # #
Email This email address is being protected from spambots. You need JavaScript enabled to view it.
Add a comment
Add a comment