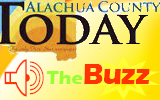 ALACHUA COUNTY, FL -
Bronson and Archer:
The Levy County Health Department and Alachua County Health Department have issued a rabies alert for the Forest Park and University Oaks area which is located in Levy County and near the Alachua County border in Archer. This is in response to a domestic dog that tested positive for rabies on February 23, 2012. Any citizens in this area that have had contact with a light brown American Bulldog or any stray domestic or wild animal are urged to contact the Health Department.
All citizens in Levy County and Alachua County should be aware that rabies is present in the wild animal population and domestic animals are at risk if not vaccinated. The public is asked to maintain a heightened awareness that rabies is active between Bronson and Archer areas north of SR 24 in Levy County and Alachua County. Alerts are designed to increase awareness to the public, but they should not give a false sense of security to areas that have not been named as under an alert.
The rabies alert is for 60 days. The center of the rabies alert is in the University Oaks area and includes the following area boundaries in Levy and Alachua County:
North of SR 24
East of SR 337 (NE 80th Ave)
South of SW 119th Avenue (Alachua County)
West of NE 130th Avenue
An animal with rabies could infect other wild animals or domestic animals that have not been vaccinated against rabies. All domestic animals should be vaccinated against rabies and all wildlife contact should be avoided, particularly raccoons, bats, foxes, skunks, otters, bobcats and coyotes. Rabies is a disease of the nervous system and is fatal to warm blooded animals and humans. The only treatment for human exposure to rabies is rabies specific immune globulin and rabies immunization. Appropriate treatment started soon after the exposure, will protect an exposed person from the disease.
The following advice is issued:
All pets should have current rabies immunizations.
Secure outside garbage in covered containers to avoid attracting wild animals.
Do not leave pet food outside. This also attracts other animals.
For questions regarding the health of an animal, contact a veterinarian.
Veterinarian staff and animal control staff should be alert for animals encountered with signs suspicious for rabies and use appropriate precautions, especially when working with unvaccinated animals.
Persons who have been bitten or scratched by wild or domestic animals should seek medical attention and report the injury to the local County Health Department.
Rabies is preventable when treatment is provided in a timely manner.
Avoid contact with all wildlife, especially raccoons, bats, and foxes.
No animal is too young to have rabies.
For general questions pertaining to animals, contact the Levy County Animal Services at 352-486-5138 or the Alachua County Animal Services at 352-264-6880.
For further information on rabies, go to the Florida Department of Health website: http://www.doh.state.fl.us/environment/medicine/rabies/rabies-index.html, or contact Levy County Health Department, Environmental Health office at 352-486-5301, or the Alachua County Health Department, Environmental Health office at 352-334-7930.
Add a comment
Add a comment
Details

Published on

Monday, 20 February 2012 13:48

Written by Special to Alachua County Today
Hits: 8339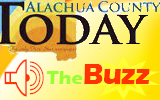 ALACHUA COUNTY, FL - The Alachua County Youth Fair and Livestock Show Association is pleased to announce the upcoming Alachua County Youth Fair & Livestock Show. The event runs March 2-6, 2012 at the Alachua County Fairgrounds located at 3100 NE 39th Avenue, Gainesville. Alachua County 4-H and FFA youth ranging in age from 8 to 18 can participate. The event is free.
The Alachua County Youth Fair & Livestock Show Association is a non-profit organization that conducts and operates public fairs and expositions pertaining to agricultural matters and more particularly to the exhibitions of livestock, poultry, crafts, youth projects, and farm products. The fair is an educational platform for the youth in Alachua County who are interested in agriculture.
"The youth fair benefits agriculture and the local community by providing an educational opportunity for youth to learn about production agriculture," said Cindy Sanders, Alachua County Cooperative Extension Director/IFAS. "Working with livestock and other agriculture events through the Youth Fair prepares future citizens of Alachua County to be knowledgeable about agriculture production and land use." Sanders continued saying, "This benefits Alachua County by providing citizens who are familiar with this important segment of the county's economy. I encourage folks to come out and support our 4-H & FFA youth."
For more information, contact the Alachua County Cooperative Extension Office at 352-955-2402.
Add a comment
Add a comment
Details

Published on

Saturday, 04 February 2012 15:44

Written by Special to Alachua County Today
Hits: 7820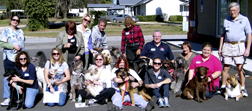 Sixteen dogs were awarded their certification to serve as therapy dogs for hospice patients.
HIGH SPRINGS – On Jan. 28, Canine Good Citizen/Therapy Dog International Evaluator Brenda Sheldon and Laurie Snell, her assistant, came to Hospice of the Nature Coast's facility in High Springs to put therapy-dog hopefuls and owners through their paces. The goal was to determine whether each dog had the temperament, training, personality and qualifications to serve as a therapy dog and visit hospice patients to lift their spirits.
After more than two hours of planned exercises, casual observation and individual testing, 16 dogs passed the certification requirements and are eligible to register with both the AKC Canine Good Citizen Program and Therapy Dogs International.
Most of the dogs and owners who successfully completed certification will now volunteer with Hospice of the Nature Coast.
Add a comment
Add a comment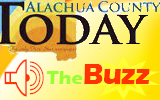 Tallahassee, Fla.
– Governor Rick Scott announced the appointment of Winston J. Bradley to the Alachua County Board of County Commissioners.
Bradley, 71, of Gainesville, has been the pastor of Kingdom Life Ministries since 2005. He previously was an agency owner with Allstate Insurance Company from 1978 to 2000. He has served on the Santa Fe College Board of Trustees since 1998 and the Santa Fe College Endowment Board since 1999. He is also a past member of the Gainesville Housing Authority Board and the Eighth Judicial Circuit Grievance Committee. Bradley served in the United States Air Force from 1964 to 1968 and received a bachelor's degree from Bethune-Cookman College.
Bradley will fill the vacancy created by the resignation of Rodney Long and will serve until November 19, 2012.
Add a comment
Add a comment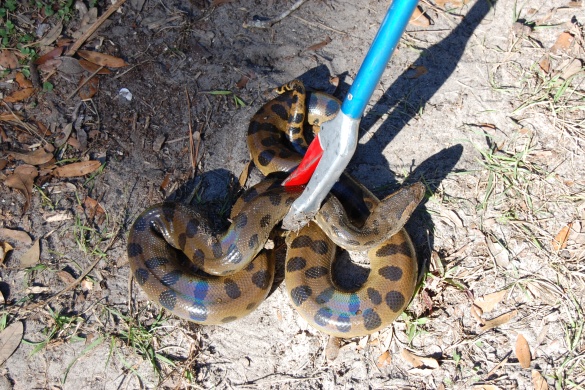 FWC officers took the snakes, including this green anaconda, to a permitted facility.
(FWC photo by Investigator Kevin Larson)
JACKSONVILLE - Two Jacksonville residents were arrested Monday for multiple captive wildlife law violations involving venomous snakes and conditional reptile species.
Robert S. Hayes (DOB 05/27/53) and Scott Hayes (DOB 03/04/82) were cited when Florida Fish and Wildlife Conservation Commission (FWC) officers executed a search warrant Monday afternoon at the Hayes' residence.
Two Gaboon vipers, one diamondback rattlesnake and a mangrove snake (venomous snakes), as well as an African rock python, a Burmese python and a green anaconda (conditional species) were found during the search.
Hayes and his son were charged with possessing a venomous reptile without a permit, possessing a conditional species without a permit, unsafe housing for venomous reptiles and other violations related to safety documentation for the snakes. The two men had been cited in the past for violations related to captive alligators and crocodiles.
"Officers and investigators worked together to make this case. During the arrest, members of the Jacksonville Sheriff's Office and Jacksonville Animal Control were valuable members of the team," said FWC Lt. David Lee, investigations supervisor.
The snakes were seized from Hayes and taken to a permitted facility, according to FWC investigators.
Add a comment
Add a comment