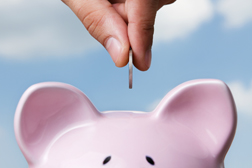 (StatePoint) Two of the most commonly made and commonly broken New Year's resolutions are saving money and paying off debt. These are promises we all seem to make to ourselves every year with every intention of seeing through. But somehow, we wind up in the same spot we were before.
So how can you make sure that 2013 is the year you take control of your finances and start making your money work for you?
• Figure out what your objectives are -- be it paying off debt, buying a first home, or saving for vacation. Identifying your goals can help you stay motivated. Consider placing a visual reminder somewhere you'll see all the time, like the refrigerator.
• Many people have no idea how much money they spend monthly. Creating a spending plan is vital if you want to make your money do for you what you want it to. If you share your finances with someone else, make sure he or she is part of this process as well.
• Many financial services companies offer free tools to help you easily see what you've been spending and ways you can save. For example, the non-profit Family Credit Management offers spending plans, savings guides and a comprehensive personal financial goals workbook that help you to lay out a strong plan in an easy way. Visit www.FamilyCredit.org to see these and other financial tools.
• Make the small changes that add up to big savings. Most people have small expenses that they can live without. Maybe for you it's a coffee every morning on your way to work. If you do this every weekday, that adds up to $1,300 per year! If that's important to you, then fine. But if it's not worth the annual amount you're spending, cut the cost.
The idea is not to strip the fun from your life, but to save money on things that you really don't care about. For more areas to save in your daily life, visit www.StopThinkSave.org.
• Involve your whole family. Many parents feel the need to shelter kids from financial strain, but budgeting is an invaluable life lesson that you can teach them by including them in the process.
• Ask for help! If you feel you could use some guidance, reach out to a certified credit counselor who is licensed by your state's banking department and has an A+ rating with the Better Business Bureau. Visit www.FamilyCredit.org to find a certified counselor.
• Finally, figure out what to do with your new found savings! If you're not sure where you'd like to keep or invest your money, you can visit bankrate.com and investigate high interest, low balance requirement savings accounts.
Once you've completed these steps, you are on your way! Saving money is habit forming -- when you get your monthly statement and you see money building up, you'll want to put more and more away. It's a great way to get started on a financially successful New Year.
Add a comment
Add a comment
HIGH SPRINGS – The High Springs City Commission gave a unanimous nod to Interim City Manager Lee Vincent to sign an agreement with Chen Moore & Associates for completion of the gazebo landscaping project along Railroad Avenue.
The decision followed a report by Vincent at the Thursday, Nov. 8, city commission meeting in which he said he had been in touch with USDA Rural Development, the funding source for the project, and verified that funds were still available to complete the project.
Lighting and an irrigation system are to be installed as part of the landscaping.
Mayor Dean Davis, who had referenced that the parking lines were faded in previous meetings, said he hoped there was enough money left over to be able to stripe the parking area as well. As that was not originally part of the project funding, it is unclear whether USDA would allow the money to be used for that task.
The project, which began in 2009, was originally approved at $250,000. Sources at the City indicate a little more than $100,000 remains to finish the project. The project also received a $5,000 grant from Capital City Bank and a $1,000 grant from Wal-Mart.
# # #
Email Cwalker@
alachuatoday.com
Add a comment
Add a comment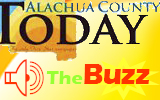 HIGH SPRINGS – Agenda items relating to water and sewer rates and the future of the sewer system in High Springs, which were listed on last Thursday, Oct. 25, regular commission meeting agenda, were postponed to Tuesday, Oct. 30.
In a sparsely attended commission meeting to discuss the future of the sewer expansion, Greg Lang, Vice President of Community Development for Mittauer & Associates, Inc., was on hand to answer questions regarding the possible expansion of the wastewater plant and to discuss updating the city's water and sewer rates.
Lang told commissioners he did not think at this time that it was necessary to move ahead with Phase 4, but suggested the City monitor the situation to determine when future expansion would be needed.
After discussion about whether to send a letter to USDA Rural Development stating the City was not going ahead with Phase 4, commissioners decided to hold off to allow time for City Attorney Scott Walker to look into the developers' agreements. A report from Walker on this issue will be forthcoming and the decision to send the letter was put off until the Nov. 8 meeting.
Following concerns expressed by Commissioner Sue Weller as to whether the City would still be able to meet the capacity guaranteed in the developers' agreements, and whether developers might have some recourse if the City does not move forward with Phase 4 at this time, Walker said he would review the developers' agreements for those issues as well.
Lang also suggested a geological study be performed to address concerns about a sinkhole, but no action was taken on that issue during this meeting.
Lang also explained they would be ready to go out to bid shortly on the "Tweener's" project. "Tweeners" is a term coined to identify the approximately 70 homes that were built after the sewer installation cutoff date for the grant.
The remaining grant money will be used to hook up those homes. Interim City Manager Lee Vincent will be working with Tim Norman, P.E., at Mittauer to get information to him so Mittauer can go out to bid.
Water and sewer rates were discussed briefly and will be addressed further at the Nov. 8 meeting. The commission would like to have an updated study done by Florida Rural Water Association (FRWA). Bill Secoy of FRWA conducted the last study completed in March 2011.
Mittauer's engineers will reexamine some of the studies by FRWA and offer their opinion on their studies and recommend what, if anything, should be done.
A resolution about water conservation was discussed, but also received no action during this meeting.
# # #
Email This email address is being protected from spambots. You need JavaScript enabled to view it.
Add a comment
Add a comment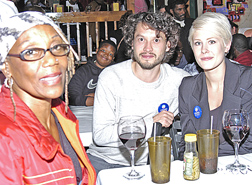 L-R: Obama campaign supporters Beverly Camock of Alachua and Jakob Rukov and Kirstine Larsen of Copenhagen, Denmark awaited election results at Southern Soul Restaurant in High Springs Tuesday evening.
HIGH SPRINGS – Kirstine Larsen and Jakob Rukov of Copenhagen, Denmark, were in High Springs observing voter turnout at the Civic Center on Tuesday, Nov. 6.
However, the couple was more than just a little interested as they explained they had traveled to the United States using their own money to campaign for President Barack Obama's re-election.
Larsen, a journalism major in her final semester, and Rubkov, a molecular biologist, said they had been in Lake City previously. "They needed some help here," said Larsen, "so we came to help."
Larsen said they had been manning the High Springs Obama field office, located inside Southern Soul Restaurant, for the past few days. "We have been talking with citizens about the national campaign…sending out volunteers, going door-to-door, making phone calls and generally doing whatever needed to be done to help get the president re-elected," she said. "The response has been very good," added Rubkov. "Mostly we've spoken with people who already lean towards the Democratic Party and there has been a good atmosphere. People seem quite motivated. I think we've had a very good experience here," said Rubkov.
"It helps to say 'We are from Denmark,'" said Larsen. "Once they know we have traveled 20 hours to be here, I tell them they should wait a couple of hours in line, if they have to, to vote," she said.
Rubkov explained that U.S. politics and Danish politics are quite closely connected. "Since we have soldiers in Iraq and Afghanistan, when the U.S. makes a decision what to do over there, it impacts us as well," he said.
In addition, Larsen commented that "the U.S. is a major player internationally. "Who is the president of the United States…it sort of sets the tone for international politics in general. It's very important," she said.
Add a comment
Add a comment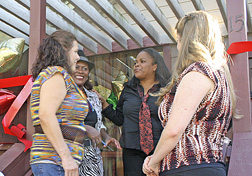 HIGH SPRINGS – Saturday, Oct. 13, High Springs Chamber President Sandra Webb cut the official red ribbon signaling the grand opening of Southern Soul Restaurant & Lounge, 15 NE 2nd Avenue. Owner Joe Darlings and her staff looked on as Webb cut the ribbon with Chamber members and area business owners looking on.
"We are all here to help welcome and support new businesses to High Springs," said Webb with a smile.
A buffet of Southern Soul's signature foods was featured as part of the celebration. Garlic blue crabs, garlic shrimp, deviled eggs, greens, corn bread and an assortment of chicken wings were served as the Southern Soul Trio entertained the crowd musically with a jazz, R&B, Top 40 and light rock musical assortment.
The trendy restaurant/lounge has a jazz theme throughout the menu, the décor and the entertainment. Photos of jazz greats dot the walls and the menu boasts Charlie Parker Sweet Catfish Dinner, Bo Didley Southern Fried Chicken and Duke Ellington's Pork Chop.
# # #
Email This email address is being protected from spambots. You need JavaScript enabled to view it.
Add a comment
Add a comment