Details

Published on

Monday, 30 April 2012 03:09

Written by Special to Alachua County Today
Hits: 1723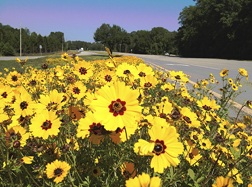 Area roadsides and fields are suffused with the vibrant colors of spring's abundant wildflowers. The Coreopsis, which ranges in color from brilliant golden to vivid pink, was designated as Florida's official wildflower in 1991, and is used throughout the state in highway beautification programs. Submit your photos of local happenings, areas of interest or beauty by emailing This email address is being protected from spambots. You need JavaScript enabled to view it.
Add a comment
Add a comment
Details

Published on

Sunday, 22 April 2012 16:36

Written by Special to Alachua County Today
Hits: 2302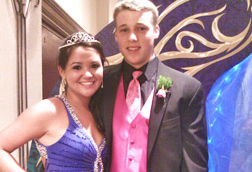 Santa Fe High School student T.J. Knight takes a moment to pose with Prom Princess Jolene Henry.
GAINESVILLE – On Friday, April 13, the Best Western Gateway Grand Ballroom was transformed into a magical setting for the Santa Fe High School Prom.
This year's theme, "masquerade," was accomplished in dramatic fashion with vivid masks, showy peacock feathers and twinkling fairy lights.
Led by Santa Fe High School teacher Risa Wray, she coordinated the event, including student participation, and garnered support by a number of parents who helped with the decorations and food. Floral arrangements, which were provided by Lady Bug Florist, captivated prom guests.
Among adults in attendance were Santa Fe Athletic Director Michelle Faulk and "Voice of the Raiders" Ben Boukari, Jr.
No prom would be complete without a king and queen. Voted by their peers, seniors Brandon Faulk and Jenna Gainey reigned as "Prom King and Queen." Juniors Lake Hart and Jolene "Joie" Henry were crowned "Prom Prince and Princess."
About the prom, seventeen-year-old Henry said, "I always wanted to be a Disney princess; perhaps I can include this in my Disney resume." Henry served on the prom committee, Student Government, Interact Club, Year book, FCA, Varsity Volleyball ,Honor Roll and maintains a 4.0 grade average.
Submit your story by emailing This email address is being protected from spambots. You need JavaScript enabled to view it.
Add a comment
Add a comment
Details

Published on

Saturday, 07 April 2012 14:41

Written by Special to Alachua County Today
Hits: 1601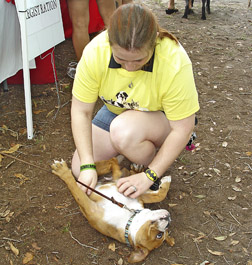 HIGH SPRINGS – High Springs rolled out the red carpet to dogs of all kinds on March 24.
Several hours of canine competition ranging from most unusual to best dressed to best kisses, brought laughter, applause and awards.
This year's winners were: Most Unusual, Juno Jackson Romine, Long Leg Chihuahua; Best Dressed, Molly, Basset Hound (loves dressing for the holidays and seasons and is a rescue from West Virginia); Best Tricks, Cirioco, Havanese; Best Kisses, Stella, Boxer; Owner / Pet Look alike, J.T. Barber / Lucky the rat terrier (three years old, loves to chase squirrels and eat banana splits); Most Distinguished Senior, J Dog Dalmatian Mix; Too Cute for words, Dallis, Chihuahua; Most Beautiful, Yeller, Golden Mutt; Best of Show, Yeller, Golden Mutt.
Add a comment
Add a comment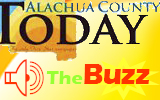 GAINESVILLE – The owners and operators of the now closed Haven Acres Cat Sanctuary near High Springs have been ordered to repay the costs of a June 7, 2011 seizure in which some 697 cats were removed from the property.
A judge ordered on March 29 that Haven Acres owners, Pennie and Steve Lefkowitz, pay $626,770 in restitution to the Humane Society of the United States (HSUS), which led the massive feline seizure.
The first $100,000 of restitution is tied to the couple's 15-year probationary period, according to court records. The remainder is being entered as a lien of record.
Also under the terms of the plea arrangement, the couple pled no contest to 47 animal cruelty charges related to the couple's sanctuary. The judge withheld adjudication in the case. The couple may not own, possess, support, cohabitate, feed or rescue cats. They may not work or volunteer with an animal facility supporting any other animal rescue, reopen Haven Acres Rescue or its web site. If animals are dumped on the couple's property, they are to contact animal services. The judge also imposed other animal ownership restrictions on the Lefkowitzes.
Alachua County Humane Society (ACHS) Executive Director Eric Van Ness said his agency, which placed nearly 300 of the seized cats into adoptive homes, was pleased to hear the terms of the plea, but offered clarification as to the relationship between the ACHS and the HSUS.
The ACHS and the HSUS are not related, Van Ness noted, adding that the ACHS is not a chapter or subsidiary or otherwise connected to the HSUS.
"The Alachua County Humane Society is a completely independent, non-government, private not for profit," he said.
In an email, Van Ness said, "The restitution is to be paid over time to the Humane Society of the United States…the Alachua County Humane Society does not receive funds from HSUS and will not receive funds from the restitution."
Van Ness said it is important for the public to know that the ACHS, a local organization working to end euthanasia in Alachua County, must fundraise to support its efforts and would not be the beneficiary of the court-ordered restitution.
Initiated by Alachua County Animal Services, the massive seizure of felines at Haven Acres occurred on June 7 and required the help of the American Society for the Prevention of Cruelty to Animals (ASPCA) and the HSUS, which both took lead roles in the operation.
Of the original 697 cats taken from the sanctuary, more than 70 of the felines reportedly died or were euthanized after veterinary staff determined they were beyond treatment, he said.
The Lefkowitzes, whose eight-acre enclave at 21023 NW 168th Lane is surrounded by the City of High Springs, had used their property as a sanctuary for more than 400 cats and other animals since 2002. The county's permitting of the sanctuary resulted in a lawsuit filed several years ago by the City of High Springs.
The Lefkowitzes were granted a special exception for a private animal shelter in August 2007 by the Alachua Board of County Commissioners, to which the City of High Springs quickly filed an appeal, resulting in an ensuing lawsuit with the couple.
Many complaints had been made over the years by neighbors and High Springs city officials.
Neighbors complained of a strong odor emanating from the property. For several years, city officials warned Alachua County officials that they worried the 'sanctuary' could be a public health threat.
City officials also expressed their concerns over the couple's practice of burying deceased cats on their property.
Over the years, the living conditions of the cats had been reported as questionable by some. The Lefkowitzes, however, refuted claims that the cats lived in unsanitary conditions, saying litter boxes were changed regularly and their cages were appropriate housing.
Officials conducting the seizure first believed the number of cats to total about 500. By the second day of the seizure, the final tally was 697 felines. That's more than triple the 200 cat limit Haven Acres was permitted to keep by Alachua County.
Add a comment
Add a comment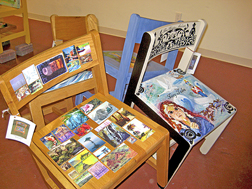 A selection of art chairs by local artists up for bid at Musican Chair Fundraiser.
GAINESVILLE – Gainesville may be primarily a college town, but from looking around the downtown area, it is also home to a number of artists.
Friends of Alachua County Public School Elementary Arts Programs (FAN of the Arts) hosted its 3rd annual Musical Chairs Project Fundraiser at the Doris Bardon Community Cultural Center on Friday, March 2.
Sue Johnson, Advisory Board member of FAN of the Arts, took 26 solid wood chairs donated by Lincoln Middle School, and distributed them amongst local artists who turned them into works of art for the fundraiser.
The finished chairs were put up for sale with a starting bid of $125 in the silent auction for the public to bid. Funds raised will go toward keeping full-time arts programs in the county's elementary schools.
Johnson, a retired art teacher, worked on three different chairs for the auction, and spread the word to other local artists to participate.
Johnson's "Eagle Chair" was a collaborative piece, where she had second grade students from Alachua's Irby Elementary draw their own version of their eagle mascot and incorporated those drawings in the painted chair.
Lori Swarthout, art teacher at Irby Elementary for 18 years, recently taught her students etching, which is how the second graders made their eagle drawings. Johnson used those, not only as inspiration for her chair, but also made a book with their original etchings in it to go along with her chair.
"Sue [Johnson] did a fantastic job with the chair, and seeing that not only her chair, but all the other chairs being bid on, just makes it all the more wonderful," Swarthout said. "Without these contributions, we wouldn't even have an art program here in Alachua County."
One of the most talked about chairs of the night, "The Musical, Musical Chair" by local jewelry maker Peter Senesac, was a rustic looking chair with a series of buttons, that when pressed, played recordings by the artist.
"I used my own electronic recording of music I wrote myself, using an electronic circuit board that greeting cards with sound have," Senesac said. "This was a great opportunity to challenge myself into doing something I wouldn't normally do, and showcase my electronic music in a creative way and for a great cause."
Another huge hit with the visitors and bidders, the "Mind Machine" chair, kept the artists Joshua and Jacob Kubisz consistently in conversation about how they created such a unique chair.
"When we first took the chair we wanted to give it this positive spin towards education," Jacob Kubisz said. "This chair has a six-spoke gear, representing the number of hours in an average school day, a 24-spoke gear, representing the number of hours in a day, and when we turn these gears with the crank it activates a larger gear and a smaller gear and transfers to the other side and back around to the last gear which turns the dial."
Joshua Kubisz said "It takes 40,000 turns, approximately two turns per second for your progress dial to go fully around. It sounds complicated, but it becomes a metaphor for the amount of hard work and dedication it takes to succeed in school."
The chair consists not only of the sanded wood gears, but also laser etching in intricate lettering and design on the top of the chair, on the dial and underneath the chair.
The fundraiser showcased what the public contributions would be helping to save, as a small group of Charles W. Duvall Elementary art students sang a series of classic songs, and even showcased their trio of violin players in a short ensemble.
"I know for a fact that having an art program gives the children success in other subject areas," Aliye Cullu, artist of the chair "In the Stillness – Meditation" said. "Using the right side of the brain stimulates the left side, and children become better in subjects like math and science."
Cullu formerly taught art to students at the Florida School for the Deaf and Blind in St. Augustine, Fla., and saw youngsters "bloom" as individuals under the art program.
Overall, the fundraiser was a success with all 26 chairs being sold to art-enthusiastic visitors.
The "Mind Machine" chair received the highest bid, ending in the final sale of $1,000, and Johnson's "Magnolia" chair received the most bids of all.
According to Johnson, proceeds from the auction were estimated at $6,000, exceeding her original goal of $3,000.
"I enjoyed sharing time with people who not only believed that strong arts equal strong schools, but were willing to invest in that idea through the purchase of a chair," Johnson said, grateful of Friday night's turnout. "I think that it says so much about who we are as a community, and how we view the value of the arts for our children."
All of the money raised Friday night will benefit and enhance the elementary art and music programs in Alachua County public schools.
For more information on FAN of the Arts and their cause, visit www.fanofthearts.org.
Add a comment
Add a comment