NEWBERRY – Several enhancements are being made to utility delivery services for Newberry residents.
Dallas Lee, Director of Finance for the City, was excited to explain the new resources at a recent city commission meeting.
A state-of-the-art call center equipped to handle customer calls 24 hours a day, 365 days a year has been contracted. The center answers all after-hours calls to ensure customers are always able to speak to a representative and resolve concerns. The staff is trained to handle all aspects of utility billing such as account balance requests, starting or stopping service, over the phone payments and outage management.
City Manager Mike New said that having the call center available any time a customer calls is vital to good customer service. "It's frustrating to have a problem and not be able to reach someone who can help resolve the issue," said New. "With the addition of these new services, our city is on par with any utility service. These changes make us a world class utility service."
Another new utility feature is MyEnergyPlanner.com, a tool that allows customers to create a self-assessment profile to help manage electric usage. It takes less than five minutes to create a home profile and estimate a monthly bill. The web site also gives tips and suggestions on how to lower your bill and can be used to estimate potential savings. It is free to city customers.
"The City has utilized conservation funds from the Florida Municipal Power Agency (FMPA) to fund this tool," Lee said.
Free yearly energy and water audits are also now available. The audits emphasize education and low-cost, quick-payback improvements that can reduce energy and water consumption immediately. Recommendations are made for larger components such as HVACs, water heaters and other appliances. Customers are additionally informed of available rebates.
Conservation funds from FMPA likewise fund these audits.
"An interesting aspect of this option [the audits] is free die packs to help people identify whether their toilets are leaking," said Lee. "Many people do not realize how much water is wasted because of toilet leaks. Hopefully, the die packs will be a big help to homeowners to help identify the problem."
Lastly, the city has implemented an emergency mass contact system designed to record, send and track personalized voice, email, text and social media messages. The system can notify customers regarding severe weather, boil water notices, disconnect courtesy calls, or outages.
"The commissioners seem really pleased that we are using technology to enhance utility services to our customers," Lee said. "The comments we have heard from the public have been really wonderful. People want to take charge of their utility services and resource usage, and we have given them an excellent way to do so. I think everybody is really pleased."
# # #
Email Cwalker@
alachuatoday.com
Add a comment
Add a comment
HIGH SPRINGS – Commissioners spent the majority of the regular meeting last Thursday discussing possible alternatives for the road currently named in part as N.E. First Ave.
The roadway, which begins at U.S. Hwy. 441 and runs into U.S. Hwy. 27 at Main Street, has been referred to as First Avenue by residents for years. With the beginning of E-911 addressing changes, Alachua County proposed naming the entire road U.S. Hwy. 27.
Business owners, unhappy with the County's proposed "U.S. Hwy. 27" designation for one of the main roadways running through town, were told by County officials the City could choose another name for the roadway, but would be responsible for paying for the new signage. "The cost of the signage change would be approximately $1,500," said City Manager Ed Booth.
During the meeting, Paul Regensdorf, co-owner of Grady House Bed and Breakfast, commented that the county's proposed U.S. Hwy. 27 designation led visitors to believe their B&B was located out in the country instead of close to downtown High Springs.
The County had previously suggested the City choose a name for the roadway that reflected its historic railroad past if they didn't want the road designation as U.S. Hwy. 27.
Commissioner Sue Weller made a motion near the beginning of the discussion to name the road "Wes Skiles Boulevard" in honor of the deceased resident who was internationally known for his underwater photography and research.
Although the motion received a second, continued discussion referred back to the County's suggestion of a historic railroad-related road name.
City Attorney Scott Walker reminded commissioners that there is a set of guidelines they would have to follow as part of naming a street after a person which would not be required if they stuck to the historic railroad-related option.
A proposal to name the roadway "Junction Avenue" was made with a caveat that the City send a letter to each of the property owners impacted by the change to alert them that a final decision would be made at the Feb. 11 meeting.
A decision was made to add smaller brown signs under the new roadway signs with a notation as to the former name of the road at a cost roughly estimated by Booth to be approximately $1,200.
# # #
Email Cwalker@
alachuatoday.com
Add a comment
Add a comment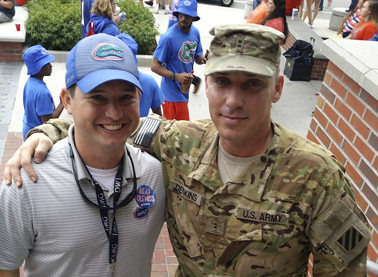 Kristian Jenkins, right, and Hawthorne Mayor Matt Surrency both attended Hawthorne High School. Surrency stopped to pose with his friend after Denkins surprised his entire family in "The Swamp" at the University of Florida football field on Oct. 3. Denkins has served in the U.S. Army for 17 years.
Add a comment
Add a comment
GAINESVILLE – According to the Center for Disease Control and Prevention, more than 29 million people in the United States, about 9 percent of the country's population, have diabetes. That was an increase of 3 million from 2010.
Elder Options offers Diabetes Self-Management workshops to help participants learn to manage and better control the disease. The workshops are held for 2 ½ hours once a week for six weeks.
In Living Healthy workshops, participants share advice and personal experiences on how to manage medical problems. Ronald Jones, 62, a past program participant and current workshop leader shared, "It's one thing to hear it from a doctor, but it's easier to swallow hearing it from people who have been through the same thing as myself."
The Diabetes Self-Management Workshop will be held Feb. 1 – March 7 from 1 p.m. to 3:30 p.m. at Elder Options located at 100 SW 75th Street, Suite 301, Gainesville. Contact Betty Flagg at 352-692-5219 for additional information.
Elder Options is a non-profit agency that administers funds from the Florida Department of Elder Affairs for senior services in a sixteen county area (Alachua, Bradford, Citrus, Columbia, Dixie, Gilchrist, Hamilton, Hernando, Lafayette, Lake, Levy, Marion, Putnam, Sumter, Suwannee and Union counties).
Elder Options, mandated by the Federal Older Americans Act, exists to promote the independence, dignity, health, and well-being of our elder citizens; to plan, fund and administer a coordinated continuum of services; and to advocate for the needs of older Americans.
# # #
Email editor@
alachuatoday.com
Add a comment
Add a comment
HIGH SPRINGS – High Springs City Commissioners unanimously appointed two new members each to vacancies on the Plan and the Code Enforcement Boards during their Dec. 11 regular commission meeting.
David M. Graham and Luci Regansdorf will fill the two vacancies on the Planning Board, while Terry Maltbie and Arthur (Rick) Testa will fill two of the three vacant seats on the Code Enforcement Board. All appointments are for three years.
Planning Board member Tom DePeter said he was glad the two positions were filled as it has been difficult to schedule a meeting of their board recently due to a lack of a quorum.
"The Codes Enforcement Board is going to be a very important board for our city as we work on abandoned and neglected properties in the near future," said City Manager Ed Booth.
"We still have one vacant seat on the Code Enforcement Board," said Mayor Sue Weller. "In addition, board members are needed on the Tree Board (two), Housing Needs and Improvement Committee (three positions and one alternate) and the Parks and Recreation Advisory Board."
Any High Springs resident interested in helping on one of these boards or committees can go to the city's web site to see what positions are available and obtain an application.
# # #
Email cwalker@
alachuatoday.com
Add a comment
Add a comment