GAINESVILLE – According to the Center for Disease Control and Prevention, more than 29 million people in the United States, about 9 percent of the country's population, have diabetes. That was an increase of 3 million from 2010.
Elder Options offers Diabetes Self-Management workshops to help participants learn to manage and better control the disease. The workshops are held for 2 ½ hours once a week for six weeks.
In Living Healthy workshops, participants share advice and personal experiences on how to manage medical problems. Ronald Jones, 62, a past program participant and current workshop leader shared, "It's one thing to hear it from a doctor, but it's easier to swallow hearing it from people who have been through the same thing as myself."
The Diabetes Self-Management Workshop will be held Feb. 1 – March 7 from 1 p.m. to 3:30 p.m. at Elder Options located at 100 SW 75th Street, Suite 301, Gainesville. Contact Betty Flagg at 352-692-5219 for additional information.
Elder Options is a non-profit agency that administers funds from the Florida Department of Elder Affairs for senior services in a sixteen county area (Alachua, Bradford, Citrus, Columbia, Dixie, Gilchrist, Hamilton, Hernando, Lafayette, Lake, Levy, Marion, Putnam, Sumter, Suwannee and Union counties).
Elder Options, mandated by the Federal Older Americans Act, exists to promote the independence, dignity, health, and well-being of our elder citizens; to plan, fund and administer a coordinated continuum of services; and to advocate for the needs of older Americans.
# # #
Email editor@
alachuatoday.com
Add a comment
Add a comment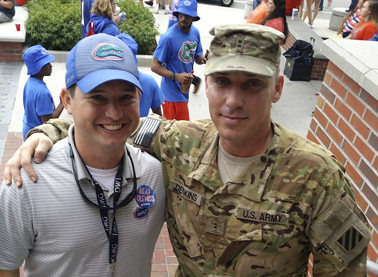 Kristian Jenkins, right, and Hawthorne Mayor Matt Surrency both attended Hawthorne High School. Surrency stopped to pose with his friend after Denkins surprised his entire family in "The Swamp" at the University of Florida football field on Oct. 3. Denkins has served in the U.S. Army for 17 years.
Add a comment
Add a comment
HIGH SPRINGS – The High Springs ordinance requiring property owners to have and pay for waste removal services will get a second look by City Attorney Scott Walker. The question is not whether the ordinance is valid, but to see if there is a way to omit property owners who either own vacant properties or who might be out of their homes for months at a time and have no waste to remove.
Those issues and more brought residents to City Hall on Dec. 11 to express their feelings about paying for waste pick up services.
One expressed concern was a letter from the City of High Springs, which was mailed around Thanksgiving, informing the more than 250 property owners who have not been paying for waste removal that they now have to pay for it. While Finance Director Jennifer Stull indicated some people are now paying for the service, some are still not in compliance. The loss to the city is nearly $60,000 per year, an amount too large to ignore.
Some residents have used the waste removal service, but because they had no other utility services with the City of High Springs, the city had a difficult time identifying them for monthly billing purposes. Extensive research was conducted earlier this year to identify those property owners in an effort to bring them into compliance with the rest of the city.
Other residents attended the meeting because they said they lived close to the Alachua/High Springs Waste Collection Center on U.S. Highway 441 and routinely take their waste directly to that facility. They saw no reason to change that practice and pointed out that roads in that area would be torn up by having large waste removal trucks traveling weekly to their homes.
Vice-Mayor Scott Jamison pointed out that the ordinance mandating waste pick up was already in place and was a health issue. "It is not optional and it is the City's duty to enforce it," he said.
"State law requires cities to collect garbage," said City Manager Ed Booth after the meeting. "Cities are required to provide for quality of life, health and welfare to their citizens."
Another issue of concern brought up by residents was a resolution on the City Commission Agenda which would have, if approved, required property owners to pay $234 in advance for one year of waste removal services along with their county property taxes. While that practice would not have taken place until tax notices are sent out late next year, some people were concerned the added cost could prove a hardship for some property owners on fixed incomes.
After listening to citizen comments for some time, Walker said he would be willing to look into ways the city might be able to omit compliance with the original ordinance.
Commissioners ultimately tabled the resolution, which would have added the cost of waste services of $234 to the tax bill, to the second meeting in January. "We are now looking at other options to get customers in compliance," said Booth after the meeting.
Booth later said that he and Walker have a meeting scheduled in early January to look at whether there may be some way to exempt individuals that will be in compliance with the ordinance.
"Given the explicit language of the ordinance," he said, "those exemptions are expected to be minimal."
# # #
Email cwalker@
alachuatoday.com
Add a comment
Add a comment
HIGH SPRINGS – High Springs City Commissioners unanimously appointed two new members each to vacancies on the Plan and the Code Enforcement Boards during their Dec. 11 regular commission meeting.
David M. Graham and Luci Regansdorf will fill the two vacancies on the Planning Board, while Terry Maltbie and Arthur (Rick) Testa will fill two of the three vacant seats on the Code Enforcement Board. All appointments are for three years.
Planning Board member Tom DePeter said he was glad the two positions were filled as it has been difficult to schedule a meeting of their board recently due to a lack of a quorum.
"The Codes Enforcement Board is going to be a very important board for our city as we work on abandoned and neglected properties in the near future," said City Manager Ed Booth.
"We still have one vacant seat on the Code Enforcement Board," said Mayor Sue Weller. "In addition, board members are needed on the Tree Board (two), Housing Needs and Improvement Committee (three positions and one alternate) and the Parks and Recreation Advisory Board."
Any High Springs resident interested in helping on one of these boards or committees can go to the city's web site to see what positions are available and obtain an application.
# # #
Email cwalker@
alachuatoday.com
Add a comment
Add a comment
NEWBERRY – Six months have elapsed since Newberry City Manager Mike New stepped into his current position, and according to his contract, the city commission is required to evaluate his performance for the initial six-month period. The evaluation isn't just an obligatory task, but depending on the rating, New may be in line for a five percent salary increase.
At the Dec. 8 commission meeting, commissioners were presented with a comprehensive evaluation form for use in conducting New's performance. "We put a lot on his plate for the first six months," said Mayor Bill Conrad. Champions Baseball, the CRA, franchise fees and the fire department consolidation were the main four areas commissioners asked New to tackle immediately, said Conrad. "Looks like he has done a great job," he added.
Specific performance categories being evaluated include City Commission Relationships, Public Relations, Effective Leadership and Development of Staff, Fiscal Management, Communication/Organizational Skills, Personal Traits, Intergovernmental Affairs, Long Range Planning and Areas of Special Interest to the Commission.
At the Jan. 12, 2015 meeting, commissioners are slated to receive a Manager's letter in which New is expected to list his accomplishments during his relatively short time in office. Completed evaluation forms are to be returned by Jan. 24, at which time Conrad will tabulate the results and present them to New, the commission and the public during the Jan. 26 meeting.
City Attorney Scott Walker's contract for the coming year was also included as part of the commission's agenda. Walker's firm, Folds and Walker, LLC, has been representing the city for the past 40 years. The city received a request from Walker recently requesting a bump up in retainer fees from $3,500/month to $4,500/month.
Conrad said when he asked for a copy of their previous contract with the city, records showed a 2006 letter in which the firm requested a bump up in retainer fees from $2,500 to $3,500/month. "Apparently, it has been eight years since the city increased their retainer fees," said Conrad.
Conrad said the city could take one of three actions. One option would be to bring in an outside attorney to negotiate a contract for the city with Walker. Another option would involve the city forming a negotiating team consisting of the mayor, city manager and one other commissioner to negotiate with Walker. A third option would be to put out a request for proposal to law firms.
Ultimately, because the attorney serves the commission, it was decided to eliminate the need for the city manager to be part of the negotiating team. Commissioner Tim Marden was named to the team and Conrad said the city could have their FMPA lawyer review the contract for sufficiency. The negotiating team of Conrad and Marden will negotiate a draft of the contract and bring it back to the commission for a final decision, said Conrad.
A review of the items Walker was in the process of working on for the city led commissioners to put the entire topic off until after the first of the year. At that time, Conrad and Marden are expected to begin to negotiate a contract that stipulates what is covered by the retainer fee and what is billed as extra legal work.
"Scott has been our city attorney since he graduated law school and has our corporate knowledge," said Conrad. "We rely on him not only for legal advice, but he also acts as our parliamentarian and as our corporate body of knowledge."
Because Walker has served in this position for so long, commissioners were concerned that the learning curve to bring another attorney up to speed on the various issues Walker is currently involved in might end up with needless expense.
# # #
Email cwalker@
alachuatoday.com
Add a comment
Add a comment