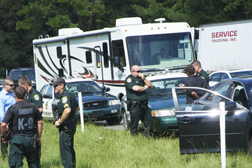 What reportedly began as a road rage incident in Marion County ended with two people arrested in Alachua County Monday afternoon. According to preliminary reports, a caller contacted the Florida Highway Patrol regarding a road rage incident on northbound Interstate 75 in which either the driver or occupant of a late-model Toyota brandished a firearm. The caller described the automobile in question as a black car with the words "Just Married" on the bumper. By the time that vehicle reached the Alachua exit, more than a dozen Alachua County Sheriff's Office (ACSO) deputies were in pursuit. With weapons drawn, deputies ordered the driver and passenger, a man and woman, out of the Toyota. Deputies on the scene say that did indeed recover a handgun from the car. Meanwhile, both occupants were arrested over the incident, although it is unclear as to whether or not either was charged.
Add a comment
Add a comment
Details

Published on

Sunday, 09 September 2012 15:55

Written by Special to Alachua County Today
Hits: 1982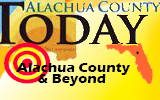 TALLAHASSEE
–
Florida Municipal Electric Association (FMEA) recognized the City of Newberry's Mayor, Bill Conrad, as the 2012 Member of the Year at its annual conference in Ponte Vedra, Fla.
Conrad received the award amid much applause. "It is indeed an honor to accept this recognition," said Conrad. "FMEA serves to keep our state's electric industry at the forefront of the nation by keeping its members current on latest trends on reliability, safety, and customer service."
Bill Conrad is the elected mayor of Newberry and owner and president of Conrad Construction Company. The retired Air Force officer went from flying C-130s in Southeast Asia and Europe, to serving as a navigator on the VC-137 presidential aircraft in Washington, D.C., during the Reagan administration. Conrad was later deployed during Desert Storm and retired in 2000 as a lieutenant colonel.
Conrad sits on the board of the Florida Municipal Power Agency, the city's wholesale power provider, and Policy Makers Council of the American Public Power Association. He represents public power utilities in meetings with members of Congress in Washington, D.C., as well as advocating for public power utilities - and low rates for customers - in Newberry.
"Bill exemplifies the definition of leader through his dedication to Newberry and to public power," said Barry Moline, FMEA's executive director. "We appreciate his energy and his ability to connect with elected officials at all levels."
FMEA's Member of the Year Award is given out annually to a member or group of members that have shown exemplary service and dedication to Florida's public power community.
The Florida Municipal Electric Association (FMEA) represents the unified interests of 34 public power communities across the state, which provides electricity to more than 3 million of Florida's residential and business consumers.
# # #
Email This email address is being protected from spambots. You need JavaScript enabled to view it.
Add a comment
Add a comment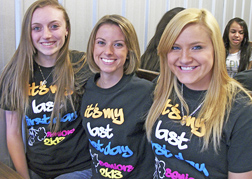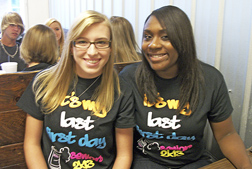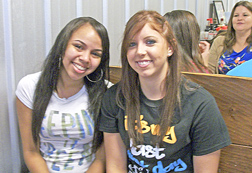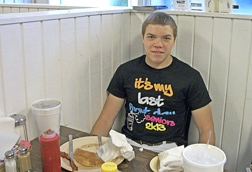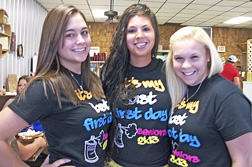 NEWBERRY – As all of my readers know, I think small town life is wonderful and this is one of the reasons that I enjoy living here so much. This Monday morning I joined some Newberry High School (NHS) seniors for a "Last First Day," at our Newberry Country Kitchen.
Lajuanna Jones owns this wonderful eatery, and says this tradition started about seven or eight years ago. The kids just show up for breakfast on their first day as seniors. They were so excited and having such a good time visiting with each other, and I moved from table to table so I could listen and visit with them. Christina Bridwell and her son, Brian, and his friend let me sit with them and then had to pay for my coffee since I left home with no money.
Lajuanna opened this restaurant 25 years ago and has been serving breakfast and lunch ever since. You can get breakfast all day and they have a super good hamburger. Lunch specials are on Wednesday, Thursday and Friday. The restaurant is open Monday through Saturday and is a favorite place for many locals. Homey atmosphere and country cooking is what you'll get when you eat here. I love stopping in during breakfast because I can see friends and get some visiting done. Stop by and join the hometown group that eats here most every day.
On Friday's before home football games, the football team and cheerleaders gather to eat and visit. They just seem to know that they are welcome to stop by and order their burgers and fries. How many restaurants would welcome a crowd of teenagers and their noise and mess? Well, they have found out that they are welcome at the Country Kitchen.
Hopefully Lajuanna can last another few years so more NHS kids can enjoy the traditions that have become a part of the downtown Newberry Country Kitchen.
# # #
Submit your story by
Emailing This email address is being protected from spambots. You need JavaScript enabled to view it.
Add a comment
Add a comment
Details

Published on

Monday, 03 September 2012 14:17

Written by Special to Alachua County Today
Hits: 2092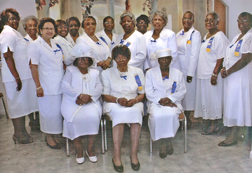 Members of the Female Protective Society Lodge #3 along with President Mrs. Corine Waddell and Vice President Ms. Julia Kelly.
ALACHUA – The Female Protective Society Lodge #3 held a celebration fundraiser program at Mt. Nebo United Methodist Church on Aug. 11. The celebration was themed "Celebrated life in the services of the Lord, 'Giving honor where honor is due.'"
Among the key members who were honored were Mrs. Ada Bell Hunt and Mrs. Mayola Phelps, members since 1939 and 1967 respectively. Other members who were honored include Dorothy Butler, Rosemary Harris, Mary Randell, Sarah James, Mattie Williams, Linnie Calhoun and Blossie Camps.
The keynote speaker at the celebration was Chief Rosa Rutledge of The Grand Female Protective Society Lodge #10 Inc.
# # #
Email This email address is being protected from spambots. You need JavaScript enabled to view it.
Add a comment
Add a comment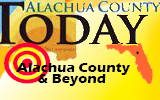 NEWBERRY – Cane Day without bottles of traditionally made sugar cane syrup is unimaginable.
Dudley Farm Historic State Park is working to preserve its historical sugar cane syrup boiling complex by building a new one.
Morgan Tyrone, the park manager for Dudley Farm, said the original furnace was used so much that it couldn't take the continuous wear and tear and risked being damaged beyond repair. The original furnace was build by the Dudley family, the homesteaders and farm namesake.
Tyrone said the only way to keep its historical value is to build a modern replica that can be used eight times a year without structural damage.
The new firestone brick furnace will be safer to use than the original lime rock. It will make about eight gallons of syrup, which is two gallons more than its predecessor.
Friends of Dudley Farm is funding the project with a $10,000 budget, according to Bill Dunk, a member of the Cane Day committee. And donations are being requested to help purchase the furnace.
To date, an 80-gallon cooking kettle was purchased for $700 and a cane mill for $500.
The next steps, which are required to finish the project, include building the furnace and the 12 X 24 sq. ft. pole barn, and mounting the cane mill.
The complex is scheduled for completion on Nov. 1, giving volunteers enough time to begin making the syrup the second week of November.
Dunk said if the project isn't finished by then, they're in trouble, as that will affect the amount of syrup sold at Cane Day.
The $5,000 made from cane day sales helps fund the park.
"With state cutbacks they [Dudley Farm] really need the money," Dunk said.
Cane Day is the park's largest event. There have been years when syrup sold out in the first two hours, according to Tyrone. This year Cane Day will be Dec 1.
Dudley Farms is listed on the National Register of Historic Places, and through three generations of the Dudley family, represents Florida farming from the 1850s to the mid-1940s. It is an authentic working farm, which includes the family farmhouse, complete with original furnishings. In addition to the cane syrup area, there is a general store, post office and an 1880s kitchen outbuilding.
The park is located at 18730 W. Newberry Road, Newberry, and is open from 9 a.m. to 5 p.m. Wednesday through Sunday, closed Monday and Tuesday.
Persons wishing to help with fundraising for the new syrup boil complex can donate at the Friends of Dudley Farms web site, http://friendsofdudleyfarm.org/learn/goals.html or by check, marking the donation "syrup complex" and mail to Friends of Dudley Farm, lnc., 18730 West Newberry Rd., Newberry, FL 32669.
# # #
Email This email address is being protected from spambots. You need JavaScript enabled to view it.
Add a comment
Add a comment