Details

Published on

Thursday, 30 May 2013 00:45

Written by Special to Alachua County Today
Hits: 6740
ALACHUA – The Alachua Woman's Club has selected its new slate of officers for the 2013-2014 season. They are Joan Imler, President; Cheryl Hartley, Vice President; Kathy Colson, Treasurer; Emelie Matthews, Recording Secretary; Linda Shaw, Corresponding Secretary; Ruthie Moss , Publicity; Becky De Marie, Parliamentarian; Vada Horner, Historian and Valerie Taylor, Building Manager.
The new officers extend a warm invitation to those who would like to join and become involved in the activities sponsored by the membership.
The Woman's Club celebrated its 100th Anniversary as an organization last year. The club hosts a variety of social and business related events at their historical building on North Main Street in Alachua.
For additional information about joining, contact Vada Horner at 386-462-1760 or Kathy Colson at 386-462-5520.
# # #
Submit your story by
Emailing community@
alachuatoday.com
Add a comment
Add a comment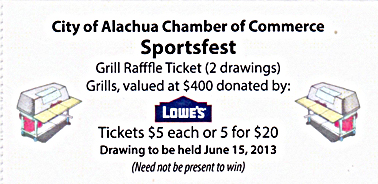 Tickets available at Alarion Bank, Capital City Bank, Sportsfest Committee Members or from Dot Evans at the Chamber Office (386) 462-3333.

Grills are on display at the Alarion Bank and Capital City Bank.
Add a comment
Add a comment
GAINESVILLE – While the current Youth Fair and Live Stock show will be held at the Alachua County Fairgrounds, the search for the future home for the annual fair continues.
The collapse of the Alachua County Fairgrounds pole barn in December led to a change in the show's usual arrangement. The show taking place March 8-12 now has the animal show ring located in the exhibition hall. The show ring had previously been in the pole barn.
Cindy Sanders, Alachua County extension director, said the show ring is about a 60 to 70 feet diameter ring with panels around the outside where the students will exhibit all the livestock animals.
"It's going to be good in a way because we will be out of the weather," Sanders said. "We don't know about the acoustics of the building, that might be a little bit of an issue but we are going to work around that."
Three tents were rented for the animals to be housed with the county also providing a tent.
Chenoa Dixon, Alachua County Youth and Live Stock show president, said the extra tent provides more than enough room for the more than 30 year-old-show.
There are currently two locations being considered for the possible location of the fair. Robert Avery, Alachua County parks superintendent said locations currently being looked at include Payne's Prairie Preserve State Park and the Newberry Equestrian Center, Canterbury Showplace.
One concern with the option of using Payne's Prairie Preserve State Park for the future youth fair is the location.
"It's quite a distance from Gainesville," Avery said.
Another possibility being considered for the fairgrounds is Gainesville Raceway, Avery said.
There are amenities that the youth fair would need regardless of next year's location.
Dixon said the fair would need a full functioning livestock arena with a covered facility to house the animals as well as camping facilities for families with exhibits.
"I just want a facility that the youth fair can continue to operate at," she said. "If we don't have new fairgrounds in place by then, we can continue to repeat the plan we did this year for the fairgrounds."
# # #
Email bdupuy@
Alachuatoday.com
Add a comment
Add a comment
­­­­­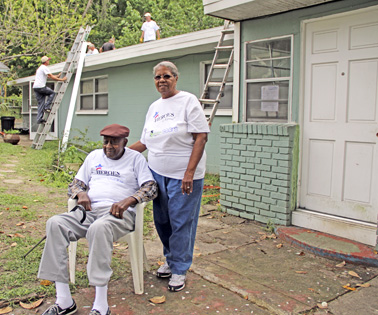 Alachua residents Rose and Wilmon Brown saw their leaky roof replaced by Rebuilding Together North Central Florida.
ALACHUA – Rose Brown turned on her computer Jan. 1 at 11:30 p.m. waiting anxiously for the application to be released. At 11:58 p.m., it was available. She printed it and filled it out with her husband, Wilmon Brown.
Three weeks later, the Browns were contacted so that further information could be collected, but Rebuilding Together North Central Florida (RTNCF) didn't offer any guarantees.
January had come and gone and February was coming to a close, but not before the Browns had been selected for their home to be improved and repaired.
"I'm really, really excited," said Rose Brown, 74, as she watched volunteers work on replacing her roof on Sunday, April 21. It was the best birthday present she had received that day.
RTNCF, representing the national organization in North Central Florida, is a home repair organization that targets the housing needs of residents in the community. Originally scheduled for Saturday, April 20, the spring projects for home repairs occurred simultaneously.
"In the month of April we will have 50,000 volunteers nationwide helping 3,000 families," said Morgan Dall'Acqua, office administrator for RTNCF.
Taking place during the last three weekends of April, typically on Saturdays, RTNCF and volunteers would be tackling 12 projects in the North Central Florida area.
For the Browns, it was a special occasion, and for Wilmon Brown, it was even more so. Sear's Heroes at Home Program teamed up with RTNCF to improve the lives and homes of the military and their families through home repairs and modifications. Mr. Brown, 87, said he felt good. A World War II Navy veteran, he sat in a chair watching the volunteers repair his home of 58 years.
With the roof having severe leaking problems, rainy days consisted of setting out containers and making sure they didn't get full.
"He saw the activities going on and the papers and he sat quiet," said Rose Brown, recalling the additional items required to get approved. "I told him, 'we're going to get a roof' and he was almost speechless."
"We planned to get it done yesterday, but the rain wasn't working with us," said Sara Emmanuel, office manager for Scherer Construction.
Scherer Construction and Crosier & Son Roofing, Inc. have teamed up the last few years to take on the projects in the area and they always handle the roofing projects.
With funds raised and donated to RTNCF, Scherer and Crosier provide the labor at no charge to the families they help.
The first thing that was addressed was safety. The roof needed replacing, the interior ceiling needed repair, the bathrooms and different areas of the home needed better accessibility. Emmanuel said the timeline to get it done was in one day.
"We didn't know how to get it done," said Mrs. Brown. "Now, I'll just enjoy the rain when it rains."
# # #
Add a comment
Add a comment
Details

Published on

Thursday, 07 March 2013 01:02

Written by Special to Alachua County Today
Hits: 6853
ALACHUA – United States Congressman Ted Yoho, representing Florida's 3rd District, will be the guest speaker at the Alachua Lions Club's 74th Annual Cattlemen's Banquet Thursday, March 28, 2013. The Lions Club fundraiser starts at 7 p.m. at the Alachua Woman's Club, located at 14665 South Main Street, Alachua. Tickets are $40 and include a steak dinner and entertainment. In addition to Yoho, Marion "Bud" Riveire will be the Master of Ceremonies, and an Iraqi war veteran will also speak briefly. The Alachua Lions Club Cattlemen's Banquet is the longest running, continuous Lions fundraiser in Florida and nearly 300 people attend each year.
Yoho has been a veterinarian for the past 28 years, serving North Central Florida. He began his first term in office in 2013. Past speakers have included President Jimmy Carter, Florida governors Bob Graham, Buddy MacKay, Lawton Chiles, Bob Martinez and Claude Kirk, and U.S. Senator George Smathers and U.S. Rep. Cliff Stearns.
Riviere, who is now retired, was most recently Dean of Workplace Development and Continuing Education at Chipola College in Marianna, Fla. He has also served as the Director of Haney Technical Center in Panama City and currently services on the Florida FFA Foundation Board. He was born in Alachua and graduated from Santa Fe High School.
Money raised by the Alachua Lions Club supports Alachua recreation programs, Alachua Cub Scout Pack 88, Boy Scout Troop 88, and Girl Scouts, an early college scholarship program for a Santa Fe High School student, Food for Kids of Alachua program, tutoring of students at Alachua Elementary School, eyeglasses, eye surgery and hearing aids for those in need. The Alachua Lions Charitable Foundation supports the work of the Alachua Lions Club.
For ticket information, contact any Alachua Lion or call Lion Gunter Hirsch at 386-462-3702 or 352-538-9709. For program ads call Lion Gary Hardacre at 386-462-4582 or 352-214-2452. Ad deadline is March 1.
Add a comment
Add a comment