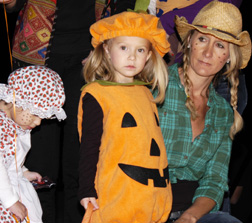 Costume contests and sweet treats were favorites at Alachua's Trick-or-Treat on Main Street Wednesday night. Superheroes, princesses and witches all made appearances at the annual celebration. See more pictures of Trick-or-Treat on Main Street at Alachua County Today's Facebook page at http://www.facebook.com/ACTNEWS
Add a comment
Add a comment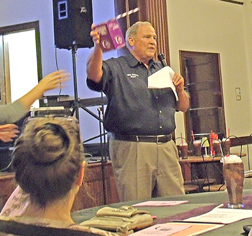 Newberry Mayor Bill Conrad kicked off the Newberry Relay for Life event on Tuesday night with a great crowd dressed in 50's style for some Rock & Roll fun. Honorary Chairperson Larry Keene and his family and friends team were all in attendance and special surprise guest "Elvis" jumped in and entertained the crowd. This year promises excitement and the opportunity to raise even more money than last year. The youngest team members, Katie Thomas, Julia Martin and Christianna Norfleet, were all dressed up and registered their team to support this worthy cause.
NEWBERRY – "One day. One night. One vision. One fight," quoted cancer survivor Kelsey Tainsh on Tuesday night at the first event to mark the start of fundraising for Relay for Life 2013. Every seat in the municipal building was filled as the Newbery Jonesville Archer Relay for Life committee informed interested parties about the basics of the organization and future events.
There was a luminaire ceremony to honor survivors, those currently in the fight and those who lost. This kickoff symbolized a renewing of the community's fight against cancer. The first team meeting will be held Nov. 25 at the Milam Funeral Home, and the committee will meet at 6 p.m. each second Tuesday of every month at the Little Red School House.
The '50s-themed gathering had a special guest appearance, Elvis impersonator Randy Elvis Walker and a raffle drawing. Gainesville's Bacon's Bbq and Catering and Susie's Sweet Shop donated a dinner for the meeting.
March 15 and 16, 2013 at Newberry High School will be the official relay event, an 18-hour journey meant to span from night to day to represent the many feelings and mindsets of a person battling cancer.
The committee informed attendees of various services such as the Road to Recovery program that drives patients to their treatments, and the 1-800-ACS-2345 information line. Also available to locals is the Jonesville at First Choice Immediate Care Center Resource Closet that provides women with beauty products on the order of wigs and makeup and a family-oriented Rock Program that throws events like camping.
Relay teams consist of 12 to 15 people that come together to fundraise for the American Cancer Society and each participant is asked to raise a minimum of $100. The sponsors for tonight's kickoff meeting were Cox Communications, Edifice, Newberry Animal Hospital and Waste Pro.
# # #
This email address is being protected from spambots. You need JavaScript enabled to view it.
Add a comment
Add a comment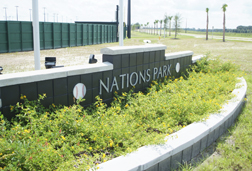 By all appearances, construction on Newberry's Nations Park baseball complex is complete. However, the grand opening event has been rescheduled to next April to allow for improvements to fencing and landscaping and increased airflow through the spectator facility, which may also see additional bleachers.
NEWBERRY – Construction on Newberry's Nations Park baseball complex is currently under budget with a few loose ends to tie up, said City Manager Keith Ashby. These loose ends have postponed the planned November grand opening after feedback about the complex revealed some modifications and improvements were in order.
Updated plans call for Nations Park baseball complex to open with an April ceremony that consists of two week-long tournaments over the Easter holiday.
"Nations Park is the best park in the country right now," said Lou Presutti, who administrates the park's streamlining. "It's state of the art." The park is modeled after New York's Cooperstown Dreams Park that he founded. The hope is that Nations will also draw crowds from around the country for its youth baseball program.
Teams and the public that attended the test tournament at Nations Baseball praised the fields and the playing conditions, but there a number of comments that the spectator area needs upgrades.
"We just have to tweak these little things to make it even nicer," Presutti said about the ongoing construction.
"People are really excited about all of it," he said.
"The Internet site dedicated to marketing the park gets over 100,000 hits a month.
"The park is going to be something very special for this country," Presutti said.
Presutti is "operating the park on behalf of the city," Ashby said, "It's a national venture and the first of its kind outside of Dreams Park."
Significant improvements will be made to ensure more airflow through the spectator facility. "It's hot as a pistol in there," Ashby said. Improvements will include cutting down the back wall to waist level height, creating a back entrance to help with space and movement, and installing ceiling fans. And possibly, three new bleachers will be added to one of the outfields.
Aesthetics are also a concern, so new fencing for the front of the complex will be built along 30th Avenue, and Nations Baseball representatives are reviewing an upgraded landscaping package. Spaces will be added to the parking lot as well. The final completion contract for the construction is pending and is expecting to be wrapped up soon. Once construction is finished, the complex's final certificate of occupancy can be issued.
Ashby says that Presutti's requests are reasonable and that the delay is acceptable considering feedback about the facility. He said if any further requests were made, the park opening would not be delayed.
"Everyone is very happy about it," Ashby said.
Edifice Inc. is the contractor of the facility that is anticipated to attract 1,600 teams, generate 23,000 room nights annually and boost the economy by a projected $1.3 million. The now postponed November ribbon cutting ceremony was originally to be carried out in the summer after a test tournament to try out the facility in June.
The groundbreaking for the $7 million dollar project was held in March 2011, and by April, it was said to 85 percent complete. The construction of the 16-field park located on Southwest 30th Avenue and Sate Road 41, an 80-acre-site, encountered delays due to disturbance of a turtle species and sinkholes at the location.
The baseball complex, hailed as a national tourist attraction and a beacon for new business ventures, is funded by the Alachua County Tourism Development Tax, which appropriates its revenue from taxes on the county's hotels.
"The City of Newberry remains committed to Nations Baseball's Lou Presutti," Mayor Bill Conrad said. "He knows what he's doing with youth baseball. We have run into a few glitches in the start up, which is to be expected with a new operation. We have high hopes for this spring and this summer." The mayor will host the governor and some other VIPs for the opening ceremony.
Newberry has high stakes in the park, and the goal is to run it 20 weeks out of the year, Conrad said. With the focus on 11-years-and-under teams, the fields are 200 feet in length. This means that the park will only run about 14 to 16 weeks out of the year, to coincide with school terms. The City is looking to using the fields for women's softball in the weeks the park isn't running youth teams, which also has a regulation field length of 200 ft.
# # #
Email cgrinstead@
alachuatoday.com
Add a comment
Add a comment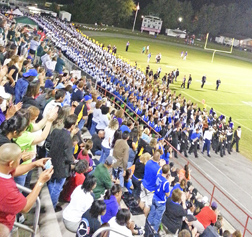 ALACHUA – Bands from all over the state gathered at Santa Fe High School for the 17th Annual Southern Showcase of Champions Marching Band Invitational Saturday.
Hundreds of high school students milled the fields around Santa Fe High and waited for their turn to perform. Twenty-one high school bands participated in the day-long event.
An event organizer estimated between 3,000 and 4,000 people attended the event Saturday, which organizers say they started planning for in May.
The Southern Showcase is recognized as the premier southeastern United States marching band invitational. The invitational is a Florida Marching Bandmasters Coalition (FMBC) sanctioned regional event with top caliber adjudicators who are committed to constructive comments and helpful suggestions for each and every band. As part of the event's commitment to excellence in music, marching, and overall band performance, adjudicators are members of the prestigious Central States Judges Association.
Participating bands included Newberry High, Eastside High, P.K. Yonge, Buchholz High, Gainesville High, Trenton Jr/Sr High, Trinity Christian, Chiefland High, Dixie County High, Suwannee High, Bell Jr/Sr High, Madison County High, North Marion High, Trinity Catholic, Orange Park High, Lawton Chiles High, Citrus High, Wharton High, East Ridge High, Fleming Island High and Nease High. The Santa Fe High School Raider Regiment presented a special exhibition Saturday night.
Newberry High placed eighth in the competition, and Buchholz High took top honors, placing first.
Not only was the showcase a venue for exceptional marching band performances, it also serves as a qualifier for the state finals in November in St. Petersburg, Fla.
Newberry High School band director Jermaine Reynolds said the band prepared for the event by focusing on what it needed to get done.
"The way I approach each week is to step up our focus," he said.
Reynolds said he thought the showcase was the band's performance.
"We had a very impressive show," he said. "I think we surprised a lot of people."
Gainesville resident Linda Steffen came to the showcase to see her daughter compete. Steffen said the quality of the performances often depend on whether students are prepared.
"It depends if they're ready in time," she said.
She said she doesn't get nervous before events because she's used to watching the performances.
"I grew up with it," she said.
Laurie Brown, publicity director for the showcase, said thousands of people visited Alachua and spent money at local eateries and hotels.
"We're really putting a boost to the local economy," she said.
She said there aren't any winners or losers in the showcase because the performers want everyone to be happy.
"It is a competition, but it is a friendly competition," she said. "They have so much admiration for their fellow band members."
Brown said Santa Fe puts a bright spot on the community when it hosts the showcase. She said Nate Bisco, Santa Fe's band director, is dedicated to his job.
"Santa Fe has a lot of respect throughout the state of Florida," she said. "It's a team effort all around."
# # #
Email This email address is being protected from spambots. You need JavaScript enabled to view it.
Add a comment
Add a comment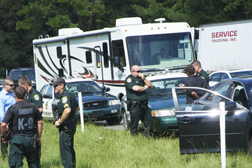 What reportedly began as a road rage incident in Marion County ended with two people arrested in Alachua County Monday afternoon. According to preliminary reports, a caller contacted the Florida Highway Patrol regarding a road rage incident on northbound Interstate 75 in which either the driver or occupant of a late-model Toyota brandished a firearm. The caller described the automobile in question as a black car with the words "Just Married" on the bumper. By the time that vehicle reached the Alachua exit, more than a dozen Alachua County Sheriff's Office (ACSO) deputies were in pursuit. With weapons drawn, deputies ordered the driver and passenger, a man and woman, out of the Toyota. Deputies on the scene say that did indeed recover a handgun from the car. Meanwhile, both occupants were arrested over the incident, although it is unclear as to whether or not either was charged.
Add a comment
Add a comment