Details

Published on

Sunday, 13 January 2013 21:24

Written by Special to Alachua County Today
Hits: 3549
ALACHUA COUNTY, FL - The Alachua County Health Department (ACHD) urges all residents to get the flu vaccine and to take precautions to limit their risk of exposure to seasonal flu, an infection of the respiratory tract caused by the influenza virus. "Getting the flu vaccine is the most effective means of preventing infection from influenza" stated Paul Myers, Administrator of the Alachua County Health Department. "Flu activity is increasing across the state and nation and it's not too late to protect yourself, family and friends from the flu."
The ACHD will be conducting two more Flu Clinics at the Health Department, located at 224 SE 24th Street, Gainesville, on Jan. 15 and 16, 2013, from 8:30 a.m. to 6:30 p.m.
If your child missed the intra nasal FluMist® at school, they can still receive the vaccine for free at these clinics. Health Department clients can get the flu shot for free and non-clients can get the flu shot for $25 (many insurance plans cover the cost). For additional information call 334-7913.
Symptoms of the flu include headache, fever, a severe cough, runny nose or body aches. Contact your physician if these symptoms appear.
The Florida Department of Health urges the following preventive steps for the flu:
Cover your nose and mouth with a tissue when you cough or sneeze. Throw the tissue in the trash after you use it.

Wash your hands often with soap and water. If soap and water are not available, use an alcohol-based hand sanitizer.

Avoid touching your eyes, nose and mouth. Germs spread this way.

Try to avoid close contact with sick people.

If you are sick with flu-like illness, stay home for at least 24 hours after your fever is gone, without the use of fever-reducing medicine, except to get medical care or for other necessities.

Get re-vaccinated EVERY YEAR because flu viruses change each year.
Add a comment
Add a comment
Details

Published on

Friday, 04 January 2013 21:31

Written by Special to Alachua County Today
Hits: 3600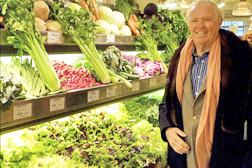 (StatePoint) In the midst of an obesity epidemic, it's easy to ignore that little bit of extra weight you may be carrying around. But experts warn that any amount of excess fat tissue around the middle can boost your risk for serious health issues like heart disease, diabetes and more. And unfortunately, there are no really easy solutions when it comes to sustained weight loss.
"Fad diets promising a quick fix may help you drop weight quickly, but these programs can do more harm than good," says Dr. Jen Sacheck, Associate Professor of Nutrition at Tufts University and co-author of the new book, "Thinner this Year: A Diet and Exercise Program for Living Strong, Fit, and Sexy."
Sacheck, along with motivational speaker and co-author Chris Crowley, explain in plain English the science of what goes on inside your body -- both when you're taking care of yourself and when you're not. They're urging those two-thirds of Americans that are overweight or obese to stop searching for magic weight loss solutions. "Preaching a commitment to proper nutrition and regular exercise may not win us any popularity contests," quips Crowley, "but at the end of the day, hard work is the only healthful way to lose weight and keep it off for good."
Not only that, eating right and getting exercise can boost your mood, make you feel younger, and give you an overall better outlook on life. Whether you're looking to drop those extra pounds, or maintain a healthy weight as you age, keep these guidelines in mind: • Avoidance of entire food groups or excessive consumption of others isn't healthy, realistic or sustainable. Why? Carbohydrates, fats and proteins play necessary and unique functions within our bodies and supply different nutrients crucial for health.
• Ditch wasteful calories that come from foods that are nutritionally void -- think processed and overly packaged foods, refined, flour products, all things fried or covered in creamy goop, sports drinks and other beverages with added sugar. Bottom line: eat real food. • About half of your diet should be fruits and vegetables. Enjoy healthy fats in moderation and avoid saturated and trans fat. When eating meat, make it lean.
• Don't starve! You need energy to go about your day, especially if you're physically active. Skipping meals can actually lower your metabolism, making it harder to burn calories and lose weight.
• Be prepared to commit to regular aerobic exercise and resistance training. There are no shortcuts. Exercise for forty-five to sixty minutes a day, six days a week, for the rest of your life.
• Stay connected with friends and family. "We are built to care deeply about one another. Get isolated and you will literally get sick," says Crowley. Friends can also offer the best support when it comes to achieving your goals.
For more information, or to connect with others, visit www.ThinnerThisYear.com. The sooner you get started, the sooner you'll see positive change. But remember; when it comes to sustainable weight loss, there are no miracles.
Add a comment
Add a comment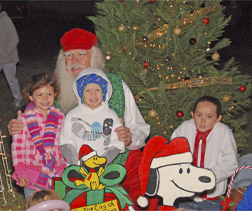 Photo by RONN JONES special to Alachua County Today
HIGH SPRINGS – Residents flocked to downtown High Springs Friday, Nov. 16, to participate in several seasonal events.
At 2 p.m., the New Century Woman's Club's opened its doors for their two-day Holiday Expo. Visitor attendance was steady on Friday and 13 people, who had earlier bought raffle tickets, received huge gift baskets, each with its own theme such as gardening and cooking. Proceeds from the raffle will be used for various community service programs sponsored by the Woman's Club each year.
The Holiday Expo continued until dusk on Friday, at which time club members closed their doors to head to the Tree Lighting event on Railroad Avenue.
Adding to the cheerful atmosphere generated by the official lighting of the Christmas tree on Railroad Avenue, downtown shops kept their doors open later than usual as part of the festivities. The Merchants' Open House attracted visitors before and after the tree lighting, who might want to shop for themselves or friends and neighbors.
The newly planted tree, which was surrounded by Charlie Brown characters provided by Ceilah's Treasure Trove on 1st Avenue, was lit at dusk by Vice-Mayor Bob Barnas.
Face painting, musical entertainment, singing, balloons and children's visits with Santa Clause were all part of the evening's lineup of activities.
# # #
Email Cwalker@
alachuatoday.com
Add a comment
Add a comment
Details

Published on

Friday, 28 December 2012 16:14

Written by Special to Alachua County Today
Hits: 3579
GAINESVILLE – Florida Farm Bureau has received national honors for its superior accomplishments during the past year. Officials at the American Farm Bureau have announced that the state organization earned Awards of Excellence in all categories of operation evaluated for 2012.
The awards recognized Florida Farm Bureau's work in Education and Outreach, Leadership Development, Member Services, Policy Development and Implementation and Public Relations and Communication.
Membership growth helped to garner another prize for Florida Farm Bureau. By meeting its membership quota, the organization brought home the American Farm Bureau's Navigator Award. These combined achievements qualified the state Farm Bureau for the President's Award – a recognition for the best programs within specific membership categories. Florida won the President's Award for Leadership Development and Member Services.
Florida Farm Bureau is now qualified for the Pinnacle Award, given to the most outstanding state Farm Bureau in each membership group. The Sunshine State will also compete for the new Horizon Award, a recognition for innovative programs undertaken during 2012. The two awards will be announced at the American Farm Bureau's Annual Meeting in Nashville, Tenn. next month.
Florida Farm Bureau President John Hoblick said he was extremely proud of county Farm Bureau leaders, county Farm Bureau employees, state board members and state employees for their collective efforts in securing the multiple distinctions.
"I have marveled at the ability of our Farm Bureau members to overcome challenges as they reached one notable milestone after another," Hoblick said. "Our members and staff have proven that there is virtually no limit to our strength as a grassroots organization when we pursue a collective effort."
"They make Farm Bureau truly effective by creating the dynamic energy behind the Voice of Agriculture," Hoblick added. "I thank them for the exceptional dedication that made these achievements possible."
# # #
Submit your story by
Emailing community@
alachuatoday.com
Add a comment
Add a comment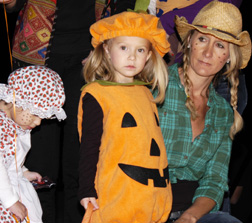 Costume contests and sweet treats were favorites at Alachua's Trick-or-Treat on Main Street Wednesday night. Superheroes, princesses and witches all made appearances at the annual celebration. See more pictures of Trick-or-Treat on Main Street at Alachua County Today's Facebook page at http://www.facebook.com/ACTNEWS
Add a comment
Add a comment