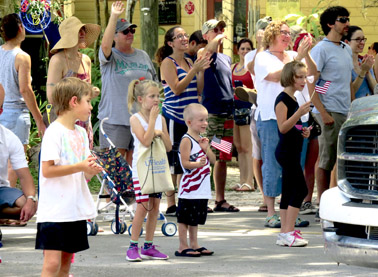 RAINA BARNETT/Alachua County Today
Spectators line the historic streets of Micanopy on Monday morning to watch the 4th of July parade as it winds through town. Later in the afternoon, crowds gathered at the Micanopy ballpark for music, food and games as they anticipated the upcoming fireworks.
MICANOPY – The small, historic town of Micanopy, nestled between Ocala and Gainesville, brought in Independence Day with style with several events Monday.
The annual parade, showcasing the fire department, police department, stallions, old vintage cars, and Uncle Sam and Lady Liberty in the flesh, began at 11 a.m. with a fish fry hosted afterwards at the Micanopy Historical Society Museum.
Following a small dirt road off of U.S. Highway 441, further events were held at the Micanopy ballpark later in the evening.
Beginning at 5:30 p.m., country music, classic American food like shaved ice, cotton candy and hamburgers, and sports like soccer and Frisbee were enjoyed by local families.
Micanopy Middle School hosted concessions for the first time, teaching the students who volunteered valuable hands-on experience in a job-like environment.
"This is a great experience for the kids, and they're really excited to be out here and in charge," said Kristin Black, a teacher and volunteer leader at Micanopy Middle School.
A bounce house for children was free and the main attraction for many of the younger visitors.
Wendy Liopiros and her husband, Stefan, have been residing in nearby Reddick since they were children, and brought their daughter, Alena Sophia, to the event.
"We used to trick-or-treat around here," Wendy Liopiros said. "And I'm really happy it's not raining, my friend in Virginia said her 4th of July celebrations got rained out."
Debbie Gomano, a Micanopy town administrator, gave tractor hay rides to children until fireworks started.
"This is my first time doing this," she said. "I really love it, it's so fun!"
The night ended with families gazing into the night sky as fireworks blazed in celebration of America's 240th birthday.
# # #
Email Rbarnett@
alachuatoday.com
Add a comment
Add a comment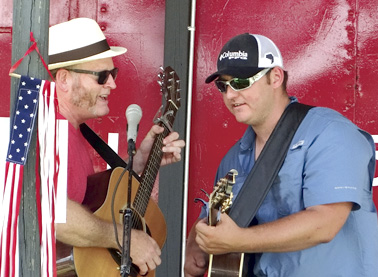 ANDREW FLOYD/Special to Alachua County Today
L-R: Rhett Harris and Waldo's Clay Brooker, a country/county-rock guitarist and singer, enterained most of the afternoon.
WALDO – Families gathered from Waldo and surrounding areas to tour the Railroad Museum and attend the first ever July 4th Gala in Waldo Park.
The Waldo Historical Society had been working to complete the museum display's inside of the City's train caboose. "We have a lot more to install in our museum, but we're still working on getting it ready for display," said Lucy Roe Cook, who describes herself as "founding mother" of the Historical Society. She and Penny Dodd were co-founders of the organization, which recently celebrated its 10th anniversary.
Right next door to the caboose is a shaded city park with picnic tables and benches. The city planned this first ever gala celebration in the park, and Dodd said their organization rushed to be able to get the museum open in time for both events to take place simultaneously.
Children toured the museum first and then walked to the park next door and enjoyed the water slide, ate hot dogs and corn on the cob. The slide, which was paid for by the City of Waldo, was a big hit with the children.
The park's picnic tables were filled with children and their families, as well as other visitors, many of whom were enjoying a snack on a hot dog or butter-dipped corn on the cob.
Clay Brooker, Waldo country/country-rock guitarist and singer, entertained most of the afternoon. He was later joined by another local entertainer, Rhett Harris, in a rendition of "The Waldo Song," a song written by a local musician.
A sculpture, created by former Waldo resident and master sculptor, Nick Biggins (deceased), was sent to the historical society from Biggins as a gift to the organization. A contest to name the sculpture was held through The Waldo Phoenix, a historical society newsletter. The winner of the "Name the Sculpture" contest, Heather Waugerman, of Waldo, was announced around noon. Her winning entry was "The Nails that Tie Us Together." The sculpture was on display inside the museum throughout the event, and Waugerman received "a crisp $10 bill, a Waldo Historical Society calendar and one-year membership to the historical society as her prize.
Grand Opening gifts for children were handed out and raffle prizes of a railroad clock, furnished by Tom's Cypress, and two horseshoe/spike toilet paper holders, also created by the late Biggins.
According to a Waldo Historical Society handout, the red caboose was acquired by the City of Waldo from the Seaboard System Railroad (CSX Corp.) in 1986. "It serves as an inspiration for the annual Waldo Railroad Days held in April. Two historical markers located nearby give a brief history of the town and information about Waldo during the Civil War."
Opening remarks were provided by Historical Society President Vera Mauldin and Vice President Charles Griffin. Following an invocation by Rev. Jim DuBois, Mayor Louie Davis addressed the crowd and told a story about how the caboose came to be in Waldo. City Manager Kim Worley took time to explain where everything was located and directed folks to the park's food tables. Other comments were provided by Historic Society Board Members Millie Keirnan and co-founder Lucy Roe Cook.
Cook, dressed in a patriotic red, white and blue top hat, conducted tours of the caboose and told stories about the various aspects of the museum and how it functioned.
Handouts were available which explained what each of the different train whistles meant and how they were used for communication to railroad flagmen. Another handout touted the various duties a conductor had to perform while on duty and followed up with a list of Firemen, Trainmen, Flagmen, Brakemen and Conductors throughout the years.
"It was a great way to celebrate the July 4th holiday in a small town," said Worley. "We enjoyed the opportunity to help our city celebrate Independence Day and also to see all the hard work our volunteers are doing on behalf of our new museum."
"The Waldo Historical Society meets every Tuesday and Friday at 14402 Northeast 140 Avenue in Waldo and," said Dodd, "we welcome anyone who wants to stop by for a visit or get involved in any way in the Waldo Historical Society."
# # #
Email Cwalker@
alachuatoday.com
Add a comment
Add a comment
Details

Published on

Wednesday, 29 June 2016 12:51

Written by Special to Alachua County Today
Hits: 672
GAINESVILLE – Clerk of the Circuit Court J. K. "Buddy" Irby announced at the courthouse that he will retire by the end of the year. This year marks Irby's 40th year in public service. He has served as Clerk of the Circuit Court for the past 24 years. Previously he served as the Alachua County Supervisor of Elections for 16 years.
Irby's released statement read, "As we are reminded in Ecclesiastes, "For everything there is a season." Knowing that there is a time and place for all things, I have determined that this is the proper time to give my employers, the people of Alachua County, my six month notice.
"I will say more later, but please know how grateful I am for the opportunity to serve the people and to lead such an outstanding staff which has produced a solid record of achievement and has a state-wide reputation for professionalism and integrity.
"My wife Linda and I look forward to continuing to serve by working with our favorite civic, religious, and community organizations."
# # #
Email editor@
alachuatoday.com
Add a comment
Add a comment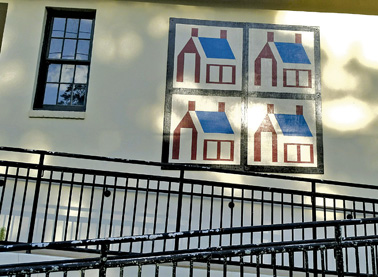 HIGH SPRINGS – Suzie Ann Clark, a well-known area quilter, addressed the High Springs City Commission to announce the placement of a quilt block on the street side of the Historic High Springs Elementary School and Community Center. The building also houses the High Springs Historic Museum in which several quilts are hung in the hallways for display.
In addition to announcing the placement of the quilt, she took the opportunity to thank the Community Redevelopment Agency (CRA) for their help and support in producing the quilt.
"There are approximately 1,000 quilt blocks in 30 states and Canada," she said. "It all started as a movement to paint quilts on the sides of barns and slowly progressed to being placed on city buildings as well."
The quilt, entitled "Little Red Schoolhouse," will become part of the Florida Quilt Trail, created in 2013 by Stephanie Metts of Trenton. The Florida Quilt Trail is linked to the American Quilt Trail Movement.
In addition to Trenton and High Springs, White Springs, Madison, Live Oak and other communities throughout Florida are joining the Quilt Trail. "Trenton has 17 quilt blocks and two more on their docket," said Clark. "Little White Springs has 20 already and Madison and Live Oak are in the process of producing quilts as well."
In conjunction with Trenton, a map of the tri-county area indicating each quilt block's location, along with a short history of each quilt block, is being produced. High Springs will be one of the locations listed in the brochure according to Clark. "Cities which have quilts have seen an overall increase of 20,000 – 30,000 visitors," she said.
Talking specifically about the quilt in High Springs, the quilt design was first seen in New Jersey in 1870. "We thought it was appropriate considering the building was an old schoolhouse," she said.
Regarding the quilts inside the museum, Clark said they would be changed approximately every six weeks to help keep the display fresh.
A ribbon-cutting ceremony and presentation of the history of the old schoolhouse building was held in conjunction with the Music in the Park event held at the building on June 19.
# # #
Email Cwalker@
alachuatoday.com
Add a comment
Add a comment
ALACHUA – Economic development is not a new concept in Alachua. As the second largest municipality in the county, the City of Alachua has been in the forefront the state's burgeoning biotechnology industry as well as home to several large distribution centers and associated support businesses. But while the biotech hub is located along U.S. Highway 441 and the distribution centers are located in proximity to Interstate 75, the City of Alachua is now turning its economic development efforts to Main Street and the downtown area.
What began with a workshop in January spearheaded by the City of Alachua has now resulted in a draft market study and economic development plan for the downtown area. Redevelopment Management Associates (RMA) was retained by the City to develop strategies for downtown economic development. In addition to the workshop, the firm conducted a survey of local business owners to gain insights into existing conditions and ways to improve the business climate throughout the city and downtown.
The City of Alachua City Commission and RMA will be holding a public workshop on June 13 to present a draft market study and economic development implementation plan for Main Street and the Community Redevelopment Area.
Some of the issues raised at the January workshop included possible ways that traffic along U.S. 441 could be directed to the business district in downtown Alachua; the creation of adequate parking; better signage; how to maintain foot traffic on Sundays when some stores are closed; removing stop signs on Main Street; modifications to city codes to encourage shorter business startup times; and ways to help keep retail buildings from being rented out as office space. Additional issues and suggestions were submitted through the survey process as well.
Kevin Crowder, Director of Economic Development at RMA said at the January workshop that the timeline for his firm's work would be to complete a market assessment by the end of February followed by development of an action plan.
The June 13 workshop will be held at 3 p.m. at Alachua City Hall in the Commission Chambers, 151 NW 142nd Terrace, Alachua. Interested parties are encouraged to attend.
# # #
Email editor@
alachuatoday.com
Add a comment
Add a comment