HIGH SPRINGS – High Springs City Manager Ed Booth announced a trial period of six weeks to try out a four-day work week at City Hall.
"I have noticed very little citizen traffic in City Hall on Fridays and most of what we do get is at the beginning of the day," he said.
Booth said most of the people he has talked with said they wouldn't mind having City Hall closed Fridays as long as there were office hours before and after the traditional work hours.
City Hall will now be open from 7:30 a.m. to 6 p.m., Monday through Thursday, during this trial period according to Booth. "It is on our web page and we will advertise the change so our citizens know about it," he said.
The employees are interested in trying it out and the City of Alachua says they have saved a lot of money since going to that type of work week, Booth told commissioners. "At the end of six weeks, I will come back to the commission and let you know how it is working out for the citizens," he said. "They are the ones I'm most concerned about."
The City of Alachua went to a four-day work week for City Hall in October 2010, using the same days of the week and hours of operation that the City of High Springs is proposing.
Alachua Assistant City Manager Adam Boukari said, "The savings to the City are not fully known, however after about nine months of implementation, the savings included $18,000in utilities and 1,200 gallons of fuel. Other savings factors were not calculated at that time," he said. No formal savings analysis has been performed since and reduced use of sick leave and other variables were not calculated. Apparently the savings in fuel and utility usage alone was enough for Alachua to continue the practice to date.
# # #
Email Cwalker@
alachuatoday.com
Add a comment
Add a comment
HIGH SPRINGS – Former High Springs attorney and Circuit Court Judge David A. Glant, announced his early retirement from the bench on Thursday, June 13, 2013, at the age of 63. Glant, who has been dealing with cancer the past few years, said he felt he was physically unable to meet his own high expectations.
In 1989, Glant set up his law practice in High Springs. He lived in Ft. White for four years and then moved to High Springs in 1994, where he remained in private practice until he was elected to the Eighth Judicial Circuit of Florida in 2002.
The Eighth Judicial Circuit consists of 13 judges and serves Alachua, Baker, Bradford, Gilchrist, Levy and Union counties.
Being a judge has been Glant's aspiration since law school. During his third year at the University of Florida, he clerked for the Honorable Judge John A.H. Murphree. "I traveled with him to the six counties he covered. It really gave me a fire to want to do that job," Glant said.
"I was practicing law in High Springs when the state legislature created a brand new seat in this district," he said. "I ran for it against a couple of other opponents and won the 2002 election." Glant, who still lives in High Springs, was eventually also appointed Administrative Judge – Criminal Division in 2009.
"An administrative judge handles administrative matters for the division," said Glant. "When there is new case law to be disseminated, we share it with the other judges. We're there to help determine how the criminal division is run, but we are not 'over' the other judges," he said. "We're there to help the other judges. We are a very collegial body that helps each other all the time."
Glant explained that some judges get appointed and some get elected. Because Glant is retiring before the end of his term, the governor will appoint someone to his seat. The 8th District Judicial Nominating Committee, made up of citizens, attorneys and people from other professions, will come together to create a blended panel. "They ultimately send up to six names to the governor for him to choose from and the governor makes the final appointment," said Glant.
"I have had two satisfying careers and I did the best I could in both instances. I don't feel I need to accomplish anything else. This job is very demanding physically and mentally," he said.
"It has been a tremendous career. I practiced law 23 to 24 years and have been a judge for 10 ½ years. It's been a great experience and I feel I helped a lot of people along the way. It [retirement] was a painful decision because I love the job, but it was the right decision," he said. "That's what judges do…they make hard decisions."
Stacy A. Scott, Public Defender for the 8th Judicial District, commented that Judge Glant "was a very experienced judge. He respected the rule of law. He was a tough sentencer for criminal defendants, but was consistently tough," she said.
As an example of how tough he could be, Scott said she had heard that Alachua County jail inmates nicknamed him, "Father Time."
"I didn't always agree with the sentences that he gave out, but I have a tremendous amount of respect for him. He treated everyone fairly. He didn't play favorites. He applied his way of judging people the same way no matter who the defendant was," she explained.
"Clients knew what to expect from him because he would tell them up front, 'You're getting probation. But if you violate your probation in any way, you will go to jail.' And that is what he would do."
"He evenly dealt out his sentences according to his moral beliefs and the law," she said. "I felt lucky to have spent time with him outside of the court and you couldn't meet a nicer person. I like him personally and respected him as a judge," she said.
# # #
Email Cwalker@
Add a comment
Add a comment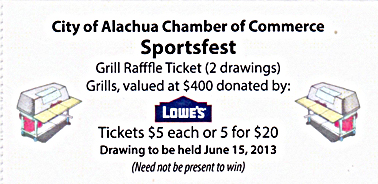 Tickets available at Alarion Bank, Capital City Bank, Sportsfest Committee Members or from Dot Evans at the Chamber Office (386) 462-3333.

Grills are on display at the Alarion Bank and Capital City Bank.
Add a comment
Add a comment
Details

Published on

Thursday, 30 May 2013 00:45

Written by Special to Alachua County Today
Hits: 6004
ALACHUA – The Alachua Woman's Club has selected its new slate of officers for the 2013-2014 season. They are Joan Imler, President; Cheryl Hartley, Vice President; Kathy Colson, Treasurer; Emelie Matthews, Recording Secretary; Linda Shaw, Corresponding Secretary; Ruthie Moss , Publicity; Becky De Marie, Parliamentarian; Vada Horner, Historian and Valerie Taylor, Building Manager.
The new officers extend a warm invitation to those who would like to join and become involved in the activities sponsored by the membership.
The Woman's Club celebrated its 100th Anniversary as an organization last year. The club hosts a variety of social and business related events at their historical building on North Main Street in Alachua.
For additional information about joining, contact Vada Horner at 386-462-1760 or Kathy Colson at 386-462-5520.
# # #
Submit your story by
Emailing community@
alachuatoday.com
Add a comment
Add a comment
­­­­­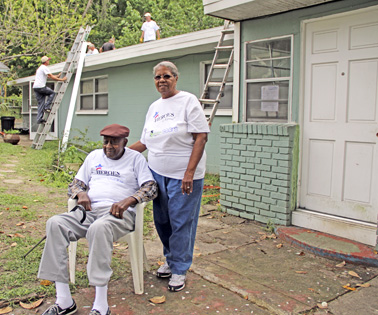 Alachua residents Rose and Wilmon Brown saw their leaky roof replaced by Rebuilding Together North Central Florida.
ALACHUA – Rose Brown turned on her computer Jan. 1 at 11:30 p.m. waiting anxiously for the application to be released. At 11:58 p.m., it was available. She printed it and filled it out with her husband, Wilmon Brown.
Three weeks later, the Browns were contacted so that further information could be collected, but Rebuilding Together North Central Florida (RTNCF) didn't offer any guarantees.
January had come and gone and February was coming to a close, but not before the Browns had been selected for their home to be improved and repaired.
"I'm really, really excited," said Rose Brown, 74, as she watched volunteers work on replacing her roof on Sunday, April 21. It was the best birthday present she had received that day.
RTNCF, representing the national organization in North Central Florida, is a home repair organization that targets the housing needs of residents in the community. Originally scheduled for Saturday, April 20, the spring projects for home repairs occurred simultaneously.
"In the month of April we will have 50,000 volunteers nationwide helping 3,000 families," said Morgan Dall'Acqua, office administrator for RTNCF.
Taking place during the last three weekends of April, typically on Saturdays, RTNCF and volunteers would be tackling 12 projects in the North Central Florida area.
For the Browns, it was a special occasion, and for Wilmon Brown, it was even more so. Sear's Heroes at Home Program teamed up with RTNCF to improve the lives and homes of the military and their families through home repairs and modifications. Mr. Brown, 87, said he felt good. A World War II Navy veteran, he sat in a chair watching the volunteers repair his home of 58 years.
With the roof having severe leaking problems, rainy days consisted of setting out containers and making sure they didn't get full.
"He saw the activities going on and the papers and he sat quiet," said Rose Brown, recalling the additional items required to get approved. "I told him, 'we're going to get a roof' and he was almost speechless."
"We planned to get it done yesterday, but the rain wasn't working with us," said Sara Emmanuel, office manager for Scherer Construction.
Scherer Construction and Crosier & Son Roofing, Inc. have teamed up the last few years to take on the projects in the area and they always handle the roofing projects.
With funds raised and donated to RTNCF, Scherer and Crosier provide the labor at no charge to the families they help.
The first thing that was addressed was safety. The roof needed replacing, the interior ceiling needed repair, the bathrooms and different areas of the home needed better accessibility. Emmanuel said the timeline to get it done was in one day.
"We didn't know how to get it done," said Mrs. Brown. "Now, I'll just enjoy the rain when it rains."
# # #
Add a comment
Add a comment