Details

Published on

Saturday, 30 June 2012 15:25

Written by Special to Alachua County Today
Hits: 1304

ALACHUA – The Santa Fe Babe Ruth 10U Allstar team remains undefeated after a perfect season. They won the District Championship this past weekend and will be representing Alachua County in the Babe Ruth Allstar State Softball Championship in Ocala July 4-8. The winning team will travel to regional competition in North Carolina.
Players include Riley Schnyder #15, Calen Hayes #17, Annalyn Burnham #14, Tiffany Clark #12, Lindsey Cail #7, Sarah Mcquatters #9, Shayla Nickerson #1, Jaden Robinson #4, Madison Hylton #4, Brianna Boggs #44, Alyssa Raulerson #16, Jenavi Boisseau #8 and Shelby Sparkman #2. The team's head coach is Jackie Clark and assistant coaches are Dean Schnyder and Ed Mcquatters.
# # #
Submit your story by
Emailing This email address is being protected from spambots. You need JavaScript enabled to view it.
Add a comment
Add a comment
Details

Published on

Monday, 11 June 2012 14:19

Written by Special to Alachua County Today
Hits: 1209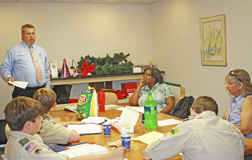 HIGH SPRINGS – Wilson Steen, Manager at Bank of America in High Springs, teaches a class of local Boy Scouts on financial matters. Also attending were Ms. Bloodsworth, leader, and Jan Galloway Brown, parent.
# # #
Submit your story by
Emailing This email address is being protected from spambots. You need JavaScript enabled to view it.
Add a comment
Add a comment
Details

Published on

Tuesday, 22 May 2012 23:32

Written by Special to Alachua County Today
Hits: 1416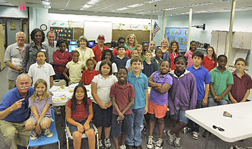 Students participating in Alachua's after school tutoring program were in for a treat last week when volunteer tutors from Alachua and High Springs joined them in celebration with an end of school year party.
Submit your story by emailing This email address is being protected from spambots. You need JavaScript enabled to view it.
Add a comment
Add a comment
Details

Published on

Saturday, 02 June 2012 16:00

Written by Special to Alachua County Today
Hits: 1577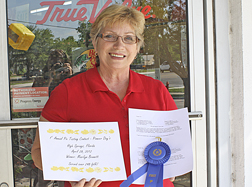 Editor's note: This is the final in a series of three award winning pie recipes, provided courtesy of the High Springs Pioneer Days pie contest winners.
Tomato Pie
Placement: First Place
Cook/Contestant: Marilyn Bennett
Ingredients:
4 ripe tomatoes, peeled & sliced
8-10 large basil leaves, chopped
½ cup chopped green onion or chives
2 Tbs. self-rising flour
Pepper to taste**
2 cups grated mozzarella and cheddar cheese (combined)
1 ½ cup mayonnaise
One pre-baked 9" pie crust
Preheat oven to 350 degrees. Layer tomato slices, basil and green onion in a pre-baked pie shell, alternating between layers, ending with tomatoes on top. Add pepper to taste. Mix together grated cheese, mayonnaise and flour. Spread on top of tomatoes to form a top crust. Bake for 30 minutes, or until lightly browned. Cool slightly before serving as a side dish with meats.
**Salt is not needed due to the amount existing in the mayonnaise and cheese.
Add a comment
Add a comment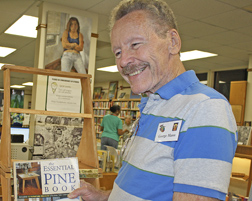 George Mann crafted four Franklin Chairs using the knowledge he gained from a book he checked out of the Hawthorne Library. Mann recently donated one of the versatile chairs, which can also be used as a stepladder, to the library.
HAWTHORNE– When Hawthorne resident George Mann checked out a book entitled
The Essential Pine Book
from the city's library six months ago, he got to work.
He made four stepladders that turn into chairs. One of those "Franklin Chairs" was presented on a table in the library as a showcase of how imagination is not limited to the bound pages of a book.
Portraits, carvings, beaded work and other pieces of art adorned the walls and shelves of the Hawthorne Library at the 46th Annual Hawthorne Artists' Appreciation Reception on Thursday night. Gainesville artist Susan C. Johnson spoke at the event.
The reception was part of a month-long art appreciation project at the library. Students from Shell Elementary School contributed art, and local teenagers created sidewalk art in front of the library entrance.
The library is not just a place for people to read books. It's also a community center, library manager Memree Stuart said.
One Hawthorne resident incorporated her mother's art. A young girl stood in the middle of a snowy path. The artist, Candy David, said that she found an unfinished painting by her mother and she finished it by painting a 3-year-old version of her mother on top of the picture.
Librarian Guylene Resue introduced the artists at the reception. She had two mismatched beaded purple earrings. They were both made by local artists, she said.
"I'm a walking art exhibit," Resue said.
Johnson then stood before the audience and talked about the inspiration behind her art. Horses, she said, are spiritual creatures. She works hard to listen to the sniffles and whinnies so she can capture that horse's personality, she said.
"When I get back to the studio, those are the sounds I'm hearing," she said.
Hawthorne artist Onya Laree brought her nephew, Kalai Boyd, 4, to the reception. Kalai opened up a composition book to reveal brown drawings and scribbles. Laree laughed, "I think it runs in the family."
Add a comment
Add a comment