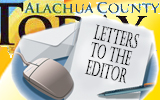 I've known Jimmy Troiano since he was a kid; watched him come up through the ranks of the Alachua County Sheriff's Office (ASO); listened to him explain problems with Sadie Darnell's "regime" with him being vilified, and lamented with him as a promising career with ASO ended. Then, Jimmy became Chief of Police in our little "back woodsy" town…he knew the people…they knew him…life was good, right? Concerns about nepotism with his wife also working in City Hall were there, but no problem.
If you simply read his column, you may take everything at face value. People should only believe about half of what they read and maybe about a third of what they hear…unless they are willing to do a little research. What you may not know is that by going to the Combined Communication Center (CCC), the City of High Springs only saved a few thousand. Shortly after handing us over to the CCC, equipment in our call center was dismantled and equipment was given to Alachua County - by whose authority?
Oh…did I fail to mention that shortly after our dispatch center was given away, Chief Troiano asked to hire an assistant for over $30,000? Maybe, this money would have been better spent upgrading our "backwoods" dispatch center?
An informational town hall meeting with commissioners was held. I don't recall seeing Troiano there, although he could have spoken at that time along with Officer Shepherd and retired Officer Hines who support the CCC. Former Mayor Travis did take a jab at Ms. Travers. However, I believe he owes her an apology as tapes clearly reveal that her actions were correct. Did Officer Shepherd and Officer Hines follow protocol during their episodes? Officer Scott did give accurate and a compelling presentation as to how we could keep our dispatch center.
From a personal perspective, after contacting the CCC on how a described emergency would be handled by them, I did not get a warm, fuzzy feeling of security. But, after explaining the situation to Chief Holley, he was able to assuage my fears. Most of the residents that I have spoken with have said that they will cook, sell dinners, do whatever to bring back our call center. I want people helping me that know who I am and where I live…HIGH Springs…not HOT Springs.
Finally, I want all of the commissioners to continue working to uncover discrepancies and clean up the messes created by former employees. This is not an easy task. If you are doing the job that you were hired to do truthfully and with accuracy, you have nothing to fear. This has worked for years with being employed by State agencies and private employers.
High Springs used to be a solvent town with plenty of money and neighborly folk that would help you no matter who you were. We can be that way again. For those of you that have decided (or it was decided for you) to cease your employment, please move on with best wishes for wherever you decide to land without dishing out sour grapes and dissension. Please attend meetings or visit with commissioners at the Farmer's Market on Thursdays to get accurate information, not skewed information from disgruntled, former employees.
Sylvia Newcomb
High Springs
Add a comment
Add a comment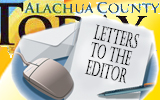 This may come as a shock, but Alachua County is over-regulated. From commercial properties to personal residences, private property rights are under relentless attack from the Alachua County Commission (BOCC). Two recent actions by the BOCC show just how far they are willing to go.
The county is currently reviewing the Land Development Codes and when this is occurring no property owner is safe from its overreach. These codes control every aspect of your property, from the trees in your yard to the kind of advertising a business is allowed. Chances are that if you want to do something there is a regulation controlling it.
Of the many code review meetings I've attended, one in particular illustrates how detailed the regulations are. The BOCC discussed for three hours whether a farmer could sell his produce on site. The first hour concluded the farmer could get permission to sell produce on his own property. Hour two was a debate on the allowed size of the structure where the produce would be sold. They started at 10 feet with Commissioner Byerly finally accepting 12 feet. Commissioner Pinkoson was able to push the size of the structure to 20 feet. They then proceeded into hour three with a discussion to determine if the farmer could sell bottled water from a cooler.
I am happy to report that if you are shopping for locally grown produce and you get too hot in the 20 foot structure you can now purchase a bottle of water from a cooler. Just don't look for a sign directing you to the farm selling the produce because a sign for the business is illegal.
Back in the 70s my late father, "Big Sid" Martin, got the state legislature to pass a proclamation naming the town of Windsor "The Zucchini Capital." Never in his wildest dreams would he have imagined the BOCC would outlaw a sign advertising the Zucchini Festival which supports the Volunteer Fire Department of Windsor, but that is exactly what has happened. For years the Festival has placed signs announcing the pending event, one on State Rd 26 and the other on Hwy 20. The County rightfully told them they could not be in the right of way so the organizers got permission from private land owners and placed them on private property. These are temporary signs that would only be up for a couple of weeks leading to the festival.
But, according to the Land Development Codes this is illegal. The signs had to come down because it is "The Law" and common sense will not rule the day in Alachua County. To the BOCC's credit, after pleas from concerned citizens the county placed electronic Department of Transportation (DOT) road signs directing people on the day of the event. Would it not have been simpler and far cheaper to realize the rules are unacceptable and do something about it? Let me emphasize that the county exercised its power over private property!
Clearly in a modern society we have to have some level of regulation, but when a farmer has to jump through so many hoops just to sell produce, and a charitable event with which a vast majority of people have no issue is not allowed to advertise, then regulation is no longer protecting people but ruling them. This is regulation gone too far. Major changes are needed in Alachua County's Land Development Codes to reduce the extent to which lands can be regulated.
John Martin
Candidate
Alachua County Commission, District 1
Add a comment
Add a comment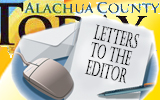 I wanted to share my viewpoint regarding the bike racks that have been installed around High Springs. Since this community is close to several rivers and springs and is the crossroads to all parts of North Central Florida, we are lucky to have a lot of bicyclists pass through our town. High Springs is even on the National Bicycle Trail. The bike racks were installed to encourage this traffic and provide a unique and artistic addition to our town, which would be visible 24 hours a day.
The leaders of High Springs need to encourage every avenue of economic development possible, and this crowd is definitely one that we should encourage. Avid bicyclists like to travel and usually have money to spend, and would be likely to return with their families. High Springs is home to an excellent bicycle shop and a well-developed bicycle club, the Yellow-Bellied Sliders.
I would like you to not only leave the current bike racks in place but install the "turtle" rack in the refurbished James Paul Park area. They are a positive attribute to the City of High Springs.
Marilyn Vanover
High Springs
Add a comment
Add a comment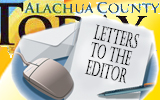 Dear Chair DeLaney, Vice Chair Byerly, and Commissioners Pinkoson, Baird, and Bradley:
Disclaimer… I am not contacting you in any official capacity in representing the Alachua City Commission. Consequently, my comments should "not" be construed in any way that I am voicing the views of the Alachua City Commission. The opinions expressed in this letter are mine as a concerned citizen who just happens to be an elected City of Alachua official.
I have been closely following the subject "Transportation Surtax Ballot Initiative" discussions on television including the county commission meeting conducted on May 22, 2012. Like the majority of Alachua County citizens, I agreed with a great number of comments expressed by members of the county commission and those of many of the residents who spoke at this latest meeting about this critical issue facing all of us who call Alachua County home. Conversely, I also disagreed with a number of comments made during the meeting.
Based on what has transpired during the "Transportation Surtax" issue over the past several months, while not having any desire to disparage any elected county and/or city officials, I am proposing recommendations in this letter solely in the spirit of fulfilling "transportation and transit needs" in our beautiful county. Although I am generally against increasing taxes and especially during these tough economic times, our roads need to be repaired "now" and I believe the action taken at the May 22, 2012, county commission meeting will delay critical road repairs being affected anytime soon.
It is important to note that my recommendations are "not" being offered in order to construct a ballot initiative that will simply have a chance of passing, but rather from a standpoint of focusing on and identifying the aforementioned "needs" of the county and its municipalities. I unashamedly admit that "Home Rule" is a major concern of mine in offering the following recommendations which I believe have a chance of reaching consensus among county and municipal governments, which will in turn provide Alachua County voters with a clear picture of the value in passing a transportation surtax to enhance and sustain the future growth of our county.
My recommendations are to propose a one-cent surtax for a period of 10 years for voters to consider at the ballot box to be used for transportation- and/or transit-related initiatives as determined by the county and each municipality based on a "Home Rule" philosophy. The county and each municipality could then decide what transportation and/or transit initiatives are needed in the areas of their individual purviews and then allocate their portion of the one-cent surtax to fulfill these initiatives.
Transportation-related initiatives should include sidewalks to be repaired/installed on new and/or resurfaced roads as "connectivity" and "best practices" initiatives. Transit-related activities should not be reserved strictly for the City of Gainesville but to the county and municipalities as they deem appropriate in fulfilling their individual transit needs.
The distribution formula will be need to be revised in order to be as equitable as possible to the county and municipalities in passing a one cent surtax. In doing so, population, road miles, and percent of the roads the county will be repairing in any municipality, should be considered.
Thank you for your service to Alachua County. You have tackled a tough issue and we all know a discussion about "taxes" is never a popular topic. I truly appreciate your commitment in addressing the need to improve our roads in order to ensure Alachua County's standing as a community of vision for the future is realized.
Robert W. Wilford
Alachua Vice Mayor
Add a comment
Add a comment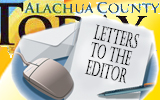 Recently two letters regarding the City of High Springs' purchase of a golf cart have been published. The golf cart is an example of just how dysfunctional the City of High Springs has become. I hope that city leaders step up and answer some simple questions:
1) Why was a golf cart purchased when the contract it was to support is not going forward? Since the revenue to justify the purchase will not be coming into the city, where in the budget is the money coming from?
2) If a work vehicle is needed in the City of High Springs why is the Polaris 4-wheeler the city owns not being used? Is the Polaris not working? Did our city manager and commissioners even know the city owned a Polaris work vehicle?
3) Why was Commissioner Barnas involved in the purchase of the golf cart? He has admitted, on the record, that he instructed the city manager to purchase the cart. A public records request shows that Commissioner Barnas picked up the check used to pay for the cart and, it is assumed, delivered the check.
4) Who was the cart purchased from? A public records request indicates that the cart was purchased from an individual by the name of John Fradd who lives in Turkey Creek. Would Commissioner Barnas like to confirm or deny that he had, as a realtor, a business relationship with Mr. Fradd?
The process of purchasing equipment for the city should be left to city employees and department heads. We should not be buying anything without a demonstrated need. Of all the tools city employees might make use of, I doubt any department head would put a $1,700 golf cart at the top of the list.
Ross Ambrose
High Springs, Fla.
Add a comment
Add a comment