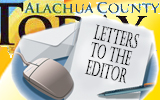 This letter is in reference to the letter to the editor dated April 26, 2012, "Infrastructure Improvements for Small Cities."
As a former commissioner, vice mayor and mayor of Archer, infrastructure has been the topic of discussion in Archer ever since I moved back here in 2000. Since we are a municipality we have to take some responsibility for improving our own infrastructure needs.
I agree that Alachua County should help where possible. Just last October I went before the Alachua County Commission along with the mayor, the city manager and the engineer asking for funding for a study. We had documents showing what had been completed to get the sewer started, and the progress made, such as securing funding from the State Revolving Fund. Two commissioners lead the charge not to support our request for the study, two wanted to give us the funding right then, and one wanted more information, which we agreed to do but the City of Archer chose not to go back.
The City of Archer has had feasibility studies after feasibility studies and spent money doing so. It takes three votes from the commission, and they did not go through with the process of getting the sewer after the studies were done.
During my tenure, we have discussed, had many workshops and meetings with the county and other agencies expressing our needs. I personally have written so many articles "Why sewer is needed in Archer." The City of Archer has always looked for resources from county and everywhere else, and we have always compiled information about areas in which assistance is needed. We did not always get them, but we asked.
I am saying all of this to say that I don't want it to seem like we, (the City of Archer) have not engaged in dialog with the county concerning the needs in Archer. Many of you know my history and the City of Archer's history, so don't be lead to believe that this is something new getting started by the author of the article in the April 26 Alachua County Today.
Roberta Lopez
Candidate for Alachua County Commission in District 1
Add a comment
Add a comment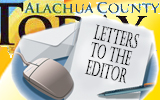 Ms. Clark's letter was interesting. Appearances are sometimes deceiving and I wonder if she ever considered asking Vice-Mayor Barnas about his actions. It probably would have done wonders for her imagination since she obviously couldn't or didn't want to believe her eyes. The fact is that Mr. Barnas had gotten the cart, along with a push broom, pan/pail to sweep up broken glass that all could conceive as a hazard. This hardly constitutes "parading" around town. Oh, it must have been that he dared to park the cart after this service and listened to the music before returning it that prompted her derision. As to thriftiness…well do the math! A city worker at the cost of overtime, gas, and wear on a vehicle is obviously more. Apparently, Ms. Clark doesn't get out enough to observe the number of Gators/carts that are used by the county and state for cleaning up roadways - certainly more economical and eco-friendly than large trucks.
Finally, if you choose not to ask questions for accurate information, please consider attending commission meetings regularly. This avoids the need for writing half-truths. Honestly, don't people have anything better to do with their time than to cause dissention and divisiveness? An old book of mine says, "People who hate in their hearts may sound pleasant enough, but don't believe them. Though they pretend to be kind, their hearts are full of all kinds of evil." Think on it!
Sylvia Newcomb
High Springs, Fla
Add a comment
Add a comment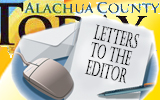 On Saturday, May 5, Alachua Democrats will elect delegates to the Florida Democratic Convention, the first step in choosing our delegates to the Democratic National Convention.
All registered Democrats have the privilege of voting at the Democratic Party Center, 901 NW 8th Avenue, in Gainesville between 10 a.m. and 2 p.m. At the same time and place we will be holding a day of action that includes meeting Democratic candidates for office.
Jon Reiskind
Chair
Alachua County Democratic Party
Add a comment
Add a comment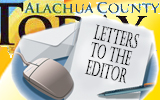 "Who put the cart before the horse?" or should we say "Who put the cart before the park?"
On Sunday afternoon, Earth Day, at the City-sponsored music event at James Paul Park, Vice Mayor Barnas showed up in a golf cart complete with a fringed covered cloth roof.
We have learned that this vehicle was purchased by the City at a cost of $200 over budget, and that none of the other commissioners were notified. The money had been budgeted for a cart for Poe Springs Park. As of this date, the City has no contractual agreement with the County for management of the park.
Vice Mayor Barnas instructed City Manager Langman to purchase this over-budget vehicle in spite of the bare bones budget and his frequent complaints about City spending in the past.
He is now using it to parade around town. This vehicle is not the work vehicle which was what the budgeted money was intended to purchase. This cart definitely cannot do park "work" such as hauling garbage, transporting workers, debris pick-up or equipment moving.
We would expect Mr. Barnas to practice the thriftiness he preaches - not buy an over-budget decorative play vehicle supposedly for use at a park that High Springs does not manage.
Suzie Ann Clark
High Springs,
Add a comment
Add a comment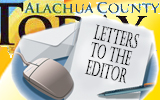 "Is that a possibility that he could get a job as an engineer, even though he's not an engineer?" Davis said.
As we have seen, the High Springs City Commission can do as they wish, even though it may not be what the people wish. He need only look to his left on the dais to see Ms. Langman, city manager, to know the answer to his question. And, of course, she said that Mr. Popoli had every right to apply for the position.
Commissioner Barnas made the city clerk stand up in front of everyone at the last commission meeting to allow him to discuss his vote of no confidence in her as city clerk.
I'm not going to go over each comment; there are too many, and unfortunately there was no call for citizen's comments after his diatribe, so I could not say publicly what I said to him privately during the 10-minute break.
I don't know Ms. Parham personally, but I can't imagine that all the previous commissioners overlooked all of her inadequacies until Mr. Barnas came on board.
She must have been doing a good job or would have been terminated long ago. To her credit, Ms. Parham did an excellent job of answering all of his comments, and in a most professional manner. This includes her comments to him regarding his proposal to decrease her salary to get her the help she needs.
Thank you to Mayor Davis and Commissioners Sue Weller and Linda Gestrin for their vocal support of Ms. Parham. I was glad to hear Commissioner Jamison's comments as well, particularly since he currently works in human resources for the Alachua County School Board.
Commissioner Barnas' jab at Commissioner Jamison as the "freshman commissioner," was a little much. Let's see – Barnas was sworn in Nov. 17, 2012 – five whole months ago.
He made the comment that the police chief and fire chief are working for a lot less. I have not checked into it, but I believe the positions are paid less than the previous chiefs, but I don't think the current police and fire chiefs are working for less than their previous positions.
I found it interesting to hear the current police chief's comments about his contract. Knowing that his job is controlled by the city commission, he asked that his contract state that, except for cause, should he lose his position as chief, that he maintain the position he had prior to being named chief.
It is my opinion that the city commission should seriously consider the $147,000 severance package requested by former City Planner, Christian Popoli. You need to understand that you are dealing with real people and their lives when you toss them out because they "serve at your pleasure."
Linda Jones
High Springs, Fla.

Add a comment
Add a comment