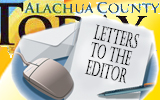 Florida is running out of water, an on-going problem for Alachua County residents, without an apparent solution. At issue is the fact that large cities such as Tampa and Jacksonville are increasing the pressure to get further access to North Florida's precious water supply. For example, Jacksonville has been granted a permit that allows JEA (Jacksonville Electric Authority) to withdraw up to 155 million gallons per day from the Suwannee Water Management District, and divert it to their customers in the St. Johns Water Management District over the next 20 years.
Several recent experiences and news items lead me to believe we are not placing proper emphasis on this issue, and Alachua County is either not taking or being provided the opportunity to be a leader in finding a solution. Two task forces/committees have been formed in which Alachua County has not been directly included. One was the formation of the Water Working Group that Alachua County chose not to join. Perhaps the more troubling is the fact that Alachua County was left off the St Johns Water Management Advisory Board. When one considers factors such as our location, both geographical and hydrological, Alachua County must be a leader on water issues.
In addition to better management of our basic water supply, we must be open to solutions such as expanded water reclaim and re-use programs. Desalinization and recharge programs must be investigated as well as the use of reservoirs. In short, all possible solutions must be on the table.
While campaigning for Alachua County Commission over the past year, I am struck by how little the water issues have played in the campaign. There seems to be a disconnection between the concerns voiced to me by residents and how little candidates and political groups share that concern. Most residents ask me questions concerning water, but the other candidates never mention the issue, and I remain the only candidate that discusses the problem. I have also not yet had this issued raised at the various forums by sponsoring groups. We must definitely address the critical water shortage and hold our leaders accountable on this issue. Our future depends on it.
John Martin
Republican Candidate
Alachua County Commission, District
Add a comment
Add a comment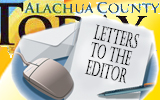 New York City Mayor Bloomberg's decision to ban supersized sugary sodas has resurrected the age-old debate over the role of the state in protecting the public health. In recent years, this debate involved bicycle helmets, car seat belts, tobacco, trans fats, saturated fats in meat and dairy products, and sugar (or more aptly, high-fructose corn syrup). Public subsidies for tobacco, meat and dairy, and corn production added fuel to the debate.
I would argue that society has a right to regulate activities that impose a heavy burden on the public treasury. National medical costs of dealing with our obesity epidemic, associated with consumption of meat, dairy, and sugars, are estimated at $190 billion. Eliminating subsidies for these products, as well as judicious taxation to reduce their use and recoup public costs should be supported by health advocates and fiscal conservatives alike.
Benjamin Franklin claimed that nothing is certain except death and taxes. Ironically, death can be deferred substantially by taxing products that make us sick.
Lynn Burnett
Gainesville, Fla.
Add a comment
Add a comment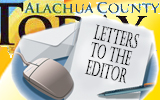 Responding to public comments is not my policy, however, when my integrity and professionalism is called into question, even by insinuation, by a former member of the department, I feel I must answer.
But first let me answer another question that was raised. Sgt. Harper was advised of the identity of the suspect in the High Springs Community School (HSCS) shooting by Dispatcher Ginger Travers in person at the station. This may be one of the advantages of having your dispatch center close at hand. This fact is documented in the Florida Department of Law Enforcement (FDLE) report and is a matter of public record. Sgt. Harper absolutely knew the identity of the suspect as he left the station and was en route to the school. His story has not changed one iota from the time I had contact with him at the scene until now.
I'm afraid the answer to the last question posed by Ms. Hines is quite simple: It was my day off and I was shopping for groceries at Winn Dixie when Sgt Harper called me, as his Police Benevolent Association (PBA) rep, and informed me that he'd been involved in a shooting. I left the store at a run with my cell phone jammed against the side of my head as I talked to Chuck. I disconnected with him as I made my way to the scene only a few minutes away in order to get the PBA resources on their way to Chuck as soon as possible. My wife, Debbie, was also a PBA rep at the time and handled much of that coordinating.
When I arrived on the scene, I found Chuck and stood by his side, ensuring that his rights were respected in the wake of the shooting, until the PBA attorney's team could get to the school. I hope this helps to clear up any misconceptions or misinformation that Ms Hines or anyone else may have as to the events of that day.
J. S. Holley
High Springs Police Department
Add a comment
Add a comment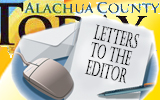 Mayberry was fiction; and Barny Fife is dead. Andy is not doing much better. This continuous desire to return to the fifties on the part of some High Springs resdient is a worthy goal for the culture of our town; but as far as governing a city, it's unrealistic.
Mayberry worked because Andy and Barny didn't have FEMA and the State Legislature dictating policy from the state capital. Since the fifties and sixties, a host of new laws, certifications, specifications and labor acts have been imposed from outside from which the city government has had to contend. We can no more roll back the time and culture, than we can use Mr. Peabody's "Way Back Machine."
And, the railroad that originally created the need for High Springs is pulling out, too. The hard fact is that this process began when steam engines went away. Contributing to the problem was a lack of vision, with a good dose of reality. No one ventured to wonder what would happen to the budget if 20 percent of the homes in High Springs became vacant and subject to foreclosure. Now, a major asset to attract industrial investment is disappearing because no one looked at the consequences of a decision five years ago not to allow its extension.
Alachua adapted to a changing world when Copeland and the battery plant closed and IBM's plans disintegrated. Alachua looked around at its potential; made itself into a distribution center. The core issue for High Springs is that it has been searching for an identity ever since the Atlantic Coast Line pulled up stakes as a major employer.
The idea of a mayor and commissions managing High springs is so ludicrous that it defies imagination. Why? Because of the complexity of the day-to-day management of running a city (or business for that matter – ask your employer). Andy didn't have the Sunshine Laws. He could hold court at Floyd's barber shop. Today, he'd have to publish his meeting in advance, have it recorded and allow room for the residents. And, oh, he'd be forbidden from discussing anything with the other elected officials unless it was part of an open meeting.
We cringe at the thought of a city manager whose only concern is his career building; but, if he or she is any good, why not? The core problem hasn't been their ambitions; but a lack of clear vision and direction on the part of the commission.
Every year or so a new bunch is elected; and it seems like there is a tug-of-war going on where the ultimate victor is never decided. Meanwhile, the staff ducks for cover; and the manager shifts with the tide to try to manage the process. Any professional manager looking in laughs, and thanks their Lucky Charms that they don't have to put up with High Springs.
The sum is this: Commissioners – stop worrying about the culture, and focus on the management of the town. For that you will need a direction. Figure out what that direction for the town will be. Put that vision to the residents. Residents – have a healthy debate, and then either support it, or vote it down. But, if accepted – then everyone get behind it. Let's build High Springs on the Santa Fe, not Mayberry on the Santa Fe. Our town will be real.
John Manley
High Springs
Add a comment
Add a comment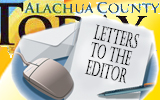 Since Mayor Dean Davis refused to allow citizen comments at the Commission Meeting at City Hall on May 22, 2012, I have no recourse to express serious concerns except to write this letter to the editor.
I want to sincerely apologize to the city commissioners and to the citizens who attended the Town Hall Meeting at the Civic Center for quoting the wrong Florida State Statute (F.S.S.) 406. I am sorry.
The correct F.S.S. number is 401.465. This statute stipulates the training that is required for one to become a 911 Public Safety Telecommunication Operator. It also designates the Department of Health to set guidelines for training in accordance with the law.
After listening to the tapes of the shooting incident that occurred at the school, I realize that the dispatcher could not get information that the caller did not have. However, not once did I hear Sgt. Harper advised that she was sending back up to him, even though he requested it. Officers have full knowledge that a Resource Officer is at the school, but what Sgt. Harper was requesting was additional (major) back up. He asked for it over the radio.
The most valuable information was the name of the suspect. The High Springs Police Department (HSPD) has had previous calls involving this person, and officers are familiar with him. The fact that the dispatcher knew the suspects name did not help the officer responding. His name was said, but it was never transmitted over the radio to the officer.
I was in contact with Sgt. Harper shortly after the shooting incident, and he told me that he did not know the suspect's name and backup was never called for him.
With no backup being called for this incident, it is clear to me that the directives that were in place were not followed, just as they were not followed when I was assaulted April 5, 2009. At one time the dispatcher said she needed to call someone, as if she did not know who to call. I understand that the Alachua County Combined Communication Center (CCC) took over and handled the call. The handling of this call clearly shows that training is necessary for anyone who wishes to dispatch from this point forward. It is necessary for the safety of the officers and the citizens of the community.
At the Town Hall Meeting held at the Civic Center, the dispatcher who handled the incident at the school was present. She said Sgt. Harper did know who the suspect was, and added that Steve (then Officer Steve Holley, now Chief Steve Holley) even knew who it was. This raises in my mind a question. Knowing that Sgt. Harper was the only officer on duty, and the nature of the call, (man at the school with a gun), why didn't he respond to back up his fellow officer?
I appreciate having this opportunity to express my concerns. Thank you.
Martha Hines, Ret. Sgt.
High Springs Police Department
Add a comment
Add a comment