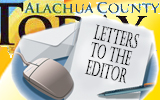 I noticed during the past few days that Cliff Stearns was running ads on numerous TV and radio stations in the District 3 Congressional race where he is being seriously challenged by three opponents, especially newcomer Ted Yoho. It is clear from these self-serving ads that Stearns is attempting to convince voters that he is the People's Hero – a typical tactic by a 24-year incumbent. It is also clear that this ad campaign is expensive, requiring thousands of dollars to reach district 3's broad diverse citizenry.
A critical question that needs an answer is: What are the sources of these monies, and especially, are local contributors providing the lion's share of Stearns' financial support? My research shows that the majority of Stearns' $2.4 million "war chest" is comprised of money raised/donated from outside the district by large corporations and/or PACs that want to convince constituents that he's looking out for our best interest, when in fact just the opposite may be true. In fact, he is quoted as telling one of his past supporters that he (Stearns) is the only candidate in the district 3 race that understands how the "game in Washington is played." The former supporter reminded Stearns that saving the country is "not a game and needs serious leadership and attention that he is incapable of providing."
Stearns' jaded view of "how the game is played" is illustrated by a comment he made recently at a Clay County candidate forum. Stearns stated that he and fellow Congressman Crenshaw (Jacksonville) would ask each other, "What would Clay County want?" without apparent regard to the rest of the district. It is obvious that "pandering" is an important element as Stearns attempts to "play the game."
I ask that voters keep Stearns' cynical attitude in mind when they choose a candidate in this four-way race. It is clear to me and many others that the best man is not always the one with the most money. This was shown in Saturday's Gainesville Tea Party straw poll where candidate Ted Yoho won 77 percent of the vote while Stearns and Steve Oelrich won 10 percent and 7 percent, respectively. The fourth candidate, James Jett, was last with 4 percent.
I am encouraging all my friends, neighbors and associates to support the only non-politician in the race, Dr. Ted Yoho, who is in this race to help get America back on the right track with no interest in ascending up the political ladder. It's time to turn the reins of our blest country over to new leadership.
Ron Thornton
Newberry, Fla.
Add a comment
Add a comment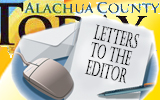 Two separate Pennsylvania juries found Sandusky, formerly an assistant football coach at Penn State University, and Lynn, an Administrator in the Archdiocese of Philadelphia, guilty this past Friday, June 22, 2012. Sandusky was convicted on 48 out of 52 sexual abuse charges that he committed against children.
Lynn was convicted on one charge of child endangerment for knowingly reassigning a priest who had sexually abused children under the guise that this sexual predator was being moved to another parish due to health reasons.
These verdicts are not only a victory for the innocent children who were grievously affected by Sandusky's deviant behavior and Lynn's deviousness.
These verdicts are a victory for all sexually abused children, past and present, who now realize someone is listening, someone cares.
These verdicts are a victory for every powerful institution knowing now that they have both a moral and legal obligation to report child sexual abuse crimes in the future to the proper authorities or face the wrath of people everywhere.
These verdicts are a victory for the powerful institution called Catholicism, especially Catholicism here in America, that they too will face the wrath of Catholics and others when the church fails to protect children from predator priests and for refusing to report these rapists to the proper authorities.
Not surprising, the hierarchy of Penn State University, the Archdiocese of Philadelphia, the United States Conference of Catholic Bishops, as well as the Catholic Church all the way to the Vatican, obviously do not view these verdicts as "victories" since these institutions will undoubtedly face numerous civil suits in the coming months and years ahead causing significant financial damage to these institutions.
Nonetheless, these monumental verdicts will have a far reaching positive impact in the future by forcing accountability on powerful institutions, secular and religious, to exercise their fiduciary responsibilities by faithfully
As a lifelong Catholic, a survivor of clergy sexual abuse in my teenage years, and the author of a book entitled, "Wear a Collar, Rape a Child: Mother Church and the Conspiracy of Indifference," which is scheduled to be published later this year, I implore Pope Benedict XVI to deliver the following statement to the world from his balcony at the Vatican:
"We the popes, cardinals, bishops, and priests of the Roman Catholic Church, have been grievously and sinfully wrong since the very beginning of the church's existence in protecting predator priests at the expense of the victims of clergy sexual abuse. Humbly, in the presence of God, we openly admit our culpability. We ask for forgiveness from God and all humanity in professing our shame for the unspeakable crimes and sins we have committed throughout our history against sexually victimized children and their families."
I dearly love most of the teachings and doctrines of my church. Conversely, I hold the leaders of the Roman Catholic Church, and especially Pope John Paul II and Pope Benedict XVI, in utter contempt for failing to protect children from being sodomized by members of the clergy.
Both failed in their exalted leadership position as pontiff of the world's oldest Christian religion. "Cover-up" was their name! "Cover-up" was their game! "Cover-up" was their shame!
Over the past 2,000 years, the leadership of the Catholic Church has knowingly and covertly "presented wolves in sheep's clothing," a.k.a. its predator priests, bishops, and possibly popes, with opportunity after opportunity to consume the souls of innocent children through sexual victimization. There can be no denial of this assumption.
I will go to my grave challenging the United States Conference of Catholic Bishops to restore the "Good Shepherd" standing to the bishops of the Roman Catholic Church. From this day forward, they "must not" shirk their awesome ethical, moral, and pastoral responsibility in protecting children from being sodomized by members of the clergy.
If they fail to do what is ethically, morally, and pastorally appropriate by continually challenging their "fallible" pope regarding the clergy sexual abuse crisis facing Catholicism around the world, when they stand in judgment before their God, He will certainly ask each of them:
"What did you do for the least of your brothers and sisters; were the children precious in your sight?"
In seeking renewal and reformation in the Roman Catholic Church in the 21st century, thanks to the two Pennsylvania juries, from this day forward I will reflect perspectively on the past; from this day forward I will look optimistically to the future.
Much to the chagrin of many Catholics... Martin Luther's famous words, which he spoke when called to defend his teachings before a Roman Catholic tribunal in the sixteenth century, will be my inspiration until the day I die. Martin eloquently stated:
"Here stand I. I can do no other. So help me God!"
Robert W. Wilford
Alachua, Fla
Add a comment
Add a comment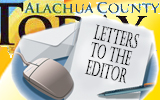 New York City Mayor Bloomberg's decision to ban supersized sugary sodas has resurrected the age-old debate over the role of the state in protecting the public health. In recent years, this debate involved bicycle helmets, car seat belts, tobacco, trans fats, saturated fats in meat and dairy products, and sugar (or more aptly, high-fructose corn syrup). Public subsidies for tobacco, meat and dairy, and corn production added fuel to the debate.
I would argue that society has a right to regulate activities that impose a heavy burden on the public treasury. National medical costs of dealing with our obesity epidemic, associated with consumption of meat, dairy, and sugars, are estimated at $190 billion. Eliminating subsidies for these products, as well as judicious taxation to reduce their use and recoup public costs should be supported by health advocates and fiscal conservatives alike.
Benjamin Franklin claimed that nothing is certain except death and taxes. Ironically, death can be deferred substantially by taxing products that make us sick.
Lynn Burnett
Gainesville, Fla.
Add a comment
Add a comment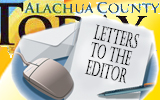 Florida is running out of water, an on-going problem for Alachua County residents, without an apparent solution. At issue is the fact that large cities such as Tampa and Jacksonville are increasing the pressure to get further access to North Florida's precious water supply. For example, Jacksonville has been granted a permit that allows JEA (Jacksonville Electric Authority) to withdraw up to 155 million gallons per day from the Suwannee Water Management District, and divert it to their customers in the St. Johns Water Management District over the next 20 years.
Several recent experiences and news items lead me to believe we are not placing proper emphasis on this issue, and Alachua County is either not taking or being provided the opportunity to be a leader in finding a solution. Two task forces/committees have been formed in which Alachua County has not been directly included. One was the formation of the Water Working Group that Alachua County chose not to join. Perhaps the more troubling is the fact that Alachua County was left off the St Johns Water Management Advisory Board. When one considers factors such as our location, both geographical and hydrological, Alachua County must be a leader on water issues.
In addition to better management of our basic water supply, we must be open to solutions such as expanded water reclaim and re-use programs. Desalinization and recharge programs must be investigated as well as the use of reservoirs. In short, all possible solutions must be on the table.
While campaigning for Alachua County Commission over the past year, I am struck by how little the water issues have played in the campaign. There seems to be a disconnection between the concerns voiced to me by residents and how little candidates and political groups share that concern. Most residents ask me questions concerning water, but the other candidates never mention the issue, and I remain the only candidate that discusses the problem. I have also not yet had this issued raised at the various forums by sponsoring groups. We must definitely address the critical water shortage and hold our leaders accountable on this issue. Our future depends on it.
John Martin
Republican Candidate
Alachua County Commission, District
Add a comment
Add a comment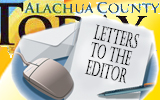 Mayberry was fiction; and Barny Fife is dead. Andy is not doing much better. This continuous desire to return to the fifties on the part of some High Springs resdient is a worthy goal for the culture of our town; but as far as governing a city, it's unrealistic.
Mayberry worked because Andy and Barny didn't have FEMA and the State Legislature dictating policy from the state capital. Since the fifties and sixties, a host of new laws, certifications, specifications and labor acts have been imposed from outside from which the city government has had to contend. We can no more roll back the time and culture, than we can use Mr. Peabody's "Way Back Machine."
And, the railroad that originally created the need for High Springs is pulling out, too. The hard fact is that this process began when steam engines went away. Contributing to the problem was a lack of vision, with a good dose of reality. No one ventured to wonder what would happen to the budget if 20 percent of the homes in High Springs became vacant and subject to foreclosure. Now, a major asset to attract industrial investment is disappearing because no one looked at the consequences of a decision five years ago not to allow its extension.
Alachua adapted to a changing world when Copeland and the battery plant closed and IBM's plans disintegrated. Alachua looked around at its potential; made itself into a distribution center. The core issue for High Springs is that it has been searching for an identity ever since the Atlantic Coast Line pulled up stakes as a major employer.
The idea of a mayor and commissions managing High springs is so ludicrous that it defies imagination. Why? Because of the complexity of the day-to-day management of running a city (or business for that matter – ask your employer). Andy didn't have the Sunshine Laws. He could hold court at Floyd's barber shop. Today, he'd have to publish his meeting in advance, have it recorded and allow room for the residents. And, oh, he'd be forbidden from discussing anything with the other elected officials unless it was part of an open meeting.
We cringe at the thought of a city manager whose only concern is his career building; but, if he or she is any good, why not? The core problem hasn't been their ambitions; but a lack of clear vision and direction on the part of the commission.
Every year or so a new bunch is elected; and it seems like there is a tug-of-war going on where the ultimate victor is never decided. Meanwhile, the staff ducks for cover; and the manager shifts with the tide to try to manage the process. Any professional manager looking in laughs, and thanks their Lucky Charms that they don't have to put up with High Springs.
The sum is this: Commissioners – stop worrying about the culture, and focus on the management of the town. For that you will need a direction. Figure out what that direction for the town will be. Put that vision to the residents. Residents – have a healthy debate, and then either support it, or vote it down. But, if accepted – then everyone get behind it. Let's build High Springs on the Santa Fe, not Mayberry on the Santa Fe. Our town will be real.
John Manley
High Springs
Add a comment
Add a comment