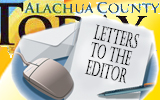 In the June 14, 2012 edition of
Alachua County Today
, High Springs Police Chief Holley wrote that he learned of the incident involving Sgt. Harper while shopping at Winn Dixie. According to Chief Holley, Sgt. Harper called him after the incident had occurred because he was Sgt. Harper's Police Benevolent Association Representative. I question the validity of this statement.
At the Town Hall Meeting, when Ginger Travers was trying to convince us that Sgt. Harper knew who the suspect was before he got to the school, she said, "Even Steve [now Chief Holley] knew who the suspect was."
I did not hear Chief Holley speak up and correct Ginger, so that leaves one to assume that he in fact did know ahead of time. Could it be that Chief Holley also wanted to convince us that Sgt. Harper knew the identity of the suspect before he got to the school? Could that be the reason Chief Holley did not clear this up at the Town Hall Meeting instead of waiting to write it in his letter?
Which statement is true? Having worked with both Ginger Travers and Chief Holley, I place no confidence in what they utter, so I will never really know the truth.
I pray that Chief Holley did not badger Sgt. Harper for a statement contrary to what Sgt. Harper told me. To do that to someone who is suffering and battling illness is just plain wrong. Chief Holley mentioned that it was documented in official documents that Sgt. Harper knew the suspect's name. This is not the first time that false information has been submitted to the State Attorney's Office for prosecution. If anyone is interested in this information, I will be happy to talk with you at length. This information cannot be verified because those records have been sealed.
Chief Holley expressed genuine concern for Sgt. Harper, and I sincerely appreciate that. That is admirable.
My question to Chief Holley is why a Sgt., who is suffering from PTSD (Post Traumatic Stress Disorder) from a work-related incident, has been forced to use his sick and vacation leave? This can be verified by anyone who is willing to check the public records. It is there; check it for yourself.
If Chief Holley's heart is in the right place, he will correct this wrong that has been done to Sgt. Harper. I look forward to reading or hearing that Chief Holley has done the right thing.
Whether or not he was in a position of authority does not matter. Both Chief Holley and his wife, Debbie, were Sgt. Harper's PBA Representatives and both of them should have taken better care of him. I realize that she does not work at HSPD anymore, but Chief Holley does. I want to be able to trust in Chief Holley's character.
Doing the right thing in relation to Sgt. Harper would help to earn my trust. Do the right thing, Chief.
Martha Hines, Retired Sgt.
High Springs Police Department
High Springs, Fla.
Add a comment
Add a comment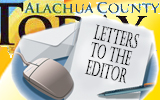 I have been coming to commission meetings lately as a concerned citizen. I am concerned about the course our City is taking with respect to the way our money is being spent. I am concerned about how High Springs is perceived by those living here, those who want to live here and those visiting here. I am concerned about the future of High Springs.
Mayor Davis has said on a number of occasions that we are a small town. He says small towns don't have a City Manager form of government. I don't agree, but if that is so, then it would also stand to reason that since we are a small town we would not be able to support our own Fire and Police Departments.
Yet we do.
Staying with Alachua County's Combined Communications Center (CCC) would not change that. The Fire Department has received their calls from the CCC for years and we still have a Fire Department. As a "small town" we should be availing ourselves to the services and resources of a larger city. We can have our cake and eat it, too. We can keep our Police Department and have the technology of the bigger city without having to incur the cost. It is in the best interest of the City, its officers and its residents.
There has been talk about the increase in fees to the CCC when we reach 6,000 residents. I highly doubt that will happen in the near future if we don't expand our sewer system to be able to support the additional residents, let alone businesses.
Some of the commissioners ran on a platform of "eco-tourism." The commission spent hours, days and months working on a deal to manage Poe Springs. Yet, when it comes to protecting the water source and the aquifer, the commission chose to put off the vote on water restrictions. The majority of the commission was not willing to require septic inspections even after an expert in the field came and spoke. Are you or are you not, concerned about the springs?
The commissioners talk about economic development. Yet, they want to outsource City services thereby firing the friendly faces at the window downstairs.
I am beginning to think the mayor is right. We are a small town with the majority of the commissioners as small thinkers. Your decisions can have a lasting impact on the City, for better or for worse. Do what is right for the citizens of this City, it's not too late.
Put off the decision to bring dispatch back until the City is more economically stable. Do extensive research before making such an important fiscal decision. Don't just hear what your police chief is saying, but actually listen to him and his officers and the citizens. Work out the sticking points with the CCC with a qualified contract negotiator.
It's not too late to do what is the right thing at this time.
Susan Beck
High Springs, Fla.
Add a comment
Add a comment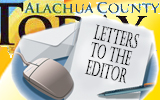 I noticed during the past few days that Cliff Stearns was running ads on numerous TV and radio stations in the District 3 Congressional race where he is being seriously challenged by three opponents, especially newcomer Ted Yoho. It is clear from these self-serving ads that Stearns is attempting to convince voters that he is the People's Hero – a typical tactic by a 24-year incumbent. It is also clear that this ad campaign is expensive, requiring thousands of dollars to reach district 3's broad diverse citizenry.
A critical question that needs an answer is: What are the sources of these monies, and especially, are local contributors providing the lion's share of Stearns' financial support? My research shows that the majority of Stearns' $2.4 million "war chest" is comprised of money raised/donated from outside the district by large corporations and/or PACs that want to convince constituents that he's looking out for our best interest, when in fact just the opposite may be true. In fact, he is quoted as telling one of his past supporters that he (Stearns) is the only candidate in the district 3 race that understands how the "game in Washington is played." The former supporter reminded Stearns that saving the country is "not a game and needs serious leadership and attention that he is incapable of providing."
Stearns' jaded view of "how the game is played" is illustrated by a comment he made recently at a Clay County candidate forum. Stearns stated that he and fellow Congressman Crenshaw (Jacksonville) would ask each other, "What would Clay County want?" without apparent regard to the rest of the district. It is obvious that "pandering" is an important element as Stearns attempts to "play the game."
I ask that voters keep Stearns' cynical attitude in mind when they choose a candidate in this four-way race. It is clear to me and many others that the best man is not always the one with the most money. This was shown in Saturday's Gainesville Tea Party straw poll where candidate Ted Yoho won 77 percent of the vote while Stearns and Steve Oelrich won 10 percent and 7 percent, respectively. The fourth candidate, James Jett, was last with 4 percent.
I am encouraging all my friends, neighbors and associates to support the only non-politician in the race, Dr. Ted Yoho, who is in this race to help get America back on the right track with no interest in ascending up the political ladder. It's time to turn the reins of our blest country over to new leadership.
Ron Thornton
Newberry, Fla.
Add a comment
Add a comment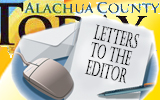 Regarding Sylvia Newcomb's recently published letter where she was encouraging everyone to do their own research, I whole heartedly agree. She also advised everyone to believe only half of what one reads, one third of what one hears, discount the rest.
This causes one to ask what part of her letter one could discount? She stated to get our dispatch center back would only cost a few thousand dollars. To my recollection the difference in what we are paying annually to the CCC (Combined Communication Center) of Alachua County and what it will cost to bring our dispatch center back was $148,000 and growing. She may feel that is only a few thousand dollars, but it is a lot of money to me. Furthermore, they do not know where this money is coming from. Have the city commissioners figured in training for six applicants that will be hired before being trained at the overtime rate for 232 hours per employee?
Mrs. Newcomb stated that Ginger Travers acted correctly when dispatching Sgt. Harper's call to the school. How could Mrs. Newcomb, who has had absolutely no dispatch training or experience, determine whether or not a dispatcher acted correctly when dispatching an emergency call such as Sgt. Harper's call?
As I stated previously, without going over the same issues again, I disagree with that statement. A dispatcher is the officers' lifeline and taken less serious than that could be detrimental to the officers working to keep the community safe. Hence, training and verification that the trainee can properly apply those principals is essential.
I would like to ask her what episode Sgt. Sheppard was involved in that would cause his actions according to protocol to be questioned? Secondly, to refer to Sgt. Sheppard as" Officer Sheppard" shows total lack of respect.
She referred to me as a previous disgruntled employee. Previous I am; disgruntled I am not. Having been through the trenches of working on the streets of High Springs, I have a genuine concern for the safety of the officers who work at the High Spring Police Department. It seems that because I disagree with Mrs. Newcomb she would like me to shut up and go away.
Some of my fondest childhood memories are after school on hot summer days when I would stop at Berry's Drug Store, owned by Sylvia Newcomb's parents, and have a cherry coke. Her mom taught me it was naughty to slurp your drink. Bert Peterson taught me as a preteen not to put an electric coffee pot in the dish water. Having walked to the old school by the High Springs Police Department in elementary school, my love for High Springs and its residents go further back than my tenure as a police officer.
Being safe and secure is not derived by having fuzzy feelings of security, but by the professional, intelligent actions of the officers who responsibly enforce the law. If asking questions of one person gives one a fuzzy feeling of security, more power to them. Personally I cannot.
Officer Ryan Scott can give a perfect presentation as seen at the Town Hall Meeting. If memory serves me correctly, High Springs Police Department is the first experience he has had on the road as a police officer. That leaves one to question whether or not he has enough experience to intelligently offer an opinion. Degrees are good, but they do not replace experience.
I welcome any comments or calls concerning any matters I have written about. Thank you for reading my letter to the editor.
Martha Hines Retired Sgt.
High Springs Police Department
High Springs, Fla.
Add a comment
Add a comment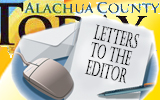 Two separate Pennsylvania juries found Sandusky, formerly an assistant football coach at Penn State University, and Lynn, an Administrator in the Archdiocese of Philadelphia, guilty this past Friday, June 22, 2012. Sandusky was convicted on 48 out of 52 sexual abuse charges that he committed against children.
Lynn was convicted on one charge of child endangerment for knowingly reassigning a priest who had sexually abused children under the guise that this sexual predator was being moved to another parish due to health reasons.
These verdicts are not only a victory for the innocent children who were grievously affected by Sandusky's deviant behavior and Lynn's deviousness.
These verdicts are a victory for all sexually abused children, past and present, who now realize someone is listening, someone cares.
These verdicts are a victory for every powerful institution knowing now that they have both a moral and legal obligation to report child sexual abuse crimes in the future to the proper authorities or face the wrath of people everywhere.
These verdicts are a victory for the powerful institution called Catholicism, especially Catholicism here in America, that they too will face the wrath of Catholics and others when the church fails to protect children from predator priests and for refusing to report these rapists to the proper authorities.
Not surprising, the hierarchy of Penn State University, the Archdiocese of Philadelphia, the United States Conference of Catholic Bishops, as well as the Catholic Church all the way to the Vatican, obviously do not view these verdicts as "victories" since these institutions will undoubtedly face numerous civil suits in the coming months and years ahead causing significant financial damage to these institutions.
Nonetheless, these monumental verdicts will have a far reaching positive impact in the future by forcing accountability on powerful institutions, secular and religious, to exercise their fiduciary responsibilities by faithfully
As a lifelong Catholic, a survivor of clergy sexual abuse in my teenage years, and the author of a book entitled, "Wear a Collar, Rape a Child: Mother Church and the Conspiracy of Indifference," which is scheduled to be published later this year, I implore Pope Benedict XVI to deliver the following statement to the world from his balcony at the Vatican:
"We the popes, cardinals, bishops, and priests of the Roman Catholic Church, have been grievously and sinfully wrong since the very beginning of the church's existence in protecting predator priests at the expense of the victims of clergy sexual abuse. Humbly, in the presence of God, we openly admit our culpability. We ask for forgiveness from God and all humanity in professing our shame for the unspeakable crimes and sins we have committed throughout our history against sexually victimized children and their families."
I dearly love most of the teachings and doctrines of my church. Conversely, I hold the leaders of the Roman Catholic Church, and especially Pope John Paul II and Pope Benedict XVI, in utter contempt for failing to protect children from being sodomized by members of the clergy.
Both failed in their exalted leadership position as pontiff of the world's oldest Christian religion. "Cover-up" was their name! "Cover-up" was their game! "Cover-up" was their shame!
Over the past 2,000 years, the leadership of the Catholic Church has knowingly and covertly "presented wolves in sheep's clothing," a.k.a. its predator priests, bishops, and possibly popes, with opportunity after opportunity to consume the souls of innocent children through sexual victimization. There can be no denial of this assumption.
I will go to my grave challenging the United States Conference of Catholic Bishops to restore the "Good Shepherd" standing to the bishops of the Roman Catholic Church. From this day forward, they "must not" shirk their awesome ethical, moral, and pastoral responsibility in protecting children from being sodomized by members of the clergy.
If they fail to do what is ethically, morally, and pastorally appropriate by continually challenging their "fallible" pope regarding the clergy sexual abuse crisis facing Catholicism around the world, when they stand in judgment before their God, He will certainly ask each of them:
"What did you do for the least of your brothers and sisters; were the children precious in your sight?"
In seeking renewal and reformation in the Roman Catholic Church in the 21st century, thanks to the two Pennsylvania juries, from this day forward I will reflect perspectively on the past; from this day forward I will look optimistically to the future.
Much to the chagrin of many Catholics... Martin Luther's famous words, which he spoke when called to defend his teachings before a Roman Catholic tribunal in the sixteenth century, will be my inspiration until the day I die. Martin eloquently stated:
"Here stand I. I can do no other. So help me God!"
Robert W. Wilford
Alachua, Fla
Add a comment
Add a comment