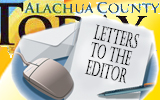 My name is Joe Ponder and I reside in Keystone Heights. I'm also a severely disabled combat veteran of the Vietnam War.
Our granddaughter, Hannah Mosley, is a member of Keystone Heights High School's junior varsity volleyball team. On Sept. 11, 2012, my wife, Rebecca, and I traveled to Santa Fe High School to attend the volleyball match between Santa Fe and Keystone Heights.
As I was about to purchase our admission tickets, the attendant at the ticket table asked if I was a veteran; I replied "yes." The attendant then informed me that there was no charge for veterans, because Santa Fe's Volleyball teams were hosting a "Veterans' Appreciation Day" in connection with the 11th anniversary of that terrible attack that took place on the World Trade Centers in New York City, on Sept. 11, 2001. The ticket attendant also informed me that their volleyball teams had set up a very special hospitality room in honor of all veterans attending the games.
As we entered the gymnasium it was decorated. There were handmade posters which were representative of each branch of our Armed Forces that were affixed to the walls. Bunting was also hung from the gym's walls.
At the conclusion of the first junior varsity game, I visited the Hospitality Room. The room was beautifully decorated with a patriotic theme. There were plenty of goodies and soft drinks to enjoy, including a very large decorated patriotic cake.
Then, just prior to the start of the first varsity game, large flags representing each branch of our Armed Forces were placed across center court. The public address announcer asked that all veterans and their host player please assemble themselves at the far end of the volleyball court. About 30 to 35 veterans, ranging from WW II to the current hostilities in Afghanistan, answered the call. As our names and our branch of service were read aloud, we were escorted to center court to the flag representing our service. I was fortunate to have my granddaughter (#8), Hannah, escort me to the Navy flag for my service.
After the introduction of all veterans, while we still stood at center court, a very moving rendition of Lee Greenwood's "God Bless The USA" was sung to us by a very talented lady. Afterwards, we returned to our seats in the stands. Then the P.A. announcer asked us to stand for a moment of silence in remembrance of all the victims of 9-11, which was followed by the singing of our National Anthem.
It's my understanding that the "Veterans' Appreciation Day" activities were headed up by Santa Fe's Athletic Director/Volleyball Coach, Michele Faulk. Coach Faulk, her staff and players did an outstanding job planning and hosting this event.
I am very proud of Santa Fe High School for honoring all veterans for their sacrifices. I salute everyone involved in making this a truly successful event.
Joe Ponder
Keystone Heights, Fla.
Add a comment
Add a comment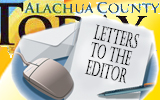 I would like to congratulate the City of High Springs Commission – especially Vice Mayor Barnas and Commissioner Gestrin – on being able to add and subtract numbers with such skill.
However, I like many residents of High Springs, feel that while the numbers "match," the budget is not truly balanced. In the future, the City of High Springs will feel the effects of these commissioners' lack of vision. Necessary services will diminish, police cars and fire trucks will be parked for lack of repairs, but the phones will be answered at Police Dispatch.
With only a $29,000 Contingency Line in the General Fund and all other fund's Contingency Lines cut – where are the "emergency" monies to repair or replace big items? City Hall has leaky roofs, failing ac units, the K-9 unit at the High Springs Police Department is failing for lack of a vehicle, the water system needs repairs and replacements, but we have a state-of-the art dispatch center that doesn't even receive our 911 calls (they still go the County) – they will just be answering the calls for repairs to a broken city.
The commission has spent almost $100,000 this year to bring back a service that was not needed and has added more than $150,000 in cost for next year for this department while losing $135,000 in savings by using Alachua County's dispatch. That is $250,000 in cost and $135,000 in savings – while health benefits are being cut to the bone and salaries slashed. Necessary infrastructure is going unrepaired while Rome burns and Mr. Barnas reaps revenge on those that "done him wrong." When staff tries to help the commission by showing the budget is lacking, their salaries and/or departments are slashed to bare bone; when they stand up for the needs of the employees it appears the Vice Mayor again reaps retribution.
When you can't drink the water, have a fireman respond to your calls or find someone at City Hall – thank Mr. Barnas and Mrs. Gestrin for "all they did."
Arlene Dorin
High Springs, Fla.
Add a comment
Add a comment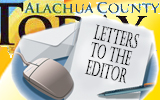 I took some time last week to review the City of High Springs budget for next year to see some of the challenges the City faces first hand. Under the Commissioners section, I saw that the Public Liability Policy line item was increasing $107,401, from $13,754 to around $121,000.
Shocked, I wrote the City of High Springs Manager's office under the Public Records request to see the actual numbers presented by the Insurance Broker. Those numbers were confirmed. For the purpose of this letter, I've extracted some the major comment from the Insurance Broker; and the premium numbers for this year and next.
I believe the citizens of High Springs should be aware of the impending dramatic rise in cost.
Total premium FY 2012: $110,916
Total Premium FY 2013: $237,949 (115 percent increase)
In sum, from 2011 at $13,764, the premium jumps to $110,916; and for 2013, it jumps to $237,949? That is an increase of $224,185.
What is causing this dramatic increase?
The Insurance Broker commented in the email to the City that "the Underwriter did a public records search and the result is that the 'Underwriter believes large claims are imminent'."
This is a broker who specializes in placing this kind of coverage through many credible national carriers for many municipalities; so I would be confident in his ability to find the best possible coverage at the lowest premium for the City. But, if this underwriter, in the process of doing his "due diligence" found these litigations on the horizon, I'm sure any other underwriter for any other company could as well.
I estimate from my calculations that between the liability premiums and the costs associated with the Call Center, the three commissioners have managed to increase the overhead $220,610 ($195,810 for dispatch line item costs, plus $24,800 in other costs) in Police - dispatch; plus $107,650 for the premium increase. In fact, subsequent to my analysis, I have seen updated figures showing a Call Center overhead of over $325,000 for 2013. And, next year, the Public Liability premium increase will jump to $237,949, along with the full effect of the Call Center coming on-line.
Meanwhile, certain commissioners, in order to maintain their constituency, are proposing balancing the budget on the backs of the staff, which will result in reduced services, while the financial health of the City will still be in question.
By increasing the City employee health coverage from a $500 deductible with prescription co-pay etc., to a $2,500 deductible, with zero co-pay for doctor visits, prescriptions, etc., certain commissioners hope to reduce costs.
I think this is incredible given that many of the employees use the coverage as the primary benefit earner in their households, and that many are seeing gross paychecks of under $1,200 per pay period.
Ironically, there are certain residents who actively support the commissioners proposing these changes, who enjoy a favorable benefit program, such as that the University offers, who begrudge our City employees their current package. These same citizens would certainly howl at the moon if their employer reduced their coverage to what they are proposing for City staff.
We have certain commissioners, who through their incompetency have exposed the City to so much litigation, any benefit gained through no tax increase; or reduction in staff benefits, is wiped out by the premium increases alone.
Truly, the "caddywhompus" logic exercised by the three commissioners is up there with the famous quote from the Vietnam War, following the bombing of Ben Tre, "We had to destroy the village in order to save it."
It doesn't take much to realize what the ramifications are to the viability of the City as a functioning municipality, and to the future of High Springs
John P Manley III
High Springs, Fla.
Add a comment
Add a comment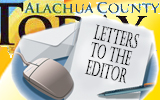 A "Thank You" seems to be such a small thing next to the good wishes, effort, contributions and support I have experienced in this race. I will nevertheless attempt to return to you—the people who took me to this level—the admiration and deeply felt respect I have for all of you.
No one in good conscience can begin something like this without first honoring and thanking their parents and family. From my earliest days, my parents and grandparents have instilled in me the tools to become all I have achieved. They steered me from the distractions and petty pursuits which surround all of us who dwell and struggle in the projects. They have given me the wherewithal to overcome any challenge I face using faith—in God, myself and those who surround me. My self-confidence, courage, drive, discipline, commitment and my education were given to me or urged on me by my wonderful parents. To them, any thanks I give would be a meager offering compared to what they helped me to become. Mom, dad thank you.
The tireless workers and campaign staff—what can be said, other than that for these good people to lend me their time, their effort, their talent and their support is so humbling that words fail me. Were it not for you, the daily, small details of a campaign would have been overlooked and never put in play. My sincere thanks for all you have done for me.
My supporters—those who voted for me with the belief that I would indeed go forth and put into practice that which I preached—without you all, this would have been a brief flirtation with possibility and with destiny. You have taken me one step from our goal, and I cannot tell you how thankful I am for your trust and support.
Those of you who voted for my opponent—thank you for participating in a process that has kept this country at the forefront of nations. As we approach the general election, take the time to revisit my stances and my promises. I think you will find there are many things I plan to do that will be agreeable to you. I will not attempt to be all things to all people, but I pledge to you that I will represent one and all without favor. If you entrust me with this responsibility in November, these thanks are for you twofold.
Yes, I have dreams; yes, I have the desire to serve on your behalf; yes, I will work tirelessly for the people and to achieve those goals. Yet I could not have been in this position without the good people of Alachua and Marion counties, who have put this humble servant in a position to implement programs geared to the benefit of all the people in this district and the State of Florida.
Thank You. Two words that mean so much; two words that can never express how much you all mean to me.
Clovis Watson, Jr.
Candidate for State House of Representatives, District 20
Add a comment
Add a comment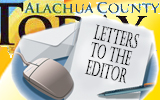 Many thanks go out to the 8,122 people in Alachua County who voted and wanted me to serve as their Commissioner in District One. Hold your heads up high and know that we did very well with the resources and money available.
I encourage all of you to get behind and support the candidate of your choice. I found that it is so expensive to conduct a successful campaign, and without your contributions you will not see victory.
Please remember that we need jobs for the people in this county. Keep my platform alive and on the table.
Roberta Lopez
Archer, Fla.
Add a comment
Add a comment