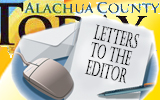 This is a letter to all unemployed people who lost their jobs due to the economic disaster created by the Republicans.
Governor Romney made a statements saying that 47 percent of the population does not pay taxes and live on government payments, that they do not count and are of no concern to him. He has also referred to them as leeches.
I am sure that all of you in this condition would prefer to be gainfully employed and pay taxes rather than existing under your present circumstance.
While, to him, you may not count, show the head leech (who refuses to reveal his tax information) that you do indeed count. Show him how much you do count, and how little he does count. Do it on Election Day.
Donald E. Gudbrandsen
High Springs, Fla.
Add a comment
Add a comment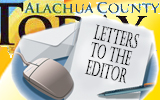 I am sending this email from a small town in Northern California, McKinleyville, to publicly thank a good Samaritan, Ricky Simmons, for taking the initiative to call us this past Sunday in order to help complete strangers.
I had given a $350 personal check to my son a week prior to last Sunday to get my son's car fixed. My son is a U.S. Navy corpsman stationed in Jacksonville. He had gone camping in your area, and he had unknowingly dropped the $350 check that I had given him when he was on leave and was home.
Mr. Simmons found the check, called my husband and me, and promised to mail the check back to me. Yesterday, we received the lost check in the mail from Mr. Simmons. I am so impressed that a complete stranger would be so kind to help us. It shows the goodness of Mr. Simmons, and I am totally impressed by this wonderful person's valiant effort to help a stranger in need.
A big thank you to Mr. Ricky Simmons of Ginnie Springs Outdoors! You restore my faith in man.
Mary McCarthy
McKinleyville, CA
Add a comment
Add a comment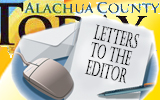 In the rural communities we often think that whatever happens in Gainesville doesn't impact us very much. And our strong belief in home rule makes us reluctant to question the actions of cities other than our own. As a strong supporter of home rule I share this feeling, but the actions of the City of Gainesville as the Board of Directors of Gainesville Regional Utilities raise concerns that cannot be ignored, specifically the rising electrical rates for GRU customers and the impact to the region's economy.
Over 30 percent of GRU's customers live outside the city of Gainesville. Although there is a wide range of numbers illustrating the rate impact of the new biomass plant, one thing is certain: rates will rise. GRU's rates already are 50 percent higher than private utilities in the state and 23 percent higher than other municipal utilities. Although the majority of the Gainesville City Commission verbally expresses little concern about the pending rate increases, their actions, though not often apparent, show they are concerned.
In place of admitting to a poor decision in proceeding with the biomass plant, the Commission has focused on finding ways to hide or mitigate the rate increases. The newest ploy is renegotiating fixed bond rates to exotic 30 year variable rate demand bonds, even though interest rates are at historic lows and can only rise in the future. GRU is also currently using a loophole to overcharge customers to the tune of $18 million per year that is projected to rise to $22 million by the time the plant comes on line in 2013. Most recently the Commission, on a 5-2 vote, approved spending $600,000 to study how to pay the owner of the biomass plant (GREC owns the plant - GRU does not) up to $500 million in prepaid electric bills.
No one, including GRU, denies that when the biomass plant comes on line utility rates will rise, the only question being how much. The rise is because the contract GRU has with GREC locks in rates that are essentially double the current and projected market rate of electricity throughout the state. (This is based on the cost of natural gas. The new plant will burn trees.) It also commits the rate payers to purchase all the energy produced by the biomass plant if no other utility customers are found. In fact, one independent study shows that if the plant had been on line since 2009 the excess amount GRU rate payers would have paid tops $60 million per year. This same study shows that over the 30 year life of the contract the added cost to rate payers will exceed $50 million per year.
If you are not a GRU rate payer you may be asking why you should be concerned. One of the largest GRU customers is Alachua County which, to date, has paid $18 million in overcharges. That means the overcharges have been paid by you, the taxpayer, and every dollar of increase in future rates to the County will be paid by you. Over the life of this contract billions of dollars will be drained from the local economy, thus not only impacting GRU customers, but the economy of the entire region.
What can be done? First realize that this will impact you and get informed. There are a growing number of concerned citizens who have been pressuring the Gainesville City Commission to renegotiate the contract. In fact, Commissioner Todd Chase has made a motion to do just that, but to date cannot get a second on the motion from any other city commissioner. Secondly, you can encourage the County Commission to exert its influence and seek answers to what the true impact all these decisions will have on our economy.
The time has come to discuss if GRU should be managed by an independent board like the Gainesville Airport. This could be enacted by the City Commission but might need to be taken up by our legislative delegation. As Alachua County residents we already have the highest taxes, the highest government fees and are the most regulated citizens in the state. When you add the certain rate increases to the already highest electric rates being paid by our citizens, you have an equation that can only lead to continued economic decline for our community.
John Martin, Candidate
Alachua County Commission
District 1
Add a comment
Add a comment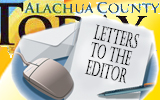 Approximately 20 years ago Alachua County and Florida Department of Transportation's (FDOT) plan was to widen State Road 24 from Gainesville to Archer. Some of the local Archer residents located on the south side of SR 24 had to pack up and look for other places to live. They received very little money compared to the market in later years and today's market. The FDOT also secured 5.3 acres near the main intersection in Archer to place a retention pond (still vacant), but instead of carrying out the initial plans, SR 26 was borne, leaving frustrated families who gave up their land and a city without good infrastructure which would have enticed businesses to come to Archer. I do believe had that happened, the City of Archer would not be worrying about a sewer system today. It is of my opinion that politics played a role in diverting the plans to SR 26. I have often wondered who was involved.
In 2002 I was elected to the Archer City Commission. It did not take long for me to hear about the widening of SR 24 and hardships it had brought to some local residents. We, the City of Archer, met with FDOT, filled out our wish list for Alachua County and the Metropolitan Transportation Planning Organization (MTPO) asking for help. By this time the traffic picked up and more and more people drove from Williston, Newberry, Cedar Key, Bronson and other cities straight through Archer every day to get to work at Shands, the VA and Butler Plaza.
The County allowed one commissioner from the municipalities to sit with the MTPO without the power to vote. What good did that do?
Absolutely none.
Just recently I looked at the development of the year 2035 cost feasibility plan report and noticed that today it would cost $45.4 million to four-lane the road west of I-75 to Archer. This is a 2035 roadway needs plan. Had this project gone through, and the City of Archer had received the help from the departments mention edabove years ago we would be in a better place today.
Now, FDOT and Alachua County are planning to construct a bike trail from Archer to Haile Plantation. The bike trail should continue past 91st to 75th/Tower Road and this would benefit the very few bikers from Archer. They just want to get to the drug store and food stores.
You and I know that when you throw in a rural or urban area it increases the grant funds. I would hate to think that Commissioner Byerly used Archer to kick off the ABT project but is not willing to help Archer in any way. Money invested in the bike trail from Archer should have gone to frequent mini bus service from Archer to Gainesville. People are walking from Archer to Gainesville to work in Butler Plaza. If the County, FDOT and MTPO really care about the people in Archer, do something about getting SR 24 back in the plans. The longer we wait the more expensive it will get. Compare the cost 20 years ago and today.
Roberta Lopez
Former Commissioner
City of Archer
Add a comment
Add a comment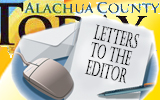 My name is Joe Ponder and I reside in Keystone Heights. I'm also a severely disabled combat veteran of the Vietnam War.
Our granddaughter, Hannah Mosley, is a member of Keystone Heights High School's junior varsity volleyball team. On Sept. 11, 2012, my wife, Rebecca, and I traveled to Santa Fe High School to attend the volleyball match between Santa Fe and Keystone Heights.
As I was about to purchase our admission tickets, the attendant at the ticket table asked if I was a veteran; I replied "yes." The attendant then informed me that there was no charge for veterans, because Santa Fe's Volleyball teams were hosting a "Veterans' Appreciation Day" in connection with the 11th anniversary of that terrible attack that took place on the World Trade Centers in New York City, on Sept. 11, 2001. The ticket attendant also informed me that their volleyball teams had set up a very special hospitality room in honor of all veterans attending the games.
As we entered the gymnasium it was decorated. There were handmade posters which were representative of each branch of our Armed Forces that were affixed to the walls. Bunting was also hung from the gym's walls.
At the conclusion of the first junior varsity game, I visited the Hospitality Room. The room was beautifully decorated with a patriotic theme. There were plenty of goodies and soft drinks to enjoy, including a very large decorated patriotic cake.
Then, just prior to the start of the first varsity game, large flags representing each branch of our Armed Forces were placed across center court. The public address announcer asked that all veterans and their host player please assemble themselves at the far end of the volleyball court. About 30 to 35 veterans, ranging from WW II to the current hostilities in Afghanistan, answered the call. As our names and our branch of service were read aloud, we were escorted to center court to the flag representing our service. I was fortunate to have my granddaughter (#8), Hannah, escort me to the Navy flag for my service.
After the introduction of all veterans, while we still stood at center court, a very moving rendition of Lee Greenwood's "God Bless The USA" was sung to us by a very talented lady. Afterwards, we returned to our seats in the stands. Then the P.A. announcer asked us to stand for a moment of silence in remembrance of all the victims of 9-11, which was followed by the singing of our National Anthem.
It's my understanding that the "Veterans' Appreciation Day" activities were headed up by Santa Fe's Athletic Director/Volleyball Coach, Michele Faulk. Coach Faulk, her staff and players did an outstanding job planning and hosting this event.
I am very proud of Santa Fe High School for honoring all veterans for their sacrifices. I salute everyone involved in making this a truly successful event.
Joe Ponder
Keystone Heights, Fla.
Add a comment
Add a comment