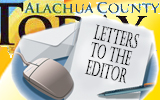 Florida is a key swing state. Our economy is faltering! President Obama's policies have made no significant improvement in spite of huge government expenditures for stimulus. Why?
On Jan. 18, 2012 the Obama administration denied a permit for Keystone XL pipeline at a cost of 20,000 immediate jobs and 118,000 spin-off jobs. Candidate Obama told the San Francisco Chronicle editorial board in January 2008, "Under my plan ... electricity rates would necessarily skyrocket." He also said, "If someone wants to build a new coal-fired power plant they can, but it will bankrupt them..."
On Feb. 29, 2012, the Washington Post announced 10 power plants to close due to the in phasing of EPA rules. President Obama's policies to increase energy costs have been a major contributing factor in causing food and gasoline costs to nearly double over the past four years. Can you expect the economy to improve when increased taxes and energy costs are forcing up the prices of our products so no one will buy them?
We need change, a change leadership in the White House and Senate to head America in the right direction. Be sure to vote on Tuesday Nov. 6.
Bob Rettie
Fort Walton Beach, Fla.
Add a comment
Add a comment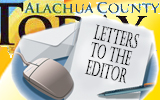 There is a very clear choice in the High Springs Commission race between Byran Williams and Pat Rush. Williams has served on the commission in the past, is a leader, not only in the African-American community, but also in the entire community, and has been involved in the community for quite some time. His background and integrity is unimpeachable.
Pat Rush has done very little directly for the community. His primary connection to the community is that he is married to Robyn Rush: the one who reviews all financial matters for the ruling majority on the commission: Dean Davis, Bob Barnas and Linda Gestrin, and gives them her view of the financial and other issues confronting the city. The Rushs have been staunch supporters of the ruling majority.
Byran Williams has looked to the issues presented, listened to the views of the entire community and reached decisions that he believes are best for the entire community. Without any history of Pat Rush's beliefs and decisions, I can not say how he will conduct himself. However, if he carries on the mindset of the ruling majority, we can expect that he will ignore the views of anyone who has not supported him, and vote in a way that his supporters want, whether their view makes any sense financially, or in the long run, is best for High Springs. Perhaps he will continue to bash prior commissions and commissioners like the ruling majority have done, rather than looking to the future and trying to make decisions for all of the citizens of the city. I urge you to vote for Byran Williams.
Thomas R. Weller
High Springs, Fla.
Add a comment
Add a comment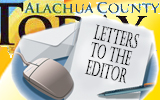 High Springs has everything needed to ensure a thriving and prosperous City. The City charter is strong, under penning ordinances and guides ensure a solid foundation.
In an effort to tweak our City into a more productive Municipality, last election, we voted into office a Troika, that has misapplied some conservative governing principals.
A wanton approach cannot be used to chop, what Commissioners perceived as fiscal excess in the budget. Neither can they ignore what they consider tedious Charter procedure to implement personnel changes. A careful review, with an explanation to the public would have been correct.
Attempts to micro mange any departments within the City generally yield undesired results. When the City Manger demanded the Police Chief give constant updates on his location and activity, the Chief is no longer Chief of Police. The position has been reduced to senior information liaison for the City Manager.
I believe of myself, I am socially liberal and ethically conservative. Empirical observation has confirmed one Neo-conservative truism. Implementation of flawed and unsound strategies to solve a crisis, will not yield a solution to the problem.
Our current municipal malady is painful and embarrassing. Not beyond a correction. November 6, neutralize Bob Barnas and Linda Gestrin. Commission hijinks will stop, and by summer 2013 we'll be a respected Municipality again.
Ronald K. Wilson
High Springs, Fla.
Add a comment
Add a comment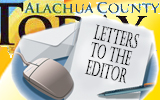 In the last few weeks a so called non political group formed to make High Springs better. They organized and announced the membership of former ousted commissioners and their supporters. They neglected to invite some prominent community organizers. They did make statement that they want a Better High Springs. So, I am left wondering what their definition of better is.
I am not sure if that means more debt, higher taxes, removing the dispatch and going back to the county or running the city budget back up to the old days. And back to funding more pet bike rack projects.
And of course the Alachua County Today wrote about it.
But I want to tell you this. High Springs is better than you have been led to believe.
High Springs population growth and real estate sales are doing well.
High Springs has had 5-7 new businesses open in the last month.
High Springs last week hosted almost 5,000 people at Camp Kulaqua which is a partner for progress and promotion for the springs and rivers in High Springs.
High Springs will be having its 3rd Annual Veterans Day event to honor our Veterans on Nov. 11.
The Farmers Market is expanding and the project that was almost killed by bad paperwork has been rescued and the new Farmers Market Pavilion is back on track with USDA funding.
Our Fire Department's new truck will be arriving very soon.
And the donated grant for a new Fire Station that has been sitting on the books, and the project that was delayed and plagued with bad administration for almost five years will break ground in late October next few weeks, because of correction in paperwork and get the job done attitude by Mayor Dean Davis.
Commissioners Davis, Barnas and Gestrin have endured lies of charter violations, lies of sunshine violations and lies of firing staff. The truth and facts are that no government agency has found any wrongdoing. And no civil suit has resulted in finding any accused commissioner did wrong.
Mayor Dean Davis, Vice Mayor Barnas and Commissioner Gestrin voted to have a debt limit charter amendment on the ballot to protect taxpayers against commissioners that want to take loans and spend your money on bad investments and bad decisions.
And most of all remember this; we did not raise real estate taxes, fire assessments or sewer and water fees. And we found that records need fixing, and your money needs better watching than has been done.
This November you will be faced with a choice to return to the spend, tax, and make bad money management style with no accountability of the past. Or to keep the belt tightening and tax watch management in place.
Bob Barnas
Vice Mayor High Springs
Add a comment
Add a comment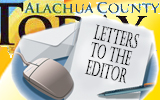 NEWSFLASH: The rural county lifestyle we cherish is under attack.
Unless we ride a bicycle or take "mass transit," the majority of the Alachua County Commission just doesn't seem to care what we think.
Need proof? Here's a fun fact: Gainesville's RTS bus system is lavished with over three times more funding each year than all of the 677 miles of county roads we actually use.
County government has waged on all-out assault on our rural communities and the things we love, and they've done it without even giving a thought to the way we feel about it.
As the economy goes down, the long-standing majority of county commissioners have defiantly raised property taxes—they keep voting to increase our cost of living. As they raise our taxes, we watch in horror as our property values continue to plummet.
Another fun fact: despite these troubling times, Alachua County Commissioners have burdened us with the #1 highest property tax rates in the State of Florida.
But the assault on our rural lifestyle doesn't end with high taxes. Even as local farmers continue to struggle against a weak economy, high fuel prices, and persistent drought, county government applies ever more pressure. The hyperactive local Environmental Protection Department wages a daily war on local farmers and the agricultural community, harassing those of us who are desperately trying to make ends meet.
When we try to understand their attacks, they treat us with arrogant disdain and hide behind confusing mounds of regulations. These regulations, when stacked on a table, are several times thicker than the Bible itself.
If you're wondering why good jobs are so hard to find in Alachua County, you need look no further than the suffocating business environment created by county government.
Those wanting to start a business in Alachua County had better pony up—our permitting and licensing fees are over 10 times higher than the state average.
If you feel that they've gone too far, you're certainly not alone.
As our county commission has grown increasingly out-of-touch with our challenges, many of us have asked ourselves "is it really worth it to live here?"
Frighteningly, many citizens have recently decided that living here isn't worth the cost or trouble. These former citizens were pushed away by a local government that refuses to understand; these folks have "voted with their feet" to leave Alachua County.
But here's the good part—there is hope. The election in November presents us with a truly historic opportunity. In the midst of this tone-deaf assault on our lifestyle by county government, the rural community can and must be the voice that changes the direction of Alachua County.
For the first time in over a quarter of a century, November's election gives us a real chance to elect a common sense majority to the County Commission—the timing has never been better. It is just now within our grasp— we can elect a majority that actually listens to us.
To be heard, we must act now, and act decisively. We must rally our friends, our neighbors—even people who have never bothered to vote before—to show up to the polls in November. If we hope for relief, the communities surrounding Gainesville simply must vote to give the rural community a voice.
My name is Dean Cheshire, and I'm running for Alachua County Commission. I offer myself as a strong common sense voice for the rural community. With your help, we will win big in 2012 by building a county government that listens to all of us--not just an outspoken group in downtown Gainesville.
Dean Cheshire
Alachua County
Add a comment
Add a comment