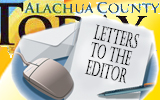 I would like to take this opportunity to urge all our citizens to vote during the upcoming Election of Nov. 6. Furthermore, who you vote for is even more Important! I would like to take you back to High Springs commission meeting of Nov. 10, 2005, where a motion was made by Commissioner Byran Williams to purchase the Pigg property located at 15391, 214
th
Terrace, seconded by Commissioner Depeter. That motion passed, which put the City of High Springs $610,000 in debt and before it was sold it cost the city over $400,000 in losses.
At a Commission meeting on Nov. 18, 2010, Commission Byran Williams made the motion for the phase 4 loan bonds of $4.973 million to go forward. He started the ball rolling and now it's become "the elephant in the room".
If you expand the sewage now you expand the debt now with the present number of homes presently on the sewage. We need to be a little more patience and as new homes are added (approximately 20 a year in High Springs) this will add not only to the sewage revenue, but new revenue in water and garbage too. The revenue from newly built homes is more than double per unit because of the three not one revenue streams. Most of these new homes are on the gravity system not the expensive grinder system. Therefore, the maintenance cost of these newly constructed homes is less than half the cost of existing residences. If you wait a while it will help relieve the burden on a few rather than going ahead with the expansion now and piling on more debt at a time when we are millions in debt and hundreds of thousands in the red for the sewer fund. The $5 million additional debt will cripple the city's already fragile finances. Adding existing homes to the sewer system is financially irresponsible and a waste of precious capacity.
Ask yourself the question: Do I want to put Byran Williams back on the commission to make the motions and decisions like he has done in the past? I for one do not!
Ann Carter
High Springs, Fla.
Add a comment
Add a comment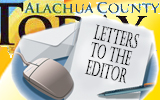 As if there weren't a wealth of reasons already to vote for Byran Williams over Pat Rush for City Commissioner, recent events and Mr. Barnas' letter to this paper last week [read it again before going further] make the decision compelling. Byran's character, profession and professionalism, long-proven commitment to this community, and years of service already stood out head and shoulders above his opponent. There can be no serious debate.
But Mr. Barnas, the retiring Mayor, Commissioner Gestrin, and their supporter, Pat's wife Robyn, charge on in an attempt to keep power. The above letter, numerous blog posts, and a most unfortunate recent Commission event, hammer home the need for an immediate change of leadership -- and tone -- on the Commission.
Mr. Barnas doesn't defend the recent dreadful actions of the Commission majority, like the disastrously under-planned, grossly over-priced, and unwanted-by-police dispatch system, or the stripping of the City's key staff, not to mention employee morale. Mr. Barnas instead tries to claim a "positive direction" to the City and implies the "wisdom" of electing Mr. Rush, by listing events [like 5,000 kids camping at the Adventist's Camp Kulaqua or a "grant" -- actually a bequest in a will -- used as required to repair the fire department] for which the majority can claim no responsibility or credit.
If the City has any positive direction, it is in spite of the majority, not because of it. Mr. Williams would break that grip of negativism and return a positive direction to our community.
But if claiming credit where no credit is due were the worst that Mr. Barnas and Mr. Rush could do, life would go on. But it is the sad and toxic tone currently in High Springs, largely laid at the feet of Mr. Barnas, the "Commission majority" and the Rush's, that saps the strength and integrity of High Springs. Business owners and City employees in High Springs are actually in fear of City retribution [read "from the current Commission majority"] and have withdrawn from any constructive comment about our fair City. Tragic.
A recent Commission decision, albeit a small one, shows that the majority has no grasp of what it "should do" in governing, but only what they might be legally "able" to do. They simply have no moral compass that is discernible. The termination hearing of the City Manager is the case in point. Brought in without public discussion or notice by the majority as "their person" [abruptly ending an ongoing professional search for what this City desperately needed then and still does -- professional management], Jeri Langman was touted by them as the greatest thing since sliced bread. In fact she was roundly praised by them as recently as a few months ago. If there was anyone to whom the majority owed a bunch for carrying their water, it was Jeri.
But even their hand-picked manager couldn't stomach the shenanigans at City Hall. She fell from grace and was unceremoniously fired. They had the legal right to do that. But when it came time for her hearing before them, her lawyer had a personal conflict due to the hospitalization of a loved one. A continuance of the hearing was requested. Such requests, based on such health reasons, are almost universally granted -- it's what governing bodies should do. It's called judgment, professional courtesy, and doing what's right. But when the new City Attorney correctly opined that there was no legal requirement to delay the hearing, the majority pounced, denied the requested delay, and left their hand-picked manager swinging with no legal representation.
It is this sorry tone to City Government that will resonate into the future if Mr. Barnas' candidate, Pat Rush, assumes the dais to continue the unfortunate actions of the last 11 months. A vote for Byran Williams makes a strong statement for a return to good government in High Springs.
Paul Regensdorf
High Springs, Fla.
Add a comment
Add a comment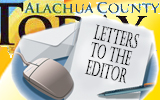 For those of you paying attention (or not) to the fiscal irresponsibility of our elected representatives, read carefully the words of one of the founders of this great Nation, Thomas Jefferson:
'We must not let our rulers load us with perpetual debt. We must make our election between economy and liberty or profusion and servitude. If we run into such debt, as that we must be taxed in our meat and in our drink, in our necessaries and our comforts, in our labor and our amusements, for our calling and our creeds… [we will] have no time to think, no means of calling our mis-managers to account but be glad to obtain subsistence by hiring ourselves to rivet their chains on the necks of our fellow sufferers…And this is the tendency of all human governments. A departure from principle in one instance becomes a precedent for [another]…till the bulk of society is reduced to be mere automations of misery…And the fore-horse of this frightful team is public debt. Taxation follows that, and in its train wretchedness and oppression.'
Sound familiar?
Marc V. Cauchon
Gainesville, Fla.
Add a comment
Add a comment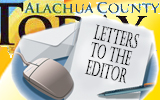 In 2011, the seriousness of our city's finances/indebtedness was exposed. It was a wakeup call for many citizens that we had become complacent regarding the governance of our city. Fortunately some of the financially devastating plans of the Travis - Williams leadership days came to a close, with the election of Barnas and Gestrin to join with Davis to stop the financial bleeding of High Springs. Contrary to a statement in a letter to editor of
Alachua County
Today
they were elected by a huge majority - not a 'simple majority' as suggested by a writer.
I had intended to share five financial blunders Bryan Williams has made during his seven years as a City Commissioner; so people would re-think voting for him, and might consider a better choice in Pat Rush.
I had planned to share with you that Pat is a fine family man, has an engineering degree and practical experience in operating a business. I had planned to suggest that our City government should be run as a business, and that Pat well understands the serious financial situation in which Bryan Williams and others have placed we citizens. I wanted you to know that Pat is, however, willing to join in the effort to continue correcting those past financial failures and leading toward a bright new future for our city.
However the editor told me that if I wanted my letter published in this week's edition, I would have to cut it in half. I quickly recognized that - while many other letters published had been longer than mine, they were written by people who have been highly inflammatory against Davis, Barnas and Gestrin. That was another set of issues I wanted to share: how many amazing things those three commissioners had accomplished . . . and have done so in spite of all the distractions from a group of people who apparently have personal agendas which would drastically change High Springs. They have been wading through the financial mess they inherited from an accumulation of past leadership errors . Nonetheless they have balanced the budget their predecessors said couldn't be. They have exposed so many wrongdoings and have been working diligently to correct them - with a lot of opposition in City Hall, and more distractions by the group who re-named themselves from Main Streeters to Concerned Citizens. They have consistently written articles which have demonized and vilified those who defeated their choices in the last election. We are seeing this throughout the nation. What a shame. It's one thing to speak the truth in love, but quite another to distort and deceive with hostility.
Now to shorten my letter, I must close with these brief statements, and send the rest by email - if you are interested. Byran Williams and I have been friends for years; so I raised grave concerns in a face to face conversation in 2011 over the financial mistakes he had made. He lost that election, but is now asking us to vote for him to have another term as a city commissioner; in spite of the fact that he has served seven years in the past and didn't have the financial background to do so. Apparently Byran is oblivious to the fact that he has voted over and over again to place our city in tremendous debt, and to the damage such debt causes. Knowing all the facts I had planned to share, I do not think High Springs can afford another term with Williams; so I'm voting for Pat Rush.
Thank you for reading and thinking before you vote,
Mrs. Billye Dowdy
High Springs, Fla.
Add a comment
Add a comment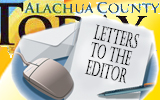 Florida is a key swing state. Our economy is faltering! President Obama's policies have made no significant improvement in spite of huge government expenditures for stimulus. Why?
On Jan. 18, 2012 the Obama administration denied a permit for Keystone XL pipeline at a cost of 20,000 immediate jobs and 118,000 spin-off jobs. Candidate Obama told the San Francisco Chronicle editorial board in January 2008, "Under my plan ... electricity rates would necessarily skyrocket." He also said, "If someone wants to build a new coal-fired power plant they can, but it will bankrupt them..."
On Feb. 29, 2012, the Washington Post announced 10 power plants to close due to the in phasing of EPA rules. President Obama's policies to increase energy costs have been a major contributing factor in causing food and gasoline costs to nearly double over the past four years. Can you expect the economy to improve when increased taxes and energy costs are forcing up the prices of our products so no one will buy them?
We need change, a change leadership in the White House and Senate to head America in the right direction. Be sure to vote on Tuesday Nov. 6.
Bob Rettie
Fort Walton Beach, Fla.
Add a comment
Add a comment