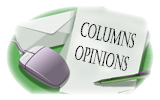 Doesn't cold weather just make everything sort of sparkle?
The sky is a deep crystal blue, the ground is crisp and the frost fairly twinkles on the grass.
Ha!
Who am I fooling?
I live in Florida – the "Sunshine State."
People who like the cold live in places like Alaska and Wisconsin and North Dakota.
I strive to avoid the cold.
At the first hint of cold weather - that being anything below 60 degrees, out come the sweaters, coats and blankets. Below 50 degrees and the scarves and gloves come out. Once the thermometer dips below 40 degrees, it's all bets off.
In other words, when the temperature is in the 20s, it's time to declare a state of emergency.
In this bone-chilling weather, nobody should be required to leave their homes unless they are first responders.
And I only offer this caveat so readers won't think I am crazy.
Who would take care of the sick and the real crazies that believe an arctic blast is exhilarating and then go to great lengths to prove it by performing some ill-advised activity that is somehow related to freezing weather?
When my children were going through their teen years, I used the often repeated dire warning that "nothing good happens after midnight" in an effort to keep them on the straight and narrow. I realize now this didn't always work, but I do believe it was an effective deterrent from time to time and probably saved a few grey hairs and worry lines.
There is a parallel between "after midnight" and "temperatures in the 20s."
In my book, there is absolutely nothing good to come from sub-freezing weather…in Florida.
You may argue that snow skiing, ice skating, and all those other frigid sporting activities are wonderful.
I'm not buying it.
We live in Florida, the Sunshine State, and we don't do those things.
We do water skiing, inline skating, surfing, boating, fishing, swimming and a multitude of wonderful activities that require warm, or better yet - hot weather.
There is simply no place in Florida for cold weather.
Cold weather is an unfortunate environmental health hazard.
Think about this:
Cold weather dries skin, turns noses red, makes eyes water and chaps lips.
Listen to your body, folks. It's trying to tell you something.
Cold weather is unhealthy. Avoid it.
Think about this:
How many times did you hear about the authorities in some northern state declaring "snow days" last winter?
It seemed like nearly every week there were at least two to three days declared "snow days," meaning that workers stayed home, children didn't go to school and they all stayed snuggly tucked inside. I remember two separate occurrences of nearly a week-long snow "day."
Don't get me wrong. I do not doubt the serious issues of snow drifts, slick roads, zero visibility, etc.
It's just that these folks are on to something.
In Florida, we have become accustomed to toughing it out, at the expense of our health.
I say, "No more!"
As Floridians, our bodies have adapted to warmer weather, and when faced with loss of warmth induced by extreme cold, our bodies react by engaging in an attempt at self-preservation.
How else can you explain the skin, nose, eyes and lips?
The only plausible explanation is that our bodies are transitioning into what I call the Florida Loss Of Warmth mode, or FLOW for short.
The solution?
Simple: Avoid the cold.
Stay indoors.
Refrain from going outside when temperatures dip below 30 degrees.
Time to stay home … and take a FLOW day.
And for goodness sakes, none of those dumb cold weather stunts like diving into a freezing body of water all the while pretending that it's "no big deal" while your body turns a ghastly shade of blue, your teeth chatter and your eyes start rolling back in your head.
Trust me.
Nothing good happens after midnight, and nothing good happens when it's 20 degrees outside.
Think FLOW, stay warm and prosper!
Add a comment
Add a comment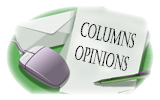 Break out the hats, the noisemakers and the confetti.
Happy New Year – almost.
Isn't it delightful that once a year every year we have the opportunity to start off with a clean slate, so to speak?
Our bad habits and annoying mannerisms that drive us, as well as others, to the brink of madness are subject to be dealt with decisively and completely.
Because…on January 1, we have a choice to make changes in our lives — or not.
Some call it a New Year's resolution; others call it a formula for failure.
Not surprising, the most common New Year's resolution is to lose weight. After six weeks of fattening the calf, it's time for cold turkey. And not the edible kind either.
Is it not so that over the past two months, the television viewing, magazine reading and Internet savvy have been bombarded with a boatload of glitzy commercials and ads promoting the consumption of high calorie, high fat, high carbohydrate foods and an eclectic assortment of alcoholic beverages?
And all virtually guaranteed, for a price, to make your holiday gathering an undeniable success, your guests the most enjoyable and animated and you, the host or hostess, will go down in history as the best of the best.
And if that's not enough, your life will seem like one big party after another, complete with beautiful people adorned with luxurious hair, straight pearly white teeth and bodies straight out of Sports Illustrated and Victoria's Secret.
And now, after indulging in all the holidays have to offer, after eating the final dried crumb of the last lonely brownie at the bottom of the cookie jar, scraping out the last sticky morsel of pecan pie and slurping down the final drop of eggnog, the rug is pulled out from under us.
Now a new cast of characters is parading across the television screen, across the pages of popular magazines and flashing at us from web sites, all extolling the miraculous effectiveness of a particular weight-loss program or product – all aimed at helping us lose those shameful pounds we put on over the past few weeks – at a price.
As consumers, we have worked long and hard to ingrain these eating and drinking habits in our psyche and into our daily lives. And now we are not only going to slam on the brakes, but make a 180-degree turn?
Most of us vow each year to try harder to do the things we know we should, such as avoiding all the edible riches that add to our weight and subtract from our wallet.
I propose that this year's resolution should be that we, America's estimated 75 million dieters, don't keep falling for this ridiculous charade imposed upon us annually by the trillion dollar food and beverage industry and the multi-billion dollar diet industry.
When next holiday season rolls around, refuse to be co-opted in to all the eating and drinking that packs on the pounds. Save the money and save the drama of the weight-loss programs, products, gadgets and gizmos, that in the long-term only serve to reduce our bank accounts.
Eat healthy, drink less and exercise more.
My 2012 New Year's resolution is set and I'm good to go.
Best wishes to all of you for a healthy and happy New Year.
Add a comment
Add a comment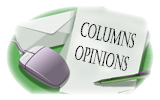 In South Dakota, impoverished Native American children living on the Bullhead Reservation can only long for a lifestyle those more fortunate take for granted. And this time of year, their Christmas wish-list, if they dare to dream of one, would likely consist of warm socks and maybe a few school supplies.
Imagine in this isolated area, where generation after generation struggles to make ends meet, the despair that must surely exist, especially this time of year.
How these people came to this situation is of little importance to a child living this way of life. That is a discussion for those who examine the socioeconomic plight of people and cultures, and not a matter of relevance for the most vulnerable among us.
For the generous, Christmas is the season of giving. But for children, it is so much more. It is a time of wonder and excitement, a time when they not only delight in the gifts they receive, but also in recognizing the joy that is shared by those who gave. While the tangible gift may last only a while, more importantly, the feelings of joy and love children experience are lasting, and that is truly remarkable.
In today's economy, the list of those in need is long, but isn't there room for one more child on that list? Gifts as simple as toothbrushes, toothpaste, hair brushes, warm socks, gloves or a box of crayons would delight these children.
Vance and Tracey Bishop, formerly of Williston, Fla., have a special wish this Christmas. They are ministering at the Bullhead Reservation, and are collecting shoe box Christmas donations for boys and girls, ages 1 – 18. They ask that each box be wrapped for Christmas and marked as to gender and age. Packages should be mailed to their attention at 113 1st Avenue East, McIntosh, SD 57641.
With the generosity of people who open their hearts once again to those less fortunate, not only will the Bishop's wish come true, but so too will the wishes of countless children as they open those gifts meant especially for them.
Add a comment
Add a comment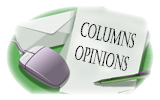 Each December as Christmas comes and goes, I marvel at how quickly the year passes. How different it was when I was a child and I waited with great anticipation for the upcoming Christmas celebrations and the oh-so-wonderful visit from Santa Clause. In those days, the span between one Christmas and the next stretched on and on until the waiting was almost unbearable.
Today, as I remember those childhood Christmases, recollections of special people and traditions are evoked from long ago memories. I recall my parents sending my brother and me off to bed early on Christmas Eve, because to stay up late might risk Santa's visit. And my brother and I both were quite certain that we had only one chance, and if Santa passed our house because we were still awake, he wouldn't be back – at least not until the following year. Not to wake up on Christmas morning and find presents from Santa under the tree would be unthinkable!
And that tree! Each year my family chopped down our own Christmas tree we found after trudging through acres and acres of Florida scrub pines in search of that perfect tree. Buying a Christmas tree was virtually unheard of back then, at least where we lived. Buying a tree was for "city folks" who didn't have trees growing outside their front doors — or for people who were rich and Florida's humble scrub pine wasn't quite suitable for their homes.
But those tall slender trees, with sparsely placed branches and clumps of loose leaf needles, were plenty good enough to hang shiny stars and galloping reindeer covered with sparkling strands of silver tinsel — and to offer a welcoming spot for gifts beneath the boughs of green.
My brother always insisted on finding the tallest tree possible, even though on occasion, the selected tree was much too tall to fit inside our modest living room, and would require much chopping and whittling to clear the ceiling and for the trunk to fit snugly inside the old metal red and green tree stand.
My grandparents' tree on the other hand was somewhat different. Living just down the clay-topped country road from us, my grandmother and grandfather also subscribed to the "seek and ye shall find" method of Christmas tree selection. But that is where the similarity ended.
Their tree was much smaller, never being more than two feet in height, and always graced their coffee table. My grandmother was devoutly religious and I always wondered if that was the reason she was partial to angel hair rather than tinsel. Each year my grandfather topped their tree with the plain tin star he had hand fashioned himself. Having been an engineer by profession, his star was precisely correct in all its angles, and I am certain he took great pride in that fact.
My grandparents always opened their gifts on Christmas Eve, a tradition my family did not subscribe to, as we waited until Christmas morning to open ours. But how we enjoyed visiting our grandparents on Christmas Eve! Besides seeing the joy in our grandparents' eyes in response to the gifts we brought them, we were always allowed to open one of our gifts as well.
And before the evening was over, we were treated to my grandmother's homemade Japanese fruitcake and mouth-watering sweet ambrosia. Unlike a traditional fruitcake, her Japanese fruitcake only contained raisins and walnuts, and even then they were only folded in alternating layers of that sinfully delicious cake. Between the layers (and there must have been at least six or eight thinly sliced ones) was the best tasting icing in the world. It must have been her private recipe because I have never since tasted such a wonderful mingling of vanilla, almond and butter.
Her homemade ambrosia contained only two ingredients - navel oranges and coconut. I once suggested to her that surely she had added sugar in order to create such a sweet concoction. She assured me in no uncertain terms that sweet navel oranges and their juices, along with the coconut were the sole ingredients. I believe her.
But Christmas traditions didn't only revolve around Santa, the tree, the gifts, or even food. Christmas was above all, a religious celebration. And all the other activities were only precursors to the big event. Christmas services at our little country church were always special and there was an air of anticipation, joy and solemnity all at once.
Each year the children re-enacted the nativity, with the boys solemnly making their way down the church aisle in their long robes, carrying exotic looking bottles as they approached the manger scene complete with Mary, Joseph and baby Jesus. Each year, my brother was always one of the three wise men since our church congregation was small, and there were only a handful of boys of the proper age.
The girls, on the other hand, viewed the event in a different light. Who would represent Mary and wear the beautiful white robe, golden sash and shimmering blue scarf? One year I had my turn and I felt so special for weeks before and after the service. After all, I was Mary, the mother of baby Jesus. It just doesn't get any better than that. Imagine my disappointment the following year, when I was replaced by another little girl.
Looking back at how we celebrated Christmas in years past, today's celebrations not only diminish the meaning of Christmas, but the passion as well. The current emphasis on celebrating for celebration's sake offers a full dose of instant gratification that is short-lived and essentially meaningless. How fortunate are those who recognize Christmas as more than simply a seasonal celebration, but as a time to experience renewed faith and rededication and genuinely celebrate family, tradition and above all, the birth of Christ.
Merry Christmas to all, and God bless us every one.
Add a comment
Add a comment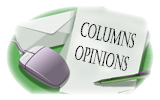 Guest column by Robert W. Wilford
Probably the majority of Americans agree that the sexual abuse scandal surrounding Penn State University is real and that many innocent children were indeed raped by a monster without Joe Paterno, or anyone else affiliated with this educational institution, having the moral courage to do the right thing.
When Sandusky is found guilty in a Pennsylvania court of law, he will be made to pay for his crimes. Unfortunately, his incarceration will never heal the wounds of the children he sexually abused.
They will undoubtedly be scarred for life and most likely will remember the trauma of this abuse each and every morning of their waking days. I pray that God will grant these precious children and their families healing peace.
Conspiracy theories? There are many. First off, Paterno is a Roman Catholic; I will explain this conspiracy theory later.
Yes, I unashamedly believe Paterno's religious affiliation is undeniably an integral part of the conspiracy theory.
I too am a lifelong Roman Catholic and have sadly come to realize that my church has displayed a total lack of moral courage in addressing clergy sexual abuse issues, not only in the present times, but for many centuries.
Accountability and conscience have been, and are, words without meaning to this powerful religious institution when it comes to dealing with criminal sexual abuse matters confronting it.
Isn't it strange that Paterno failed--lack of accountability and conscience--to report the sexual abuse by Sandusky to the police in 2002 when the Roman Catholic Church all the way to the Vatican was responding to tens of thousands of accusations regarding the cover-up by the church's leaders regarding a great number of its bishops and priests who were pedophiles (pre-puberty victims) or ephebophiles (teenage victims)?
Did "Joe Pa" employ the same "head in the sand" tactic as the hierarchy of his church by not reporting the suspected sexual abuse by Sandusky to the police?
Or worse, did he consult leaders of the Catholic Church over his decision not to do what was morally and ethically correct? If so, what ill-conceived advice did these "cover-up artists" give him?
Even though Paterno chose not to report Sandusky's despicable behavior back in 2002, he could have, at the very least, not allowed this sexual deviate to be granted campus access for nearly nine more years after he was supposedly observed raping a child in the showers on campus.
What hold did Sandusky have over Paterno and Penn State that would have allowed this sexual pervert open access to the university for nine additional years after being supposedly observed by Mike McQueary raping a young child?
One final conspiracy theory I propose concerns "Joe Pa" being granted the unjust privilege of breaking Eddie Robinson's hallowed Division I record of 408 victories prior to Sandusky being publicly exposed.
It is certainly strange and befuddling to me that the Pennsylvania Attorney General chose not to charge Sandusky until after Paterno achieved win number 409. This Pennsylvania public servant certainly appeared to have sufficient evidence to charge Sandusky well before Paterno achieved this significant milestone.
Is the attorney general's action, or lack thereof, another conspiracy?
What influence did Penn State University officials, the university's many financial benefactors, and/or powerful Pennsylvania politicians and business leaders across the state, have in the Pennsylvania Attorney General's decision in not charging Sandusky prior to Paterno's win number 409?
Was there a deviously covert and unscrupulous attempt by the Pennsylvania Attorney General and/or other co-conspirators to preserve "Joe Pa's" legacy at all costs? It was grossly unfair and an obviously heinous ruse to allow this falsely-proclaimed icon to achieve this tainted accomplishment.
I ponder with tremendous sadness about the victims who were probably sodomized after 2002. Who cared about them and for Sandusky's pre-2002 victims?
Their "409th" victory will simply be living life as best they can in surviving the unspeakable horrors of being abused by Paterno's sexually deviant cohort.
Will we ever be made privy to all of the conspiracies that have transpired regarding Penn State University and this sexual abuse scandal?
Sadly, I doubt it since "lawyerspeak" is already taking hold of the situation.
One indisputable fact remains. The victims of this sexual abuse are real and have been damaged physically, emotionally, psychologically, and spiritually.
I will continue to have tremendous empathy for them in the future and pray for God to grant them courage in facing the days, weeks, months, and years ahead.
Did "Joe Pa" get what he deserved? Yes, by being ignominiously fired in disgrace as the coach of Penn State, he got exactly what he deserved.
On the other hand, did "Joe Pa" deserve to be allowed to coach until reaching victory number 409? No, he did not earn, nor deserve, this high honor because he lacked the guts to take the moral high ground in 2002 in exposing Sandusky's unimaginable sex crimes committed against children.
Sandusky, Spanier, Schultz, Curley, Paterno, McQueary, the other co-conspirators...? I will let the legal system and the court of public opinion decide their fate here on earth and let God judge them in the afterlife.
Add a comment
Add a comment