Dear Most Holy Father:
Thank you for attempting to humanize the office of pope.
The majority of Catholics have blindly viewed pontiffs as God-like and incapable of making mistakes because of being infallible.
Your actions, so far, do give me hope. I pray you will lead us toward renewal (retaining the good stuff), reformation (discarding the bad stuff), and rebirth (uncompromising justice and renewed spirituality).
I first contacted John Paul II in 1993, and again in 2002. I contacted Benedict XVI several times during his papacy.
I challenged them to reform an indifferently corrupt and a conspiracy-driven theocracy for the innumerable crimes the hierarchy had committed for centuries.
Mandated priest celibacy, the murder of Joan of Arc, persecution of Martin Luther, imprisonment of Galileo, unjust inquisitions and crusades and the coddling of clergy sexual predators are examples of the church's abuse of power.
The current crisis is attributable to the disreputable leadership of John Paul and Benedict for not putting the needs of victims first over predator priests.
John Paul and Benedict shamefully elected to shelter sodomizers and the institution of Catholicism itself above all else.
I urge you to stand on your perch at Saint Peter's this Ash Wednesday and declare:
"We, the popes, cardinals, bishops and priests of the Roman Catholic Church have been grievously and sinfully wrong since the very beginning of the church's history in protecting predator priests at the expense of the victims of clergy sexual abuse. Humbly, we openly admit our culpability, and, in professing our shame, ask for forgiveness from God and all humanity for the unspeakable crimes we have committed against victimized children and their families for nearly 2,000 years."
One critical action you need to take is to stop the canonization process for John Paul which will be the ultimate "Conspiracy of Catholicism."
There are a number of reasons this unworthy pontiff should not be canonized.
John Paul had numerous opportunities to thwart the church's sexual abuse scandal. He did virtually nothing to rid the church of sexual predators.
In 1985, there was a major crisis in Lafayette, La. A priest was sentenced to 20 years in prison for molesting dozens of children.
This scandal provided John Paul an excellent platform to become a hero for Catholicism by laicizing predator priests and by setting a "zero tolerance" standard for known sexual predators.
He failed to do so. Instead, he became a co-conspirator with bishops everywhere by harboring clergy sexual abusers who were moved from parish to parish to sodomize other children. Is this action worthy of sainthood?
In the early 1990s, John Paul was given another opportunity to take action. Clergy sexual abuse allegations were surfacing all across America, especially in Massachusetts.
John Paul chose to ignore the severity of an ever-increasing scandal by not calling Cardinal Law to task for sheltering known clergy sexual predators in the Boston archdiocese. Is this action worthy of sainthood?
In 1995, Law's Secretary for Ministerial Personnel was commissioned a bishop by John Paul.
This egregious action was effectuated despite the pope knowing this monsignor was aware of a number of priests in his archdiocese being sexual predators. In 1998, this bishop was promoted to head his own diocese.
He was probably rewarded for being the proverbial "corporate man" in shielding Law and the Vatican from being fingered as co-conspirators in the rape of innocent children. Is this action worthy of sainthood?
Thousands of allegations were made around the world in 2002 against priests and bishops alleging sexual misconduct.
This crisis was again prevalent in the Archdiocese of Boston. Law was unscrupulously transferred to the Vatican instead of keeping him in Boston to face the music.
This convenient relocation allowed Law to escape possible legal action in America since he maintained dual citizenship status in America and in Vatican City.
Rewarding Law for failing to protect children from harm was the ultimate "Conspiracy of Catholicism" committed by John Paul during his inglorious tenure. Is this action worthy of sainthood?
Allowing Law to run and hide in the Vatican is the clincher in insisting the canonization process for John Paul cease immediately.
A number of saints of the church had checkered pasts prior to becoming truly repentant for their sins and crimes.
Saints Paul and Augustine are wonderful examples of sinners who displayed outward signs of repentance prior to being canonized.
To the contrary, John Paul went to his grave never publicly displaying sorrow for his grievous sin of indifference in allowing children to be raped by clerics and by not laicizing known sexual predators.
Does John Paul's lack of contrition make him worthy of sainthood?
I implore you to let God be the supreme impartial judge in determining John Paul's worthiness of being declared a saint.
The church must not perpetuate "The Conspiracy of Catholicism" by canonizing a dubious leader of the world's Catholics, one who never asked for forgiveness for the heinous crimes he committed against humanity.
I still love my church and its sacred traditions, participate in the sacraments, contribute financially to my parish and other Catholic charities, and proudly "cross" myself in public whenever prayers are said at meetings and other events.
On the other hand, I have very little respect for the church's hierarchy, notwithstanding my belief in many of the church's doctrines and beautiful traditions.
Hopefully, you can improve my less than flattering opinion of the Vatican and the bishops of the church.
Taking a bold step into the future by leading a spiritual rebirth of a broken "Christian" church thereby erasing "The Conspiracy of Catholicism" once and for all may just do it.
I pray that you will have the courage to take this step.
# # #
Email editor@
alachuatoday.com
Add a comment
Add a comment
Keeping frail elderly loved ones at home can be extremely difficult; not only in terms of ensuring they receive the proper medical and personal care they need – which can often be a weekly or even daily necessity – but it can also prove difficult in terms of managing and maintaining a healthy balance with a career and personal life.
Many of us have struggled with this challenge, yet know it is a more acceptable alternative than placing our mother, father or other loved one in a nursing home. However, there is now an alternative that, if introduced, will provide much-needed assistance to families that are caring for a loved one by providing comprehensive in-home care to frail seniors at risk for nursing home placement. This alternative is called a PACE program, or Program of All-inclusive Care for the Elderly.
PACE programs are innovative managed care programs focused on providing all health care and other supportive services to keep those 55 years or older, who are very frail and at risk for long-term nursing home placement, living as independently as possible, for as long as possible.
During the 2013 Legislative Session, Haven Hospice is hopeful that the Florida Legislature will support the implementation of PACE programs in Duval, Alachua and Clay counties. Many wonder why a hospice provider would operate a PACE program as they are two very different services. The reason is simple, hospices are often best equipped from an operational standpoint to run PACE programs; and, at Haven, we truly believe that this valuable and unique managed care program will have a positive impact on the welfare of Florida seniors and their families, as well as providing significant saving to the state Medicaid budget.
If introduced, this valuable program would provide the entire continuum of care and services to seniors, including adult day care that offers primary care (dental and eye care; podiatry care; physical, speech, occupational and recreational therapies; nutritional counseling and meals; social work services; nursing and personal care); primary medical care provided by a PACE physician, who is familiar with the history, needs and preferences of each PACE participant; home health care and personal care to maintain the senior's independence in their homes; all necessary prescription drugs; respite care and hospital and nursing home care when necessary.
In PACE programs, care and services are centered around an Adult Day Health Care Facility, which will strive to retain the focus on care and socialization by aiming to limit participants' time in transport to or from the PACE facility. Moreover, under this unique program, health care providers and professionals are allowed the freedom and flexibility to plan and provide the most appropriate services, allowing each participant's care to be specifically tailored to suit their needs and circumstances.
We are hopeful that members of the Florida Legislature will consider supporting the unique and valuable PACE concept this session, that will have a significant and positive impact on frail seniors and their loved ones.
Tim Bowen is President of Haven Hospice.
Add a comment
Add a comment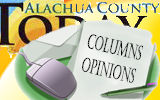 Guest Column by Gene Levine, High Springs resident
Did you realize that High Springs is a business? Do you realize that our once vibrant City is on the brink of going out of business? I don't want that to happen and hopefully you don't want that either.
Let me summarize. I am fed up with the way three of the five commissioners have put our city in harm's way. Commissioners Dean Davis, Bob Barnas and Linda Gestrin form a voting majority. Whenever important votes are called, it is always "Three for and two against" giving them the majority, which is their right. But as I hope to point out, there are no right ways to do wrong things.
This trio seems to have one trait in common: they act as all-knowing commissioners. Based on their actions, voting record and their lack of realization as to what they don't know and what they need to know, they have brought our City to its tipping point.
When the three assumed control they charged into office like the raging bull in a china shop that makes no distinction between what is good or bad as it destroys everything in its path. They immediately fired the experienced and capable City Planner, Christian Papoli. They pressured our City Attorney, Tom DePeter, to quit and in violation of our City Charter, and began to make veiled termination threats to City employees who wouldn't agree with the changes the trio directed them to make.
This trio's modus operandi is to also disregard our Charter and constantly reject input from the other two commissioners, Scott Jamison and Sue Weller. When Mayor Davis reluctantly allows well-meaning residents to speak, as they come forward to the podium, he points his gavel at them, and using bullying tones and gestures, threatens them with statements such as, "I caution you not to say anything disparaging or I will gavel you back to your seat or have you removed." In other words, if you decide to address this commission, Davis will deny your freedom of speech guaranteed to you by the 1st Amendment of our Constitution.
Because this trio displays an obvious lack of leadership and factual decision making, they rely on a group of less than capable cronies for advice. Ill-conceived advice apparently directed the trio to again ignore our Charter first by how they hired, and then illegally tried to fire Jeri Langman, their new City Manager. Because the trio got caught, they encouraged still another lawsuit. Langman getting fired happened when the trio learned she was an authentic professional and wanted no part in helping them break the law. She took the trio's misdeeds to the press and the State and as a result she unfairly lost her job.
For some hard-to-explain reason, this trio also seems to shrug off the inevitable string of lawsuits they alone continue to cause. They have caused so many lawsuits against the City that our annual liability insurance premiums will spiral from; $13,754 in 2011 to the actuaries' projected $237,949 in 2013. And guess who is going to pay these premiums? If you said, "we the citizens," you guessed correctly.
Want more proof of the impending devastation to the City this trio is causing – beyond just spending money we don't have to finance expensive projects we don't need? It is the trio's roughshod treatment of our remaining, hard-working City employees. Their threats and actions have brought the morale of these employees to so low a point that, based on my considered labor law experience during union organizing campaigns, it wouldn't surprise me if, to ensure their job security, the City employees decided to invite a union in to protect them.
Davis, Barnas and Gestrin defend their imprudent actions as the only way to balance the budget. What good is their balancing of our budget if, in the process, they destroy the future of our City?
The trio continuously denies any and all formal charges brought against them calling them, "lies and conspiracies." They continually blame past City administrations, stupid citizens, the present economy and what they call an, "outdated City Charter" for the mess our City is in.
My case for putting the blame for our City's potential demise where it belongs is solidified by having you look at the thriving City of Newberry just a few miles south of us. Newberry has faced the same economic challenges we have, but acted positively and proactively. Newberry is constantly expanding and adding jobs, while High Springs is steadily declining. Newberry will come to be widely known as the home of its Nations Park sports complex while our boarded up High Springs will fade into oblivion. Why can't we also thrive? It's because those who govern Newberry have better leadership skills, knowledge, attitudes, vision and abilities to successfully run and grow a City.
High Springs cannot survive unless you do something to help reverse our present trio's poor, unprofessional, uninformed, bullying and disastrous track record. If in past elections you voted for Davis, Barnas or Gestrin, you can help get High Springs out of the visible mess this trio has caused by opening your eyes to the truth. In the upcoming election on Nov. 6, 2012, think hard and try not to compound any previous voting error you may have made. On this election day do what is right for the City by voting for a well-seasoned professional past commissioner, Byran Williams who has pledged "to bring economic development and jobs back into the area, as well as work to get the City moving forward again." Scott Jamison is now unopposed. and fortunately our City will still have his voice on the commission.
Running against Williams is Pat Rush who pledges "To rein in spending, that adding to the City's debt, lack of money and sloppy bookkeeping is inexcusable." My question is; how can the City survive if he makes any more of his pledged budget cuts? Furthermore, Pat Rush's record shows that he once owned Pats' Place Coffee Shop on Main Street. It went out of business. Interesting isn't it that that he couldn't run his own small business successfully – where he had absolute control – yet he wants us to put him in a position to run our City.
We all know Byran Williams. He is a deeply religious man with impeccable and searchable personal credentials. On the other hand, Pat Rush's past and character raises many questions about his background and qualifications. You can therefore do what is best for our City and tip the scale back to the City's favor by voting for the only well informed and highly experienced Commission Candidate, Byran Williams.
Williams and present commissioners Jamison and Weller will focus on providing the many things our City sorely needs including much needed jobs. They have the skills, knowledge, abilities, attitudes and vision to provide much needed guidance and a willingness to better position High Springs to get jobs for its residents so we may thrive once again.
Add a comment
Add a comment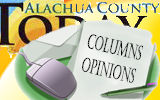 Mike Griffis, Vice-Chairman, Citizens for Strong Schools
For Alachua County Public Schools, we have an opportunity Tuesday to renew a one mill ad valorem tax to pay for school nurses, classroom technology, and music, art, library, guidance, band, chorus, and academic magnet programs.
Vote Yes…
And don't fall victim to four common misconceptions. Let me debunk them here.
School taxes have increased: False.
School funding comes mainly from two sources: sales tax dollars and local property taxes. The state legislature controls nearly all of this. Every year, it sends fewer sales tax dollars and caps the millage rate that our school district can levy (one mill is $1 tax per $1,000 property value).
In 1995, it was 12.2 mill. Today, it is down to 8.5, counting the 1 mill. Actual yearly ad valorem tax on a typical house has been flat, no difference or even less when compared to 1995. A house that has significantly appreciated since then might pay nominally $125 more (see http://yesforalachuaschools.org).
While your taxes have increased, our public schools are not getting them.
In pre-Lottery 1988, the legislature funded education with 60 percent of the overall state budget. Now, to pay for pet projects, the legislature has reduced education to 29 percent of the budget.
Emphasis in the term-limited legislature is not on public education. But state law does allow for voter-approved additional millage to pay for programs ignored by the legislature; hence, the ballot initiative.
Administration is bloated, funding isn't getting into classrooms: False.
In the budget for our school district, 77 percent goes to personnel, which are mostly teachers.
Only one-half a percent goes to general administration and pays folks working out of a building built in 1900. School administration, mostly principals and vice-principals of 42 schools, gets 6 percent of the budget.
Almost 2/3 of the budget is instructional. The remaining 1/3 supports it. It is well run and worthy of our support.
Graduation rate is low and this means our schools are failing: False.
The term-limited state legislature has embraced a national movement to streamline education and force it into a one-size-fits-all blueprint. Yes, teacher accountability is important, students need to be tested for ensuring progress, and reading, writing, and arithmetic are necessary aspects of a high quality education.
But the legislature has placed too much focus on reducing costs and the sole utopian goal of prepping all students for college. To receive a high school diploma, students must now pass Algebra I, Algebra II, Geometry, Biology I, Chemistry I, and a Science Lab.
Not all students can pass these courses, nor would all students benefit from them. Not all jobs require a college degree, and in fact most do not.
Some options like vocational courses are all but a memory in the college-or-bust mandate. School districts lack the opportunity to provide appropriate options for students so they can get quality jobs suited to their abilities.
School districts are then penalized when students fail and drop out. There is a horde of uneducated and angry dropouts on the horizon.
Our Alachua County Public Schools is very successful as our high school graduation rate is 87 percent. Our children have access to a high quality education, in spite of the mandates coming from Tallahassee.
Privatizing schools will improve the results at lower cost: False.
Another national movement being embraced privatizes public education using charter schools. Charters often appear out of nowhere and disappear like gypsies. To nurture them, charters are exempt from many of the mandates of public schools. They select desirable students, often drop-kicking unwanted students back into the public school system.
Rewarded are charter schools that lack educational and enterprise experience but lobby to be pet projects. Rewarded are those administrators with exorbitant salaries. Penalized are high performing public school districts like our own. Public schools must take everyone and educate using fewer funds.
Remember this when you vote: A high quality public education is a right guaranteed to our children. The State of Florida Constitution devotes an entire article to public education to ensure this.
# # #
Add a comment
Add a comment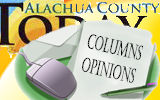 Vice-Mayor Bob Barnas has sent out a community wide blog and a Letter to the Editor in
Alachua County Today
slandering the actions and character of High Springs City Clerk, Jenny Parham. Mrs. Parham has more than 25 years of service to the City of High Springs and served as Interim City Manager for 22 months. She ran this City with intelligence, hard work, high moral standards and total attention to each detail of the City Charter.
In her many years of service to High Springs she has received accolades from all who know her. Suddenly, freshman commissioner, Vice Mayor Barnas, claims she "circumvented a process that would have allowed voters…to make a choice for debt." His blog remarks are much more insidious – a fact that moved Commissioner Scott Jamison to come out of his seat at the Tuesday, July 17 meeting.
Let's break this down. Mr. Barnas has had a death wish for the city's sewer system since the idea first appeared. He even declared to the commissioners at the time that the sewer was against his first amendment rights.
Now this commission, led in fact by Barnas, has decided that despite our proximity to the Floridan aquifer, they will not complete phases 4 or 5 of the sewer.
So, how could he ensure for all time that no sewer project can ever be completed?
That would be Charter Amendment 2012-13 that would require a two-thirds vote by the commission and a referendum approved by the voters for the commission to even temporarily borrow more than $1 million.
Commissioner Sue Weller pointed out that this could keep High Springs from using transportation tax dollars to pave roads. Former City Attorney Tom DePeters said this would squelch any chance of improving our very aged water systems, adding additional highway projects, or any other infrastructure needed for substantial growth.
How does this tie in to Mrs. Parham?
Step 1) There was a commission meeting on July 12 in which the charter amendment was proposed, but the majority of commissioners voted it down;
Step 2) Barnas ordered Parham to publish public hearing notices for the failed amendment in the newspapers. This, despite the fact that the city attorney has repeatedly told Barnas that he may not direct the activities of City staff (in fact there are more than 600 Charter and Sunshine violations submitted for legal action to the State against Barnas);
Step 3) Because the commission did not pass the amendment, Parham did not publish it, as per legal advice from the city attorney;
Step 4) The commission met in an emergency meeting on July 17 and voted to pass the amendment. Now Parham puts the ad into Alachua County Today, but not with Barnas' dates for public hearings, but with the dates as legally required for notices.
The city manager, at the beginning of the July 17 commission meeting, explained to everyone in the room the exact steps Parham had followed regarding publishing Charter Amendment 2012-13 and explained why. Nevertheless, Barnas put out the letter slamming Parham on July 19.
Barnas has repeatedly proven to be unwilling to follow the High Springs Charter. This document must be the guide for the city manager and all commissioners. Parham knows it well, and abides by it as it is her legal (and moral) obligation.
Apparently, if a Charter Officer is unwilling to follow the individual direction of one commissioner the result is a public lashing. Commissioner Jamison asked Mayor Davis if the mayor condoned such verbal public abuse of an employee and Mayor Davis said he could not stop commissioners from saying whatever they want.
Jamison also pointed out that Davis has been on the commission for three years, and Barnas and Gestrin have been on the commission for seven months. If this charter amendment is such an important matter, why are we just hearing about it now? Why does lack of planning by Barnas result in an emergency for everyone else?
# # #
Add a comment
Add a comment