Details

Published on

Friday, 28 December 2012 16:11

Written by Special to Alachua County Today
Hits: 5243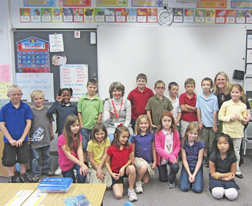 Local author and librarian, Ann LaZotte visited Mrs. Wheeler's 2nd grade class at High Springs Community School on Wednesday, Dec. 12. She discussed what it's like to be an author and to be deaf.
Add a comment
Add a comment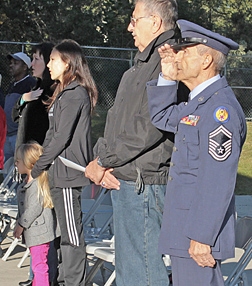 ALACHUA – Alachua Elementary School students celebrated Veterans Day with a lively ceremony Thursday.
The ceremony, "A Celebration of our Heroes," was open to the public, and over 20 veterans attended.
Faculty members, dressed as Uncle Sam and Betsy Ross, shared facts about U.S. history as birds chirped in the chilly morning air.
Students sat on the pavement, waved miniature American flags and sang patriotic songs like "Grand Old Flag," "God Bless America" and "God Bless the USA." Veterans were recognized individually for their service.
School principal Evelyn Copeland said the ceremony is held every year out of respect for the country's servicemen.
"It's so that we can honor our veterans," she said. "This is an important way to show the sacrifice veterans have made."
She said students often invite fathers and grandfathers who have served in the military to the ceremony. Copeland said most veterans think the ceremony is nice and are thankful the school organizes it each year.
Marine Cpl. Charles Dampier said he enjoyed the ceremony. Dampier served 2006 through 2010, and he was deployed to both Iraq and Afghanistan.
"I came for my cousin," he said. "I liked seeing the kids with their flags."
Dampier said he thinks it's important to acknowledge Veterans Day.
"A lot of people don't understand the hardships military [personnel] go through," he said. "It's important to recognize it."
# # #
Email astewart@
alachuatoday.com
Add a comment
Add a comment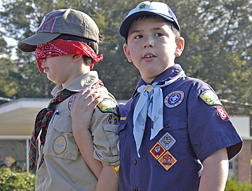 Saturday's White Cane Walk in Alachua marked the 13th year that both sighted and vision impaired individuals joined together for a two-block walk alongside U.S. Highway 441 to create public awareness of the White Cane Law. The event is sponsored by the Alachua Lions Club and the Alachua County Council for the Blind, with support provided by the City of Alachua, the Alachua Police Explorers and Alachua's Pack 88 Cub Scouts.
Add a comment
Add a comment
Marilyn Vanover and Anne Chumley from Alarion Bank
HIGH SPRINGS – On Thursday, Oct. 25, Relay for Life of High Springs/Alachua, a major fund-raising event of The American Cancer Society, had its Kick-Off Party at the High Springs New Century Woman's Club for the upcoming May 3-4, 2013 event.
There were over 50 people in attendance and the evening was filled with tasty food, including numerous pizzas from the new Pizza2Go that were donated by Alarion Bank, a heart-touching survivor's story by Toni Warren, a spirited Wobble Dance led by Linda Hewlett and an inspiring Luminaria ceremony conducted by Vickie Cox.
The purpose of the Kick-Off was to inform people of the upcoming event, explain what individuals and organizations can do to take a part and encourage teams to register and pay their $100 team commitment fee. By the conclusion of the Kick-Off party, 10 teams from the High Springs/Alachua area had registered and paid their commitment fee, and over $200 had been raised through chance drawings and the sale of cancer awareness necklaces and other trinkets as well as bandanas for a cure.
Last year's 2012 High Springs/Alachua Relay for Life raised over $21,000 and had 19 teams participate in the 18-hour event. Challenging goals of raising over $100,000 and having over 30 teams participate have been set for the upcoming event. Since the 2013 Relay for Life falls between Pioneer Days in High Springs and Cinco de Mayo, the theme is "Relay Ole," which will include both a western and Hispanic rodeo and fiesta motif. The spirited 18-hour event will be geared toward celebrating those who have dealt with, or are dealing with cancer, remembering those who have lost their fight against cancer and fighting back against this devastating disease.
People interested in obtaining more information about Relay Ole, forming or joining a team, making a donation or volunteering to help with the event is asked to contact either Amanda Granozio at 352-376-6866, extension 5056 or Sharon Kantor at 386-454-8008.
# # #
Submit your news to This email address is being protected from spambots. You need JavaScript enabled to view it.
Add a comment
Add a comment
Details

Published on

Monday, 08 October 2012 19:45

Written by Special to Alachua County Today
Hits: 3450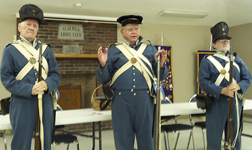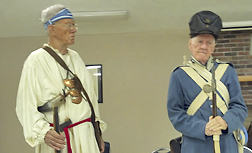 Photo 1: Tom Brady as Pvt. Joseph Sprague, Ed Geers as Pvt. Andrew Becker and Bob Waters as Pvt. C.D. Strickland.Photo 2: Charles Horn as a Seminole and Tom Brady as Pvt. Joseph Sprague.
ALACHUA – The Alachua Historical Society celebrated their 12th Anniversary with a dinner on Sept. 25 at the Alachua Lion's Club. Emelie Matthews, President, thanked everyone for their hard work and support this past year and shared the excitement on the progress of the new Alachua Welcome Center on Main Street that will house the Society's museum.
After a short business meeting to elect the officers for the next year, The Micanopy Regulars presented their "Second Seminole War Living History" program. Real and fictional characters dressed in period garb shared their insights and history about that period in Florida's history.
# # #
Submit your news to This email address is being protected from spambots. You need JavaScript enabled to view it.
Add a comment
Add a comment