NEWBERRY – Newberry Mayor Bill Conrad was recently reappointed to the Board of Directors for the newly formed Florida League of Mayors. The board is composed of 21 mayors from throughout the state, who will help guide the activities of the organization.
The Florida League of Mayors was created in November during a meeting of members of the Florida League of Cities held in Orlando. The organization, which will complement the work of the Florida League of Cities, held its first full organizational board meeting in Tallahassee on Friday, January 6.
It is envisioned that the League of Mayors will serve as a forum for the general study of ideas and policies affecting municipalities, while providing a platform for a powerful tier of established and emerging leaders to speak out on issues of urgent interest to the citizens in their cities.
Mayor Conrad said he is looking forward to networking with other Florida Mayors, learning "best practices" from other cities, and sharing the Newberry story around the state.
City mayors serve a large percentage of Floridians. In 2004, more than half of Florida's population lived in the state's 411municipalities. Creation of the new Florida League of Mayors group reflects current public opinion, which shows mayors are widely viewed as the key political leaders in their communities and enjoy a high level of public confidence.
A poll of 800 registered Florida voters conducted by the Tarrance Group in November (error of margin plus or minus 3.5 percent) found Floridians view their mayors as trusted leaders and are confident that mayors are making the right decisions for their communities.
"The Florida League of Mayors is already providing the mayors of Florida with the ability to explore in greater depth than anywhere else areas of mutual concern and opportunity," said Fort Myers Mayor Randall Henderson, president of the organization.
"We are forging a new voice that each of us believes will serve our cities well," Henderson added. "Our organization has the potential to become an effective vehicle for the development of a broader communication reach and for the development enhancement of what already is a deep pool of political leadership."
# # #
Email scook@
alachuatoday.com
Add a comment
Add a comment
L-R: Quilter Martha Folston and quilt winner Tara Malone display the colorful handmade quilt.
ALACHUA – Most people go to see their dentist for a teeth cleaning or to have a filling replaced, but on Dec. 11 two women were invited back to receive quilts they had won.
For the past seven years, Alachua Dental, at 14601 NW 140th St., has bought and given away quilts made by local quilter Martha Folston.
Karen Davis, office manager at the company, said they usually buy one king sized quilt and give that away, but this year they decided to buy two throws instead so they could have two winners.
This year, the winners were Karen Miller and Tara Malone. When coming in for their usual appointments, they filled out a slip of paper to enter into the contest.
Miller said that the drawing had been on her birthday, Dec. 2. And then the day they were called in to receive their prize, she had already scheduled an appointment to have her teeth cleaned.
"The drawing just happened to be on my birthday," she said. "And I had already scheduled an appointment," she added.
Miller's quilt had a blue pattern to it, featuring a barnyard scene in the middle.
Malone said when she got the call she never thought it would be about winning the quilt.
"When she called, I thought I had missed an appointment or something," Malone said. "She goes, 'Well I was calling to let you know you won the quilt,' and I said, 'You're kidding!'
She has been a patient of Marc Cauchon since his office opened 16 years ago.
"I've been a patient ever since then, and all three of my kids," Malone said.
"My daughter's going to jack this as soon as she finds this," she said as the two winners opened their quilts.
Malone's quilt had a red color scheme to it, and the back had a poinsettia pattern.
Folston said she has been making quilts since she was 16 years old, and she began selling them in 1994.
She makes them and sells them from her home and depends on word-of-mouth for sales. She said she sells them all year round and that baby quilts are probably in highest demand.
There is no website or form of communication for her business other than stopping by and visiting her in her house in Alachua on CR 241. She usually has a few quilts hanging outside with a sign that reads "Martha's Quilts."
# # #
Email jhundley@
alachuatoday.com
Add a comment
Add a comment
Details

Published on

Sunday, 10 August 2014 21:40

Written by Special to Alachua County Today
Hits: 11288
ALACHUA COUNTY – The Alachua County Health Department will be providing a back-to-school physicals and immunization clinic on Aug. 13, from5 p.m. to 7:30 p.m., at the Alachua County Health Department located at 224 SE 24th St., Gainesville. Appointments are required and can be made by calling 352-334-7910.
The physicals are provided at no charge for those who have Medicaid; applicable co-pays for those with private insurance and $25 for all others. A child must be accompanied by a parent, legal guardian or other authorized family member. Parent or guardian must bring a photo ID and insurance card.
The immunizations required for kindergarten through 12th grade school attendance will be provided free of charge. As an added benefit, age appropriate non-school required immunizations such as Hepatitis A, Meningitis, Human Papilloma Virus (HPV), and Rotavirus vaccines will also be available at no cost.
"In addition to school attendance requirements, immunizations are the primary means of preventing serious communicable diseases," stated Paul Myers, Administrator of the Florida Department of Health in Alachua County. "We encourage all parents and guardians of school aged children to take advantage of these after-hours clinics."
Parents and guardians are reminded to bring their child's shot record to expedite the process. If shot records are not available, especially for new out of state students, parents should have the information faxed from their provider to the Alachua County Health Department at352-334-7943, attention "After Hours Clinics."
Due to new requirements, documentation of insurance information is required. This information will be kept strictly confidential. School required immunizations will be provided at no cost or co-pays.
The Alachua County Health Department is asking parents to check their child's shot record now and make an appointment with their medical provider if their child needs additional shots. Required school shots are also offered at no cost or co-pays at all Alachua County Health Department sites during regular business hours. The main office located at 224 SE 24th St., Gainesville, offers a walk in clinic,MondaythroughFriday, 7:30 a.m. to 4 p.m.The phone number is352-334-7950. The Health Department site in the City of Alachua is by appointment only. The Alachua clinic can be reached at386-462-2542.
# # #
Email editor@
alachuatoday.com
Add a comment
Add a comment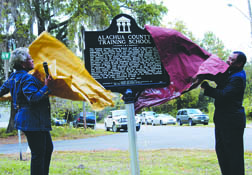 This past Saturday, Nov. 15, the property where the Alachua County Training (A.C.T.) School was located was memorialized by the State of Florida with a permanent official Florida Historical Marker, in acknowledgment of the significance of Alachua County's first school for blacks. Jack Postell approached the school board in 1920, inquiring about a school for black children. The school board told Postell he would need to raise $10,000 to build a school. Postell and his delegation raised the funds in two years and the school became operational in 1922. The entire history of the school can be read on the sign located at the corner of Northwest 141st Street and 158th Avenue in Alachua. President of the A.L. Mebane High School Alumni Association, Gussie M. Lee, said, "It's important to retain that history in the minds of not only black children, but the community of Alachua and people that may come into our area."
Add a comment
Add a comment
ALACHUA – The City of Alachua must decide whether it wants to join an ordinance passed by the county last year regulating the sale and use of electronic cigarettes.
Last December, the Alachua County Commission voted 4-1 in favor of an ordinance outlawing the sale of electronic cigarettes, or e-cigarettes, to minors. The controversial aspect of the ordinance also prohibits using the devices anywhere smoking a normal cigarette is prohibited by state law.
It also forbids open displays and self-serve sales of the devices.
The ordinance only applies to unincorporated parts of the county, unless a city chooses to opt in.
An e-cigarette is a battery-powered device that heats up a liquid solution, vaporizing it to simulate the experience of smoking. The cartridges containing the solution come in a variety of flavors, including nicotine and nicotine-free varieties.
County attorney David Wagner gave a presentation to the Alachua City Commission at the meeting on Monday, Jan. 27 to provide them with information on the ordinance and the nature of e-cigarettes so it could decide if it wants to opt in.
E-cigarettes are consistently increasing in popularity, Wagner said.
"These things are catching on," he said. "You would think it would be regulated."
Currently, e-cigarettes are not regulated by any organization.
The devices can be used indoors, and create no smoke, only vapor. The odor dissipates quickly, unlike tobacco smoke.
"The term of art is 'vaping,'" Wagner said.
The concern, he said, is that no studies have been done to determine if secondhand exposure to the vapor is harmful. Wagner also pointed out there is still uncertainty about what exactly is in the liquid being vaporized.
Susan Baird was the only county commissioner to oppose the ordinance, saying there isn't enough evidence of harm to support banning the use of the devices in indoor areas where smoking cigarettes is prohibited by law.
The City of Hawthorne has already agreed to be a part of the ordinance. Micanopy will consult with the local business community before making a decision, Wagner said.
Alachua doesn't need to make a decision right away, he said, it will have several months to decide whether it wants to be a part of the ban.
# # #
Email cmckinney@
alachuatoday.com
Add a comment
Add a comment