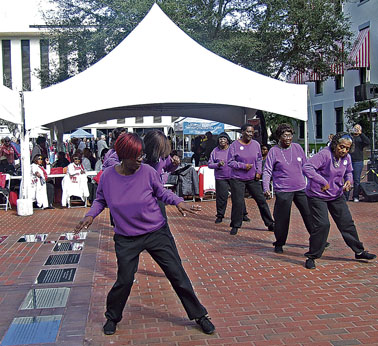 ALACHUA -- Last Wednesday our local seniors traveled to the Florida State Capitol in Tallahassee for Senior Day. Groups from all over the Florida attended. Alachua's own World Famous Cha Cha's stole the show once again. They were the first act to kick off Senior Day, and as always, they put on quite a show.
Santa Fe Youth Basketball finished up their fourth week of games. We are now at the halfway mark for games before the end of the 2016 Season. The leading scores for last week are Donald Green – 10 points – Conestogas 12U, Ny'Ron Jenkins – 9 points – Campus U.S.A 12U, Darrius Powell – 8 points – Masonic Lodge 14U and Dylan Lloyd – 9 – points Alachua County Today 10U.
Next week Santa Fe Youth Basketball will host games at both Hal Brady Recreation Complex Gym and First Baptist of Alachua's gym this Saturday. Come out and support our local youth.
# # #
Email community@
alachuatoday.com
Add a comment
Add a comment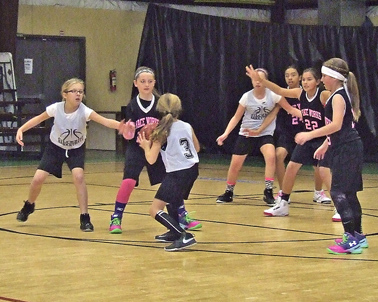 Week three for Santa Fe Youth Basketball (SFYB) was a cold and busy day this past Saturday, Jan. 23. Games were hosted at the Hal Brady Recreation Complex gym and the gym at the First Baptist Church of Alachua. A combined 18 games were played between the two facilities. A special "thank you" goes to C.J Burroughs and the entire staff at first Baptist of Alachua for assisting SFYB.
Fellowship Church hosted their third annual resolution 5k/xc run walk event on Alachua's Legacy property from 9 a.m. to 12 noon this past Saturday. The funds collected will be used for families in need of food and clothing from the Alachua, High Springs and Fort White area.
Also, the Dollar General Distribution Center employees hosted a flag football tournament at the Hal Brady Recreation Complex soccer fields. Several games were played from 9 a.m. to 1 p.m.
Coming up this weekend is the High Springs 3v3 2016 Coed Soccer Tournament.
Where: High Springs Sports Complex
Age Groups: 6U, 8U, 10U, 12U, 14U, 17U and Adult (18+).
Entry Fee: $75 per team.
Extended Deadline: Friday, Jan. 29.
Contact Robert: This email address is being protected from spambots. You need JavaScript enabled to view it. or call 561-670-9311.
Come out and support your local youth!
# # #
Email community@
alachuatoday.com
Add a comment
Add a comment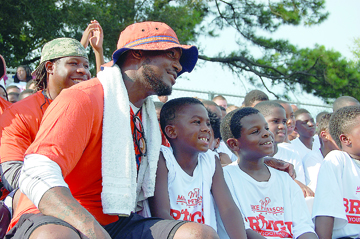 AARON BRAND/Alachua County Today
Mike Petersen invited local football players to his Bring It! camp.
BY AARON BRAND/Today Reporter
ALACHUA — Former Gator and NFL linebacker Mike Peterson knows that there are many parallels between football and life. Beneath a blistering sun at the Hal Brady Recreation Complex on Friday evening, the Alachua native hosted his 13th annual "Bring It" football camp, designed to teach kids valuable lessons on and off the field.
The central theme to Peterson's July 10 camp was that hard work pays off. Peterson and his brother Adrian, a former NFL running back himself, worked hard and enjoyed lengthy NFL careers.
Football camps led by former college and NFL players or coaches are not rare. But what made Peterson's camp special is that it was held in small-town Alachua and was 100 percent free for those attending.
"I remember all these camps where they charge this amount of money and there was no way I would dare ask my mom and dad to go to one of those," Peterson said. "So I always said when I get the chance, I'm going to have my own camp, invite my own NFL guys and not charge a penny."
Players like Teako Brown, Michael Clayton, Cornelius Ingram, Keith Kelsey, Travis McGriff, Alex Smith, Marcus Stroud, Gerard Warren and George Wynn volunteered as coaches as more than 150 campers went through four quarters of football-related training activities designed to teach them about the game in a fun way.
In the coaches meeting before the camp began, Peterson told his former teammates that Alachua was special to him and his brother, and that the most important thing was to make the day special and fun for the kids.
Adrian, a former Chicago Bear and eight-year NFL veteran who played in Super Bowl XLI, said that doing the event in Alachua was very important to him and his brother.
"It's a homecoming," he said. "Growing up, we didn't have this. We saw guys on TV, but that's as far as it went. We didn't get to be coached by them; we didn't get to give them a high-five. I think when you're successful, if you don't give back, I don't think it's worth it."
After posing for a group picture and a pre-game talk with the campers in the endzone, game day began the same way it does in NFL stadiums: A rigorous and spirited stretching routing led by the coaches to help prevent injury and boost morale.
In the first quarter, campers alternated between four training stations, designed to help get and keep in shape. Push-ups, sit-ups and agility exercises made fun by doing them alongside athletes who have made it to the top.
"Who thinks they can beat me in a push-up contest?" Current Cincinnati Bengals tight end Alex Smith asked the kids at his station.
Smith also taught kids some receiving routes and threw them the ball. Smith's team competed against former Gator and NFL wide receiver Travis McGriff and former NFL receiver Michael Clayton's group in a first-to-ten-catches game.
Smith, who used to host football camps in the Bahamas where his dad is from, said that events like this are important to small communities.
"When it's a small community like this and they see that so many people from around this area have been successful, I think that gives other people hope that they too can also be successful," he said. "Just coming back and bringing guys that have been where these kids have been at one time and made it where they made it, I think that definitely gives them something to work for."
In the second quarter, the focus shifted to offense. Running back drills with Adrian Peterson and former Jacksonville Jaguars defensive tackle Marcus Stroud.
"Keep that ball high and tight," Stroud told the campers as they ran towards him. "Don't let me strip it from you."
At station No. 1, campers learned how to throw the ball from Cornelius Ingram, a former NFL player, Gator tight end and Hawthorne High School quarterback. Ingram is also about to begin his first season as Hawthorne's head football coach.
"Before the camp I was looking around at all the local talent that's passed through here," Ingram said. "Mike and Adrian come from Alachua; I come from Hawthorne; Gerard Warren comes from Lake Butler; Mike Nattiel comes from Newberry. These are all small-town guys who made it big and had successful careers."
Defensively, campers were taught the proper way to tackle by hitting tackling dummies. At another station, the kids were taught defensive-line techniques to get around offensive linemen and reach the quarterback.
Three-time All-Pro defensive tackle Marcus Stroud led defensive line drills while Peterson held linebacker drills. Between the two men are three Pro Bowls, more than 1,300 tackles and 50 sacks.
After the final whistle blew, Peterson gathered everyone in the endzone for his closing remarks as the sun began to set on a memorable day for the campers.
"The most important thing to making it to the NFL is school work," Peterson said. "If you remember one thing, remember that."
After the football portion was over, the players and kids hung out at the Hal Brady Recreation Complex and ate pizza from Dominos and barbeque from Sonny's.
Camp Director Jill Thomas noted that the event wasn't just about football, but also had fun activities for everyone.
Add a comment
Add a comment
Details

Published on

Sunday, 18 October 2015 18:43

Written by Special to Alachua County Today
Hits: 3769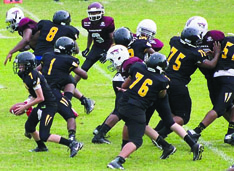 The Mebane Mustangs football team is on a tear this fall season. Come out and see for yourself on Tuesday, Oct. 29 at 6 p.m. at the Hal Brady Recreation Complex, J.D. Malphurs Football Field in the city of Alachua.
Add a comment
Add a comment
NEWBERRY – As the story goes, the Newberry Wolverines lost their first battle in 1934 when they failed to win enough votes to become the official Newberry High School mascot. But they plan to make a comeback this summer.
Stephen Whitmer, a 23-year-old NHS football alumnus, is co-owner of the Newberry Wolverine Football Club, a new semi-professional football team forming out of Newberry.
He is the current offensive line coach for the NHS varisty football team and played center for the Panther's varsity squad from 2005 to 2009. He is a former player for Trinity International University based in Chicago and several semi-professional teams that include the Levy County Raiders in Williston, the Racing Raiders out of Wisconsin and currently the Gainesville Gators.
He said that because Newberry was able to bring 1,500 people to each high school game, it fuels the desire for fans to see the same guys who played on Friday, play on Saturday as well -- and he's not the only one.
Devonte Flagg, a 19-year-old NHS football alumnus, explained that he is just ready to get on the field. "I'm excited," Flagg said. "I think we're going to be great."
Whitmer said that the Wolverines don't just plan on being an average team.
"I know with bringing myself and Yance Enoch aboard, we'd be able to bring a team to Newberry that we could be proud to show our family," Whitmer said.
Whitmer and former NHS quarterback Enoch, held an informational meeting at The Blend coffee shop on May 1 for potential players to become familiar with each other and gain an understanding of the new team's plans.
Tryouts are on June 7, Whitmer said, with the first exhibition game kicking off on Aug. 16 at 3 p.m. at the Easton Sports Complex in Newberry where the Wolverines will take on the Florida Patriots of Tampa . The remainder of the regular-season games might be played at the Newberry High School practice field or another location to be determined.
Brad Carman, director of Parks and Recreation for Newberry, said the Wolverines, " Have rented the football field area for an exhibition game."
Whitmer said he's trying to get the word out about the Wolverines to the community. He has reached out on social media with a Newberry Wolverine Football Club Facebook page that has garnered 426 likes and he represented the Wolverines at Relay for Life and the Spring Fling Festival events. His goal is to get the City of Newberry to sponsor the team.
"Everywhere we go, we get positive feedback," Whitmer said.
The NHS student government is looking into sponsoring the Newberry Wolverines, according to Whitmer.
NHS teacher Jordan Marlowe, a sponsor of student government association, said that they might find a way to sponsor the team or at least help them find other sponsors.
"The Newberry High School student government association is looking into ways to help the Newberry Wolverines," Marlowe said. "I think it has potential to be a positive impact on the community for some good family fun."
Whitmer said that being sponsored would be a big step for the team.
"Ideally, we would love to get sponsored totally for $10,000," Whitmer said. "That would allow us to get buses for away games, and allow us to buy jerseys for the players."
Whitmer explained that the Newberry Wolverines belong to the United Football Federation, which currently consists of 32 teams. Other semi-professional football leagues in Florida that include the Florida Football Alliance and Elite Amateur Football League consist of about another 30 teams.
"There's a huge market that not many people are aware of," Whitmer said.
He is hoping that his coaching experience will translate to helping the players on the Wolverines. "I'm trying to better people. We're trying to better the community and better the players."
Whitmer added that he is taking his past experiences with semi-professional football teams to ensure that the Wolverines will be a success. He said that he is modeling the Wolverines after the Racing Raiders, a semi-professional team out of Wisconsin.
"They provided accident insurance for the players, paid for all of their home and away travels, paid for uniforms, and overall, they were just a big community," Whitmer said.
He believes they can raise the $5,000 needed so players don't get drilled with player fees. Whitmer is relying on community support to make the team a reality.
"With Newberry being such a close-knit community, such a football-driven community, with their support, sky's the limit for this team," Whitmer said.
# # #
Email editor@
alachuatoday.com
Add a comment
Add a comment