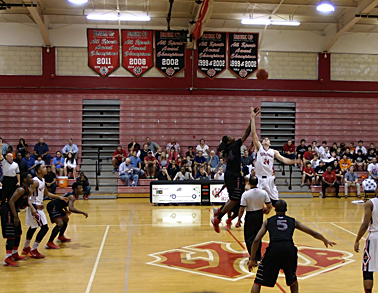 ORLANDO – The gym was filled to the rafters with eager fans. They were all screaming, donning their black and red, as the Santa Fe Raiders took the floor Friday night in Orlando on Feb. 21.
Their opponent: Lake Highland Preparatory School. Their mission: to win the Regional Championship in the State playoffs for boy's basketball.
Both teams had made it to be one of the final eight clubs still alive for the state title, with Santa Fe being just one of two publics schools making it this far. Lake Highland came into the game the defending state champions in their division, and highly favored on their home court.
The starters for the Raiders were Denarius Harris, Darius Jackson, Marcus Archer, Nate Curtis and Kham Taylor. The scene was set for a classic "David vs. Goliath" matchup between the two schools.
In the Bible, David takes down the giant and is adored as the resounding hero. However, in this game, David would swing and miss. Santa Fe would play their hearts out for the full game, but it would prove to just not be their night in the end. The final score would read 74-36 in favor of Lake Highland, but there were still times when the game looked to be competitive.
To start the first quarter, four out of the first seven shots the Highlanders made were from beyond the arc, and they jumped out to a sizeable lead early. Michael Albertson accounted for three of these early treys for Lake Highland.
"We knew what they were going to do, they have tremendous shooters," said Elliot Harris, head coach for Santa Fe. "They are a really great team."
Another challenge for Santa Fe was their handling of Lake Highland's full court press. From the start of the game, Raiders saw defensive pressure the entire length of the court, and it forced a lot of turnovers and bad shoots, Harris said.
"We've been pressed plenty of times this year, and we handled it much better all season," Harris said. "I think we let the moment get a little too big early, and we missed some opportunities. We made poor decisions, taking bad shots instead of getting layups."
Santa Fe fought back, but still ended the first period of play down 30-11. Lake Highland made a total of eight three-pointers in the opening quarter.
The Raiders made a mini-run to start the second quarter, but Lake Highland responded with more bombs from deep.
The first half came to a close with the Highlanders up 50-19. Things were looking tough for the Raiders, who seemed outmatched on this night.
To start the second half, Santa Fe looked to have a little bit of life still, but quickly things returned to the theme of the night, when Lake Highland continued their hot shooting. The Raiders almost kept up with the Highlanders, getting outscored by only three in the period, but still ended the third down by more than 30.
Lake Highland would finish the game with a total of 15 three-pointers, the most they made all season long.
It was a quick fourth quarter with the running clock already in action, but the boys from Santa Fe never stopped fighting.
"I am so proud of my kids," Harris said. "We have faced some adversity this season, both on and off the court, but they never stopped believing, and it's quite an accomplishment making it to where we have."
The Raiders' season would end on that February night in Orlando, though they left the gym with their chins held high.
"We didn't play our best game tonight, and I think they know that too," Harris said. "But these last two weeks we have really come together as a team, and we finish the year as one of the eight best teams in the state, and that is something no one can take away from us."
# # #
Email ahart@
alachuatoday.com
Add a comment
Add a comment
Details

Published on

Friday, 07 February 2014 20:53

Written by Special to Alachua County Today
Hits: 3950
Gainesville, FL – The Santa Fe women's basketball (9-14, 4-4 MFC) team hopes the third time is a charm when the Florida State College-Jacksonville Blue Wave makes the trip to Gainesville on February 8 for a 2:00 PM tip. FSC-J has defeated the Saints twice this season by scores of 75-74 and 95-50, the latter taking place in Jacksonville. A SF win would go a long ways towards helping clinch a FCSAA State Tournament berth.
The men (17-7, 1-3 MFC) host FSC-J at 4:00 PM. This is the second meeting between the two teams this season. Santa Fe traveled to Jacksonville on January 22 and defeated the Blue Wave 74-56.
Add a comment
Add a comment
GAINESVILLE – The Santa Fe Saints were back to their winning ways Saturday October 12, taking two games against local travel ball team the Florida Hardballers. SF won the first game 9-2 and the second 12-0. Saints pitchers held the opposing hitters to just seven hits and three walks over both contests, striking out 15.
The Santa Fe hitters were equally as successful, pounding out 14 hits to go along with 18 walks.
Jared Shouppe led the offense, going 4-for-6 with a homerun and four RBI. Andrew Fears was perfect at the plate, finishing 4-for-4 with a double, RBI and three runs scored.
Kevin Martin, Jack Charleston, Walker Burgess, Connor Rooney, and Derek Vail all tossed two scoreless innings apiece. Nick Dibartolomeo, Chase Julius, Jose Batatino, and Jeremy Graf pitched one scoreless inning each.
The Saints are back in action on Wednesday, October 16 against St. John's River State College at 2:00 PM in double header action. SF dropped a pair of games to the Vikings on October 9.
# # #
Add a comment
Add a comment
Details

Published on

Sunday, 02 February 2014 20:45

Written by Special to Alachua County Today
Hits: 4324
GAINESVILLE - The scheduled season opening road double header for the Santa Fe baseball team against South Georgia has been postponed until Monday, Feb. 3 at 2 p.m. due to weather.
The Saints will now open their season on Sunday, Feb. 2 at 1 p.m. against Indian River State College. Santa Fe President Dr. Jackson Sasser will throw out the ceremonial first pitch.
Add a comment
Add a comment
Details

Published on

Wednesday, 09 October 2013 16:39

Written by Special to Alachua County Today
Hits: 7472
TALLAHASSEE – Saturday, Oct. 12, visitors and residents are invited to partake in a saltwater license-free fishing day. On this day, the requirement to have a recreational saltwater fishing license is waived. All other regulations such as seasons, size limits and bag limits still apply on these license free days.
Florida Governor Scott said, "License free days serve as a great opportunity for families to enjoy the incredible fishing opportunities that Florida has to offer. This Saturday, families will have even more of an opportunity to head to the coast, enjoy time with their loved ones and catch some fish."
This is the first of four additional license-free days that were added to the calendar earlier this year by the Florida Fish and Wildlife Conservation Commission (FWC), the Florida Legislature and Gov. Scott. The addition of these four days, including two saltwater and two freshwater days, means a total of eight license-free fishing days a year: four saltwater and four freshwater.
In 2013, Nov. 30 will be an additional saltwater license-free fishing day and Nov. 29 and Dec. 28 will be additional freshwater license-free days.
The Commission also set dates for license-free fishing days for 2014 and beyond, allowing anglers to plan fishing trips in advance.
For 2014 and beyond, the following dates will be license-free fishing days:
First Saturday and Sunday in June

First Saturday in September

Saturday following Thanksgiving
First Saturday and Sunday in April

Second Saturday and Sunday in June
To make these events accessible to as many people as possible, the FWC generally planned these dates around holiday weekends and national events.
The June freshwater and saltwater dates fall during National Fishing and Boating Week. Highlighted by significant national media coverage and public events, this week promotes boating and fishing across the country as fun and healthy outdoor activities. The first Saturday in September is often Labor Day weekend, when many families will be out on the water, enjoying one of the last big fishing weekends of summer.
# # #
Add a comment
Add a comment