ALACHUA – Tables of students with their noses pressed into books at the Santa Fe High School Media Center witnessed Dollar General give the school a Christmas gift.
"I was thinking they were giving us $500 or $1,000, so that's what I was anticipating," said principal Elizabeth LeClear.
The gift turned out to be $40,000.
"I couldn't even speak," LeClear said.
On Wednesday Dec. 18, Dollar General distribution center director, Alain Arrendell, went to Santa Fe High School and held a presentation looking at the importance of literature and reading.
At the end of the presentation, the school was awarded with a black and yellow box containing a check for $40,000 to go toward literature. The goal, he said, was to create a "reading revolution."
Right now, the school has not discussed what books will be bought with the money, said Santa Fe High School principal LeClear. However, the staff plans to get together after the holidays and determine the use of the money.
LeClear said she hopes a portion of the money will go to expanding the nonfiction literature section in the media center and purchase technology like iPads and Nook tablets.
Any program or use that promotes literacy is acceptable, Arrendell said.
The amount of money donated to the school took LeClear by surprise.
Dollar General has supported Santa Fe High School in more than just its literacy program, but also has helped sponsor teams and worked with the teachers during Teacher Appreciation Week.
Media specialist Georgeana Moore said that while Dollar General has been supportive of the high school throughout the years, she never expected the school to be awarded so much money.
"It just knocked our socks off," she said.
Dollar General chose Santa Fe High School because of its proximity to Dollar General stores in Alachua. Arrendell said it also had to do with the number of parents of students at the school that work at the stores.
# # #
Email eotero@
alachuatoday.com
Add a comment
Add a comment
NEWBERRY – The Alachua County Sheriff's Office (ACSO) is investigating Newberry Fire Chief David Rodriguez for possible misuse of city funds, a criminal offense in which he could be charged with fraud, grand theft and inappropriate actions by a public servant, according to ACSO public information officer Todd Kelly.
The City of Newberry released a statement that the city's fire chief, David Rodriguez, was placed on indefinite administrative leave without pay.
Rodriguez was not available for comment.
City Manager Keith Ashby said his initial concern about the invoice in question was triggered by a request for payment to a different vendor than is usually used by the city. After paying the vendor, he started to check further into the invoice and found some things that concerned him, he said.
"I contacted our city attorney, who advised me to contact the Alachua County Sheriff's Office," Ashby said.
"Essentially, the allegation is that the fire chief, who is also in charge of code enforcement, did services at his son's house in High Springs in the amount of $2,800, and then had the tree service paid by the city as if it was a code enforcement work," ACSO's Kelly said.
Because this type of work would normally be under the authority of the codes enforcement officer, it did not initially raise any red flags, he said.
Deputy Robbie Parker of the ACSO is assigned to the case and forwarded information from his investigation to the State Attorney's Office for review, Kelly said. As of Monday morning, Dec. 23, no charges have been filed against Rodriguez, he said.
Ashby explained why Rodriguez's suspension was without pay.
"When I see evidence that the city might be out some money, I like to make sure we are not out more money," he said. "My job is to protect the city, and that's what I am doing."
If the investigation shows that Rodriguez did nothing wrong, the city will pay him back for the time he was on suspension.
Rodriguez, who joined the city as a part-time fire fighter in 1991, worked his way up through the ranks and has been fire chief for around 15 years. In his position, he supervises 16 employees.
The city's news release also stated that Lt. Ben Buckner has been appointed as the interim fire chief, and said that the city hopes to resolve the matter as quickly as possible.
In a special commission meeting held on Thursday, Dec. 19, commissioners authorized auditor Ronald Whitesides of Purvis Gray & Co., the city's new auditors, to conduct an investigation into any invoice issued by Rodriguez in an amount of $1,000 or more for the past year in an attempt to see if the flagged invoice is the only one in which funds may have been misappropriated.
Whitesides will present a letter of agreement to the city commission on Monday, Jan.13 to finalize their agreement. Cost for the auditor's invoice was set to not exceed $15,000.
# # #
Email cwalker@
alachuatoday.com
Add a comment
Add a comment
ALACHUA – Television makes their job look easy, but for forensic investigators, finding the right evidence isn't always elementary.
A film crew went to the CSI Academy in Alachua last November to make a documentary about the influence the character of Sherlock Holmes had on the field of forensic science.
"How Sherlock Changed the World" is a new two-hour documentary that premiered Tuesday, Dec. 17 on PBS. The film shows how investigators protect crime scenes from contamination and search for evidence invisible to the naked eye, and how Sir Arthur Conan Doyle's books changed the way people think about solving crime.
"Sir Arthur Conan Doyle's contributions to forensic science through Sherlock Holmes are pretty well established," said Tony Falsetti, dean of the CSI Academy. "It's always a good reference point for the students."
The books got people thinking about ways to link suspects to a crime other than witness testimony, details such as fingerprints, blood patterns and even looking at the soil composition on someone's clothes, he said.
At least one development in forensic science was predicted by Sir Arthur Conan Doyle.
In the first book, "A Study in Scarlet," Holmes develops a test to determine if a stain is actually blood, or if it is some other substance. Forensic investigator Karen Smith said that influenced scientists to develop such a test within several years of the book being published.
The documentary was filmed partly in Alachua County due to the academy's size and space available to recreate scenarios, Falsetti said.
"The one thing we have here is a tremendous hands-on approach," he said. "All of our training is scenario-based."
Smith, who was an instructor at the CSI academy, was the catalyst who brought the film producers and the Alachua institution together.
When she saw a flyer from the film crew advertising the search for a good location, she reached out to Robert Rush, CEO of the academy, to ask him if he would be willing to let them use the facility.
Rush was thrilled at the opportunity, Smith said.
"Overall, it was a win-win for everybody," she said. "The facility, bar none, was perfect for filming this documentary."
For the film, Smith recreated the crime scene of a murder that took place in Jacksonville in 2005 to showcase her investigative techniques.
After the fatal stabbing of Linda Volum, her team inadvertently discovered a bloody toe print linking Donald Banks to the crime. Banks was sentenced to death in 2008 and is currently on death row.
"Sherlock used a lot of deductive reasoning, taking pieces and making a whole out of it," Smith said. "That's what we do at crime scenes."
The film is a good chance to clear up misconceptions about forensic science, she said.
"Sometimes, you're not going to get the evidence you want," Smith said. Fingerprints aren't always on the weapon and DNA isn't always easily found on the scene of the crime, she said.
"There's not always a smoking gun," she said.
By educating the public through documentaries like this, society will have better-educated juries who will make more informed decisions, Smith said.
Though the film premiered on Tuesday, Dec. 17 from 9 p.m. to 11 p.m., Smith got an advance copy on DVD.
"It was really fun to watch and the Victorian recreations are really well done," she said.
"Any time we can bring education to the general public about what we do, I think that's a really good thing," Smith said.
# # #
Email cmckinney@
alachuatoday.com
Add a comment
Add a comment
HIGH SPRINGS – The Gainesville Police Department (GPD) arrested a High Springs man over what it said was a gang-related shooting in an east Gainesville apartment complex.
Buddy Jabre Lee Fleming, 19, of High Springs, turned himself in after a warrant was issued the day after a man was shot in the leg at the Forest Green apartment complex on NE 15th Street in Gainesville on Dec.11.
Fleming fired two shots from a handgun, according to police reports. One round hit the victim in the leg, causing a non-fatal gunshot wound, and the other round hit the window of an occupied apartment, but caused no injuries.
While Fleming denies any involvement in the shooting, GPD detectives said they have multiple witnesses who place him at the scene.
Fleming also posted on his Facebook page that he intended to shoot the victim between 5 p.m. and 6 p.m. on the day of the incident. The shooting took place at 6:02 p.m., according to police records.
Witnesses at the scene said they saw Fleming and two other men flee to the northwest corner of the apartment complex and enter a dark Ford Mustang just before leaving the scene.
Fleming, who also faces a charge of drug possession, has been charged with attempted first-degree murder and firing or throwing a missile into a dwelling, according to Alachua County jail records.
"Our investigation has revealed that this was an incident of gang-related violence," said GPD spokesman Ben Tobias. "We are thrilled that no innocent bystanders were hurt or killed in this act of senseless violence."
Fleming made first appearance in court on Dec. 12 and remains in the Alachua County Jail as of Tuesday, Dec. 17. His bond was set at $100,000, with $75,000 for attempted murder and $25,000 for firing a weapon. No court date has been set, according to court records.
Police also arrested Trevis Avante Strawder, 19, Gainesville, believed to be Fleming's associate, after witnesses also placed him at the scene of the shooting. Strawder was an inmate at the work release center off NE 39th Avenue and was arrested for escaping.
A third man who witnesses say was with Strawder and Fleming during the shooting also fled the scene and has not been located.
# # #
Email cwalker@
alachuatoday.com
Add a comment
Add a comment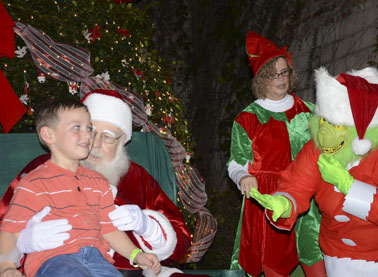 CARL MCKINNEY/Alachua County Today
A child sits on Santa's lap as the Grinch closes in. The line to get into Theatre Park and see Santa spilled into the streets of downtown Alachua filled with parents and eager children.
ALACHUA – Moonlight glowed over the Christmas tree as the crowd gathered for the celebration.
For over a decade, the City of Alachua has marked the start of the season with their Christmas tree-lighting ceremony. This year, the festivities were held on Friday, Dec. 6 in the lot next to Bev's Burgers in downtown Alachua.
For many of the residents, it is a tradition that brings everyone together.
"I'm so proud to be able to work and live in a city that honors such a tradition," said City Manager Traci Cain.
Cain and other members of the community gathered around the tree in the hour before the ceremony started at 6 p.m. Children played football in the lot, while residents and city officials gathered and talked with traditional Christmas songs playing in the background courtesy of a local music teacher.
Dustin Adams, music teacher at Alachua Elementary, volunteered to sing and play songs on his keyboard after the last three musical acts had to cancel, said Diana Felver, event planner for the city.
When Felver first moved to Alachua, every business and organization did their own Christmas celebration. The city's event gives them a chance to all take part in the same ceremony, she said.
"It brings the community together," she said.
Carolers from the United Methodist Church also lent their talents to the celebration, while costumed characters such as the Grinch made appearances to entertain the children.
"I just like seeing the joy on their faces," Felver said as she talked about how she likes watching the youths enjoy the evening.
Around 6:15 p.m., City Manager Cain began her speech welcoming the community and introducing the city commissioners and Mayor Gib Coerper to the crowd.
As she spoke, police sirens could be heard in the distance.
Recreation director Hal Brady led the crowd to the tree to begin the countdown. The police sirens grew closer.
When the countdown hit zero, the Christmas tree came to life with lights, as the sirens nearly arrived at the lot.
Police pulled up after clearing the way for a horse-drawn carriage carrying a special guest.
Santa Claus and Mrs. Claus arrived to greet the children.
"It was very cold coming through Canada," Santa said.
The carriage went on its way to Theatre Park where the young event-goers could sit on his lap.
Youngsters waited in line to spend a moment with Santa and tell him what they want for the holiday. As they left, they were awarded a box with a toy in it.
They took their prize with smiles on their faces as they walked, skipped and ran out of the theatre with their parents, talking about what's coming for Christmas this year.
# # #
Email cmckinney@
alachuatoday.com
Add a comment
Add a comment