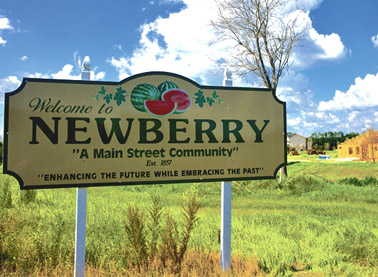 NEWBERRY – Commissioners took the first step in the voluntary annexation of 23 parcels equaling slightly more than 1,000 acres into the City of Newberry at a commission meeting held Monday, July 25.
"Part of this is an attempt to begin to fill in some of our enclaves," said Mayor Bill Conrad.
Two of the larger parcels to be annexed include Komoko Ranch at 171.38 acres and Loncala at 160 acres. Properties over 10 acres in size comprise 973.46 acres and properties under 10 acres comprise 49.61 acres, according to City records.
"We attempted to incorporate some of these properties into the City earlier at the property owners' requests," said Conrad, "but ran into roadblocks dealing with the County. We were trying to take steps to fill in enclaves and pockets of finger-like properties, but I guess the County wanted us to fill in each enclave completely at one time.
"With the repeal of the Boundary Adjustment Act in February, the City now can deal directly with the State," he said.
"These annexations, when they are completed, will not extend the City's property farther out, but will increase the compactness of the City by eliminating enclaves and pockets," said Bryan Thomas, Newberry's Planning Director.
"The entire process, start to finish, could take as long as a year to complete as there are several steps in the process," said Thomas. "The City will have to amend the Comprehensive Plan and Future Land Use Map. Multiple State agencies have to review everything and may have questions or comments the City will have to address."
The properties will also have to be rezoned from a designation of County to City.
The City is currently comprised of 34,176 acres, according to Thomas.
In other City business, City Attorney Scott Walker informed commissioners that internet sweepstakes cafes are not legal according to Florida Statutes. The City is therefore not licensing one business already situated on U.S 27/41 and is to deny the requests of two other businesses seeking licenses in Newberry.
# # #
Email Cwalkerr@
alachuatoday.com
Add a comment
Add a comment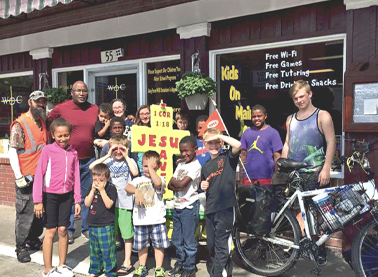 Photo special to Alachua County Today
Witnesses of Christ Ministry in downtown High Springs serves the community with food and other necessities.

HIGH SPRINGS – Children and families have found a safe haven the past three years at Witnesses of Christ Ministry, located next door to The Great Outdoors on Main Street.
The non-denominational program, headed by Pastor Sammy Nelson, Jr., is a U.S. Department of Agriculture Commodities distribution location. In addition to providing food, it also provides and seeks donations to provide furniture, appliances, clothing and other necessities to assist families in need.
After helping many people, the Ministry now has a need of its own. Its current location is being sold. Nelson and his group of mostly children will be out on the street if funding for a new location cannot be found.
Nelson has been looking for a location large enough to house the growing ministry and provide a safe place for children to do their homework, learn and play safely.
Both Nelson and his wife, Belinda, spend time tutoring children from third grade through college for free. Nelson has a doctorate in ministry and his wife has a Masters in counseling and has been a middle-school counselor.
Although Nelson has scouted out a great location next to the Civic Center, the cost to get into the building and pay the rent each month is much more than Nelson currently receives in monthly donations.
"I believe the Lord will help us find the money to move us to the new location," said Nelson.
Some of his friends and colleagues believe the Lord could use a little help answering Nelson's prayers.
The location he has in mind was at one time a day care center and most recently the location of Born Too Late Antiques. The building has a full kitchen as opposed to the kitchenette Nelson has at his current location. It has an alarm system and people have to be buzzed in the back, which provides an additional layer of safety. The building is 2,080 sq. ft. inside with three bathrooms, a basketball court and ping-pong tables. The property encompasses the equivalent of five building lots and is entirely fenced, which Nelson appreciates for safety reasons.
"The location is perfect for us," said Nelson. "We will be able to serve more children from that location and will have easy access for the children and families using the field across the narrow street.
"The building's current owner is willing to hold the mortgage at eight percent interest," he said. "Down payment will cost us $20,000 and an estimate of deposits is another $2,000. Monthly payments of more than $1,300 will be required to satisfy the mortgage."
Many of Nelson's children have performed at municipal and community events in the High Springs area over the past few years. The summer feeding program has served more than 5,500 meals for children, and Nelson and his group have provided a youth ball for Valentine's Day, a hoedown for Father's Day, and Thanksgiving and Mother's Day dinners.
"We try to instill pride in young ladies and teach both young men and young ladies how to treat each other respectfully," said Nelson. "The Valentines Day Youth Ball is one way we help to accomplish that goal. Young ladies are escorted to their seats; chairs are pulled out for them. Both young men and young ladies learn the proper etiquette and what is to be expected of each. It's a great teaching tool, and the children love learning about the proper way to treat each other."
Anyone interested in learning more about Witnesses of Christ Ministry may stop in when they are downtown, access their Facebook page at https://www.facebook.com/wocmhighsprings or call Nelson at 352-284-8535.
# # #
Email Cwalker@
alachuatoday.com
Add a comment
Add a comment
C.M. WALKER/Alachua County Today
L-R: Displaying a proclamation recognizing July and August 2016 as Water/Ways months in High Springs is Water/Ways Exhibig Program Director Kristina Young, High Springs Mayor Byran Williams, museum sponsor Jim Tatum and High Springs Historical Society Secretary Diane Karris.

HIGH SPRINGS – The focus of the July 14 city commission meeting was primarily concerned with money, and lots of it.
"The city has received a $3.3 million grant from the Suwannee River Water Management District (SRWMD)," said Ed Booth, City Manager. He vowed to have a full presentation specifying exactly how the grant funds will be allocated at the Aug. 11 commission meeting.
"Some of the projects are driven by the SRWMD and some by us," said Booth.
One of the first projects to get funded will be the hook up of Camp Kulaqua to the city sewer system. "The water management district has been trying to get this hook up done for some time," said Booth.
"We also need to put in a wetland area for drainage, which will also be part of the grant."
The city expects two more subdivisions to begin construction in the near future, which will provide 300 more homes on the city sewer system. "Those homeowners can amortize payment of their impact fees over a three-year period," said Booth. "Once everyone has been hooked up to the sewer, it should begin to pay for itself in three years."
Booth expects to have the city engineer at the Aug. 11 meeting to help answer questions about what projects will be tackled in what order.
Although the budget hasn't been officially passed for the upcoming fiscal year, the City has listed several items with a good chance of approval. "The millage rate will remain at 6.1326 mills with a rollback rate of 6.0785," said Finance Director Jennifer Stull.
A new bucket truck, two new police cars and an F-250 pick-up truck with lift to service grinder pumps are suggested new purchases.
In addition, $14,000 has been allocated for recreation to pay for installation of a fence and to drill a well for irrigation. Also budgeted for recreation is a $10,000 part-time position to inspect park equipment and oversee repairs.
Employees will see a three percent raise and department heads will see an increase in their salaries of $5,000 each.
In other city business, commissioners approved an agreement to extend High Spring'' Community Redevelopment Agency (CRA) allotment. The current CRA agreement with Alachua County is set to expire in December 2016, following 30 years of operation.
The new agreement was unanimously approved by city commissioners after the Alachua County Board of County Commission (BOCC) approved and executed the agreement on July 5 of this year. In sending the agreement to the city, County Manager Lee Niblock suggested the City allow the County to manage the fund. The City Commission approved the agreement without including the suggested change.
The agreement allows the city to extend the CRA for a term of 15 years. The City may choose to further extend the CRA for an additional term of 15 years if it first obtains affirmative approval of the additional term extension from the County.
The agreement will provide the CRA with $75,000 from Alachua County, the same amount from the City of High Springs and an additional $40,000 for the next five years to repay the CRA fund for inadvertently neglecting to put in matching funds into the CRA account from 2002 to 2006. During those four years, the amount that should have been paid into the CRA fund from the City's coffers amounts to more than $199,000, according to CRA Director Amanda Rodriguez.
Tabled items to be considered at the Aug. 11 meeting include consideration of establishing a standard agreement for city-owned buildings regarding utilities, a reduction to the speed limit on West U.S. Highway 27 and a request to establish a memorial garden in front of the High Springs Fire Department.
# # #
Email Cwalker@
Alachuatoday.com
Add a comment
Add a comment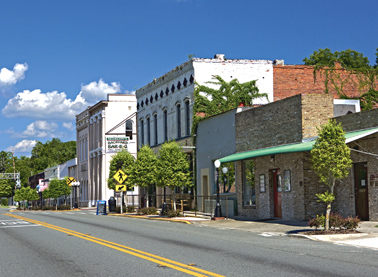 BOB BROWN/ Alachua County Today

Newberry is the fourth most populous community in Alachua County with approximately 5,500 residents. Due to expanding its city limits over the last two decades, Newberry is now geographically amost the same size as Gainesville, the county's largest city.

NEWBERRY – During the peak of the Florida phosphate boom in the 1890s, communities quickly sprang up throughout Western Alachua County as entrepreneurs scrambled to capitalize on the mineral's abundance in the area.
Towns appeared that boasted populations of hundreds, surrounding a swath of mines that dotted the landscape. As fast as they began, though, once bustling communities just as rapidly disappeared when the phosphate industry collapsed with the beginning of the First World War.
Afterward, whereas the names of Wade, Dutton, Lexington, and Haile were mostly forgotten, Newberry endured.
Incorporated in 1895 and surrounded by 14 phosphate mines, Newberry began strictly as a community dedicated to that industry. It found longevity beyond phosphate as it was able to transition into a focus on agriculture.
"We're an agricultural community to this day," said Newberry Mayor Bill Conrad. "We want to keep those values. Our vision for the future is to grow in the areas of agri-business, agri-tech, and focus on utilizing the railroad that runs through our community."
The most popular civic event is the annual Watermelon Festival, which began in 1946 as a way of celebrating the most profitable crop for many local farmers.
The focus on land extends beyond agriculture, though. While Newberry is only the fourth most populous community in Alachua County with approximately 5,500 residents, it has rapidly expanded its city limits over the last two decades to the point that it is geographically almost the same size as Gainesville.
"We're the 19th largest city in Florida by landmass out of about 900," said Conrad, "but our population density is one person per seven acres."
Aside from acquiring land, Conrad said an emphasis for the City is on enjoying it, as recreation is a major community emphasis. The Easton Sports Complex has a renowned archery center where several Olympic hopefuls and past participants train, while Champions Park (formerly Nations Park) is a vast, 16-stadium baseball tournament venue.
"We also manage Diamond Sports Park in Gainesville," Conrad said. "In all, we have 38 baseball fields. Our philosophy is to have a real robust recreation department."
Conrad said one challenge the City faces is keeping its business growth commensurate with the rapid residential expansion underway in the form of several subdivisions. He noted that population growth for the City is at a rate of approximately five-percent per year.
"We don't want to be a bedroom community [for Gainesville]," he said. "Businesses allow us to keep our taxes low. We've had over 50 businesses come into Newberry in the last six years, and we're working really hard to get more."
# # #
Email Dwisenerr@
alachuatoday.com
Add a comment
Add a comment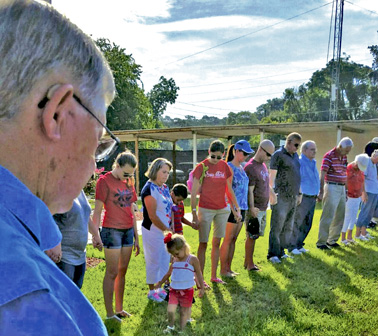 C.M. WALKER/Alachua County Today
Community members surrounding police and other first responders as they were led in prayer at the ceremony.

HIGH SPRINGS – Approximately 125 people joined the High Springs Police Department (HSPD) and other police officers and first responders in a joint community prayer assembly Saturday morning.
The group came together to offer prayers and acknowledge the work performed by all first responders who serve area residents 365 days a year.
HSPD Sergeant Adam Joy, who is also Associate Elder at Anderson Memorial Church of God in Christ, coordinated the gathering, which took place in front of the HSPD building. HSPD Chief Joel DeCoursey, HSPD Executive-Operations Lt. Antoine Sheppard, HSFD Chief Bruce Gillingham, and HSPD Chaplains Pastor Derek Lambert and Evangelist Jessica Hall spoke and offered prayers for police officers slain throughout the United States.
Speakers thanked the community for coming out in support of their police department and peace officers everywhere.
"Even though the recent incidences happened in cities far from Alachua County, we want to pray for all lives lost and morn for their families and friends," said Joy. "We also want to wash peace and healing over them and over our local communities as well.
"We hope to inspire unity and peace to all area communities and foster a healthy relationship between the police and the citizens we have sworn to protect and serve," he said.
One of the most moving tributes came from Chaplain Lambert, First Baptist Church of High Springs, as he read "What are Policemen Made of?" by Paul Harvey.
Near the end of the event, visitors joined hands and surrounded officers and first responders and joined in prayer. Following the event, people stayed to visit with each other, officers and other city officials.
In an effort to make sure everyone remained safe during the assembly, two HSPD police cars patrolled the area and another officer oversaw the event from his perch on top of the Community Center building.
# # #
Email Cwalker@
alachuatoday.com
Add a comment
Add a comment