Details

Published on

Wednesday, 08 January 2014 23:57

Written by Special to Alachua County Today
Hits: 507
HIGH SPRINGS – From the Monster Mash to Jingle Bells, from the walking dead to Santa Claus. How did a Haunted House in October bring gifts to children in December? It was done through the High Springs Lions Club's (HSLC) Madness and Mayhem 2 Haunted House and Graveyard held this past October, the largest fundraising event held in the history of the club.
The High Springs Lions Club had never before attempted a feat of such magnitude. It took the cooperation from the Lions, a few civic-minded local businesses and other volunteers from the community to pull it off. Over 60 volunteers devoted hundreds of hours planning, meeting, rehearsing and working event nights for one of the scariest haunts in Florida. All of this was done for a good cause.
Recipients of the funds raised from the HSLC Madness and Mayhem 2 Haunted House and Graveyard were discussed and decided at one of the earliest committee meetings. For the past four years, the HSLC had provided underprivileged children with Christmas presents. This year, they wanted to continue the tradition. So, The Catholic Charities Community Outreach Christmas Wishes was one of the charities chosen. The same as the preceding years, Catholic Charities chose the children and provided the HSLC Lions with their gender, age, and Christmas wish list. Names of the children remained anonymous.
A budget of $40 was spent on each child. Members of the Lions club volunteered many hours of their time shopping to fulfill the children's Christmas wishes. Lions Phil and Stephenie Griffith took on the shopping for a family of nine children.
"I spent three hours at Toys R Us and had a lot of fun choosing gifts for the children," he said.
Lion Mark Moomaw's wife, Amy, and their daughter Alyssa, bought gifts for 16 of the 38 children on the Catholic Charities list.
"They spent two days shopping for all those children," Mark said.
The High Springs Lions Club' Madness and Mayhem was an incredibly successful fundraiser and will continue as an annual event to help provide great things, such as Christmas gifts to needy children, for their local community.
# # #
Email editor@
alachuatoday.com
Add a comment
Add a comment
HIGH SPRINGS – After a few hours of driving, the couple arrived at the High Springs Community Theater to a sold-out show. Luckily, the theater was able to find them a seat for the play. Some weren't as lucky.
The High Springs Community Theater finished its three-week run of the play "The Homecoming" last weekend. Each of the nine showings was sold out.
"We had to turn people away," said Arlene Levine, president of the theater.
From Dec. 6 to Dec. 22, people from Lake City to Ocala and everywhere in between came to see the play, said Wanda Roe, who co-directed the production.
The show was inspired by the book "Spencer's Mountain," which also inspired the TV show "The Waltons."
It's about a family struggling to get by in rural 1932 Virginia. The father of a family of eight has to take a job in a nearby community and has not yet arrived home for Christmas. The family is concerned about his absence, so sends the oldest child to brave a winter storm and find him. Along the way, she meets members of the community and learns about them and her father, having her misconceptions corrected along the way.
"It was just a heartwarming message," Roe said.
Wanda Roe co-directed with her husband Pete. The couple wasn't certain about working together at first.
"We weren't sure if we would fight about it," Wanda Roe said. "But we got along great."
The play featured 28 actors from Alachua, High Springs, Gainesville and all around the area.
Working with such a large cast was challenging for the theater that usually deals with 10 actors or fewer, she said. Most of the actors were new to the stage, though there were some veterans.
The cast was comprised of a diverse cross-section of the area, including actors from ages 9 to 72 of multiple ethnic backgrounds.
There were also two students from Santa Fe High School who operated the sound and light boards.
"We could not have done it without everyone working together," Roe said.
Community members from High Springs and beyond pitched in and provided props, costumes and help create the sets.
Throughout the three-week run, 675 people came to see the show, Levine said.
The themes and messages of "The Homecoming" resonated well with the audience, Roe said.
"Family is the best gift of all," she said. "That's the theme that attracted most people to the show."
# # #
Email cmckinney@
alachuatoday.com
Add a comment
Add a comment
ALACHUA – Every year, the best high school football players from Florida and Georgia face off in the Border War Football Game in Valdosta, Ga., and this year, a local star will make the trip.
Tim Deen, of Santa Fe High, is a defensive end, linebacker, tight end and punter for the Raiders. He led the team to a winning season at 6-4, and narrowly missed post-season contention. Deen has proven to be a versatile player all year, and averaged just over 41 yards per punt. The game will take place in Valdosta on Jan. 10.
"Tim is a great kid and very deserving of this honor," said Bill Wiles, Raiders head football coach.
However, the football field is not the only place Tim excels. He carries a 4.1-weighted GPA and is involved in student government at Santa Fe High School as well. Deen is also a multi-sport athlete, as a member of the school's baseball team.
"He represents SFHS and our community with integrity and class. He represents what Raider pride is all about," Wiles said. "Raider Nation is very proud of and happy for Tim."
Deen isn't the only one representing the Raiders in a major event. Sumner Barnard, Cory Jones, Mac Welch and Lee Washington are set to participate in the North Central Florida All Star Football Game to be held at Fort White High School on Saturday, Jan. 18. This is the sixth year the game has been played.
"We are very proud of these young men and are happy that they have the opportunity to represent SFHS on the football field one more time," Wiles said.
# # #
Email ahart@
alachuatoday.com
Add a comment
Add a comment
HIGH SPRINGS – Santa was escorted by a bright red High Springs fire engine and police vehicles, all with lights flashing and the occasional sound of a siren when crossing a busy intersection. The caravan snaked through back roads and highways to make sure everyone on the list received their Christmas gifts.
Each year, the High Springs Police Department (HSPD) organizes a gift-giving program for people in the community who need help with Christmas gifts. This year, "Operation Holiday Cheer" received gifts throughout the collection period, which began the Monday after Thanksgiving.
Most of the donations of unwrapped children's gifts showed up about one week before Christmas, said HSPD project organizer Stephanie Hall.
"We were beginning to get a little worried that we would not have enough gifts for all of the people on our list," she said. Ultimately, not only did the High Springs community step up to help out, but the Live Oak Fire Department also showed up with eight-and-a-half large boxes of toys.
"They collect gifts for 400 kids each year and actually had some items left over after they completed their gift distribution," Hall said.
On Monday, Dec. 23, a white city truck and a trailer, filled to overflowing with puzzles, games, dolls, clothes and many other requested items, left the HSPD with Santa riding in the front seat. All were bound for 12 area homes. Santa had a list of 38 children to deliver presents to. In addition, restaurant gift cards and other items were delivered to parents as well.
Five children shrieked with delight at one house where Santa handed out bicycles, scooters and other gifts. The bearded, gift-giving gentleman received more than his fair share of hugs from grateful children and their moms for his efforts. In some areas, neighbors came out to see what all the fuss was about.
One family, which had suffered a tragedy this past year, received tickets to an adventure park, along with hotel and food accommodations and a gas card.
At another home, a mother of five had been diagnosed with a medical condition and had numerous surgeries in the past year and a half.
Jeanette Avila, 42, is the mother of four boys, ranging in age from 6 to 15 years old, and one 5-year-old girl. She is a stay-at-home mom and her husband works as a police officer at a local hospital. Between the cost of all the surgeries and her ill health, the Avilas were not able to provide their children with the type of Christmas they would want. This is the second year Operation Holiday Cheer has chosen to help this family with gifts for their children.
"I surprised the kids and did not tell them they were going to get a visit from Santa and all these toys. They were absolutely thrilled," said Avila, who praised the HSPD and organizer Stephanie Hall for all her work to make this event happen for her children. Bicycles for the older children and scooters for the younger ones were a big hit with her kids.
"They have been racing around the house with the scooters and are just having the time of their lives," she said.
Hall obtained the list of families who needed help from the High Springs Community School and from the day care owners in High Springs.
"After we received the abundant supply of boxes from Live Oak, we realized we had more than we needed for the original list of families," Hall said. "That's when we contacted the day care centers in town. We wanted to make sure everyone who needed toys this year had them."
# # #
Email Cwalker@
alachuatoday.com
Add a comment
Add a comment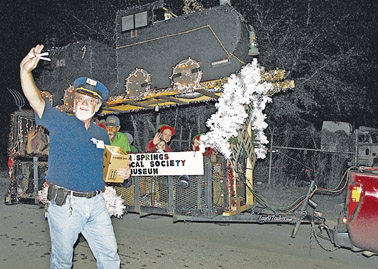 Photos by BETSY THOMASON/special to Alachua County Today
The High Springs Historical Society participated in the rescheduled parade.
HIGH SPRINGS – After the first attempt was met with unfavorable weather, High Springs residents were fortunate enough to have warmer temperatures and no rain for their second attempt to hold their High Springs Chamber of Commerce Annual Twilight Christmas Parade on Saturday, Dec. 21.
The parade began promptly at 6 p.m. with Police Chief Steve Holley taking the lead.
Because of the last minute date change due to inclement weather the previous week, some of the 42 original participants were unable to paricipate.
"With drop-outs and add-ins, the parade ended up with 34 participants this year," said Betsy Thomason, chamber event coordinator. "We were just pleased it didn't rain and we had so many people lining the streets to see the parade."
Mayor Byran Williams and city commissioners all rode on golf carts provided by Camp Kulaqua. Additional participants included the North Florida Antique Tractor Club, the High Springs Bicycle Motocross Racing Group, the High Springs Historical Society, Cowboy Church and other clubs and civic organizations in the area.
The special guest of honor every year is Santa Claus, who was seen near the front of the parade this time in a Polaris, donated for the evening by TH Building Group. After the parade ended near Railroad Avenue, Santa visited with boys and girls to find out what they each wanted for Christmas this year.
Serving as the parade grand marshal was Gloria James, 2013 High Springs Citizen of the Year. The parade began at the corner of Northwest 2nd Avenue and U.S. Highway 441 and proceeded east to Main Street. The colorfully lit floats, cars, horses and bicycles traveled south along Main Street to Railroad Avenue. Former city attorney Tom DePeter acted as the master of ceremonies and announced each group as they approached the viewing stand. Eyvonne Andrews, the chamber's economic development coordinator, assisted DePeter as the official spotter.
This year's parade theme was "A Pioneer Christmas." Gift certificates to the first, second and third place parade entries were provided by Estate Solutions's owners Chris Mckee and Roy Hammond. First place went to the Alachua Hare Krishnas in the amount of a $100 gift certificate. Second place went to the High Springs Historical Society Museum in the amount of a $50 gift certificate and third place went to the High Springs BMX Club in the amount of a $25 gift certificate.
# # #
Email cwalker@
alachuatoday.com
Add a comment
Add a comment