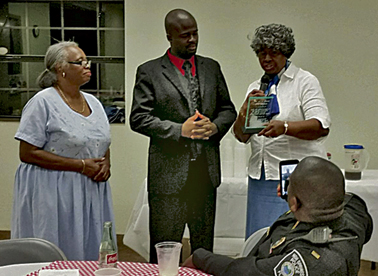 Photo special to Alachua County Today
L-R: High Springs Chamber President Eyvonne Andrews, High Springs Police Officer Adam Joy and last year's award winner Gloria James.
HIGH SPRINGS – Crinoline slips under full skirts, bobby socks, rolled up jeans and ponytails were the required dress of the evening as the High Springs Chamber of Commerce held this year's Annual Banquet with a 50s Sock Hop theme.
Disk jockey Michael Loveday provided themed music as Chamber members celebrated Friday at St. Madeleine Family Life Center. Hamburgers, hot dogs, ice cream sodas and floats were on the menu in keeping with the 50s theme.
One of the highlights of the evening was the presentation of an engraved Citizen of the Year plaque given to High Springs Police Officer Adam Joy. Joy, who hadn't known he'd been nominated for the honor, was surprised when his name was announced by last year's Citizen of the Year, Gloria James.
"I was told by Lt. Antoine Sheppard to be there and dress nicely," said Joy. "It was a great surprise to be named for something like this. I am very honored and humbled to receive this plaque because everything I do is to help the community and not for recognition."
Joy joined the High Springs Police Department in December 2010 after serving four years at the Alachua Police Department. He is also Assisting Elder of Anderson Memorial Church of God in Christ.
Joy organized the city's first National Night Out, the first breast cancer survival walk and the first 5K Splash Run to earn money for scholarships for graduating high school seniors. Joy and two other officers also founded the local Explorer Program.
Through his organization, Global Impact Charities, Inc., Joy is responsible for a $500 donation of school supplies for community children, donating gift cards to Santa Fe High School teachers for Teacher Appreciation Week, providing free hot breakfasts for elementary and middle school students at bus stops on their first day of school, and providing free meals on Thanksgiving in Alachua, High Springs and Gainesville.
When it's time for report cards, parents of children who have made the honor roll in Alachua and surrounding counties can enter their child's name in a drawing to receive gift cards to local restaurants.
Asked how he manages to afford all of these donations, Joy said that people give by either going to his Facebook page, Global Impact Charities, Inc., or his website, www.blessedcharity.org.
"People who know us know we actually do what we say we're going to do with their donations and can review photos of some of our project results," he said. "If they choose to donate, that's great and we really appreciate any help they offer.
"The best thing about going to the website is that people can see what events we have participated in and what we have planned for the future," said Joy. "There are lots of constructive activities people can get involved in, and we welcome all who are interested in participating with us."
# # #
Email Cwalker@
alachuatoday.com
Add a comment
Add a comment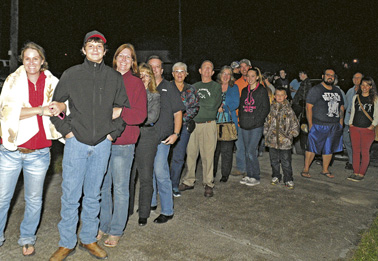 Photo by RONN JONES special to Alachua County Today
"Star Wars" is back, and now it's official that High Springs has its share of devotees as evidenced by the winding line outside the Priest Theater and the "sold out" sign in the ticket window.
HIGH SPRINGS - A "SOLD OUT" sign was posted Saturday evening at the front of The Priest Theater in High Springs for that night's feature film, "Star Wars: The Force Awakens."
"A number of people arrived on Friday evening to purchase tickets for the following night," said one observer. The Priest Theater's Facebook page listed that night's movie as "Sold Out" by 2:47 p.m. that afternoon.
"The Force Awakens" has shattered U.S. and European box office records since its December 18 release, accumulating almost $2 billion in sales worldwide.
Although some theaters raised the price of admission for this record-breaking movie, tickets were at a flat rate of $5 for all showings at the Priest.
The movie, rated PG-13, is scheduled to run again this weekend.
Times are 8 p.m. on Friday and Monday, and 6 p.m. on Saturday.
The box office opens 30 minutes prior to show time for ticket purchase. Advance and reserved tickets are available at Sheffield's Hardware, 50 N. Main St. or call 386-454-2200.
This is a cash only theater with no provisions for debit/credit card payment.
The science fiction and fantasy, action and adventure runs slightly over two hours.
The Priest Theater is located at 15 N.W. First St. in High Springs, around the corner from City Hall
# # #
Email Cwalker@
alachuatoday.com
Add a comment
Add a comment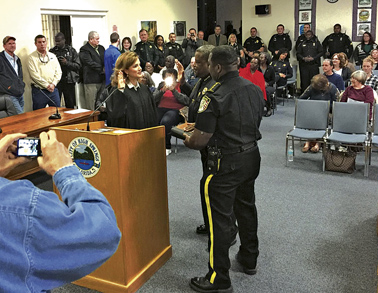 Alachua County Judge Susanne Wilson Bullard (left) swears in Joel DeCoursey (center) as Chief of the High Springs Police Department. The ceremony was conducted at the beginning of the Jan. 14 High Springs City Commission meeting. Alachua Police Chief Chad Scott (right) looks on. City and county dignitaries, as well as officers from Alachua County Sheriff's Office, the High Springs and Alachua Police Departments turned out to witness the event.
Add a comment
Add a comment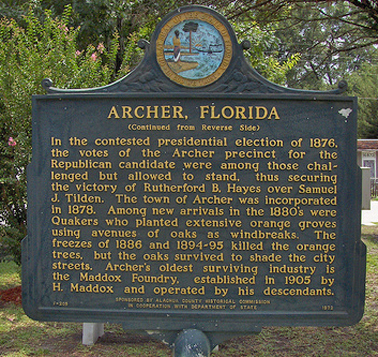 ARCHER – The Archer City Commission selected Zeriah Folston as its new city manager at a special meeting last Thursday.
The sole reason for the convening was to interview the five finalists for the job, and Commissioner Doug Jones said Folston was the best of a good group.
"When he got to the podium, it was pretty obvious who our choice would be," Jones said. "He filled the room with energy."
The city remains in contract negotiations with Folston but hopes to be finished within the next two weeks.
Folston is currently the Assistant Supervisor of Elections for Alachua County. His previous experience spans a wide spectrum within city and county government, ranging from work as a budget analyst with the county to an internship with former Alachua City Manager and current State Representative Clovis Watson, Jr.
Folston was one of an initial 18 applicants that included current Archer Interim City Manager John Glanzer and other city managers from around the state.
Despite his lack of direct city management experience, Folston was the top recommendation of a management consulting service employed by the city according to City Manager Selection Committee minutes from Nov. 20.
Jones said the city commission agreed with the committee once the process moved from looking strictly at resumes to interacting with the candidates personally.
"His energy is infectious, and I am really looking forward to working with him," Jones said. "He has a lot of local experience, having mentored under Clovis Watson when he was manager with Alachua and Randall Reid when he was county manager. And he brings depth of experience and expertise – his budget experience is a huge bonus for the city."
Jones was hopeful that Folston will bring his enthusiasm to bear on Archer's recreation department.
"I suspect he will be very involved in the community," Jones said. "He mentioned many, many times during the interview wanting to get the recreation program really up and running. He has a 14-year-old son and seems to be very active recreationally."
Folston will look to bring stability to a position that has seen rapid turnover over the previous year: former City Manager Al Grieshaber, Jr. and Assistant City Manager John Mayberry both resigned at the end of June following controversy surrounding Facebook posts Mayberry made which drew protests from the local NAACP branch.
Grieshaber was initially replaced on an interim basis by Xavier Bishop, who in turn resigned after only six weeks over family concerns. Glanzer – who had previously served as Archer City Manager from 2009 to 2012 – then replaced Bishop as interim manager while also submitting an application to fill the position permanently.
# # #
Email Dwisener@
alachuatoday.com
Add a comment
Add a comment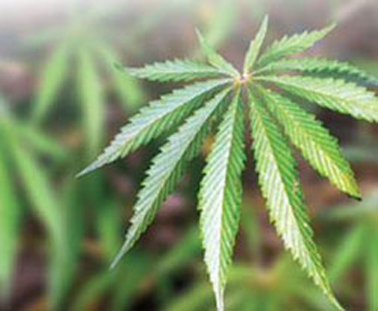 ALACHUA – A medicinal marijuana processing and development facility could soon be located in Progress Corporate Park.
Robert Wallace, owner of Chestnut Hill Tree Farm in Alachua, announced the potential project while presenting a status update on the farm to the Alachua City Commission Monday night.
The Florida Senate passed a bill legalizing medicinal marijuana in June 2014, and the City of Alachua has been working on its land development regulations to address the change in state law since January 2015.
Wallace said Chestnut Hill is one of only five businesses in the state licensed for growing medicinal marijuana.
"We have a deadline of Feb. 7 to apply for a license to cultivate," he said. Chestnut Hill will start growing marijuana in early spring at its farm located off NW 94th Avenue in Alachua.
Wallace stated that preparation of the farm has been extensive, including the construction of 10,000 sq ft of state-of-the-art greenhouses and expansive security measures.
"We have a 10 foot high Fort Knox-style fence with three rows of concertina wire and are working with GRU and Shands to install cameras for surveillance, and will also have 24-hour on-site security," he said.
After the marijuana is grown and cultivated, it will need to be processed into medicinal form.
"Our processing plan is for medicine that is very unique and is a new development in combination with some international pharmaceutical companies, and we would like to put our processing facility at my property at Progress Park – essentially a pharmaceutical development operation," Wallace said.
Wallace made a point to emphasize that the kind of marijuana that will be grown is low-THC, non-psychoactive and high-CBD designed very specifically for use in patients with epilepsy and particular forms of cancer.
The site for dispensing the medicine will be in Gainesville at a location next to Shands Hospital.
# # #
Add a comment
Add a comment