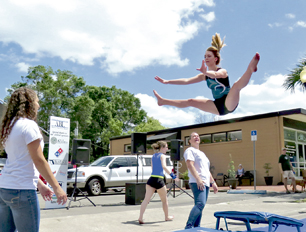 RAINA BARNETT/Alachua County Today
Breezy spring weather offered a perfect backdrop for high flying gymnasts to show off their skills Sunday at the Alachua Main Street Spring Festival.
Add a comment
Add a comment
ALACHUA, ARCHER and NEWBERRY – City elections Tuesday night saw a former commissioner defeat a former mayor in Archer, while incumbents won by wide margins in Alachua and narrowly in Newberry.
Alachua's electorate voted heavily in favor of incumbents Mayor Gib Coerper and Commissioner Robert Wilford as they defeated challengers Tamara Robbins and Linda Lundy 627 to 242 and 568 to 290 respectively. Coerper garnered 72 percent of the vote while Wilford captured 66 percent.
Coerper and Wilford both said they look forward to continuing the work they have been involved in with the City Commission in Alachua.
"I truly appreciated getting to meet new people, walking through neighborhoods [while campaigning]," Coerper said. "The positive outlook everyone has is outstanding. They're excited to be here, to live in Alachua."
"It's been an honor to serve, and I look forward to Alachua's future, with continued development along I-75 and many bright days ahead," said Wilford. "We've had the same commission in place since 2012, and we work well together even though we don't always agree."
Archer's Joan White received 65 percent of the vote in her 154 to 82 victory over incumbent Commissioner Doug Jones. White said she attributes her win to a strong group of supporters.
"They stood by me," she said. "They went with me, and they were honest and were straightforward with the citizens."
White said she feels she resonated with voters because she wants to make citizens involved in the government process again.
"They [citizens] didn't feel like they were a part of it," she said. "They didn't feel like they were getting the respect that they deserved, they didn't feel like they were being listened to and I think that's what did it."
Newberry City Commissioner Rick Coleman defeated challenger Darryl Bowdoin by a margin of 277 to 199, representing 58 percent of the vote. Coleman was thankful for a positive campaign experience and was eager to continue work the commission has been involved in, including going into a contract with the Alachua County Sheriff's Office after the city opted out of the Alachua County Law Enforcement Municipal Service Taxing Unit.
"It was great," he said. "My opponent worked very hard and ran a very clean race. I just want to thank the citizens of Newberry for having the confidence to vote me back in."
Other commissioners were reelected to new terms Tuesday night without facing opposition. In Archer, Commissioners Marjorie Zander and Fletcher Hope will begin new four-year terms, while Commissioners Monty Farnsworth and Jason McGehee begin new two-year terms in Newberry.
# # #
Email editor@
alachuatoday.com
Add a comment
Add a comment
Details

Published on

Wednesday, 20 April 2016 19:21

Written by Special to Alachua County Today
Hits: 835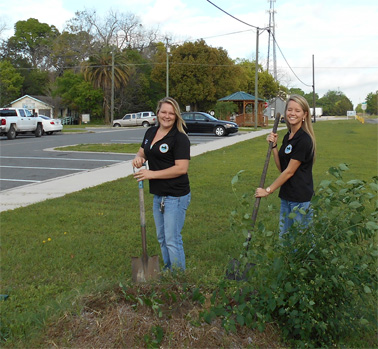 AMANDA RODRIQUEZ/Special to Alachua County Today
The City of High Springs celebrated Arbor Day on March 31. City staff planted a new tree along the town's Main Street to replace one that had died. L-R: Pictured are City of High Springs employees Courtney Odum and Julia Holbrook, who planted the tree near downtown Railroad Avenue.


Add a comment
Add a comment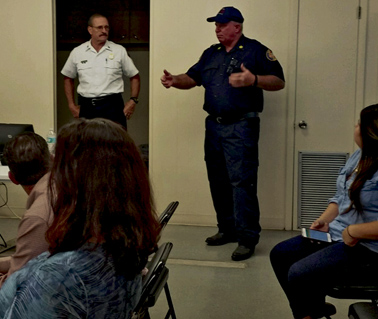 CM WALKER/Alachua County Today

Town of LaCrosse Fire Chief Paul McDavid speaks about fire rescue services at the joint Alachua County and Town of Lacrosse meeting.
LACROSSE – Alachua County is considering taking over fire/rescue services throughout the county and may institute a fire services assessment to help pay for it.
Following a joint meeting between the Town Council in the Town of LaCrosse and the Alachua County Board of County Commissioners (BOCC) Monday night, it appears likely that the county will soon be asked to vote to take over fire/rescue services throughout Alachua County.
The only exception pointed out at the meeting would be the City of Gainesville, which in the past has declined to combine forces.
The option is under consideration due to the recent notification by Insurance Services Office, Inc. (ISO) that each fire/rescue station must have four trained fire fighters at each structure fire.
While Alachua County can easily produce the number of trained personnel at a structure fire, the Town of LaCrosse and many other small municipalities cannot afford the cost of the additional staff.
The Town of LaCrosse recently raised its millage rate by three points to increase revenues to keep its station in operation.
"We dug deep into our reserves to also pay for needed equipment and a new roof on our fire station," said Laura Ling, the town's financial officer.
Even if the town raised its millage rate to the maximum rate of 10, taxpayers in the 1.5-sq.-mile town still could not generate enough money to pay for the additional cost of a fourth person on duty 24/7.
Although using volunteer firefighters was discussed, several negative issues concerning the town's ability to attract volunteers were brought up.
Many LaCrosse residents work in Gainesville, which is 15 miles away. "Many volunteers could not be counted on to be able to leave their jobs and show up at a structure fire within a reasonable period of time," said LaCrosse Fire Chief Paul McDavid.
He also noted that several of his current paid firefighters had to travel from other towns to work for his fire department. "We have paid firefighters who live in St. Augustine, Crystal River and Jacksonville. It's not that easy to get volunteers in the local area," he said.
Without that fourth firefighter, the town's ISO rating would go to 10. "At that level, some insurance companies may not write an insurance policy at all. If they do, it will be at a very high cost to the property owner," said McDavid.
However, Alachua County's ISO rating is three. If the county took over serving the 82-sq.-mile area that LaCrosse currently covers, insurance rates would drop for properties within five miles of the fire station.
"I think having the county provide fire/rescue services would be a real benefit to the people within District 22," said McDavid. "Our citizens would have advanced life support, which we currently can't provide. I realize I am supporting the very thing that will put me out of a job, but my concern is for the well being of the people in this community, not my job."
During a short presentation earlier in the evening, Alachua County Fire Chief Bill Northcutt explained that the county's Municipal Service Taxing Unit (MSTU) assessment was put in place for the short term to allow the county time to determine how much fire services cost and how to pay for them. "If we did that study now, we might be able to implement a fire services assessment for everyone in the county, thereby reducing the MSTU assessment. In addition, many of our citizens would enjoy a reduction in their insurance rates."
Although the county has previously discussed placing a fire station closer to Alachua's Turkey Creek subdivision, Northcutt said, "That's a problem for the City of Alachua." He contended that LaCrosse is the place to put a new station if the BOCC decides to take over providing the service.
"The cost to build and staff a new fire station is estimated to be more than $800,000," said Northcutt.
The next BOCC meeting to discuss fire services is scheduled for May 10.
# # #
Email Cwalker@
alachuatoday.com
Add a comment
Add a comment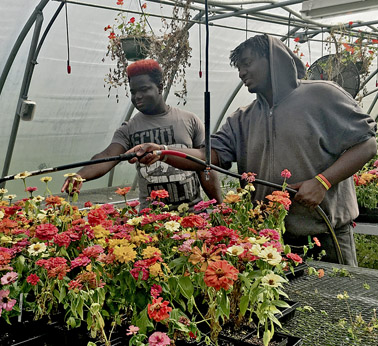 KRISTINA ORREGO/Alachua County Today
L-R: Access Biology Program student Quandrick Johnson and Santa Fe High School senior and Academy of AgriScience student Willie Curtis work in the school's land lab, which consists of the hydroponics unit, the shade house and the greenhouse.
ALACHUA – Santa Fe High School's Academy of AgriScience and the Access Biology program give students the opportunity to work in a greenhouse at the school, growing various types of crops and flowers.
JoAnn Brady, who teaches horticulture at the Academy, said students grow vegetables like tomatoes, cucumber, squash, lettuce and cabbage, and flowers like celosias, marigolds, dahlias, gazineas and vincas.
Brady said the greenhouse is open to students in the agriculture education program of all different levels.
The Access Biology program is geared toward students with disabilities and gives them the chance to take a hands-on approach to learning biology with a focus on plants according to Ryan Pass, an ESE teacher for the program.
Students work in the classroom, the greenhouse, and in the garden to learn about raising vegetable plants from the seed until they produce, he added.
Pass said that his students benefit from working in the greenhouse by learning the importance of teamwork as well as their own individual responsibilities to make sure they complete their tasks in the one hour a day they have at the greenhouse.
"Some students are being exposed to plants, gardens, and greenhouses for the first time," he noted. "Some students are getting their first taste of the various vegetables we are growing."
The horticulture land lab consists of the hydroponics unit, the shade house and the greenhouse. The vegetables are grown hydroponically while the azaleas are grown in the shade house.
Brady said this is the first year that students have attempted to grow vegetables using the Verti-Gro Hydroponics system.
"It's a mixture of water and fertilizer that flows to the top of [the] tubes and drips down into each one of the pots, " Brady said. "There's no water being wasted and there's no water draining off the bottom."
In addition to growing the plants themselves, the students also oversee the sales of the plants and track expenses. Anyone in the community can stop by the school between 9 a.m. and 3 p.m. to purchase plants in the agriscience department, Brady said
"We really encourage the public to come in and support the program because [that's] the only way to keep producing these type of plants," she said. "We have to buy the containers. We have to buy the media–the soil. And all of that costs money…By selling these, it just keeps our program going."
She said that, along with teaching students employability skills, they also utilize math skills that are valuable in other aspects of life.
"When we're figuring out landscaping, figuring out how many plants to put in an area–it's all using math," she said.
Brady also praised the Academy for its vet assisting program, as well as the exposure it gives students to different facets of the agricultural industry.
The school's land lab, which covers about 19 acres, is used to tend 20 cows that produce calves each year, she said. Students work with these calves to eventually display at state and youth fairs.
"So they get the advantage of working with the cattle [and learn] about the beef industry, she said.
She stated that the program is also an excellent way for students to become involved in the National FFA program. Only students in agriculture education classes are eligible.
The FFA is a fantastic leadership organization, giving students the opportunity to compete in contests – from prepared public speaking to livestock judging – to visiting and touring different agricultural industries, she said.
"It's skills that they will use in life no matter what profession they choose," Brady said.
# # #
Email Korrego@
alachuatoday.com
Add a comment
Add a comment