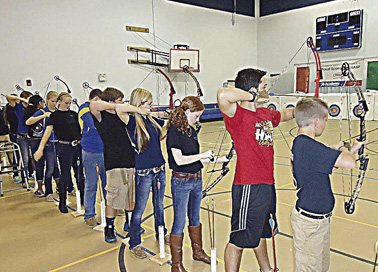 NEWBERRY – Cameron O'Byrn, 11, and around 800 other students came to the Easton Newberry Sports Complex on Saturday, Feb. 22 with a goal in mind.
"I was hoping to at least beat my personal record of 262," O'Byrne said.
He did just that at The National Archery in the Schools Program's State Tournament.
The event featured more competitors than ever.
"I am very pleased with the turnout," said Steven Robbins, Florida Fish and Wildlife Conservation Commission archery programs coordinator.
A member of the Viking archery team from Lakeland Christian School, O'Byrne shot his personal best.
"I got a 278, so I feel really cool about that," O'Byrne said.
Everyone was feeling the heat under their bow and arrow.
"The hardest part was halfway through. I started sweating and shaking," O'Bryne said.
Practicing archery for about a year and a half, O'Bryne said the tournament taught him a lot.
"I learned how hard it is to just keep calm and shoot better," he said.
The event also offered the opportunity for shooters to practice 3-D Archery. Bear Archery, located in Gainesville, donated two bows as prizes for the tournament- one for the top girl and boy in the 3-D archery.
"That's what they were shooting for," Robbins said.
There were up to 24 shooters on a team, and four of the members had to be of the opposite gender.
"The trip here has been real exciting for us. Our kids shot real well. Archery definitely gives children who aren't super athletic a sport that they can compete in," said Julie Walker, a parent in the stands rooting for Price Middle School in Putnam County.
The top 12 scores in each team were counted as the overall score for the team. There were first, second, and third place trophies for the teams with the highest score in the elementary, middle and high school division. The elementary level only includes the fourth and fifth grades.
There were also trophies available for individual males and females in the elementary, middle and high school levels with the top scores. All of the trophies were decked out in this year's logo – the bald eagle.
"Friends and family were all here to support the students," Robbins said.
Before the top scores were revealed, the coaches from each team got to shoot against each other.
"There's a lot of noise. Everybody has their favorite," Robbins said.
This event gave the coaches something to look forward to during the tournament.
Robbins also said archery is a good way for students to stay motivated in school.
"I hear stories about students who weren't doing well in school, but they love archery. They needed to keep their grades up to stay on the team. And, they did that," Robbins said.
To Robbins, there is something special about archery.
"If a child cannot dunk a fast ball, or run like crazy, they can still walk out there and hit a bull's-eye," Robbins said.
To him, the sport of archery is open to anybody who wants to give it a try. It makes the students more self-confident, he said.
"It empowers them. Now, how does that sound?" he said.
# # #
Email berickson@
alachuatoday.com
Add a comment
Add a comment

ALACHUA –A Georgia man was arrested in Gainesville after buying around $540 worth of merchandise from the Lowe's in Alachua with fraudulent checks.
The Gainesville Police Department notified the Alachua Police Department about the arrest of Ricky Demond Dyer around a 4:45 p.m. on Wednesday, Feb. 19.
Dyer went to Lowe's in Alachua and purchased $541.66 worth of items several hours before he tried to do the same at a Home Depot in Gainesville.
After Dyer tried to purchase $527.87 worth of merchandise at the Home Depot, store employees denied the transaction because the routing numbers on the check were fictitious.
Dyer tried to leave in a Chevy Malibu. Officer Pat Donnelly stopped him at 4400 NW 20th Street in Gainesville.
Dyer threw a wallet out of the car just before being stopped. It had four different Georgia ID cards with variations of his name and different dates of birth.
He was found in possession of several fraudulent Bank of America checks.
Items from a Sears in Valdosta, Ga. were also found.
Alachua Police Department public information officer Jesse Sandusky was unable to comment, since the investigation is still ongoing.
Dyer is being held at the Alachua County Jail, with a $50,000 bond, according to the Alachua County Sheriff's Office website.
He is being charged with four felonies related to counterfeiting and fraud.
# # #
Email cmckinney@
alachuatoday.com
Add a comment
Add a comment
ALACHUA –A group of high school students was asked to present their vision for what the City of Alachua will look like in 100 years.
The workforce will triple, the government will be more automated and Alachua will have a higher quality of life for its citizens, the students said.
The City of Alachua Youth Advisory Council participated in the Florida League of Cities Municipal Youth Council Video Competition and took third place.
The competition was inspired by last year's Viva Florida campaign, which aimed to educate people about the rich history of Florida's cities, said Sharon Berrian, associate director for membership in the area for the Florida League of Cities.
The Alachua Youth Advisory Council presented their award-winning four-minute video discussing the future of Alachua at the Alachua City Commission meeting on Monday, Feb. 24. They were then given a trophy and a check for $250 from the Florida League of Cities.
"We will see major increases in the arts and culture realm," a student said in the video.
In addition to looking forward toward the city's future, the youngsters also recounted the past. They talked about important events and monuments in Alachua's history, including the incorporation of the city in 1905 with a population of just over 500.
The video pointed to the Sid Martin Biotech Incubator and Alachua's sports programs as major drivers of growth, with agriculture still being a central force of the economy. It predicted the proliferation of more museums and public facilities.
Berrian congratulated the students on winning third place.
"It is a wonderful accomplishment for your youth council," she said.
The Alachua Youth Advisory Council will go to the annual League of Cities convention in Agust where their project will be highlighted again.
# # #
Email cmckinney@
Add a comment
Add a comment
ALACHUA –When Alachua City Commissioner Gary Hardacre's children graduated, they had to leave town to find a job, he said at an Alachua City Commission meeting. The next generation may be more fortunate, as another 164 jobs are coming to the city of Alachua.
Coqui Radio Pharmaceuticals Corp. selected Alachua as the site for a new facility for designing, constructing and supplying medical isotopes.
Over 10,000 hospitals worldwide use radioisotopes in medicine, mainly for diagnosis procedures, according to the World Nuclear Association. The isotopes are generally injected, inhaled or taken orally, giving off energy that can be detected and tracked by special equipment so doctors can learn more about what parts of the body are failing or diseased.
The 164 jobs will be created over a three-year period, said Assistant City Manager Adam Boukari at the Monday, Feb. 24 commission meeting.
They will range from unskilled jobs to careers requiring doctoral degrees, said Susan Davenport, vice president of economic development for the Gainesville Area Chamber of Commerce. About 87 of the jobs are unskilled or semi-skilled, she said.
Not only will residents of Alachua have more jobs available, but people from all around the area will too, Davenport said.
"It will be a great opportunity for people in the region," she said.
It's a time for Alachua to be on the map and shine, said Alachua Mayor Gib Coerper.
The new 100,000 square-foot facility, with a capital investment of $227 million over the next for years, is the only of its kind in the country and one of only three or four in the entire world, Davenport said. The average annual compensation for workers will be $70,000.
Because there is a shortage of one of the particular isotopes the company will create, Alachua will have a chance to have a major impact on global health, she said.
At the Feb. 24 meeting, the commission approved a motion to offer Coqui a Qualified Target Industry Tax Refund.
Coqui qualified for a $7,000 tax credit for each job that will be created, amounting to $1,148,000.
The program requires a 20 percent match from local government, meaning local government will provide $229,600. The City of Alachua will provide $114,800, with Alachua County providing the rest.
The program was set up by the state to make Florida an attractive environment to business.
In order to be considered, companies have to apply to the Florida Department of Economic Opportunity. There are six criteria. The company has to be in a target industry, demonstrate it will make a material difference in expanding the local community, create at least 10 new full-time jobs or expand an existing operation by 10 percent, pay an average annual wage at least 115 percent of the state or local wages, demonstrate the jobs make a significant contribution to the area and get a resolution passed by local government to commit to providing 20 percent of the refund.
Last year, Alachua-based Encell Technology, which designs high-efficiency batteries, received just a little over $1 million in tax credits from the program.
# # #
Email cmckinney@
alachuatoday.com
Add a comment
Add a comment
ALACHUA – Alachua City Commissioner Ben Boukari, Jr. will be serving another term, after nobody else challenged him in the uncoming election.
Boukari said he likes to think nobody challenged him because people are generally happy with what they are doing on the commission. There might be minor disagreements, he said, but they work together for the good of the community.
The city's qualifying period for the scheduled April 8 election ended at noon on Thursday, Feb. 20. Only Boukari's seat was up for grabs.
Since there were no other races, the April election has been cancelled, according to a press release from the city.
There will be a swearing-in ceremony held on April 14 as Boukari enters another three-year term.
Boukari first ran in 2010, competing with activist Michael S. Canney. Boukari received 633 votes to Canney's 248.
# # #
Email cmckinney@
alachuatoday.com
Add a comment
Add a comment