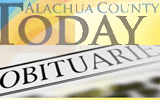 D'Aisha Ravon Porter, born June 29, 1998, was a seventh-grader who attended A.L. Mebane Middle School. D'Aisha accomplished many things despite her daily fight against cancer. She traveled to Washington, D.C. as a safety patrol; she was a cheerleader, basketball player, and a member of St. Luke Y.P.D. choir. She enjoyed modeling; she was a National Achiever, and an Honor Roll student. On June 12, 2012, God called home a
beautiful queen
. He removed her tiara and replaced it with a golden crown "Job Well Done My Child."
D'Aisha leaves to mourn, her father and mother, Wayne Porter, Sr. and Tonetta Porter; four brothers, Larry Porter, Gainesville; Wayne Porter, Jr., Tampa; Danarrio Chambers and Qarin Porter, both of Alachua; a sister, Nishea Porter of Texas; a goddaughter, Tre'Zari Strawder, Alachua; maternal grandparents, Wallace Howard and Christine Howard, Alachua; paternal grandparents, Rudolph Porter, Sr. (preceded her in death), and Irene Porter, Gainesville; four aunts, Wanda (Harry) Cobb of Cocoa; Cheryl Hankerson, Jacksonville; Leila (Calvin) Banks, Gainesville; and Tressa Howard of Alachua; five uncles, Mitchel Porter of Cocoa; Rudolph Porter, Jr., Sidney Porter, Sr., Regan Howard, all of Gainesville and Vonzell (Miyoshia) Howard, Alachua; special friend, Carlos "Bubba" Bartee of Alachua; and a host of other relatives and friends.
Celebration of Life Services will be held Saturday, June 23, 2012 at 11 a.m. at A.L. Mebane Middle School Auditorium, Alachua, with Rev. Jessie Steele, officiating. Burial will be in Mt. Nebo Cemetery, Alachua. Viewing hours on Friday, June 22, 2012 from 1-3:30 p.m. at Pinkney-Smith Funeral Home, 727 NW 2nd Street, Gainesville; from 5-7 p.m. at St. Luke A.M.E. Church, Alachua; and from 10-11 a.m. at A.L. Mebane Middle School Auditorium; no viewing after the eulogy. The cortege will form Saturday at 10:15 a.m. at the home of D'Aisha, 13609 NW 142 Avenue, Alachua. Services by Pinkney-Smith Funeral Home of Gainesville.
Add a comment
Add a comment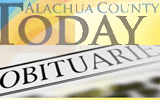 On June 7, 2012, Allie Powell, an accomplished student of Mebane Middle School, finished her work on Earth, and at the age of 13 was promoted to Heaven. Her parents, Jeff and Jane Powell of Alachua, Florida, will further her work here on Earth, as will her siblings, Tyler, Austin and Ashlynn. Other family members celebrating her life are grandparents Brent and Carol Powell of Eunice, La., Woody and Sheryl Trexler of Chapin, S.C., and Aunt and Uncle Tiffany and Monty Heinen of Eunice La., along with seven first cousins.
Allie loved Jesus while she was on Earth and wanted to worship him with a career in dance. She now loves Jesus in Heaven, and dances at His feet.
Having traveled to do missions work in Haiti, Costa Rica and El Salvadore, she had a passion to tell people about Jesus Christ.
To honor her work and to ensure its continuance, donations to the Allie Powell Missions Fund can be made through Fellowship Church of High Springs at fellowshiponline.org.
Add a comment
Add a comment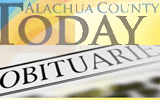 Anna Lee Elliott, 71, of Alachua passed away on May 21, 2012.
She is survived by her husband of 54 years, Donnie Joe Elliott; children, Debra (Richard) Novotny, Donna Elliott, Jeff (Sandra) Elliott; grandchildren, Michelle Gaekle, Cannsus Clarke, Jason Novotny, Donnie Joe Novotny, Jeffrey Elliott, and Lora Elliott; great grandchildren, Brandon Patalan, Austin Gaekle, Taelor Hastings, Corby Moore, Alixandria Moore, and Alyciana Parks.
Visitation was held at Evans-Carter Funeral Home in High Springs on Thursday, May 24, 2012 from 4-5 p.m.
Add a comment
Add a comment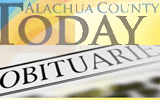 Lucille Foster, 84, was born July 30, 1927 in Hoboken, N.J. and was a resident of Ft. Lauderdale, Fla., for 46 years where she was a successful business women and owner of multiple businesses.
She passed away on May 20, 2012 at Haven Hospice of Lake City, Fla., of complications from her illness.
Ms. Foster loved to walk on the beach. She also loved to play the slot machines at the Grand and was lucky, with the Luck of the Irish, and played until she was diagnosed with Alzheimer.
Ms. Foster and her husband moved back to High Springs to live near the family after Katrina destroyed all their possessions.
Survivors include her husband of 66 years, Howard Foster, Sr.; son, Howard Foster, Jr. (Lyn) of Biloxi, Miss.; three daughters, Gail Kintner of Fort White, Barbara (Kevin) Flannery of Delray Beach, Fla. and Susan (Allen) Mincey of Ft. White, Fla.; nine grandchildren, Howard, Jennifer, Amy, Allen, Heather, Kyle, Sabrina, Debra and Christian and 11 great-great grandchildren Bella, Garrett, Howie, Christian, Jeffrey, Anthony, Julianna, Mia, Emma, Hunter, and Kennedy.
A Celebration of Life Memorial will be held at a later date.
Add a comment
Add a comment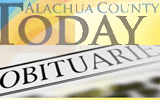 Lonnie Martin Vann, Jr., 82, born February 8, 1930, and resident of Hague, Florida, passed away on May 20, 2012 at his home surrounded by his family. He was a Navy Veteran and meat cutter by trade.
He was preceded in death by his son, Lloyd Martin Vann, and his grandson, Samuel Lloyd Vann.
He is survived by his wife of 55 years, Mary Lou King Vann; children, Bret D. Vann of Orlando, Kent E. (Terie C.)Vann of Alachua, and his daughter April (Mark B.)Vann Floyd; daughter in-law, Linda Rupe Vann of Bellview; seven grandchildren, Wendy, Logan, Jonathan, Benjamin, Susanna, Lauren and Chuck; six great-grandchildren, Devine, Caleb, Zion, Landon, Tyler and Raegan.
A memorial service will be held at Hague Baptist Church, Hague, Florida on Saturday, June 2, 2012 at 11 a.m. Pastor Sam Brown will officiate. A private interment will be at Hague Community Cemetery at a later date.
In lieu of flowers, the family request donations be made to the Hague Baptist Church and Haven Hospice of Gainesville, Fla.
Add a comment
Add a comment