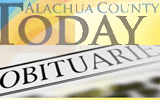 Carl C. George, 92, of High Springs, Florida, died peacefully at home on July 18, 2012. He was the son of Clarence DeWitt (Dee) and Sarah Ellen Evans George.
Mr. George was born at the home of his grandmother, on October 29, 1919, in Belknap, Massac County, Ill. He attended elementary school in Cypress, Ill. and graduated from Goreville High School, where, during his senior year, he drove the school bus and played varsity basketball.
He received his B.S. in Industrial Arts Education in 1941 from Southern Illinois Normal University, where he played varsity basketball. He served in the US Navy during WWII, primarily as an instructor teaching young sailors the skills necessary to repair the damaged aircraft that had returned to the aircraft carriers.
Mr. George worked as a contractor, school teacher, and high school Assistant Principal for Vocational Education. Up until his later years, he was an active member of the Alachua Arabian Horse Association. He thoroughly enjoyed showing his lovely Arabian horses and won numerous awards, including the highly regarded Best in Class and Best in Show. His love of horses and the farm was shared by his many family members and those friends who had the opportunity to spend time at the family's farm.
A member of Westside Baptist Church at his death, he was actively involved in the Lord's work throughout his adult life.
Mr. George is survived by his loving wife of 70 years, Cleona Rea George, four children; Cherry (James) Steinmeier, Derek (Donna) George, Cynthia (Dale) Young and Alicia Patterson; nine grandchildren; Christopher (Christine) George, Cherylynn Young (Randall) Owens, Andrew (Wendi) Young, Justin (Stacy) Patterson, Rebecca (Chase) Miller, Geoffrey (Stephanie) Patterson, Alethea (Ryan) Waldron, Joy Steinmeier, and Joshua Young; and 10 great-grandchildren; Alexandra George, Sara Beth Young, Shadrach George, Kayley Owens, Ryan Miller, II, Trent Patterson, Cole Owens, Sean Michael Waldron, Rusty Miller, and Kinlee Patterson.
The family wishes to especially thank the Emergency Response Teams of Newberry Fire Department and Alachua County Fire Rescue for their gentle loving care and respect during his final hours.
Graveside services were held at Mt. Pleasant Baptist Church, Benton, Ill. on Wednesday, July 25, 2012.
Add a comment
Add a comment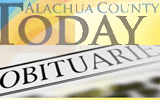 Albert Ray Dowling, Sr., 80, of Flemming Island, Florida went home to be with the Lord on July 17, 2012. He was born in West Monroe, La. on September 17, 1931 to Albert F. Dowling and Raye Christie Dowling.
He grew up in Lake Butler, Fla. and Wilmington, N.C. He was in the National Guard and also served in the Navy during the Korean War. He retired as a firefighter with the City of Jacksonville after 32 years of service in Station 5.
He is survived by his loving and devoted wife Betty Halbrook Dowling of 57 years and four children, Becky (Terry) Davidson, Ray (Darlene) Dowling, Steve (Cyndi) Dowling, and Jeanne (David) Johns; eight grandchildren, Andy and Jacob Davidson, Carol-Anne and Austin Dowling, Tyler and Parker Dowling and Garrett and Julia Johns as well as nieces and nephews.
The viewing was Friday, July 20 at Hibernia Baptist Church, Flemming Island, Fla., followed by funeral services at the same location on Saturday, July 21 at 11 a.m. with Rev. Scott Yirka officiating. Archer Funeral Home in Lake Butler, Florida was in charge of the arrangements. Graveside was at North Pleasant Grove Baptist Church Cemetery in Alachua, Fla. In lieu of flowers, donations can be made to Hibernia Baptist Church or Community Hospice in Mr. Dowling's name.
Add a comment
Add a comment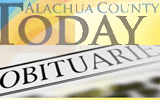 Murl Westmoreland, 84, High Springs resident, passed away July 12, 2012 in Gainesville, Fla.
She was a teacher in the Alachua County School System and a member of the Methodist Faith.
She was preceded in death by her husband, William H. "Biddy" Westmoreland.
She is survived by sons; Hal Westmoreland, Missola, Mont., John (Mary) Westmoreland, Keystone Heights, Fla., Matt "Rena" Westmoreland, High Springs, Fla.; three grandchildren, Courtney Rider, Mark Westmoreland and Colby Westmoreland; two great-grandchildren, Chloe Westmoreland and Caleb Westmoreland.
Visitation was Sunday, July 15, 2012 from 3 to 5 p.m. at Evans-Carter Funeral Home, High Springs. Memorial Service was held Monday, July 16, 2012 at 11 a.m. at First United Methodist Church with Rev. Benton Mangueira officiating. Flowers are welcome, but those who wish, may make donations to Florida United Methodist Children's Home, 51 Main Street, Enterprise, FL 32725. Arrangements are under the care of Evans- Carter Funeral Home, 220 Main St. High Springs, FL.
Add a comment
Add a comment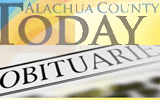 Mary Elizabeth Barker, 85, of Worthington Springs passed away at her home on July 16, 2012:
Mrs. Barker was born July 29, 1926 in Fernandina Beach, Fla. to James Matthew Monds and Cora Lee Hutto. She moved to Worthington Springs 30 years ago from High Springs. She was a restaurant owner and operator.
Mrs. Barker was preceded in death by her son, Robert Joseph Barker and is survived by three daughters, Linda Woods (Roy) of Lake City, Fla., Peggy Long (Wendell) of Sanderson, Fla., and Betty Elixson (Dean) of Worthington Springs; brother, Dick Monds of Perry, Ga.; sisters, Alice Walker of High Springs and Nora Lee Groover of Carterville, Ga; 13 grandchildren, 29 great-grandchildren and two great-great grandchildren.
Funeral Services will be at 11 a.m. Thursday, July 19, 2012 at Sardis Baptist Church, Hwy 121, Worthington Springs, Fla. Visitation will be from 5 to 7 p.m. on Wednesday, July 18 at Evans-Carter Funeral Home, 220 N Main Street, High Springs. Arrangements are in the care of Evans-Carter Funeral Home.
Add a comment
Add a comment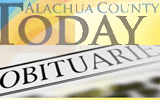 Max Garland Wells, 82, of Alachua, Fla. passed away June 30, 2012.
Mr. Wells was born in Dawson, WV. He served in the US Air Force and was the owner and broker with Towne Real Estate in Alachua. He also was a CPA with Air America for 20 years. He was a commissioner for the Alachua County Housing Authority for 25 years.
He is survived by his wife, Rheda; sons, Derek Wells (Penny) of Vero Beach, Fla., and Brandon Wells (Renay) of Alachua; four grandchildren, Brittany, Raegan, Chelsea and Nathan.
No funeral service will be held, as requested by Max. In lieu of flowers, the family suggests contributions to the American Cancer Society or to a charity of your choice.
Arrangements are in the care of Forest Meadows Funeral Home. Online condolences may be made at www.forestmeadowsfh.com.
Add a comment
Add a comment