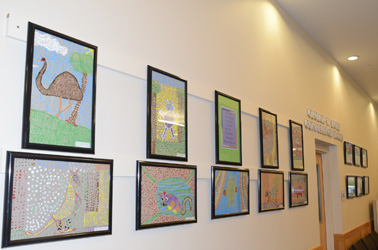 CARL MCKINNEY/ Alachua County Today
These pieces now hang in City Hall. The art depicts various animals native to Australia, created by students of Irby Elementary.

ALACHUA – The City of Alachua partnered up with some students from Alachua Elementary to redecorate City Hall.
Students of the school worked on art that was given to the city last fall. The students learned how colors relate to each other, how to match them and how to use the color wheel.
At the Jan. 27 city commission meeting on Monday, the city officially acknowledged the art and awarded the students certificates.
"The kids have done a great job," said Kathleen Requesens, art teacher at Alachua Elementary.
Fourteen students were presented certificates from the city, including one who will have his work displayed at the Florida Museum of Natural History.
"I'm very proud of these students," she said. "Wait till you see what's coming next."
The Alachua Elementary students got their art back, and new works from students of Irby Elementary are now on display.
# # #
Email cmckinney@
Add a comment
Add a comment
TALLAHASSEE – Commissioner of Agriculture Adam H. Putnam and the Florida Department of Agriculture and Consumer Services' Florida Forest Service are highlighting the dangers of wildfires and encouraging Floridians to use caution with all outdoor fire.
"While the recent summer rains have temporarily decreased Florida's wildfire danger, we are approaching the dry fall and winter season and we must remain vigilant," said Commissioner Putnam. "National Fire Prevention Week serves as a reminder of the important work our firefighters in the Florida Forest Service do to protect Floridians and an opportunity for residents to learn how they can help protect Florida's homes and natural resources."
In keeping with Fire Prevention Week's national theme of "Prevent Kitchen Fires," the Florida Forest Service urges citizens to be careful with outdoor cooking fires and campfires. Nearly 80 percent of all wildfires in Florida are caused by human carelessness. Citizens can safely use Florida's "outdoor kitchens" by following these tips:
Clear a 10-15 foot diameter area around the campfire – away from tents, shrubs, trees, overhanging branches and other flammable objects.
Use an existing fire ring or build an appropriate pit for the campfire.
Avoid burning during dry or windy conditions.
Keep the campfire small and under control.
Never leave a campfire unattended.
Make sure the campfire is totally extinguished and cold before you leave it.
Since the beginning of the year, 1,933 wildfires have burned 47,256 acres throughout Florida.
The Florida Forest Service manages 1 million acres of public forest land while protecting more than 26 million acres of homes, forestland, and natural resources from the devastating effects of wildfire.
# # #
Add a comment
Add a comment
HIGH SPRINGS – F
On Tuesday, Sept. 10, former High Springs Mayor Larry Travis, 72, died from bladder cancer. Travis left behind a legacy for friends, family and co-workers to continue.
Travis was well-known throughout the High Springs area. Mayor Susan Weller said she considered Travis as one of the most welcoming people she has ever met. When Weller and her husband moved to High Springs in 2000 she said she was pleasantly surprised to find out that Travis was her next-door neighbor. Weller had made a friend for the next 13 years. She said she remembers Travis as a unique and wonderful individual who cared deeply about the city.
"He was just one of those individuals who when you met him it was as though you were long lost friends," Weller said. "He treated everyone he met that way."
The Rev. Byran Williams and co-workers like city clerk Jenny Parham said Travis' kindness and compassion is what gained him respect from community members like. Working for the city was more than just a job for Travis, Parham said. It would be hard not to like him, she added.
Williams and Weller both recounted hearing numerous stories of Travis' compassion. It did not matter what race or creed you were he was a big man with a big heart, Williams said.
"He had a great love for the city and cared deeply for its citizens," Weller said. "If the mother of someone was ill, he would stop by and see them on multiple occasions."
"Larry just did it when he heard something. You didn't even need to ask," Williams said.
Travis didn't just focus on High Springs. He worked with the Municipalities Fire Authority (MFA) trying to make sure that every city in Alachua County had fair fire department coverage. Beyond the MFA, Travis also worked with the Mayor's Youth Council and the Mayors Economic Development Task Force.
"He really was a natural leader," Parham said. "The kind of person you just want to stand by."
Travis did his best to be fair, Parham said. For him, it was about what was good for the city, even if he did not like it.
# # #
Email zkapadia@
alachuatoday.com
Add a comment
Add a comment
HIGH SPRINGS – A High Springs man was arrested this past Sunday night, Sept. 22, for driving his car into his neighbor's house.
Dexter Delano Burnett Jr., 26, was originally arrested for leaving the scene of a crime, said Steve Holly, police chief.
Three officers responded to a complaint that Burnett was firing a gun near Marvin Epp's house on 22737 NW Railroad Ave., at around 6:51 p.m. that night, Holly said. When law enforcement arrived, they saw a car had damaged Epp's house. Burnett was nowhere to be found at the scene.
They spoke with Epps, whose house mailbox and yard were damaged, according to the report.
Burnett said he drove the car into the house because he was being shot at.
Officers found him at his home at 23522 NW 179 Place and arrested him for a hit and run.
There was no evidence Burnett was drinking that night.
After the arrest, Burnett was found with a .22 caliber round, Holly said, allowing him to be charged with possession of a concealed weapon.
Burnett is being held in Alachua County Jail with a $75,000 bond.
# # #
Email zkapadia@
alachuatoday.com
Add a comment
Add a comment
Details

Published on

Thursday, 05 September 2013 22:24

Written by Special to Alachua County Today
Hits: 11458
GAINESVILLE – A new defense against prostate cancer, the most common cancer in men in the United States, may come from a seaweed found off the coast of Florida.
University of Florida pharmacy researchers have screened various seaweeds with cancer-preventive potential and identified one that shows particular promise. They isolated specific compounds in this common green alga, known as sea lettuce, and undertook studies to understand exactly how they work. Their findings, published Sept. 4 in Cancer Prevention Research, show how the species may protect multiple organs from disease and may be particularly effective in preventing prostate cancer.
Sea lettuce is commonly consumed in Asian countries where the risk of prostate cancer is low, but there have been no rigorous studies to verify the correlation, said Hendrik Luesch, an associate professor of medicinal chemistry in the UF College of Pharmacy, a part of UF Health. Luesch's marine natural products laboratory offers the first investigation of this seaweed's cellular functions, revealing specific mechanisms that contribute to its anti-inflammatory and anti-tumor properties and identifying its active chemical ingredients.
"We now have scientific evidence that this seaweed raises the body's antioxidant defense system and therefore might potentially prevent a number of diseases, including cancer," said Luesch. "This mechanism appears to be most relevant to prostate cancer."
Scientists have long believed that seaweeds, a staple of Asian diets, may lower cancer risk in Western populations. When Luesch investigated at the molecular level, he identified key factors that support the hypothesis, including which seaweeds might provide the most protection.
Close to 240,000 men will be diagnosed with prostate cancer in the United States this year, leading all cancers in the number of new cases, according to a 2013 report from the American Cancer Society. The report shows prostate cancer to be the second leading cause of death after lung cancer for men and ranks Florida second only to California in its estimation of new cases and of deaths this year.
Molecules known as free radicals are a byproduct of exposure to environmental toxins and even occur during digestion. They damage cells, causing oxidation and inflammation that lead to a number of chronic health conditions such as heart disease, cancer and arthritis, Luesch said.
Antioxidant-rich fruits and vegetables protect the body against these free radicals, mostly through a scavenging process of elimination. Rather than simply removing the damaging free radicals through this direct reaction, compounds in sea lettuce worked through an indirect mechanism, Luesch found. This process increases the levels of a suite of antioxidant enzymes and boosts antioxidants in cells, producing longer-lasting protection. Regulated by stretches of DNA called antioxidant response elements, the enzymes prevent oxidative damage and inflammation.
Luesch points to sulforaphane, a chemical in broccoli, as an example of a cancer-preventive natural product that has been shown to work through this kind of regulation. His paper describes how increased expression of these enzymes correlates with an increased antioxidant status of the cell and anti-inflammatory activity.
With research funding, further studies can pinpoint potency, dosage and effectiveness, Luesch said. The antioxidant enzyme activities in sea lettuce make it ideal for development as a preventive natural supplement. He sees potential for making a big difference, not only for men's health, but also to prevent an array of inflammatory diseases that challenge everyone's health.
Luesch is also an affiliate member of the UF Health Cancer Center, the Evelyn F. & William L. McKnight Brain Institute and the Center for Translational Research in Neurodegenerative Disease at the University of Florida.
# # #
Add a comment
Add a comment