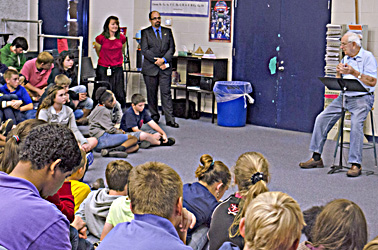 World War II veteran Frank Powers spoke to some 120 seventh grade students at High Springs Community School as part of their Holocaust studies unit.
HIGH SPRINGS – After studying the Holocaust for a month, everything the students had learned came to life as the World War II veteran recounted his experience liberating 2,500 concentration camp prisoners from a train in 1945.
Frank Powers, who now resides in Brooker, spoke to a group of about 120 seventh grade students at High Springs Community School (HSCS) Friday as part of their Holocaust unit.
Sherry Maguire, the seventh grade teacher in charge of organizing the unit on the Holocaust, said her general philosophy on teaching is to "go big or go home." She wanted to make the section interactive, so that it would reach different types of learners.
"The dictum of the Holocaust is 'Never forget,'" Maguire said. "We have to make the learning as such that they never forget."
In addition to hearing Powers' story, the seventh grade students also took a field trip to the Florida Holocaust Museum in St. Petersburg.
Receiving a grant each year from the Jewish Council of North Central Florida, this is the third year the school has made the trip. This year the $2,500 grant was used to buy books and partially cover the cost of the field trip.
Kellie Cauthon, 14, a student at HSCS said that these extra activities helped her to better understand the Holocaust.
"It's really surprising to see how evil people can be," Kellie said.
The connection drawn between the students and history is exactly what Powers wanted.
"I saw the lack of knowledge of the younger students… their lack of knowledge of the Holocaust," Powers said. "Of course, I'm only one person trying to relate that, but it's something that they need to know about."
In 2005, Powers started doing research on the Holocaust and found names of the 2,500 prisoners he helped to free.
Since then, he has spoken to a number of schools and universities, including the University of Tennessee and the University of Florida, and even a few retirement villages.
"The teachers can only relate to them what they read in the books," Powers said. "To get it first hand, from a veteran who was there, it's much more meaningful to the students than just getting it from the teacher, just out of the book."
# # #
Email ppotestades@
alachuatoday.com
Add a comment
Add a comment
WALDO – In early March, Chris Dawson, the senior transportation planner of Alachua County Growth Management Department, presented the plans of a proposed extension to the Waldo Road Trail to the Waldo City Council and residents.
The presentation was then followed by a motion to support the road trail extension and sending a letter on behalf of Waldo to the Alachua County Board of County Commissioners prior to their meeting on March 26.
The inception of the project proposal emerged this year as a suggestion from Alachua County staff. In their original proposal, the extension was ranked second. Upon its presentation to the Board of County Commissioners, the board ranked it as third for the fiscal years of 2015 through 2019.
Each year, the Florida Department of Transportation (DOT) updates its Five-Year Work Program and requests that districts and counties submit their transportation project priorities for consideration, Alachua County included.
"It is the mechanism by which they allocate funding for the county for the next five years," said Dawson in a recent interview.
The estimated cost of the road trail extension is $2 million and is proposed to be administered by the DOT as part of the Transportation Alternatives Program. This would mean that the City of Waldo would not have to provide funding.
The 10 – 12 foot multiuse path extension would begin in Gainesville on NE 47th Avenue, close to the Gainesville Regional Airport, and end in Waldo close to Veteran's Park on NE 147th Avenue.
The road trail would be approximately nine miles long and have a bridge going over Hatchet Creek.
Though the road trail extension is highly anticipated, further updates are not expected until after November pending the announcement of the updated Five-Year Work Program.
# # #
E-mail dbonilla@
alachuatoday.com
Add a comment
Add a comment
NEWBERRY – It's likely that most heavy equipment operators probably don't think there's anything poetic in grading roads. But others will tell you that it's an art—that you have to know the land, and that you have to be gentle with the land.
Just ask operators, like Carl Wilson who has worked for the City of Newberry for over a year now after 37 years with the county, or David Addison who has serviced the community since 1999.
This year they have a John Deere 670 G to re-sculpt the roads with, which set the City of Newberry back $167,000. It only has 50 hours on it, so it's practically new.
"We are very pleased with the price. It beat the heck out of the others," said city manager Keith Ashby.
The grader, which can be likened to a snowplow, with a large blade to crown off roads so water can funnel off properly, has already been used on Watermelon Pond Road.
The problem with the last piece of equipment was that after 10 or 20 years of use it had reached the point where replacing parts on it was more expensive than replacing the entire grader.
Road graders are necessary in locations with limestone or dirt roads. The operator's job is to even out the road itself, but also to create runoffs so water doesn't form ditches.
The City has a road maintenance schedule, said Connie Goode, administrator for the City's Department of General Services. But the schedule is as flexible as the weather permits, she added.
# # #
Email cgrinstead@
alachuatoday.com
Add a comment
Add a comment
ARCHER – Saturday morning a cannon was fired several times in Archer's downtown.
That 150-year old cannon from the Civil War era, however, was part of the Yulee Railroad Day celebration.
Joshua Braley, Archer Historical Society secretary, said Thomas and Lynda Kasicki have held Civil War re-enactments outside their home for Yulee Day since it was first celebrated. Their home is located in downtown Archer on Main Street.
The demonstration included the re-enactors loading, firing and cleaning the cannon.
Although some activities remained the same, like the parade, other things changed. At this year's Yulee Day, Kathy Wright, former member of the historical society, was not present.
Wright, who Archer City Commissioner Fletcher Hope described as a person with an "Earthy spirit" and was always excited about Yulee Day, died in August.
A Cassia tree was planted with a nameplate next to it for her a week before the event. The cannon was fired in her name.
Earlier in the festival, there was a parade that included several Chevrolet Corvettes and a bloodmobile from the Florida Blood Services.
Although about 300 people usually attend this annual event, Braley said, about 200 people joined the festival this year.
"It was a good beginning for getting Yulee Day back on track," he said.
Last year, Yulee Day was not held because the historical society was planning to change it to an earlier date because of heat complaints. It was previously celebrated the first Saturday of June.
Archer resident Gail Batey said she and her husband have been coming to Yulee Day for years.
"I think the weather is a lot nicer," she said.
# # #
E-mail acarroz@
alachuatoday.com
Add a comment
Add a comment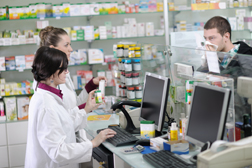 (StatePoint) While last year's cold and flu season was mild, experts say this year could bring you a wallop of sniffles and sneezes.
While there is no cure for the cold or flu, despite what mom says about her soup, over-the-counter (OTC) medications can provide relief for the most common symptoms. And these guidelines can help you better navigate the cold and flu aisle:
Sneezing Got You Down?
OTC antihistamines can provide relief from sneezing, runny noses and watery eyes by blocking the action of histamine, a chemical in the body that triggers congestion and upper respiratory discomfort.
Constant Cough
Cough suppressants, also known as antitussives, basically tell your brain to stop coughing. One commonly used cough suppressant is dextromethorphan, which relieves cough symptoms but doesn't speed recovery.
If you're producing mucus, however, don't take a cough suppressant. Instead, look for an expectorant, a medicine that helps thin the mucus in the lungs and soothe an irritated respiratory tract.
All Clogged Up!
Decongestants like pseudoephedrine (PSE) relieve a stuffy nose and congestion by actually narrowing the blood vessels in nasal passages so you can breathe more easily.
PSEs are now located behind the pharmacy counter because they are an ingredient that can be used to make the illegal drug methamphetamine (meth). Rest assured though, PSE has been safely used for decades.
If you're clogged up, consider treating your symptoms and doing your part to keep your community safer at the same time. Ask your pharmacist about new Nexafed 30mg pseudoephedrine HCl tablets, the next-generation PSE that provides the same effective cold and allergy relief from standard PSEs, but with technology that disrupts the extraction and conversion of pseudoephedrine into methamphetamine.
Stop the Pain
If your symptoms include muscle aches or high fever, consider an analgesic or painkiller. Most OTC analgesics fall in to two categories: acetaminophen or NSAIDs (nonsteroidal anti-inflammatory drugs). Both medications can reduce fever and ease aches and pains from the flu or cold.
Scratchy Throat
Help ease throat pain with cough drops or throat spray. While not a cure-all, cough drops or hard candy can help provide relief from a dry, tickling cough. Also consider taking a warm shower or using a vaporizer to increase the moisture of indoor air.
No matter what your symptoms are, it's important to get some rest and stay hydrated. Doctors recommend six to eight hours of sleep every night to fight and prevent illnesses and keep the immune system healthy.
If you have any questions or doubts about which medications may be best for you, talk with your pharmacist. And if symptoms worsen or last for more than two weeks, be sure to see your doctor.
More tips on how to prevent and treat a cold or the flu can be found at www.CDC.gov.
Don't needlessly suffer this season. With the right treatment, you can help alleviate your cold and flu symptoms.
Add a comment
Add a comment