Details

Published on

Saturday, 22 September 2012 18:24

Written by Special to Alachua County Today
Hits: 7432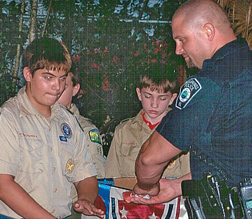 HIGH SPRINGS – High Springs Boy Scout Troop 69 retired a flag donated by the High Springs Fire Department on Tuesday, Sept. 11.
"We wanted to honor our local police officers and fire fighters, while also remembering those who gave their lives in the terrorist attacks," said Troop 69 Scoutmaster Kathy Bloodsworth.
Representatives from both departments participated in the ceremony alongside the scouts.
# # #
Submit your news to
This email address is being protected from spambots. You need JavaScript enabled to view it.
Add a comment
Add a comment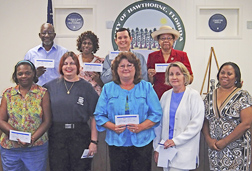 Front L-R: Brenda Cooper(staff), Jennifer Tozzo (instructor) Ellen Vause(city manager) Debbie Pennington, (staff), LaKesha McGruder (City Clerk); Back Row L-R: Commissioner Tommie Howard, Kit Randall, Mayor Matt Surrency and Commissioner DeLoris Roberts.
Thanks to donations from a former City of Hawthorne employee, the town now has an automatic external defibrillator (AED). And thanks to donated certification services by resident and CPR/AED certified instructor Jennifer Tozzo, all of Hawthorne's staff and four city commissioners have now been trained and qualified to administer CPR and use the AED.
Add a comment
Add a comment
David Kerner elected

WEST PLAM BEACH – A former officer with the Alachua Police Department has been elected to Florida's State House District 87 covering parts of West Palm Beach and Lake Worth.
In May 2006 David Kerner was named as the Alachua Police Department (APD) Officer of the Year. He began his employment with the department in February 2005 and while employed with the City was a student at the University of Florida majoring in Political Science with two minors in Criminology and Policy/Regulation. Prior to joining APD, Kerner was an officer for the University of Florida Police Department. He graduated from the Police Academy at the Institute of Public Safety at Santa Fe Community College in the summer of 2004.
Kerner, a newcomer to politics, defeated his opponent Mike Rios with 68 percent of the vote in the primary.
A native of Palm Beach County, Kerner won the seat in a universal primary, meaning all candidates in the race had the same party affiliation and he will have no opposition in the General Election.
# # #
Email This email address is being protected from spambots. You need JavaScript enabled to view it.
Add a comment
Add a comment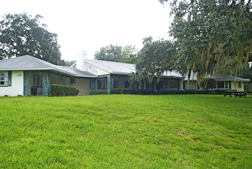 ALACHUA – Alachua's city commission approved a proposal for the restoration of the historic Swick House during the Aug. 27, 2012 commission meeting.
The Swick House, located on Northwest 142nd Terrace, has been an Alachua landmark for 60 years. The current plans include bringing the city owned building into compliance with ADA regulations and opening it to the public for meetings and gatherings.
Architect Jim McGinley volunteered his time and developed basic plans for the Swick House redesign. Brame Architects, located in Gainesville, will carry out the work.
According to Cap Wilson, Alachua's compliance and risk management director, the cost of the recommended proposal won't exceed $22,321.
"That's an agreed-upon ceiling for the work we set out in the proposal," Wilson said.
Brame Architects has estimated the total cost of construction to be between $130,000 and $140,000.
Vice Mayor Robert Wilford voiced concerns about the possibility of asbestos in the building due to its age. Wilford asked if this might add to the predicted cost.
"Both the architects and the mechanical engineer don't think this will be a problem," Wilson said.
According to Wilson, when restoration is completed, the entire 4,472-square-feet of the Swick House will be utilized. There will be five meeting rooms and multiple bathrooms added, and the outside patio will be used for public gatherings.
# # #
Email This email address is being protected from spambots. You need JavaScript enabled to view it.
Add a comment
Add a comment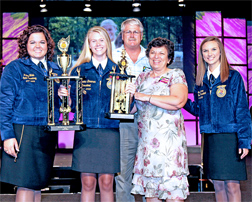 Catherine Bowman of Santa Fe High School was named the State Star Farmer by the Florida FFA Association during the 84th Florida FFA State Convention in Orlando
ORLANDO – A new star shines over the Academy of Agriscience at Santa Fe High School. The Florida FFA Association recently selected finalists in the highly coveted "Stars of Florida" award recognition program. This program symbolizes the highest recognition for FFA members and their Supervised Agricultural Experience program. More than 200 applicants were considered during the selection process. Each candidate was then interviewed by a team of FFA, industry and Agriculture Education representatives.
Catherine Bowman of the Santa Fe FFA Chapter was named as the State Star Farmer during the 84th Florida FFA State Convention which was held in Orlando. During the convention FFA members come together to celebrate the achievements of past and present generations of agriculturalists while continuing to develop their potential for premier leadership, personal growth and career success.
The awards continued to accumulate for Bowman. When the Florida FFA announced the finalists for the 2012 Agricultural Proficiency Award program, Bowman's name appeared in three categories. She was named as a top four State Finalist in three categories - Agriscience Research, Emerging Agricultural Technology and Goat Production. More than 350 applicants throughout Florida submitted applications for recognition within this program. The Agricultural Proficiency Award program rewards FFA members at the local, state and national levels for exceptional accomplishments and excellence in a Supervised Agricultural Experience program. These supervised programs are planned, practical activities that are conducted outside of class time that help students develop and apply agricultural knowledge and skills learned inside the classroom in a real world environment. Bowman will travel to Indianapolis, Ind. to compete at the National FFA Convention in October.
Bowman truly works hard for her family on a 120-acre family farm that has a hay operation, a herd of Boer goats, a rabbitry and a horse training business. She has attended the Made for Excellence Conference, Advanced Leadership Conference, Florida FFA Chapter Presidents Conference, Chapter Officer Leadership Training Conference, Florida State FFA Convention and the National FFA Convention. She was a State Star Greenhand Finalist and a National Agriscience Fair Gold Medal Award winner.
At the 2011 State FFA Convention Bowmane was the Agriscience Student of the Year, a top four State Finalist in the Equine Science Placement Proficiency and also a top four State Finalist in the Forage Production Proficiency. Three years ago she started an Agriculture Research project in which she studied the effects of Army Worm infestations on Coastal Bermuda grass hay fields. Bowman is an excellent leader and role model. She was a four year student in the Veterinary Assisting Program in the Academy of Agriscience at Santa Fe High School. She has maintained a weighted GPA of 4.131 while taking Advance Placement courses in high school. May this new star continue to shine brightly.
# # #
Submit your story by
Emailing This email address is being protected from spambots. You need JavaScript enabled to view it.
Add a comment
Add a comment