HIGH SPRINGS – The attorney for former High Springs City Planner Christian Popoli, Linda Rice Chapman, recently filed an amended complaint on his behalf against the city in the case of Christian Popoli vs. The City of High Springs, Florida.
Popoli's original suit alleges wrongful termination of employment by the city as a result of "blowing the whistle" on unlawful activities and failure to produce public records.
In this, the first amended complaint, Popoli charges that the city continues to withhold requested public records from him and his attorney, that Popoli is suffering retaliation for speaking out and that his attorney is and has been subjected to intimidation tactics.
As part of the amended complaint, Popoli listed details of alleged violations of the Florida Whistle-blower's Act and Public Records/Sunshine Laws by the City of High Springs and requests "compensatory damages, reasonable front pay, lost wages and benefits, including, but not limited to compensatory time and other remuneration, and attorneys fees and costs pursuant to ss. 112.3187, Fla. Stat. (2011), and any other and all further relief as this court deems just and proper."
As part of Popoli's amended complaint he stated that when the city was under the previous mayor, whenever he was in City Hall and saw Popoli's attorney in the building, he would ask employees why the attorney was there. Five minutes later a member of the High Springs Police Department would appear and stand over his attorney or sit close by until she finished reviewing the records she had asked to see. "If it happened once in a while, I would have thought it was by accident," Chapman said, "but it happened often."
In a recent interview, Chapman said, "Shortly after I announced I was the attorney for Mr. Popoli, I was followed from a commission meeting all the way to my gate at home, which is in another city. After I filed the amended complaint I have had a police officer sit next to me at Bev's at breakfast three times and lunch once. There are plenty of other vacant tables available to him in the restaurant. Amazingly, he is never there first. He always follows me in and sits right next to me. You might ignore it if it happened once or twice, but when it happens that often, it's hard to pass it off as just coincidence," she said. She cited several additional instances where an officer sat intrusively close to her in other settings, including at city meetings. "They are trying to intimidate me," she said.
"My client continues to suffer retaliation because he continues to request documents that are being withheld from his counsel as he tries to exercise his right to make himself whole from the city's unlawful action," she said. "He is still unemployed and has been for over a year. This is a man who was a model employee," she said. "His performance was so exemplary that he was honored by being selected as the city's 'Employee of the Year' in 2008."
Several other specific instances where Chapman has made requests for public records on her client's behalf, which she says "still have not been provided," and instances of additional harassment and intimidation toward her as Popoli's attorney are listed in Popoli's amended complaint.
At this time, the city has responded to the amended complaint. Both sides are now engaged in discovery, which is a sharing of evidence between the two sides so that the strength of the cases may be gauged.
# # #
Email Cwalker@
alachuatoday.com
Add a comment
Add a comment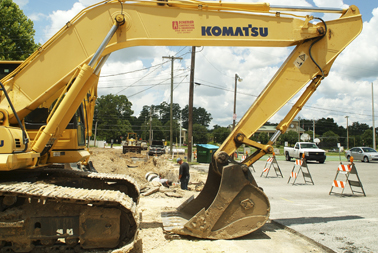 The downtown area around Skinner Field is a hubbub of activity as heavy equipment is onsite making improvements to the area.
ALACHUA – Renovations and improvements to the area around Skinner Field near Alachua City Hall are making progress toward alleviating a trio of issues.
The Downtown Redevelopment Trust Board of Alachua began improvements to the area early this year, seeking to reduce issues related to flooding, poor parking and difficulty seeing traffic at intersections. The section being redone falls under the Community Redevelopment Agency, which can only initiate projects in certain parts of town.
Problems with flooding caused by rainwater runoff were affecting several parts of town, particularly near the intersection of Northwest 150 Avenue and Main Street. The city recently finished putting in a concrete retention reservoir under the ball field, and is now installing pipes under Northwest 142 Terrace to direct water there, said Adam Boukari, assistant city manager. The city will also add gutters on the curbs.
The intersection of Northwest 142 Terrace and U.S. Highway 441will get straightened out to a 90-degree angle, making it easier to see traffic, said Gib Coerper, mayor of Alachua. The road will be moved slightly toward Alachua City Hall.
Five angled parking spaces, three on one side of 142nd Terrace, and two on the other, will be added as well, to help with the lack of parking in the area, he said.
The city expects the makeover, which is now estimated to cost a total of $2 million, to be finished by the end of the year.
"It's all part of a grand plan that we had started four or five years ago," said Mayor Coerper.
# # #
Email CMcKinney@
alachuatoday.com
Add a comment
Add a comment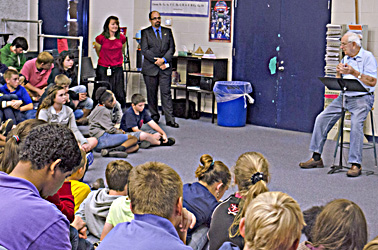 World War II veteran Frank Powers spoke to some 120 seventh grade students at High Springs Community School as part of their Holocaust studies unit.
HIGH SPRINGS – After studying the Holocaust for a month, everything the students had learned came to life as the World War II veteran recounted his experience liberating 2,500 concentration camp prisoners from a train in 1945.
Frank Powers, who now resides in Brooker, spoke to a group of about 120 seventh grade students at High Springs Community School (HSCS) Friday as part of their Holocaust unit.
Sherry Maguire, the seventh grade teacher in charge of organizing the unit on the Holocaust, said her general philosophy on teaching is to "go big or go home." She wanted to make the section interactive, so that it would reach different types of learners.
"The dictum of the Holocaust is 'Never forget,'" Maguire said. "We have to make the learning as such that they never forget."
In addition to hearing Powers' story, the seventh grade students also took a field trip to the Florida Holocaust Museum in St. Petersburg.
Receiving a grant each year from the Jewish Council of North Central Florida, this is the third year the school has made the trip. This year the $2,500 grant was used to buy books and partially cover the cost of the field trip.
Kellie Cauthon, 14, a student at HSCS said that these extra activities helped her to better understand the Holocaust.
"It's really surprising to see how evil people can be," Kellie said.
The connection drawn between the students and history is exactly what Powers wanted.
"I saw the lack of knowledge of the younger students… their lack of knowledge of the Holocaust," Powers said. "Of course, I'm only one person trying to relate that, but it's something that they need to know about."
In 2005, Powers started doing research on the Holocaust and found names of the 2,500 prisoners he helped to free.
Since then, he has spoken to a number of schools and universities, including the University of Tennessee and the University of Florida, and even a few retirement villages.
"The teachers can only relate to them what they read in the books," Powers said. "To get it first hand, from a veteran who was there, it's much more meaningful to the students than just getting it from the teacher, just out of the book."
# # #
Email ppotestades@
alachuatoday.com
Add a comment
Add a comment
HAWTHORNE – The Hawthorne City Commission election was finalized Tuesday night, June 11, with incumbent Tommie Howard winning seat one over his opponent Harry Carter.
Carter had previously served as a commissioner, however could not defeat the current vice mayor. After all ballots were counted, the final tally would show Howard receiving 126 votes to Carter's 35.
The two men have been friends and members of the American Legion Post 230 for several years, leading to clean campaigns and a good race.
"Everything was very positive on both sides," Howard said. "I've known my opponent for a long time, and it was a good race."
Howard says that even had he not won his re-election bid he would have still been active in Hawthorne government. His main goal now is to continue to encourage citizen participation in commission meetings, as well as getting a senior citizen facility for the city.
"We have the highest percentage of senior citizens in Alachua County and they deserve a new facility," Howard said.
Commission members Matthew Surrency and William Carlton also retained their seats, running unopposed for seats five and three respectively. The appointment of mayor and vice-mayor will take place at the Tuesday June 18 commission meeting.
# # #
Email ahart@
alachuatoday.com
Add a comment
Add a comment
WALDO – In early March, Chris Dawson, the senior transportation planner of Alachua County Growth Management Department, presented the plans of a proposed extension to the Waldo Road Trail to the Waldo City Council and residents.
The presentation was then followed by a motion to support the road trail extension and sending a letter on behalf of Waldo to the Alachua County Board of County Commissioners prior to their meeting on March 26.
The inception of the project proposal emerged this year as a suggestion from Alachua County staff. In their original proposal, the extension was ranked second. Upon its presentation to the Board of County Commissioners, the board ranked it as third for the fiscal years of 2015 through 2019.
Each year, the Florida Department of Transportation (DOT) updates its Five-Year Work Program and requests that districts and counties submit their transportation project priorities for consideration, Alachua County included.
"It is the mechanism by which they allocate funding for the county for the next five years," said Dawson in a recent interview.
The estimated cost of the road trail extension is $2 million and is proposed to be administered by the DOT as part of the Transportation Alternatives Program. This would mean that the City of Waldo would not have to provide funding.
The 10 – 12 foot multiuse path extension would begin in Gainesville on NE 47th Avenue, close to the Gainesville Regional Airport, and end in Waldo close to Veteran's Park on NE 147th Avenue.
The road trail would be approximately nine miles long and have a bridge going over Hatchet Creek.
Though the road trail extension is highly anticipated, further updates are not expected until after November pending the announcement of the updated Five-Year Work Program.
# # #
E-mail dbonilla@
alachuatoday.com
Add a comment
Add a comment