Details

Published on

Thursday, 05 September 2013 22:24

Written by Special to Alachua County Today
Hits: 12497
GAINESVILLE – A new defense against prostate cancer, the most common cancer in men in the United States, may come from a seaweed found off the coast of Florida.
University of Florida pharmacy researchers have screened various seaweeds with cancer-preventive potential and identified one that shows particular promise. They isolated specific compounds in this common green alga, known as sea lettuce, and undertook studies to understand exactly how they work. Their findings, published Sept. 4 in Cancer Prevention Research, show how the species may protect multiple organs from disease and may be particularly effective in preventing prostate cancer.
Sea lettuce is commonly consumed in Asian countries where the risk of prostate cancer is low, but there have been no rigorous studies to verify the correlation, said Hendrik Luesch, an associate professor of medicinal chemistry in the UF College of Pharmacy, a part of UF Health. Luesch's marine natural products laboratory offers the first investigation of this seaweed's cellular functions, revealing specific mechanisms that contribute to its anti-inflammatory and anti-tumor properties and identifying its active chemical ingredients.
"We now have scientific evidence that this seaweed raises the body's antioxidant defense system and therefore might potentially prevent a number of diseases, including cancer," said Luesch. "This mechanism appears to be most relevant to prostate cancer."
Scientists have long believed that seaweeds, a staple of Asian diets, may lower cancer risk in Western populations. When Luesch investigated at the molecular level, he identified key factors that support the hypothesis, including which seaweeds might provide the most protection.
Close to 240,000 men will be diagnosed with prostate cancer in the United States this year, leading all cancers in the number of new cases, according to a 2013 report from the American Cancer Society. The report shows prostate cancer to be the second leading cause of death after lung cancer for men and ranks Florida second only to California in its estimation of new cases and of deaths this year.
Molecules known as free radicals are a byproduct of exposure to environmental toxins and even occur during digestion. They damage cells, causing oxidation and inflammation that lead to a number of chronic health conditions such as heart disease, cancer and arthritis, Luesch said.
Antioxidant-rich fruits and vegetables protect the body against these free radicals, mostly through a scavenging process of elimination. Rather than simply removing the damaging free radicals through this direct reaction, compounds in sea lettuce worked through an indirect mechanism, Luesch found. This process increases the levels of a suite of antioxidant enzymes and boosts antioxidants in cells, producing longer-lasting protection. Regulated by stretches of DNA called antioxidant response elements, the enzymes prevent oxidative damage and inflammation.
Luesch points to sulforaphane, a chemical in broccoli, as an example of a cancer-preventive natural product that has been shown to work through this kind of regulation. His paper describes how increased expression of these enzymes correlates with an increased antioxidant status of the cell and anti-inflammatory activity.
With research funding, further studies can pinpoint potency, dosage and effectiveness, Luesch said. The antioxidant enzyme activities in sea lettuce make it ideal for development as a preventive natural supplement. He sees potential for making a big difference, not only for men's health, but also to prevent an array of inflammatory diseases that challenge everyone's health.
Luesch is also an affiliate member of the UF Health Cancer Center, the Evelyn F. & William L. McKnight Brain Institute and the Center for Translational Research in Neurodegenerative Disease at the University of Florida.
# # #
Add a comment
Add a comment
HAWTHORNE – The City of Hawthorne will be making a change to the way they store official records. The city is planning to start construction of a new room designed for record retention and storage purposes.
While the change may seem trivial to some, for City Hall employees, it's a major improvement.
"We've been working on this for a while now, and I have the bids ready to go so hopefully we can begin construction soon," said Ellen Vause, City of Hawthorne city manager.
The space that is currently used for record storage is in the fire station, and is not up to code for storing the city's official records, and could result in damage over a period of time. This is due in large part to moisture entering the room, which can be extremely detrimental for long-term document storage.
The plan is to construct a new room in the water treatment plant to house the records permanently. It will be built to the necessary specifications required to provide a safe place for the city's historical files, as well as still allow access to the community to retrieve records.
"The procedure will remain the same for anyone who wants to use the facility," said Vause. "They will meet with the city clerk, who will then escort them to the room, help them locate their document and make copies for them."
Construction will last no more than 30 days to complete the room, and depending on the company selected, could cost the city anywhere from $12,000 to $17,000.
"As soon as a bid is authorized at the next commission meeting, July 16, the project will be under way," Vause said.
# # #
Email ahart@
alachuatoday.com
Add a comment
Add a comment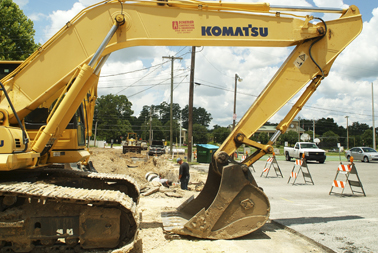 The downtown area around Skinner Field is a hubbub of activity as heavy equipment is onsite making improvements to the area.
ALACHUA – Renovations and improvements to the area around Skinner Field near Alachua City Hall are making progress toward alleviating a trio of issues.
The Downtown Redevelopment Trust Board of Alachua began improvements to the area early this year, seeking to reduce issues related to flooding, poor parking and difficulty seeing traffic at intersections. The section being redone falls under the Community Redevelopment Agency, which can only initiate projects in certain parts of town.
Problems with flooding caused by rainwater runoff were affecting several parts of town, particularly near the intersection of Northwest 150 Avenue and Main Street. The city recently finished putting in a concrete retention reservoir under the ball field, and is now installing pipes under Northwest 142 Terrace to direct water there, said Adam Boukari, assistant city manager. The city will also add gutters on the curbs.
The intersection of Northwest 142 Terrace and U.S. Highway 441will get straightened out to a 90-degree angle, making it easier to see traffic, said Gib Coerper, mayor of Alachua. The road will be moved slightly toward Alachua City Hall.
Five angled parking spaces, three on one side of 142nd Terrace, and two on the other, will be added as well, to help with the lack of parking in the area, he said.
The city expects the makeover, which is now estimated to cost a total of $2 million, to be finished by the end of the year.
"It's all part of a grand plan that we had started four or five years ago," said Mayor Coerper.
# # #
Email CMcKinney@
alachuatoday.com
Add a comment
Add a comment
HIGH SPRINGS – The attorney for former High Springs City Planner Christian Popoli, Linda Rice Chapman, recently filed an amended complaint on his behalf against the city in the case of Christian Popoli vs. The City of High Springs, Florida.
Popoli's original suit alleges wrongful termination of employment by the city as a result of "blowing the whistle" on unlawful activities and failure to produce public records.
In this, the first amended complaint, Popoli charges that the city continues to withhold requested public records from him and his attorney, that Popoli is suffering retaliation for speaking out and that his attorney is and has been subjected to intimidation tactics.
As part of the amended complaint, Popoli listed details of alleged violations of the Florida Whistle-blower's Act and Public Records/Sunshine Laws by the City of High Springs and requests "compensatory damages, reasonable front pay, lost wages and benefits, including, but not limited to compensatory time and other remuneration, and attorneys fees and costs pursuant to ss. 112.3187, Fla. Stat. (2011), and any other and all further relief as this court deems just and proper."
As part of Popoli's amended complaint he stated that when the city was under the previous mayor, whenever he was in City Hall and saw Popoli's attorney in the building, he would ask employees why the attorney was there. Five minutes later a member of the High Springs Police Department would appear and stand over his attorney or sit close by until she finished reviewing the records she had asked to see. "If it happened once in a while, I would have thought it was by accident," Chapman said, "but it happened often."
In a recent interview, Chapman said, "Shortly after I announced I was the attorney for Mr. Popoli, I was followed from a commission meeting all the way to my gate at home, which is in another city. After I filed the amended complaint I have had a police officer sit next to me at Bev's at breakfast three times and lunch once. There are plenty of other vacant tables available to him in the restaurant. Amazingly, he is never there first. He always follows me in and sits right next to me. You might ignore it if it happened once or twice, but when it happens that often, it's hard to pass it off as just coincidence," she said. She cited several additional instances where an officer sat intrusively close to her in other settings, including at city meetings. "They are trying to intimidate me," she said.
"My client continues to suffer retaliation because he continues to request documents that are being withheld from his counsel as he tries to exercise his right to make himself whole from the city's unlawful action," she said. "He is still unemployed and has been for over a year. This is a man who was a model employee," she said. "His performance was so exemplary that he was honored by being selected as the city's 'Employee of the Year' in 2008."
Several other specific instances where Chapman has made requests for public records on her client's behalf, which she says "still have not been provided," and instances of additional harassment and intimidation toward her as Popoli's attorney are listed in Popoli's amended complaint.
At this time, the city has responded to the amended complaint. Both sides are now engaged in discovery, which is a sharing of evidence between the two sides so that the strength of the cases may be gauged.
# # #
Email Cwalker@
alachuatoday.com
Add a comment
Add a comment
HAWTHORNE – The Hawthorne City Commission election was finalized Tuesday night, June 11, with incumbent Tommie Howard winning seat one over his opponent Harry Carter.
Carter had previously served as a commissioner, however could not defeat the current vice mayor. After all ballots were counted, the final tally would show Howard receiving 126 votes to Carter's 35.
The two men have been friends and members of the American Legion Post 230 for several years, leading to clean campaigns and a good race.
"Everything was very positive on both sides," Howard said. "I've known my opponent for a long time, and it was a good race."
Howard says that even had he not won his re-election bid he would have still been active in Hawthorne government. His main goal now is to continue to encourage citizen participation in commission meetings, as well as getting a senior citizen facility for the city.
"We have the highest percentage of senior citizens in Alachua County and they deserve a new facility," Howard said.
Commission members Matthew Surrency and William Carlton also retained their seats, running unopposed for seats five and three respectively. The appointment of mayor and vice-mayor will take place at the Tuesday June 18 commission meeting.
# # #
Email ahart@
alachuatoday.com
Add a comment
Add a comment