Details

Published on

Thursday, 28 April 2016 12:49

Written by Special to Alachua County Today
Hits: 144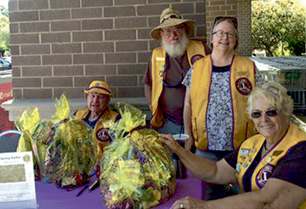 Photo special to Alachua County Today
Newberry Lions Club members Jack Varnon, Ken McIntosh, Helen McIntosh and Gloria Keller kick off the spring fundraising campaign.
NEWBERRY –The Newberry Lions Club, which serves the Newberry, Trenton, and Archer region, has kicked off its spring fundraising raffle. Prizes awarded include $150 in scratch-off Florida Lottery tickets.
Lions Clubs are the "Knights of the Blind" and funds raised by the Newberry Lions Club have provided eyeglasses and helped cover the costs of cataract surgery to recipients in our area, provided free eye screenings to local children, been used to support local events and local organizations, and also to support national organizations like Southeastern Guide Dogs and the International Lions Club Foundation.
Raffle tickets may be purchased by contacting Club members through the Club's Facebook page www.facebook.com/NewberryLions or emailing requests to This email address is being protected from spambots. You need JavaScript enabled to view it. .
Club members will also be selling tickets at various events throughout the Newberry area, just look for those bright gold vests! Tickets are $1 each or 6 for $5.
The drawing for the raffle will be held at the Newberry Watermelon Festival on May 21.
# # #
Email community@
alachuatoday.com
Add a comment
Add a comment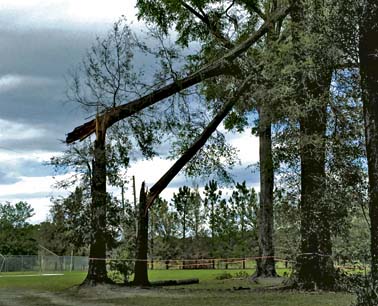 HIGH SPRINGS – In addition to recent heavy winds and rain that have affected much of northern Florida, what is being described as a microburst, a small downdraft that moves in a way opposite of a tornado, hit a large number of trees behind the High Springs Cemetery and Civic Center.
"While we did lose some other trees around town, this is the only area that had a lot of trees impacted," said High Springs City Manager Ed Booth.
According to City personnel, perhaps a dozen trees were affected in this one area.
"Trees leaning on or falling on other trees are particularly dangerous," said Booth. "It's particularly hazardous because kids are out playing sports and may not be aware of falling trees and debris."
The city has already hired a contractor to take down old dead trees on the City's right-of-ways.
"We expect them to begin cleanup by the early part of this week," Booth said.
# # #
Email Cwalker@
alachuatoday.com
Add a comment
Add a comment
HIGH SPRINGS – One look at the City of High Springs' website reveals just how serious city leaders are about cleaning up their town to make it look like an upscale community.
The City is posting 14 surplus properties to be sold with the intention that each sold property will have the underbrush removed and low-hanging limbs trimmed back within 90 days of their sale. Minimum bids for those properties range from $500 to $5,000.
Sealed bids will be accepted through 2 p.m., Wednesday, April 13, at the City Manager's Office.
Most lots are buildable. One or two smaller lots are adjacent to owned property, which could be expanded by the addition of the smaller lot.
"The smaller lot would increase the overall size and value of the adjacent property," said Mike Kearney, under contract to assist the city manager in his cleanup efforts. "Some of these lots are just beautiful," said Kearney. "One even has a stream running through it."
Maps of the property locations are available on the City of High Springs website.
The City hired the services of a commercial rotating brush cutter to clear a couple of overgrown lots. "Amazingly, the process only took four hours using his equipment," said Kearney, who admits it took him a lot longer to do it himself on his own property.
The City is also ridding itself of equipment and vehicles it no longer needs. A Dixie Chopper Mower with a 60-inch deck was up for bid Wednesday, March 16.
Sealed bids for surplus vehicles are also being solicited with a minimum bid price ranging from $350 for vehicles to $1,500 for a bucket truck. The deadline for bid submission on those vehicles was yesterday.
The City has also scheduled its annual Tire Roundup to collect old tires for disposal. Collection times are 8 a.m. - 5 p.m., Wednesday through Thursday, April 27-28. The Tire Roundup location is at the Public Works Yard under the water tower at NW 184th Place.
# # #
Email Cwalker@
alachuatoday.com
Add a comment
Add a comment
HIGH SPRINGS/ALACHUA COUNTY – The water well serving the Alachua County Transfer Station and Alachua County Fire/Rescue Station #20, which provides advanced life transport, has become contaminated.
"County personnel are currently using bottled water for drinking and whatever cooking they might do on the premises," said Bill Northcutt, Alachua County Fire Chief.
Sampling on the well located on the solid waste parcel began at the end of July last year according to testing documents and continued into August. The Alachua County Health Department routinely tests for bacteria, lead and nitrates. After finding Total Coliform Bacteria (TCB) in the well and at the distribution points, the county "shocked" the well with chlorine several times. While shocking the well helped, it did not resolve the problem permanently," said Anthony Dennis, Alachua County Health Department's Environmental Health Director. The last test was done on August 11, 2015 and TCBs were present at that time. "No further testing has been done since that time," said Dennis. "TCBs are non pathogenic bacteria found in older wells and wells that aren't used very often. It is not carcinogenic," he said, "and testing determined an absence of fecal or E. coli contamination."
The City of High Springs has a water line serving a church on the opposite side of the road and talks have occurred between Alachua County Manager Lee Niblock, Northcutt, High Springs City Manager Ed Booth and additional city staff, which could lead to High Springs running a water line under U.S. Highway 441 to service the two county facilities.
Northcutt and Booth are doing additional research to find out if this is the best solution.
"We've looked at the Comprehensive Plan and an adjustment would have to be made to it," said Northcutt. "We are also researching options on filtration systems to determine costs and viability. We are doing our due diligence before we bring any option before the Board of County Commissioners for their determination.
"The City is nice enough to pursue the Florida Department of Transportation (FDOT) for permission to do the project," Northcutt said.
"The County's cap on costs would be $40,000 and the City and County would share the engineering costs and provide a fire hydrant," said Booth.
If the County approves this option and the City receives FDOT's approval, Booth said he thinks the project could go out for bid and begin in approximately 60 days.
"This extension of our service would help the City with its economic development goals as well as help the County resolve their problem," said Booth.
# # #
Email Cwalker@
alachuatoday.com
Add a comment
Add a comment
ARCHER – Law enforcement officials are investigating an alleged shooting that occurred early Monday morning in Archer.
According to an Alachua County Sheriff's Office news release, deputies responded to a 9-1-1 call placed from a residence at SW 135th Place claiming an unknown male, covered in blood, was yelling and banging on the door.
Deputies found 26-year-old Angelo R. Canevari in the front yard of the residence when they arrived. Canevari told the deputies he had shot someone but could not provide any additional information. He was taken into custody while officers began searching the neighborhood for a victim.
An open door to a home was found at 8708 SW 135th Place, and deputies found Lannie E. Greer unresponsive and lying in a pool of blood with significant injuries on the kitchen floor.
Greer was stabilized on scene by Alachua County Fire Rescue personnel and transported to Shands Hospital where he remained in serious condition.
A firearm and ammunition were recovered from the scene, and a search warrant for Canevari's person was obtained to collect forensic evidence. Detectives charged Canevari with aggravated battery with a deadly weapon, and he was transported to the Alachua County Sheriff's Office Department of the Jail.
The investigation into the circumstances surrounding the altercation are ongoing pending Greer's medical condition.
# # #
Email Dwisener@
alachuatoday.com
Add a comment
Add a comment