ARCHER – The City of Archer took its first public step forward last Friday in reviving its youth recreation program for the first time in several years.
The City hosted its version of "Friday Night Lights" with a sports camp geared toward children of all ages and spearheaded by City Manager Zeriah Folston.
"It was for all kids to just come out and have a good time so that we can get a scale of what we have to work with in Archer," said Savonte Hunt, a heavily involved volunteer and Archer native who also helps run the Gainesville GTM Black Stallions youth football and cheerleading organization.
Hunt said it's been a handful of years since Archer attempted to run its own recreation program, but he is excited about the passion Folston – who was hired as Archer's City Manager in February – is bringing to the endeavor.
"He actually got out there [Friday] and helped coach some basketball and wasn't worried about how many kids showed up," Hunt said about Folston.
The immediate goal the City has in mind is participating in youth flag football beginning in September for ages 6 through 10. The hope after that is that interest is piqued enough among residents to then pursue basketball and baseball.
"The goal is to create something for the kids and parents to do, to bring some excitement back into our city," Hunt said. "By doing this, we are then able to create a better relationship with the people in town and influence kids through sports and other educational means to excel in life."
The City's long-term goals also aren't necessarily limited to youth.
"We would really like to do something for adults as well," Hunt said. "Archer and our surrounding cities are big on adult softball and basketball leagues, and we would love to do something like that to represent our hometown."
For now, Hunt said the primary focus is on spreading the word to Archer residents that people are active and invested in coordinating a recreation program.
"Our main concern is getting [residents] to know and be just as excited as we are to get things back in order," he said. "For any city to grow, you have to invest in the youth, and Archer is doing just that."
For more information on the Archer youth recreation program and upcoming events, please contact Archer City Hall at 352-495-2880.

# # #
Email Dwisener@
alachuatoday.com
Add a comment
Add a comment
Details

Published on

Wednesday, 17 August 2016 13:29

Written by Special to Alachua County Today
Hits: 237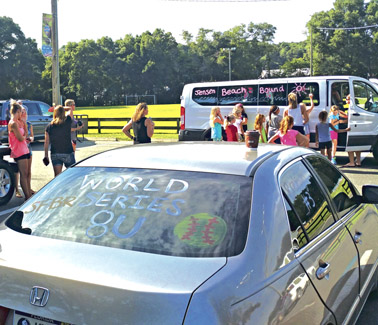 Photo special to Alachua County Today

State champions Santa Fe Babe Ruth 8 Under softball team gathered at the Hal Brady Recreation Complex Saturday to caravan to Jensen Beach, Florida, to complete in the Babe Ruth World Series.
Add a comment
Add a comment
ALACHUA COUNTY – Interstate-75 traffic was backed up for more than five hours in the early morning hours Tuesday following a one-vehicle crash and fire in the northbound lane at Mile Marker 389.
According to a Florida Highway Patrol (FHP) report, a semi-tractor-trailer with two south Florida men inside was traveling northbound when it left the roadway and traveled onto the east shoulder of I-75. The front of the truck then struck a guardrail, and the rear trailer tires traveled up onto the concrete guardrail and became lodged. The vehicle then became fully engulfed in flames.
The driver, 47-year-old Francisco Grajales of Davie, and passenger, 23-year-old Marcus Turner of Miami, escaped with minor injuries.
The incident was reported at 4:30 a.m. Crews were still on the scene at 6:30 a.m. off-loading the cargo to fully extinguish hot spots, according to FHP. Traffic was diverted off the Interstate as Alachua County Fire Rescue worked to contain and extinguish the fire. Traffic was delayed into the late morning hours as cleanup continued.
No immediate cause of the crash was reported, but FHP is continuing to investigate the incident. Alcohol is not suspected to have been involved.
# # #
Email Cwalker@
alachuatoday.com
Add a comment
Add a comment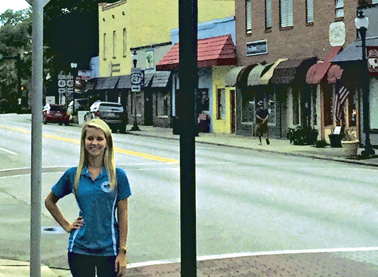 Photo special to Alachua County Today

Julia Holbrook, High Springs Billing Specialist, is the catalyst behind the city's switch to LED street lights.
HIGH SPRINGS – An upgrade in City-owned light fixtures to accommodate LED light bulbs is one step High Springs is taking to save money. "We hope to see a reduction of approximately $20,000 per year with this change," said City Manager Ed Booth.
The change will not only save on the amount of energy used to power the street lights, but is also expected to save on maintenance fees, according to a Duke Energy lighting account estimate.
The estimate, which was provided by Duke's business light development manager Jarrett Daniels, was created in response to an inquiry by Julia Holbrook, Administrative Assistant to Ed Booth.
Expecting that the City would see lower electricity usage, Holbrook was delighted to find that longer lasting LED lights would also mean a reduced need to replace light bulbs, reducing the number of maintenance calls per year and associated fuel and energy costs to perform that maintenance.
Duke's estimate shows a reduction in maintenance and fuel and energy costs to the city of $14,982 per year. However, an increase in the upgraded light fixtures of $5,208 per year reduces the savings amount somewhat, but still provides an overall savings estimate of just under $10,000 per year.
"The City estimates it will save another $10,000 per year in energy usage, which amounts to an overall savings of approximately $20,000," said Booth.
"In addition," said Holbrook, "there will be no charge for the labor to switch out our equipment."
According to an email received by Holbrook, Daniels said he began field data collection around the middle of June. Duke will determine a construction start time, then notify the City when it will begin to convert the light fixtures.
Holbrook has been with the City for more than a year. She was originally hired in customer service but moved into the Administrative Assistant position Oct. 1. She is now moving into the newly created billing specialist position to oversee utility billing issues and concerns.
# # #
Email Cwalker@
alachuatoday.com
Add a comment
Add a comment
Details

Published on

Wednesday, 27 July 2016 10:58

Written by Special to Alachua County Today
Hits: 588
GAINESVILLE – In an effort to increase access to higher education, Santa Fe College in Gainesville Florida will be offering daily shuttle services through MV Connection.
Free Shuttle service is being offered to students in Archer, Newberry, High Springs, Alachua, Starke and Waldo starting the first day of classes.
This pilot project was first suggested to the college through a Coffee Chat with the college's President, Dr. Jackson Sasser. The students on the Transportation Access Fee committee voted to support it for a one year trial.
For more information visit sfcollege.edu/extra
# # #
Email community@
alachuatoday.com
Add a comment
Add a comment