ALACHUA COUNTY – Bad news for government employees, good news for everybody else, it seems.
Eight out of ten industries in the Gainesville metropolitan statistical area, which includes all of Alachua and Gilchrist counties, have expanded the number of people they employ over the last year, according to a report from the Alachua County manager's office.
Only the government sector experienced a reduction in employees, with 2.6 percent fewer workers now compared to May of last year. The information sector remained the same, with no growth or reduction.
"When only one industry is declining, that is a healthy indicator," said Alachua County Economic Development Coordinator Edgar Campa-Palafox. The report from the county manager collects its data from the U.S. Department of Labor, and is meant to provide local lawmakers with a quick snapshot of the state of the economy in the area.
The biggest growth was seen in the mining, logging and construction industries, which had a combined increase of 7.3 percent.
One reason for the increase is that these kinds of businesses have traditionally not had a large presence in the area, so even a small surge in the number of employees would cause the percentage to shoot up, said Ray Schaub, from the University of Florida Bureau of Economic and Business Research.
"When dealing with a smaller sample, these numbers tend to fluctuate more," he said. For example, an industry that employs 1,000 people could add only 70 jobs and it would be reflected in a 7 percent increase. Industries like leisure and hospitality, which has been small because of the lack of tourism in the area compared to the rest of the state, had a 6.9 percent expansion in workers since even a small hiring surge would have a major impact.
Even so, the increases are still significant, said Economic Development Coordinator Campa-Palafox. Schaub also agreed.
"It's still a positive sign," Schaub said.
Despite what the numbers indicate, not everybody in the construction world has seen the effects.
Ron O'Steen, of construction company O'Steen Brothers Inc., said his firm has not been able to add on new employees in the last year. Although he has seen more work lately, it has been sporadic and not steady enough.
"The work is not consistent enough," he said. "We'd put them to work for a month or two then have to lay them off."
Most of his work comes from government contracts, but the building block of revitalizing construction in Alachua County is the residential market, which feeds business development, he said.
"We've been sucking air for the last four or five years," O'Steen said in regards to the housing construction market.
The increase in construction jobs is probably a result of pent-up demand from the last five years, said County Commissioner Lee Pinkonson.
O'Steen said he still hasn't lost hope, and he expects things to improve.
"It's like a train with a lot of cars. It's slow getting started," he said, but it builds momentum eventually. There has been an increase in residential construction activity, a good sign. When more houses are constructed, it means more people to put money into the economy and attract new businesses.
Ronald Kless started Leading Edge Advertising Agency in January, which offers search engine optimization, web design and advertising packages. Although he is the only full-time employee, his company has employed several freelancers. With the business services sector in the combined counties of Alachua and Gilchrist growing 6.3 percent in the last year, more companies like Leading Edge might be created. He expects to add three to six full-time employees by sometime in 2014.
Kless attributes the growth in demand for business services to the arrival of companies, especially startups, attracted by the nearby university.
"There's a constant influx of money from all over the state because of the students," he said. Because startups don't have the resources an established company might have, they need an advertising agency that can provide customized service, he said.
"We form a symbiotic relationship. They need us and we need them," he said. Companies providing professional services reflect what is going on in the local economy in general, Kless added.
Nanotherapeutics, based in the city of Alachua, announced earlier this year it would create 150 manufacturing jobs in Florida. Manufacturing saw a 4.7 percent increase in employment over the last year. In addition, education and health services increased 5.2 percent, financial activities increased 1.6 percent, transportation and utilities increased 1.7 percent, and the miscellaneous sectors increased by 5 percent. Total non-farming business increased 2.2 percent.
County Commissioner Pinkonson said the economic indicators report is encouraging.
"Things definitely look better," he said.
Although Gainesville is the economic hub of the area, the agriculture-heavy rural areas make a large contribution to the economy too, Pinkonson said.
The reduction in government employment is probably a result of the recession, he said.
Schaub disagreed, saying it was probably due to a combination of decreased funding from the state, and the state setting trends by reducing the size of its payroll.
Overall unemployment in the area rose slightly over the period from April to May, going from 4.9 percent to 5.3 percent, but it is still well below the state average of 7.1 percent and the national average of 7.6 percent.
"The trend is going," said Campa-Palafox, "but not as fast as everybody would like it to."
The inclusion of Gilchrist County in the average probably doesn't change the figure that much, Campa-Palafox said. Without it, the average would probably only be about .1 or .2 percent lower.
The economic report paints a good picture he said, but unemployment is still too high.
Alachua County Commissioner Susan Baird agreed.
"We're doing well, but it should be outstanding with the potential we have."
One problem is that electricity rates in Alachua County are too high, making it difficult for businesses to move in, Baird said.
"With a city that has so much employment from the university and government, the unemployment should be around 3 percent," she said.
"I think that's a realistic goal."
# # #
Email CMcKinney@
alachuatoday.com
Add a comment
Add a comment
ALACHUA – An Alachua man was hospitalized in critical condition due to a shooting Monday night.
At about 11:30 p.m. Saturday, Elliot Jones, 29, was shot at 14016 NW 158 Ave., near Saint Matthew Baptist Church.
Police found Jones with a gunshot wound to the head. Officers provided first aid until the paramedics arrived.
Witnesses helped the Alachua Police Department identify a suspect as Kenya Carter Jr., 24, who fled the scene, said police investigator Jesse Sandusky. Authorities put out a warrant for Carter's arrest, before he came to the police department and turned himself in Sunday evening, asking to talk to an officer about the incident.
There were several witnesses who saw the shooting, Sandusky said, but he couldn't give an exact number.
Jones, who is still alive but in critical condition at Shands Hospital, also identified Carter as the shooter, according to the sworn complaint.
An argument between Jones and Carter that could have led to the shooting happened in an area known as "The Tree," a hangout spot with a history of crime.
The incident appears to have started over glass being thrown at a vehicle near "The Tree," according to the complaint. At some point, Jones left the area and went toward his house. A short time later, a vehicle pulled up to Jones' house. Jones left the house and the shooter raised a black semi-automatic pistol toward him. The shooter hit him in the center of the forehead, and then escaped in his vehicle. A witness told police she personally knew the shooter, and identified him as Carter.
Carter is in the Alachua County Jail with a $2 million bond. He is being charged with attempted murder.
The investigation is still ongoing. Anyone with information on other people involved can contact the Alachua Police Department at 386-462-1396.
# # #
Email CMcKinney@
alachuatoday.com
Add a comment
Add a comment
HIGH SPRINGS – Portions of two High Springs streets have been closed. The High Springs City Commission voted during a public hearing on Thursday, April 11, 2013, to close sections of SE Douglass Street and SE Taylor Avenue. Ordinance 2013-03 was approved on second reading, finalizing the action. The ordinance is the result of a request by High Springs Land Development, LLC to close as a right-of-way, the portions of SE Douglass Street and SE Taylor Avenue.
A piece of the two parcels had been designated as a right-of-way in the event the road was ever widened. Because this is a two-lane road in a residential neighborhood, the commission saw no reason to maintain that right-of-way any longer and granted the request.
# # #
Email Cwalker@
alachuatoday.com
Add a comment
Add a comment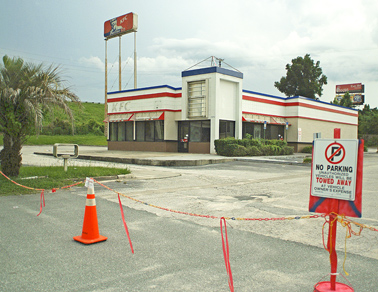 Days are numbered for a familiar sight at the intersection of U.S. Highway 441 and Interstate 75. The KFC restaurant will be demolished to make room for a southbound ramp.
ALACHUA – The KFC in Alachua has flown the coop to make room for some changes to Interstate 75.
The Florida Department of Transportation paid $1,754,900 for the land where the KFC restaurant at 16011 NE Martin Luther King Drive is in order to build a new on ramp for I-75.
"It's all part of a long-term plan we have to make improvements to I-75," said Gina Busscher, public information director for FDOT District Two. "This is just one aspect of the master plan."
Currently, the southbound ramp is on the north side of the road, forcing people to navigate a huge turn, and then accelerate into the interstate, Busscher said. This has caused congestion issues and accidents. It makes little sense for drivers to turn left in order to go right, she added.
The new southbound ramp is on the south side of the road, fitting in with people's expectations, she said. It is expected to cost around $8 million. In addition to the ramp, the state is building a parking lot nearby where people can meet a friend or coworker, leave a vehicle behind, and carpool.
The FDOT is still in the paperwork phase of the project, Busscher said. Southland Construction, out of Apopka, near Orlando, is the contractor. Bowyer-Singleton, out of Orlando, is the design team. The construction and design were combined into a single contract.
The FDOT expects work to start on the renovations sometime in August, and the project could be completed as early as the beginning of 2015.
# # #
Email CMcKinney@
alachuatoday.com
Add a comment
Add a comment
Waste Pro-Tection program serves as community watch program
ARCHER – Waste Pro-Tection, a program where Waste Pro drivers keep a look out on the community in Archer was adopted in the April 8 city commission meeting.
Waste Pro began a community watch program in partnership with Alachua County through the Business On the Look Out, said Dayna Miller, Waste Pro municipal marketing manager.
"We're doing similar programs in a couple different areas in Florida down south on a smaller scale and when I found out about it I expanded on it," she said.
The program, which trains drivers to report suspicious behavior during their shifts, began in the city of Alachua about a year and a half ago and was later presented to Hawthorne, Miller said.
There are a total of eight cities in Florida that have adopted the service. Archer is the third city the company presented the opportunity to in Alachua County.
Archer City Manager Al Grieshaber Jr., said he liked the idea of the program.
He said it was another way to keep the community safe.
Miller said the program has received positive feedback from the communities since it was implemented.
"It's another set of eyes and ears on the road for law enforcement," she said.
The community watch program does not cost cities or the company itself anything. And employees are not paid extra compensation, Miller said.
"There is no cost at all to the municipalities or taxpayers to provide this service because we are already out on the road and a lot of our drivers are running the same sections of town every time and so they get very familiar with the area," she said.
The company picks up garbage, recycling and yard debris four days a week in Archer. There are a total of 25 Waste Pro employees in the county.
Once cities adopt the service in their community, the city's police department or the law enforcement that works in the area train Waste Pro drivers.
During these workshops, which are taught once a year, Waste Pro employees review what they should look for, be aware of and the kind of activity that may look suspicious.
"Although, yes, we are an extra set of eyes and ears for the police or sheriff's department, we are not asking our drivers to jump out and stop a crime from happening," Miller said, "all we're doing is asking them to report suspicious activities."
She said the service is a community watch, not a crime watch.
"I definitely want people to know that we intend to take it to more cities," she said. "I would love to take it to all of our cities and not just those in Florida."
# # #
E-mail acarroz@
alachuatoday.com
Add a comment
Add a comment