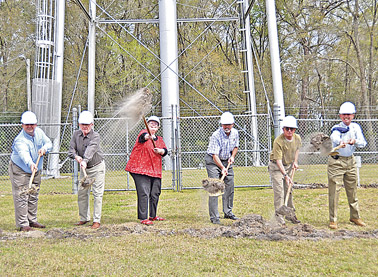 ARCHER – Bicyclists from the Gainesville and Archer area will soon be able to ride back and forth on their own trail.
The six-mile Archer Road Biking/Walking Trail that will run along Archer Road is set to open by the end of spring or early summer, depending on how the weather affects construction, said Laurie Windham, spokesperson for the project.
"I think it'll be a good thing," Windham said. "People we've talked to are pretty excited about it."
The trail will begin in Gainesville on 91st Street and end at the trailhead, or parking area, located across from the Archer water tower.
On March 11, Archer city commissioners had a groundbreaking ceremony at the trailhead.
The trail will be 10 feet wide, making it suitable for biking, walking, rollerblading and skate boarding. However, golf carts, scooters or anything with a motor will not be permitted.
Once construction ends, there will be a one-foot unpaved shoulder on each side of the trail, Windham said.
John Mayberry, Archer assistant city manager, said the Florida Department of Transportation has been planning this for the last year and a half and construction began in January.
"We're just really excited about it," he said. "It's been about a year and a half since the Florida Department of Transportation came and initially presented the project to us, and we're just really happy to see it come to fruition."
There will be a small parking lot with five parking spaces and an informational kiosk, or bulletin board at the trailhead.
However, Windham said there would not be any water fountains placed on the trail.
She said the state-funded project will cost more than $1 million. The cost includes the design and construction work.
The Florida Department of Transportation hired V. E. Whitehurst and Sons, Inc., of Williston as a contractor to design and work on the construction of the trail, Windham said.
The trail is part of the Archer Braid, a series of trails that go in and around Alachua County, she said. However, this is the only trail in which the State is involved.
Mayberry said this project would help bring more visitors to Archer.
"We have a large biking population as a county and this is initially going to bring a wave of people out that are going to go and see what the trail has and what it provides and the scenery," Mayberry said.
# # #
E-mail acarroz@
alachuatoday.com
Add a comment
Add a comment
NEWBERRY – The City of Newberry is taking a closer look at its fire department and its future anticipated costs. The City conducted a workshop Feb. 11 to provide information about the future of the fire department and costs projected out as far as 10 years.
People attending the workshop were provided information packets with past data, 10-year projections and County versus City operation cost comparisons. The meeting was held to gauge residents' views about taking on additional costs in the future for department upkeep. A critical point made was that future operational costs of the fire department could mean having to increase fees or millage rates.
The fire service fee per residence is currently $100, but the City's ordinance allows the City Commission to raise the fee to $124 without having to conduct a study and analysis.
"Small town fire departments can do what other departments can't," City Manager Keith Ashby said. "The fire fighters will come over and take your pulse and vitals. I had it happen personally with my dad, and his life was saved because of that. "
Ashby's upshot of the meeting is that the community appreciates its department and does not wish to change how it operates.
But Ashby cautioned, "If you love our fire department, and it could cost us a million in the next 10 years, this could potentially increase your millage rate."
# # #
Add a comment
Add a comment
HIGH SPRINGS – No agreement was reached in the case of Christian Popoli vs. City of High Springs after more than four hours of mediation on Friday, Feb. 22, 2013. No details are available as mediation proceedings are confidential. The mediator, former Circuit Court Judge Frederick D. Smith, has filed his mediation report with the court.
Judge Toby S. Monaco previously scheduled a status conference for Tuesday, April 2, 2013, to discuss progress toward settlement as well as to set a discovery schedule.
Popoli's lawsuit alleges wrongful termination of employment by the City of High Springs as a result of "blowing the whistle" on unlawful activities and failure to produce public records. Popoli's attorney, Linda Rice Chapman, was hopeful prior to mediation saying, "I think everybody involved wants to find a resolution that is acceptable to both sides."
After mediation Ms. Chapman noted "Mr. Popoli's damages continue to accrue as he has not found employment. Any further delay in resolving this case will only result in more cost to the City and higher attorney fees."
Despite not coming to an agreement at mediation, further settlement discussions are expected to continue. According to Chapman, both parties continue to express hope that the case will be resolved in the near future.
# # #
Email Cwalker@
alachuatoday.com
Add a comment
Add a comment
WALDO – The City of Waldo is looking into the possibility of building a new fire station within city limits.
Facing financial issues two years ago, Waldo turned over the city operated fire station to Alachua County. Located at 263 SW 2nd Way in Waldo, the fire department is currently managed and operated by the County, not the City of Waldo.
In the existing agreement between the County and the City, a new fire station could be built if the City of Waldo provides the necessary property of approximately two acres. Alachua County would responsible for the financial resources required.
Alachua County Fire Rescue Chief Ed Bailey confirmed that Waldo is currently searching for an ideal location for a new fire station.
"The design is already set for the station," said Bailey. "We would be applying for any grants that are available and applicable to fund this."
Upon the construction of the new fire station, the old fire station would revert back to the City of Waldo's ownership and the new fire station would be controlled and managed by Alachua County. The main objective is to have a fire station of the appropriate size and meet the required building codes.
Waldo City Manager Kim Worley said the plan is just in the preliminary stages.
"He [Bailey] and I are trying to figure out where we can find the land. The applications for the grants still need to be put in," she said.
Locations for the new fire station would ideally be off one of the major highways such as U.S. Highway 301 North or South or State Road 24.
# # #
E-mail dbonilla@
alachuatoday.com
Add a comment
Add a comment
Details

Published on

Thursday, 21 February 2013 02:33

Written by Special to Alachua County Today
Hits: 3681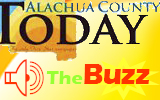 GAINESVILLE - Central Florida Community Action Agency (CFCAA) will be hosting its inaugural Community Partner Awards Breakfast on Wednesday, March 27, 2013, between 8 a.m. and 10 a.m. The event is expected to draw over 200 attendees at the Paramount Plaza Hotel and Conference Center.
Mary Wise, University of Florida's women's volleyball coach, will be the keynote speaker. Awards will be presented to businesses and organizations that have assisted CFCAA over the years in delivering services in Alachua, Levy, and Marion counties.
Breakfast tickets will be sold for $15 each starting Feb. 21. All proceeds will go to support CFCAA's self-sufficiency, energy assistance and home weatherization programs. To learn more about CFCAA's poverty-fighting programs, visit http://cfcaa.org/index.asp?page=services.
In conjunction with the breakfast, raffle tickets will be sold for $2 each up to the event and will be available for purchase on February 21. Prize winners do not have to be present at the breakfast when they are announced.
The prizes include a basketball signed by University of Florida men's basketball coach Billy Donovan, an Apple iPad, a 30K/60K car maintenance service package, a Kindle Fire, a Sony DVD Home Theatre System and a round of golf for four.
Door prizes will also be awarded on the day of the breakfast for those in attendance. These prizes include five car oil change gift certificates, four restaurant gift certificates and three University of Florida necklaces.
For more information, contact Monique Harrison at This email address is being protected from spambots. You need JavaScript enabled to view it. .
# # #
Add a comment
Add a comment