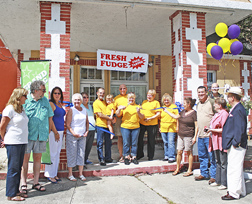 Owners of Vintage Fudge are joined by family and High Springs Chamber of Commerce members and City officials as they open the doors to their shop.
HIGH SPRINGS – The proud owners of Vintage Fudge, Donnie and Shauna Lee Smith, were joined by well-wishers on Saturday, Sept. 1 as they cut the ribbon, opening doors to what may be the sweetest business in town. The grand opening was celebrated by the Smiths and High Springs Chamber of Commerce President Sandra Webb as well as several City of High Springs dignitaries.
Following the ribbon-cutting, the Smiths served up samples of their tasty treats to guests.
Vintage Fudge is located at 90 North Main Street at the corner of Main Street and 1st Avenue in High Springs. The shop is offering more than a dozen types of fudge, and promises to make special seasonal flavors as well. It is expected to be open Tuesday through Sunday from 10 a.m. until 7 p.m.
# # #
Email This email address is being protected from spambots. You need JavaScript enabled to view it.
Add a comment
Add a comment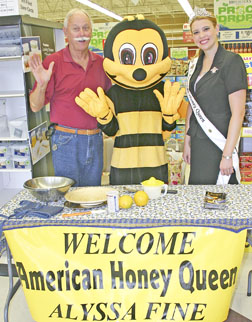 Alachua Mayor Gib Coerper, Earlea Bee and American Honey Queen Alyssa Fine shared a few minutes at Hitchcock's Markets in celebration of National Honey Bee Day.
ALACHUA – The 2012 American Honey Queen, Alyssa Fine of Monongahela, Pennsylvania, recently made a stop at Hitchcock's Markets as a part of her promotion of National Honey Bee Day.
This event is held each year as a public service to educate the public on what each of us can do to help save the honey bee, the disappearing pollinators.
Alachua's Mayor Gib Coerper stopped by to enjoy some of the delicious food Fine prepared using honey. Mrs. Bill Irby also stopped by with her daughter to say "hi" to club mascot Earlea Bee.
Many have heard of Colony Collapse Disorder (CCD) and other problems bees face each day as they go about pollinating the crops that provide most of the foods we eat.
When unwanted pests on our flowers or in our gardens are killed, the honeybees that ensure a crop each year are killed as well.
There are alternative methods to rid crops of unwanted pests without dumping poisons on the plants and in the air. Next planting season try spraying crops with cayenne pepper mixed in water or with flour to dust the crops. It keeps away the sucking insects, but allows the honey bees to do their job of pollination.
When bees visit the plants they pick up any poison and take it back to the hive where it can kill the larvae that is being reared to replace the older bees. According to scientists, the average life span of a worker bee is about 30 days or less.
Buying local honey helps the bees in the area and the beekeepers that spend their time and efforts to give the bees a safe place to live. In addition to the quality honey produced by Chappie McChesney's bees, there are others as well, who have joined the Alachua County Beekeepers Club to learn more about the fascinating honey bee.
Visit the website of the newly formed North Central Florida Beekeepers Association to find a bee club near you. The members are always willing to help interested people get started as beekeepers or just share information that will help become a part of the solution to saving our bees.
Visit www.floridabees.org or give Chappie McChesney a call at 386-462-2637. If you find bees in your yard, he will come out and remove any honeybees free of charge.
# # #
Email This email address is being protected from spambots. You need JavaScript enabled to view it.
Add a comment
Add a comment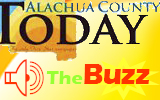 ALACHUA COUNTY, FL – The Alachua County Health Department has detected mosquito borne diseases in its surveillance network. "Eastern Equine Encephalitis has been detected in a sentinel chicken." stated Anthony Dennis, Environmental Health Director of the Alachua County Health Department (ACHD). "The risk of disease transmission to humans and animals has increased. Citizens are encouraged to avoid exposure to mosquitoes."
DRAIN and COVER
DRAIN standing water to stop mosquitoes from multiplying.
DRAIN: water from garbage cans, house gutters, pool covers, coolers, toys, flower pots or any other containers where sprinkler or rain water has collected.
DISCARD: Old tires, drums, bottles, cans, pots and pans, broken appliances and other items that aren't being used.
EMPTY and CLEAN: Birdbaths and pet's water bowls at least once or twice a week.
PROTECT: Boats and vehicles from rain with tarps that don't accumulate water.
MAINTAIN: The water balance (pool chemistry) of swimming pools. Empty plastic swimming pools when not in use.
COVER your skin with clothing and use mosquito repellent.
CLOTHING: If you must be outside when mosquitoes are active, cover up. Wear shoes, socks, long pants, and long sleeves.
REPELLENT: Apply mosquito repellent to bare skin and clothing. Always use repellents according to the label. Repellents with DEET, picaridin, oil of lemon eucalyptus, and IR3535 are effective. Use mosquito netting to protect children younger than 2 months.
COVER doors and windows with screens to keep mosquitoes out.
Keep mosquitoes out of your house. Repair broken screens on windows, doors, porches, and patios.
Other Prevention Measures
Limit outdoor activity at when mosquitos are most active. Avoid areas where there are a lot of mosquitoes.
Contact your local mosquito control agency if there is a significant mosquito problem where you live or work.
Fill in holes or dips in the ground that collect water. Level the ground around your home so water can run off.
Stock your ornamental water garden with mosquito-eating fish (minnows, gambusia, goldfish, or guppies).
Always read label directions carefully for the approved usage before applying a repellent to skin. Some repellents are not suitable for children.
Products with concentrations of up to 30 percent DEET are generally recommended. Other EPA-approved repellents contain picaridin, oil of lemon eucalyptus, or IR3535. These products are generally available at local pharmacies. Look for active ingredients to be listed on the product label.
Apply insect repellent to exposed skin or onto clothing, but not under clothing.
In protecting children, read label instructions to be sure the repellent is age-appropriate. According to the CDC, mosquito repellents containing oil of lemon eucalyptus should not be used on children under the age of 3 years. DEET is not recommended on children younger than 2 months old.
Infants should be kept indoors or mosquito netting should be used over carriers when mosquitoes are present.
If additional protection is necessary, apply a permethrin repellent directly to your clothing. Again, always follow the manufacturer's directions.
Repellent Information
For more information, see the CDC's guidelines or the EPA guidelines.
For additional information, contact the Alachua County Health Department at 352-334-7930.
# # #
Add a comment
Add a comment
Details

Published on

Sunday, 12 August 2012 14:07

Written by Special to Alachua County Today
Hits: 1610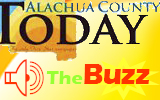 GAINESVILLE – The Hippodrome's 40th Anniversary season opens with one of Broadway's most acclaimed productions of recent years, the Pulitzer Prize finalist and Tony award-winning
"Other Desert Cities"
by Jon Robin Baitz. In a carefully manicured world of power and privilege, her story will rock one Hollywood family to its core.
Meet the Wyeths. A family that appears to have it all - wealth, political influence, and A-list connections. They are "living the dream" in Palm Springs, California. But their carefully crafted facade is on the verge of shattering when daughter Brooke reveals the impending publication of her "tell-all" memoir.
"Other Desert Cities," is a richly satisfying exploration of the faultlines that exist between privacy, artistic expression, explosive family secrets, and the truth. This fast-paced production brings together an unforgettable cast of characters, razor-sharp wit, and a jaw-dropping plot twist. With crackling wit, razor-sharp one-liners, a fierce cast of characters, and a storyline that grabs you and won't let go - "Other Desert Cities" is a "must-see" way to kick off the Hipp's 40th Anniversary Season.
"Other Desert Cities" opens Friday, Aug. 31with reduced price previews Aug. 29 and 30. Showtimes are Tuesdays and Wednesdays at 7 p.m., Thursdays and Fridays at 8 p.m., Saturdays at 5 p.m. and 8:30 p.m., Sundays at 2 p.m. and 7 p.m. Tickets on sale now at 352-375-HIPP (4477) and thehipp.org.
# # #
Add a comment
Add a comment
Details

Published on

Sunday, 15 July 2012 13:59

Written by Special to Alachua County Today
Hits: 1662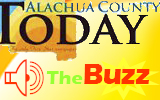 ALACHUA – First Baptist Church of Alachua is holding two Basketball Skills Camps in late July and early August. A cost of $30 per child for either camp covers five, 2-hour basketball skills sessions in small groups and a reversible practice jersey.
The camps are as follows:
Camp for children entering 3rd - 5th grades will be held the week of July 30, Monday, Tuesday, Thursday and Friday from 6:30-8:30 p.m. and Saturday from 9:30-11:30 a.m.
Camp for children entering Kindergarten - 2nd grade will be held the week of Aug.6, Monday, Tuesday, Thursday and Friday from 6:30-8:30 p.m. and Saturday from 9:30-11:30 a.m.
Registration is available at the church office in July from 9 a.m. - 3 p.m. or on the first night of camp beginning at 5:30 p.m. There will be a maximum of 40 children per camp, so it is recommended that children be registered early.
# # #
Submit your story by
Emailing This email address is being protected from spambots. You need JavaScript enabled to view it.
Add a comment
Add a comment