HIGH SPRINGS – A major accident just south of the High Springs exit onto Interstate-75 brought firefighters from the High Springs Fire Department (HSFD) and Alachua County Fire/Rescue out at approximately 5:20 a.m., Wednesday. The crash occurred on I-75 southbound near mile marker 403, just south of the County Road 236 exit.
Upon arrival, High Springs firefighters found a vehicle severely damaged with occupants trapped inside. Thanks in part to the fire department's newly acquired hydraulic tool, firefighters had the occupants removed within a matter of minutes. One subject was transported to the hospital by Alachua County Fire/Rescue, and two others refused transport according to a HSFD report.
A thick fog in the area was a possible factor in the crash, although the exact cause is under investigation by law enforcement.
# # #
Email Cwalker@
alachuatoday.com
Add a comment
Add a comment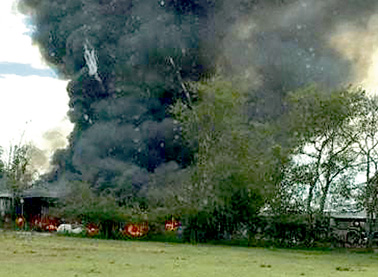 The High Springs Fire Department responded to this fully involved fire on northwest 174th Avenue. (Photo special to Alachua County Today)
HIGH SPRINGS – On Monday, Nov. 14, the High Springs Fire Department (HSFD) was scheduled to arrive at the GFWC High Springs Women's Club in the afternoon to offer tutorials and demonstrations about CPR.
Little did they know they would be called to action to put out a massive, fully-involved fire at 27723 N.W. 174th Avenue.
"Upon arrival, Chief Bruce Gillingham and firefighters from Engine 29 and Tanker 29 found a large pole barn fully engulfed in flames," said Kevin Mangan, HSFD Public Information Officer.
Within minutes, firefighters began defensive operations while battling the blaze. Entry into the structure was not permitted due to unsafe conditions, resulting in the blaze being fought strictly from the outside. . "The contents of the 13,000-sq.-ft. barn included highly flammable oil drums, a vehicle and several pieces of farm equipment. The barn is a total loss and investigation is ongoing," according to Mangan.
"We could see the column of smoke right when we turned off County Road 340," said Mangan.
Fighting the fire took the department about half an hour. And firefighter took care to make sure no hot spots, or places where the flames could be rekindled, were apparent.
An additional tanker from Alachua fire rescue was available, however was not needed.
The Woman's Club CPR seminar will be rescheduled to a later date.
# # #
Email rbarnett@
alachuatoday.com
Add a comment
Add a comment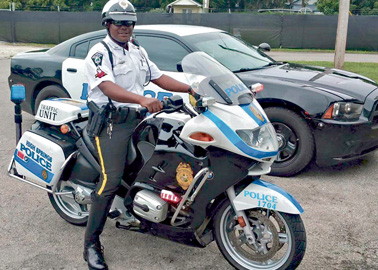 The BMW motorcycle is the High Springs Police Department's latest tool in community policing and increasing visibility in the community. The motorcyle was a donation from the City of Alachua to the City of High Springs (Today photo/RAY CARSON)
HIGH SPRINGS – The High Springs Police Department has added a new vehicle and one of its officers is now driving a BMW. But it's not a fancy car for some secret undercover work, it's a motorcycle and it is meant for the community to see.
Officer Jason Taylor has been riding motorcycles for 12 years for his own uses, but the police department only has patrol cars for its officers. Taylor felt that adding a motorcycle might not only give the department versatility, but would also help with community relations and create more visibility for the department. Taylor says that community relations and interaction with the people they serve have always been an important aspect of being an officer. Visibility at events such as parades, funerals or schools and charity events show a different side of the police to the public. It gives the officers a chance to interact with people and show themselves as regular people rather than an authority figure. Stronger bonds between police officers and the community they serve improves trust and cooperation as they work together to keep the community safe. Officer Taylor felt that a motorcycle would gain more attention, especially with school age kids at events.
He began writing letters to local government, county and state officials, seeking the funds or a donation to purchase a motorcycle. He felt that this was very important tool for the police department. Having a motorcycle unit would also allow the High Springs department to claim membership in the Alachua County Motorgroup, which is comprised of motorcycle police units throughout the county.
As Officer Taylor continued to petition for funding, it was the City of Alachua that came up with a solution. They had a motorcycle that they were not using, and were willing to donate it to the City of High Springs at no cost the taxpayer. The motorcycle, a BMW 1150 RTP is a high quality powerful bike that is well suited to police work. But this bike has a different mission. Officer Taylor will be the rider and the purpose of the bike unit is geared toward getting it out in the community.
Despite his prior experience, Taylor will go through an 80 hour intense training course. The combination of rider and bike will be put through a battery of skill tests. "It is a very, very intense course," he said. "Most of the training takes place on the bike, not in the classroom."
Once training is completed, Taylor will be designated to work with community groups to help improve integrating the officers into the community they serve. He will spend much of his time doing this work, but will still respond to calls for assistance that come in, and still work in a patrol car. However, much of his time will be taking the motorcycle to the community and doing the work he loves best.
# # #
Email Rcarson@
alachuatoday.com
Add a comment
Add a comment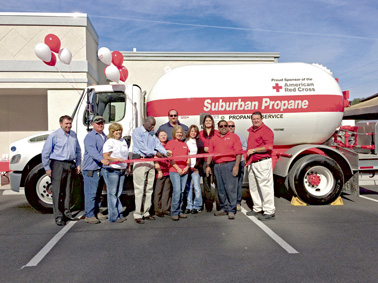 High Springs Mayor Byran Williams cuts theribbon at the grand opening of Suburban Propane's new office. (Today photo/C.M. WALKER)
HIGH SPRINGS – Area residents and local dignitaries joined the staff of Suburban Propane on Oct. 25 to share in the grand opening of the newly renovated High Springs branch office. The office, located at 17460 High Springs Main Street, now has space to welcome employees from their Gainesville office to join them in serving their High Springs area clients.
Residents, company and city officials looked on as High Springs Mayor Byran Williams performed ribbon-cutting duties.
Suburban Propane provided a jump house for kids to enjoy and the High Springs Fire Department brought one of their fire trucks for kids to explore. Visitors also took advantage of a grand opening special on cylinder fills for $8 per 20-lb. tank.
Flu shots, provided by Walgreen's Drug Store, were available for anyone wishing to take advantage of the opportunity. A blood drive was set up by Life South Community Blood Center as well.
Door prizes were given out and visitors took advantage of the refreshments and lunch provided by Suburban Propane in honor of the occasion.
The new facility will employ a staff of 18, 17 of whom transferred from the company's former Gainesville office to the newly-renovated location.
Suburban Propane Partners, L.P. is a nationwide distributor of propane, fuel oil related products and services, as well as a marketer of natural gas and electricity.
# # #
Email Cwalker@
alachuatoday.com
Add a comment
Add a comment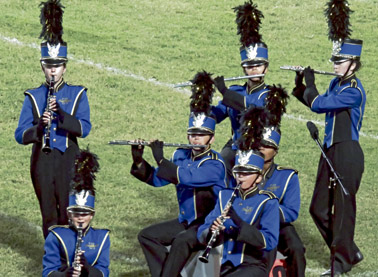 Newberry High School performs during the final competition, placing ninth out of 19 high schools. (Today photo/RAINA BARNETT)
ALACHUA – The spirited sound of 19 different high schools exploded through the halls and on the football field of Santa Fe High School at the 21st Annual Southern Showcase Marching Band Competition on Saturday, Oct. 22.
Bright reds, deep blues, fantastic purples and colors of all kinds swirled around on the field as marching band students and color guard dancers weaved and moved around each other during competition.
Giant images, banners and other props occupied the field as the day progressed, with each high school bringing something unique to the table.
As the brassy instruments, crisp uniforms and bright young faces gleamed in the sunlight, the beat of the drum line and the notes of a cohesive and organized band carried each contestant closer to the title of Champion of the South.
Julie Harris, a regular volunteer at Santa Fe High School and mother of high school senior Ethan Harris, said the event takes hundreds of volunteers.
"I'm a band mom" she said. "This event probably brings about 10,000 people from all over right here to Santa Fe High School."
The title of Ultimate Champion of the Southern Showcase was granted to Gainesville High School. Along with Champion, they scored a total of six other awards, including Best in Music, Best in General Effect, Best in Visual Performance, Best in Color Guard, Best in Brass and Best in Drum Major.
"The guard has done a lot of practice over the summer leading up to this," said Katelyn Moore, a freshman color guard dancer from Gainesville High School. "We had Band Camp I, and that was like a full week, 12 hours a day. It feels pretty good [to win]."
The Gainesville High School band is comprised of over 60 freshmen out of 120 students. That meant the new talent had to pick up what was taught quickly and efficiently.
Tori Earley, a trombone player and freshman at Gainesville High School, said she feels like part of the family now that the Champion title was earned.
"We had a lot to live up to this year because we won state and showcase last year," she said. "It was really cool winning tonight because we feel like we're definitely part of the family."
Best in Percussion went to Wiregrass Ranch High School from Wesley Chapel, Florida and Best in Woodwind went to East Side High School from Gainesville.
Kimberly Bowman, a freshman who plays the flute and chimes at Santa Fe High School, spent the day volunteering up until her school performed an exposition at the end of the night.
"It was intense," she said. "Our slogan to cheer each other on is 'Be Somebody,' and it's a pretty big deal."
Among the top 10 finishers were Lecanto, Newberry, Port Charlotte, East Side, Lincoln, East Ridge, Wiregrass Ranch and Durant. Second place went to Lowdnes High School all the way from Valdosta, Georgia. Lowdnes High School had the biggest band from a school of nearly 3,000 students.
The energy of thousands of high school students eager to perform well vibrated through the air well into the night. Their efforts were impressive to witness.
"This is their chance to shine," Harris said.
# # #
Email Rbarnett@
alachuatoday.com
Add a comment
Add a comment