Details

Published on

Wednesday, 21 December 2011 22:11

Written by Special to Alachua County Today
Hits: 3999

ALACHUA COUNTY – The Alachua County Extension Office is offering the following Family & Consumer Sciences Programs by Dr. Brenda Williams, Family & Consumer Sciences Agent for January 2012. All of these programs are held at the Extension Office at 2800 NE 39th Avenue, Gainesville.
Building Your Financial Future (A personal financial management program - for those filing bankruptcy only) - January 5, 12:30 p.m. to 4:30 p.m.
Attendees will learn four basic concepts that will aid in handling financial resources responsibly and building a financially secure future. This program has been approved to issue certificates evidencing completion of a personal financial management instructional course in compliance with the Bankruptcy Code. You must bring your case number with you.
Topics include: Develop Your Budget, Money Management Skills, Use Credit Responsibly, and Consumers Rights and Responsibilities
Cost to attend this class is $10 (cash only) for course materials. Pre-register by Jan. 2 by calling 352-955-2402. For alternate class dates, or view the complete brochure, visit http://alachua.ifas.ufl.edu/calendar.shtml
Before You Tie the Knot – Jan. 9 & 10, 5:30 p.m. to 7:30 p.m.
Before You Tie the Knot is a premarital preparation course.
Topics include: Communication, Conflict Management & Resolution, Financial Responsibility & Spending Plans, and Children and Parenting Responsibilities
Completion of this course is required to receive a $32.50 reduction of marriage license. Attendees will receive a certificate of completion and a copy for the Clerk of the Court. There is no cost to attend this two evening class. Pre-register by Jan. 4 by calling 352-337-6209.
Food Safety and Quality Program (ServSafe®) – Jan. 11, 8:30 a.m. to 4:30 p.m.
This program is dedicated to providing training which enables food managers and staff to offer Florida consumers food that is prepared in a clean and safe environment. For further information and to register, please visit http://foodsafety.ifas.ufl.edu, or call toll-free at 1-888-232-8723.
For more information about these programs call 352-955-2402. Visit http://alachua.ifas.ufl.edu/calendar.shtml for additional programs offered by the Extension Office.
Add a comment
Add a comment

WASHINGTON, D.C. - The U.S. Consumer Product Safety Commission, in cooperation with the firm named below, today announced a voluntary recall of the following consumer product. Consumers should stop using recalled products immediately unless otherwise instructed. It is illegal to resell or attempt to resell a recalled consumer product.
Name of Product: Hamilton Beach(r) classic chrome 2-slice toasters
Units: About 14,000
Importer: Hamilton Beach Brands Inc., of Glen Allen, Va.
Hazard: When the toasters are first plugged into the outlets, the heating element can be energized although the toaster lifter is in the up or off position, which can pose a fire hazard if the toaster is near flammable items.
Incidents/Injuries: Hamilton Beach has received 5 reports of toasters being energized when first plugged into an outlet. There have been no reports of injuries or property damage.
Description: The Hamilton Beach recall involves model 22602 toasters. The model number is printed on the bottom of the toaster. The toaster has a chromed steel exterior, a front control panel with a rotary toast shade selector and function buttons arranged in an arc, a front removable crumb tray and "Hamilton Beach" printed below the control panel.
Sold at: Mass merchandisers and department, grocery and home center stores nationwide from August 2011 through November 2011 for between $19 and $34. Also, some of these toasters were sent to consumers as replacements for model 22600 toasters recalled in June 2011.
Manufactured in: China
Remedy: Consumers should immediately stop using the recalled toasters and contact the firm to receive instructions on how to obtain a free replacement toaster.
Customer contact: For additional information, contact Hamilton Beach at (800) 576-6600 anytime, or visit the firm's website at www.hamiltonbeach.com. General toaster safety information available from Hamilton Beach at http://tinyurl.com/43va5sd.
Add a comment
Add a comment
Details

Published on

Monday, 12 December 2011 22:51

Written by Special to Alachua County Today
Hits: 4124

LAKE CITY – Search-and-rescue efforts continue for a missing Lake City resident who was reported overdue from a fishing trip Saturday night, according to Florida Fish and Wildlife Conservation Commission (FWC) officials.
Norris S. Demeritte, (DOB 08/31/58) was reported overdue, along with his mother, Emma G. Kelly, (DOB 12/23/36) after they had been fishing on Lake Palestine near Lake Butler. Kelly's body was located Sunday morning at 7:30 on the south end of the lake.
According to FWC officers, the two arrived at the lake at around 8 a.m. Saturday. After they didn't return from a day of fishing, the FWC was notified. Officers went to the lake and found their boat floating on Lake Palestine with no one on board at approximately 1 a.m. Sunday. The boat is a 1973 14-foot Delhi.
A search began for Demeritte and Kelly, involving the FWC, deputies from the Columbia County and Union County sheriffs' offices, members of the Department of Corrections and the U.S. Forest Service. Weather conditions are hampering the search, which is still ongoing.
In addition to boats on the water, a helicopter scanned the shoreline and officers patrolled the wooded area surrounding the lake. Approximately 30 officers are involved in the search.
Add a comment
Add a comment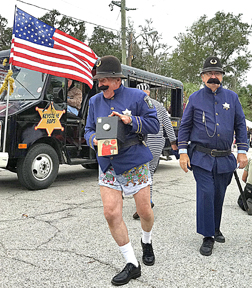 Keystone Cops' criminals and police entry was a crowd favorite in the parade. Bud Hughes, 82, was chased down by "police" when his pants flew off into the camera he was holding.
HAWTHORNE – Children crouched near the street curbs, ready to pounce on the Tootsie Rolls and Dum Dum Pops being thrown onto the street. The mad dash for sugar stopped only when hands flew to their little ears while the fire engines, sirens wailing passed by.
Hawthorne's 29th Annual Christmas Festival and Parade brought hundreds of people together to celebrate the holidays and their community. The bleak weather did not deter the 33 vendors from selling both food and fun.
"A Candyland Christmas," the theme of this year's festivities, was a dream come true for visitors with a sweet tooth. Candy apples and cotton candy were one of the biggest sellers throughout the day.
Families strolled down 221st Street, stopping by booths that boasted homemade chicken wings, hand-knitted blankets, toy dogs and more. The mingling aromas of barbecue and funnel cakes made for a carnival atmosphere as children got dizzy while spinning in a swing chair ride.
Pirates and fairies emerged from the face-painting booth looking for adventure, while a family of clowns traveled down the street, giggles following them.
Vicki Logan, the entertainment director of the festival, said she wanted to bring in new acts while showcasing the community.
"We've had such a great turnout this year," she said. "Each year we add more and more, and it just makes the event that much more special."
Musicians and dancers performed each half hour on a stage in front of City Hall. Toddlers from Laura's School of Ballet twirled and sashayed in pink tutus as parents encouraged them from the audience.
Eyes then turned toward the street, when chunks of wood flew in the air as members of the World Martial Arts Academy kicked and punched holes in boards during a Tae Kwon Do demonstration.
Cheyenne Matthews, 15, was crowned the Teen Queen of Candyland. She beat out two other girls in her division to win her first pageant.
"It was so much fun to be up on stage," she said. "It was a rush."
Mayor Matthew Surrency enjoyed these festivities with his wife and two sons, Jacob and Eli. He said the festival has grown a great deal over the past three years.
"I enjoy all parts of it, but my favorite has to be the food vendors," he said.
At 3 p.m., the crowd separated along both sides of the street, with people choosing prime spots to see the upcoming parade. Babies dressed as elves and dogs wearing holiday sweaters sat patiently while awaiting the first float.
Toothless grins spread across excited youngsters' faces as police cars and an armored vehicle sounded their sirens while leading the parade. Officers carrying the U.S. and Florida flags solemnly marched at the beginning of the procession.
A camouflaged airboat decorated with Christmas ornaments transported Mayor Surrency as he tossed candy while waving to the crowd.
Heads turned as fire trucks, old-fashioned bicycles, gingerbread houses and classic cars passed by.
Each of the 30 floats registered to be in the parade featured unique creative approaches to the "Candyland Christmas" theme.
First Baptist Church combined the candy theme with their devotion to God. Their slogan, "The Sweetest Thing on Earth is Jesus," used a castle decorated with candies to spread their religious teachings.
Deacon Fred Will was joined with 12 children on the float and passed out sweets to the other children at the parade. John Yocum helped recruit volunteers to construct the float, which took one day to complete.
"We hope the city will enjoy the youth, the float and our message about God during the parade," Yocum said.
Festivities continued into the night and ended when the crowd encircled the Christmas tree to watch it light up. The ornaments on the tree were crafted by students from Hawthorne's Shell Elementary.
As the tree's lights sparkled in the night, young and old celebrated their approval with applause and cheers.
*****For more photos of the parade visit us on Facebook at http://www.facebook.com/ACTNEWS
Add a comment
Add a comment
Details

Published on

Saturday, 10 December 2011 22:43

Written by Special to Alachua County Today
Hits: 6020

GAINESVILLE — A year ago, 10-year-old Samantha Staab was wheelchair-bound and had a hard time even sitting up straight because her body was so twisted.
But this Saturday, she will be walking — and even occasionally jogging — the Gainesville Hawthorne Trail as a participant in the 2nd annual Season of Hope 5K/15K Run.
"My (physical) therapist helped me train," said Samantha, a fourth-grader at Williams Elementary in Gainesville. "If I got upset, she'd push me through it."
With every step, Samantha will be personally battling against her dystonia, a movement disorder that causes her muscles to contract and spasm involuntarily.
But she will also be joining more than 300 participants in the Dec. 10 run in the collective fight for a cure and improved treatment for movement disorders. The event supports care, research, education and awareness for children and adults with dystonia, Parkinson's disease and movement disorders. Proceeds from the run benefit the UF Center for Movement Disorders & Neurorestoration and Tyler's Hope.
"She decided she was getting up from that chair and never going back to it," said Meredith DeFranco, a physical therapist at the Center for Movement Disorders, who began working with Samantha this summer when the girl was still in a wheelchair. "I don't think I've met another 10-year-old as mentally tough as she is."
Samantha's remarkable progress is credited to deep brain stimulation at the UF Center for Movement Disorders and intensive physical therapy — combined with plenty of hard work, will power and determination on Samantha's part.
"The kid's got great spirit," said Michael S. Okun, M.D., co-director of the Center for Movement Disorders and Neurorestoration. "The surgery helped her, but she needed intensive rehabilitation."
Samantha was diagnosed in 2008 with dystonia when she was 7 years old. Her older brother Tyler, now 14, also was diagnosed with the disorder at age 7. Tyler also underwent deep brain stimulation and is also now able to walk.
The dystonia caused Samantha's ankles and feet to turn in so much she couldn't stand and she had deep brain stimulation in 2010, said her father Rick Staab, who is also president of Tyler's Hope for a Dystonia Cure, a foundation that raises money for the disorder. At first, there was little change in his daughter's condition, he said.
But then, Samantha's deep brain stimulation settings were changed from low to high frequency and slowly her ankle muscles began to loosen and she started to show improvements this past summer, he said. By fall, she was able to get out of her wheelchair, and eventually even stop using her walker.
She completed her first 5K for the American Heart Association last month, but is determined to complete the Season of Hope in under an hour and has been practicing the course, he said.
"It's amazing because she will sweat and have a hard time, but she'll say, 'All right, I'll do it a little bit more,'" Rick Staab said. "Her stubbornness and her will power is just tremendous and it rubs off on others — it's very inspiring."
Race Director Leslie Okun said they expect more than 300 runners from all over Florida and from the Southeast, but that Samantha's will to compete and to finish the race has set the tone and spirit of the event. "It reminds us what we are racing for."
Samantha won't be alone on the run. An aunt is flying in from North Carolina to do the course with her and DeFranco will be simultaneously running the 15K course. Her younger brother Luke, 7, will also join her on her walk.
"He's going to run (the course) and then come back and walk it with his sister," said Rick.
As for Samantha, she is still setting goals for herself.
"I would like to do a 15K next year and run it," she said.
Add a comment
Add a comment