ALACHUA – An Alachua man was killed in a two-vehicle crash late Friday night at the intersection of County Road 225 and County Road 1475, according to the Florida Highway Patrol (FHP).
The crash killed 30-year-old Christopher Thomashunis of Alachua, who was a passenger in a 2015 Hyundai Sonata driven by 31-year-old Luisa Adams. Other passengers were two one-year-old children. All individuals in the vehicle were from Alachua.
Adams was taken to UF Shands Emergency in serious condition and the children were taken to UF Shands Pediatric Emergency Room, also in serious condition. Christopher Thomashunis was pronounced dead at the scene.
The 18-year-old driver of the other vehicle involved in the crash, Chase Pinner, of Middleburg, Florida, also suffered injuries and was taken to UF Shands Emergency in serious condition.
According to FHP, Pinner was driving a 2002 Nissan pickup south on County Road 1475 approaching the intersection of County Road 225. The Hyundai Sonata driven by Adams was traveling west on County Road 225 approaching the intersection of County Road 1475. The front portion of Pinner's pickup collided with the right portion of Adams' Sonata.
Everyone in the Hyundai Sonata were either wearing seat belts or in car seats. It was not clear whether Pinner was wearing a seat belt.
The FHP report indicates the crash was not alcohol related, but the accident is still under investigation.
Add a comment
Add a comment
HIGH SPRINGS – The High Springs Police Department (HSPD) is searching for a burglar who has been active over the past three weeks.
At least six burglaries have occurred at residential and business locations. The majority of the business-related crimes have happened at night, while residential burglaries have taken place during daylight hours.
"Not all burglary attempts have been successful," said HSPD Executive-Operations Lt. Antoine Sheppard. "A burglary alarm went off at the High Springs Emporium, as well as other businesses and residential homes. That seemed to scare away the intruder."
During a number of these incidents, a young, white male, smaller built, was seen in the area on a bicycle.
Burglary locations are located in the southern quadrant (Northwest State Road 45), in the northwest quadrant (U.S. Highway 441) and in the downtown area of the city.
Residential burglaries or attempts have occurred at 24600 N.W. 188th Avenue, 18700 N.W. 243rd Terrace and 24500 N.W 172nd Avenue. Business burglaries have occurred at Community Outreach, the High Springs Emporium, and the Great Outdoors Cafe.
Although the Alachua County Sheriff's Office (ACSO) received a complaint Sunday night on the outskirts of High Springs, "There has been no uptick in burglaries being reported in the county area surrounding High Springs," said Art Forgay, ACSO spokesperson.
HSPD is taking several investigative measures to apprehend the person(s) responsible for these burglaries and encourage citizens to be vigilant and to report all suspicious activity to law enforcement. Furthermore, HSPD officials ask that citizens take all preventive measures to ensure that they do not become a victim of a crime.
Anyone having information about these incidents may contact the HSPD at 386-454-1415 or the Combined Communication Center at 352-955-1818.

# # #
Email Cwalker@
alachuatoday.com
ser.
Add a comment
Add a comment
Details

Published on

Wednesday, 10 August 2016 16:38

Written by Special to Alachua County Today
Hits: 682
GAINESVILLE – Alachua County Supervisor of Elections Pam Carpenter invites registered voters to be a part of this year's historic elections by working the polls. Poll Workers are needed for both the Aug. 30 Primary Election and the Nov. 8 General Election.
Poll Workers are the guardians of democracy. These are paid positions and training is required.
If you are registered to vote, able to speak, read and write the English language; have transportation to the polling place and Poll Worker training; are not a candidate whose name appears on the ballot; and can work at the polling place from 6 a.m. until after the polls close at 7 p.m., then we need you!
The duties and responsibilities of a Poll Worker include verifying a voter's identification, address, signature and issuing the correct ballot; conducting the election in accordance with the law; providing assistance to voters as needed; and setting up and packing all voting booths, signs, and supplies on election day.
If you are interested in serving as a Poll Worker, please call the Supervisor of Elections Office at 352-374-5252 or you may fill in the Poll Worker application on our website at www.VoteAlachua.com
# # #
Email editor@
alachuatoday.com
Add a comment
Add a comment
NEWBERRY – Newberry City Hall hosted an expansive political forum Tuesday, Aug. 2 in which several candidates for a number of elected positions spoke.
The forum was organized by various businesses in the area and moderated by Scott Costello, Alachua County resident and owner of Advantage Publishing.
Primary elections will be held Aug. 30 and the general election will be Nov. 8.
Florida State Senate, District 8 candidates Keith Perry (R) and Rod Smith (D) were both present, as were candidates for State Representative, District 21 Chuck Clemons (R), Wenda Lewis (R), and Tim Rogers (R).
Incumbent U.S. Representative Ted Yoho (R) attended, and his challenger Ken McGurn (D) was represented by Campaign Manager Bryan Eastman.
Alachua County Sheriff Sadie Darnell (D) and challengers Lt. Jack Jacobs (R), and Zac Zedalis (D) were present at the event and again at a special debate held just for the Sheriff's Office candidates Thursday, Aug. 4.
Alachua County Clerk of Court candidates J.K. "Jess" Irby and Sam Collins spoke, presenting their cases to succeed longtime Clerk of Court J.K. "Buddy" Irby.
Several Alachua County Board of County Commissioners candidates attended. Kevin Thorpe (D) is challenging Mike Byerly (D) for County Commission District 1. Larry McDaniel (D) is challenging Robert Hutchinson (D) for County Commission District 3, while Charles "Chuck" Chestnut IV (D) is running for re-election to County Commission District 5.
An Alachua County School Board race was also represented, as Juliun Kinsey is challenging current School Board District 2 member Eileen Roy.
Dozens of flyers, brochures and informational packets circulated during the event.
Mathew Burke, leader of Newberry Martial Arts and founder of veteran and family outreach organization Christian Adventure Network, spoke to help introduce candidates and spread news of his organizations' upcoming events.
The purpose of hosting the event was to offer a platform for candidates to speak to citizens and share their beliefs and advocate for their cause. The forum's structure gave each candidate one minute to answer questions raised by audience members.
Perry, the current House Representative of District 21, and Smith, a longtime former State Senator, are both running for State Senate, District 8. Smith said that too many politicians point fingers and blame each other rather than get something done. His platform is "responsibility matters."
Clemons (R), Lewis (R), and Rogers (R), who are all running for State Representative, District 21, all have a similar conservative idealism.
Clemons believes conservative ideas result in the best solutions. Lewis is a large business owner as part of her family business, Lewis Oil.
Rogers is a pharmacist with the University of Florida Veterinary Hospitals and president of the Florida Pharmacy Association's board of directors.
McGurn, who is taking on current U.S. Representative Yoho, is a Vietnam veteran with a doctorate in real estate from the University of Florida's College of Business. He said he is running for office to help unify the country.
Yoho's background includes being a small-business owner. He earned his undergraduate degree in animal science and doctorate in veterinary medicine from the University of Florida.
The three candidates running for Alachua County Sheriff had different viewpoints on what success meant. Zedalis disagreed with Darnell that the Sheriff's office was doing its best. He said, contrary to her claims, the department was not underfunded and needed to stop asking for money.
"We need get back to the basics," he said. "You have people sitting in their offices making more than the people actually out in the field doing their job." Zedalis is running on multiple promises, one of which is reducing the budget by nearly $4 million during his first year.
Darnell has over 30 years of law enforcement experience, however, bringing a large amount of familiarity to the table if re-elected.
Jacobs said he would boost services by cutting waste and red tape while also modernizing the agency's technology.
Kevin Thorpe, incumbent Mike Byerly's opponent in the County Commission District 1 race, said it is time for a change.
"Sixteen years is too long for anyone to be in office," said Thorpe, referring to Byerly. "It's time for new ideas, time for a change."
# # #
Email Rbarnett@
alachuatoday.com
Add a comment
Add a comment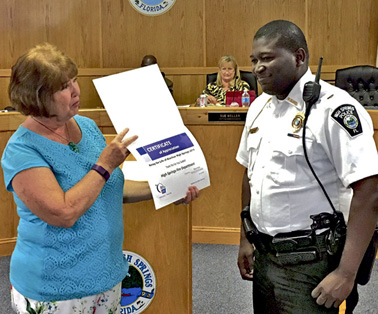 Photo by TOM HEWLETT/Special to Alachua County Today
On behalf of the Alachua/High Springs 2016 Relay for Life, Linda Hewlett presents a Certificate of Appreciation to High Springs Police Department Lt. Antoine Sheppard for HSPD Team Captain Adam Joy.

HIGH SPRINGS – Three team captains for city-based teams, which participated in the 2016 Alachua/High Springs Relay for Life, received Certificates of Appreciation for their hard work during the event. The presentations were made at the beginning of the June 23 High Springs City Commission meeting.
Linda Hewlett, a member of the 2016 Relay Leadership Team, presented a certificate for City of High Springs Team Leader Courtney Odum. Recreation Director Robert Basford was on hand to accept the Certificate on her behalf.
A second Certificate of Appreciation was awarded to High Springs Police Department (HSPD) Team Captain, Sgt. Adam Joy. HSPD Executive-Operations Commander Lt. Antoine Sheppard accepted the Certificate on Joy's behalf.
A third Certificate of Appreciation was awarded to High Springs Fire Department (HSFD) Team Captain Lt. Kimberly Wilson. HSFD Lt. Kevin Pearson accepted the Certificate on Wilson's behalf.
"All of our team captains went the extra mile to get the word out to the public and raise money for cancer research," said Hewlett. "We are very proud of their efforts and wanted to let them know in some tangible way," she said of the commendations.
# # #
Email Cwalker@
alachuatoday.com
Add a comment
Add a comment