Youngsters enjoyed the many activites geared toward children at the festival. The inflatable hamster wheel, above, proved to be a popular attraction. (Today photo/RAINA BARNETT)
NEWBERRY – Giant inflated hamster wheels powered by eager toddlers floated across the water in an inflatable pool in downtown Newberry on Saturday, Nov. 5.
The Newberry Fall Festival, an annual event that brings together local vendors, artists and families, was made possible in large part by Jean Marie Evans, the director and president of the Main Street Newberry Association.
"The goal [of this event] is to help develop economic growth in Newberry," she said. "We hope people will stop by to visit the festival, get to see our town, meet our friendly residents and decide to come back again."
"This is our 10th annual festival and it gets bigger every year," said Evans. "The number of vendors participating this year is 78, which is up from last year's vendor list of 52. Although we didn't have a counter last year to gauge the number of attendees, this year we did and had approximately 1,400 visitors," she said.
Handmade knives, homemade beef jerky, handcrafted children's clothes and home baked sweets were just a few of the available items for sale.
Trey Whidden, a teacher and Newberry resident, sat in the shade with his family enjoying snow cones.
"We were just passing through," he said. "We naturally gravitated towards the kids' activities."
One of the most popular attractions was the "Walking on Water," activity for kids.
Kay Simonds, owner of "Ma and Pa's Funtime," said she was inspired by the idea of giant hamster wheels.
"These things can hold up to 450 pounds," she said. "After three minutes of playing around in them, the little kids are all tired out."
Amid the aroma of freshly grilled hot dogs, the lure of sweet treats and unique goods for sale, Newberry locals and visitors alike enjoyed the beautiful and breezy November weather.
"We hope everyone has a good time," Evans said. "This is a place where people can stop and just have good conversation."
# # #
Email Rbarnett@
alachuatoday.com
Add a comment
Add a comment
ALACHUA – Separate vehicle accidents Friday and Saturday proved fatal for three area residents. An angular head-on collision between two vehicles resulted in two deaths and three others in critical to serious condition early Friday morning, Oct. 28, according to a Florida Highway Patrol (FHP) report.
A 2015 Volkswagon Jetta driven by 29-year-old Johana Lee Klinger, of Okeechobee, Florida, was traveling south in the northbound lane of U.S. Highway 441 at approximately 1 a.m. when her vehicle crashed into a 2004 Toyota Scion heading north in the northbound lane.
The incident occurred at the intersection of Southwest 56th Place and U.S. Hwy. 441, in unincorporated Alachua County.
Klinger's only passenger, 10-year-old Joseph Beal, Jr., was in critical condition following the crash.
The driver of the Scion was 27-year-old Goytia Diaz, of Wesley Chapel, Florida. Both Diaz and one of her passengers, 4-year-old Iyanna Williams, of Micanopy, were pronounced dead. Another passenger, 19-year-old Bryanna Georgia Williams, also from Micanopy, suffered critical injuries.
All survivors were taken to UF Health-Shands Hospital.
The accident is still under investigation and charges are pending. At the time the report was written, it was unknown whether alcohol played a part in the crash.
On Oct. 29, a Suwannee County crash on Saturday afternoon resulted in the death of an Alachua resident, and serious injuries to the driver and passenger of a second vehicle according to a Florida Highway Patrol (FHP) report.
Ronald Irvin Emerson, Alachua, was traveling southbound on 77th Road approaching State Road 247 in his 1993 Toyota Tacoma when he attempted to cross S.R. 247. A 2012 Ford F150, driven by 47-year-old Joseph Walter Wood, Jr., White Springs, was pulling a boat as he traveled eastbound on S.R. 247.
According to FHP documents, Emerson pulled into the path of Wood's truck and boat. The front right side of Emerson's Tacoma collided with the front left side of Wood's vehicle. The Tacoma rotated counter clock-wise coming to a final rest facing in a northwesterly direction. Wood's truck slid off the south shoulder of the roadway and the front of Emerson's vehicle collided with a tree. The boat being pulled by Wood's truck detached from its trailer and lunged forward into the truck's cab.
Woods and his passenger, 45-year-old Shannan Michelle Thomas, also from White Springs, were flown to UF Health-Shands Hospital for treatment. Both were listed in serious condition.
Emerson was pronounced deceased at the scene by Suwannee County rescue personnel.
# # #
Email Cwalker@
alachuatoday.com
Add a comment
Add a comment
HIGH SPRINGS – One item on the High Springs City Commission Oct. 13 agenda that caught the attention of local developers was the city's Impact Fee Ordinance, which they claim is conflict with the intent of the ordinance.
Local developer Jack Londono addressed commissioners reminding them that three items were to be part of the ordinance based on earlier discussions.
Impact fees would be due at the time the Certificate of Occupancy (referred to as CO) would be issued, which is at the time of sale.
Water usage to establish the outside landscaping would be charged at a nominal fee.
The developer would not be charged for sewer usage when they were trying to establish outside planting.
He asked that the commission live up to their original agreement.
Developer Rick Howe explained how developers are paid and supported Londono's request that they not have to pay sewer fees while establishing the landscaping.
City Attorney Scott Walker suggested a simple resolution could correct the problem, Weller suggested that one ordinance contain all of the information rather than having developers and homeowners look in two places to find out what they are supposed to do. "We will craft something to bring back to the commission for their approval," said Walker after hearing all of the comments.
In other action, commissioners rejected a resolution originally proposed during the Sept. 19 meeting by Nick Loffer, a representative for Stand Up North Florida. While it read as if it was in support of north and central Florida water conservation funding, Loffer would only say the organization was a non-profit group.
Between the two meetings, commissioners received information from environmental groups that there were questions about the group and their true intentions.
"I am in favor of equal funding of these types of projects throughout the state," said Commissioner Sue Weller. "But questions about the exact intent of this resolution lead me to err on the side of caution and not vote to approve it."
No other commissioner made a motion to approve the resolution, therefore, no action was taken.
Under unfinished business, two land parcels the city is attempting to donate to Habitat for Humanity received commission attention. The first parcel had a lien on it from the Internal Improvement Fund. Representatives from Habitat for Humanity said they were willing to take the deed with the lien.
The second piece of property had been provided to the city originally with a reverter clause attached indicating that the property could only be used for a wastewater treatment lift station or a public park. The county attorney suggested the property be deeded back to the county and they would deed it directly to Habitat for Humanity without the reverter clause. Although once donated back to the county, the county can do with it what they want, cautioned City Attorney Scott Walker. Walker said he had the paperwork for the appropriate signatures and no further action was necessary.
Two "housekeeping" issues were also addressed at the meeting. An interlocal agreement between the city and Columbia County Sheriff's Office for police services was unanimously approved. A second interlocal agreement between the city and Gainesville for maintenance and operation of traffic signals and school beacons was also unanimously approved. The cost to the city on the second agreement is $3,444.
Commissioners approved donating surplus police equipment to Santa Fe College and appointed Mayor Byran Williams to be the city's representative to the Florida League of Cities.
Announcements: November meeting dates have been modified to avoid holidays. Nov. 17 and 29 are the dates for November meetings with Nov. 17 being the date for the swearing in of the new commissioner. Meetings in December are scheduled only for Dec. 8.
A Christmas Tree Lighting Ceremony will be held on Nov. 18 and the Christmas Parade is scheduled for Dec. 10.
# # #
Email Cwalker@
alachuatoday.com
Add a comment
Add a comment
HIGH SPRINGS – Anyone who has lived in High Springs for even a few years is aware that the city commission and numerous citizens have been actively petitioning Alachua County to fix pothole-laden County Road 236.
Residents of the area and parents who drive their children to High Springs Community School have worried about the safety of traveling that roadway for some time, and express their fears emphatically at joint city/county commission meetings.
High Springs city officials have complained that the roadway does not give a good first impression to visitors and business owners looking for a location in which to build their companies.
Finally, everyone's wish is going to be granted...possibly by Christmas.
Transportation and Development at Alachua County Public Works confirmed Tuesday that two of the three companies needed to do the job have already been identified, with the third aspect of the work, the sidewalk repairs or replacements, to go out for bid soon.
"This is a project we have wanted to do for a long time," said Alachua County's Project Manager Tom Strom. "The overall project is estimated to cost $2 million and is projected to be totally completed by fall of 2017."
Lest that completion date strikes fear into the hearts of residents and visitors who regularly traverse that road, the roadway itself will not take that long to complete.
"We will probably begin work on the roadway in mid-November," said Strom, "and there will be some lane closures. But we will try to keep those to a minimum."
Preferred Materials, Inc., Gainesville, has the contract to mill two inches of asphalt on the existing three-inch thick roadway and lay the structural course of two inches. V.E. Whitehurst & Sons, Inc. will then place an inch-and- a-half of top course (asphalt) on the roadway. Whitehurst will also be responsible for traffic maintenance during construction and will coordinate with Preferred Materials during their part of the work to help make things run as smoothly as possible for drivers.
The resurfacing project runs approximately four miles from U.S. Highway 441 to Interstate 75. In addition to resurfacing northwest .CR 236, the project includes redressing grassed shoulders and filling in sidewalk gaps in High Springs.
Pavement construction is scheduled to be completed before the end of the year. Redressing the grass shoulder will follow, and sidewalk construction should be completed by the end of summer 2017, weather permitting.
High Springs City Manager Ed Booth is expected to report on the county's progress at this Thursday's City Commission meeting.
# # #
Email Cwalker@
alachuatoday.com
Add a comment
Add a comment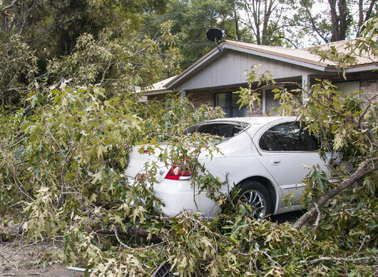 Hurricane Matthew brought rain and wind to Alachua County accompanied by power outages and downed trees. (Today photo/RAY CARSON)
ALACHUA – Last week, Hurricane Matthew tore its way across the Caribbean and up the southeast coast of the United States. It will rank as one of the most powerful storms, based on sustained wind energy and longevity, with winds over 110 mph for seven days. There were at least 925 deaths, including 19 in the United States, making it the deadliest storm since Hurricane Stan in 2005.
But Alachua County was lucky. There were fears and expectations that Florida would get a direct hit, causing wind damage and power outages over most of the state. But as the storm made its way up the coast, it remained between 30 and 50 miles offshore, lessening the damage inland. For Alachua County, it meant that winds of 35 mph with occasional gusts up to 60 and lighter rainfall than predicted. The brunt of storm hit the local area on Friday Oct. 7. Damage was fairly light for the county and mainly confined to downed trees or downed electrical wires.
According to Lieutenant Brandon Kutner of the Alachua Sheriffs Office, they received 56 calls for downed power lines and 80 calls for downed trees. Although there were sporadic power outages, most of the lines were repaired by Saturday morning. The High Springs Police department received 20 calls, mainly for downed power lines due to falling tree limbs. According to High Springs City Manager Ed Booth, they did have one large tree that fell across the road at 176th Place. It blocked the road and damaged three cars. City crews were able to clear the road by Saturday morning.
The Alachua Fire Department reported no calls or damage reports, as did the LaCrosse Fire Department. In Waldo, City Manager Kim Worley said that they had reports of downed trees, but no power outages. Hawthorne Mayor Matthew Surrency reported they fared well. "We had a couple of power lines go down and power outages to about 5 percent of our residents, but it was resolved quickly. It was a lot less than we feared, but we had services in place," said Surrency. "It was good to have a dry run to see how well we were prepared."
Matthew hugged the southeast coast from Florida to North Carolina, causing 2 million people to evacuate inland, tearing up coastal cities with wind and storm surge. The storm surge destroyed State Road A1A in Flager Beach and surged inland in Saint Augustine, flooding the historic downtown with several feet of water. Over a million people were left without power in Florida alone.
The storm made landfall near Charleston, South Carolina, but had weakened from a Category 4 storm to a Category 2. But the tide and storm surge was still devastating, especially to the outer banks of North Carolina, with surges over six feet high. Estimates on the damage for insured loses range between $4 - $6 billion.
# # #
Email Rcarson@
alachuatoday.com
Add a comment
Add a comment