LACROSSE – Luck may be improving for the Town of LaCrosse Fire Department. As reported previously, the department is receiving funding from their town to help bring the fire department building up to code and to provide two trained fire/rescue personnel on duty 24/7. In addition, the fire department recently received a grant to help replace some of their outdated safety equipment.
The funds, which were awarded by Firehouse Subs Public Safety Foundation, are being used to replace $15,390 of the $27,000 of outdated, non-compliant safety equipment needed by the town's fire department. Ten sets of Viking Hainsworth Titan Duo turnout gear (coat and pant) worth $15,390 were received by the LaCrosse Fire Department. The awarded equipment will replace old damaged gear, allowing the department to provide safe and efficient fire services to the community.
This Personal Protective Equipment (PPE) purchased through the grant is European designed and constructed gear that far exceeds the industry standard in the United States.
The brand was discovered by McDavid at Fire-Rescue East in Daytona Beach last January. Fire-Rescue East is the largest trade show held in the east by the Florida Fire Chief's Association. McDavid also learned that Milwaukee, Boston and Miami-Dade Training Academy were using this type of PPE and that the cost is roughly $500 per set lower than what is being used by other fire departments in Alachua County. "No other fire department in north Florida is using this technology," said McDavid who feels the equipment is far superior to the usual equipment found in most U.S. fire departments.
Earlier this year, LaCrosse Fire Chief Paul McDavid made a case before the Alachua County Board of County Commissioners (BOCC) asking for the county to help keep his fire fighters safe by financing the cost of the outdated equipment. Although the county turned down the request, McDavid did not stop there. Instead he submitted a second request to the Firehouse Subs Foundation for assistance and was awarded a grant of more than $15,000 to help defray the cost of replacing some of the required equipment.
"Although the grant does not cover all the needed equipment," said McDavid, "it goes a long way towards helping to keep our firefighters safe and does so at no cost to our citizens. It is a fantastic program and we can't thank Firehouse Subs enough for helping to keep our department's men and women safe as they work in hazardous conditions."In one more area of good fortune, the City of Jacksonville loaned LaCrosse a 2004 American LaFrance fire truck to use while LaCrosse's 1991 Emergency One (E-One) truck is being repaired. "Their fire department is extremely generous and has loaned us their vehicle at no cost for whatever length of time we need to use it," said McDavid. "We expect our truck to be out of service until after the first of the year. No matter how long it takes, Jacksonville's Fire Department has told us to keep their vehicle as long as we need it."
"Firehouse Subs Public Safety Foundation was founded in 2005 in the aftermath of Hurricane Katrina," according to their web page. "Firehouse Subs co-founders, Chris Sorensen and Robin Sorensen, traveled to Mississippi where they fed first responders as well as survivors." As they traveled back to Florida exhausted and exhilarated, they knew more could be done and the Firehouse Subs Public Safety Foundation was born.
The Foundation, which has provided grants in excess of $14M, allocates funding in five distinct areas: life-saving equipment, prevention education, scholarships and continued education, support for members of the military and disaster preparedness and disaster relief.
The 501(c)(3) foundation reviews grant requests quarterly and, although Firehouse Subs is their major contributor, the foundation depends on citizen contributions as well to help fund their grants.
Anyone wishing to learn more about the Firehouse Subs Public Safety Foundation can check their website at www.firehousesubs.com or go to their nearest Firehouse Subs location.
Anyone wishing to donate to the remaining $11,610 in replacement safety gear required by the LaCrosse Fire Department may contact the Town of LaCrosse City Hall at 386-462-2784 or Chief Paul McDavid at 386-462-1544.
# # #
Email cwalker@
alachuatoday.com
Add a comment
Add a comment
HIGH SPRINGS – On Dec. 11 Eric May of Emerald Data Partners, the company employed by the City of High Springs to provide information technology services, delivered a short summary to city commissioners comparing the outcome of the latest technical audit versus the previous audit received on Jan. 12, 2013.
Every three years, the Florida Department of Law Enforcement (FDLE) conducts a technical audit of local agencies to ensure compliance with the FDLE Criminal Justice User Agreement and the Federal Bureau of Investigation (FBI) Criminal Justice Information Services (CJIS) Security Policy.
In his summary, May said the 2013 technical audit was "of great concern" as it revealed nine areas of policy violations and 14 more areas of concern. By comparison, the recent November 2014 technical audit revealed zero areas of policy violation and only five areas of concern, one of which has already been addressed.
Violations are areas FDLE considers procedures or policies as non-compliant with CJIS practices. Areas of Concern are areas which, if they aren't addressed, may cause violations in the future, according to May.
May said that last year he had come into the evaluation near the tail end. "Over the last few months we have worked diligently, along with the High Springs Police Department (HSPD), to help ensure the department improves its information security and overall efficiency in its information systems," said May.
"In October, Lt. Sheppard (Acting Chief) and myself met with an FDLE representative to respond in depth to questions used to conduct a new Technical Audit," said May. The final results, which were sent to HSPD in November, showed a significantly improved Technical Audit score.
May was reluctant to point out publicly any potential weaknesses in HSPD's information systems, but those weaknesses and suggested corrective measures were listed in the technical audit. He characterized them as "procedural" and said in a subsequent interview he believed they could all be taken care of within the next 6-8 weeks.
Since the most recent audit, May and HSPD personnel have worked to correct the remaining four areas of concern. During the commission meeting, May was able to say that some of those areas had already been addressed and some would be corrected by other measures which are currently being implemented citywide.
May has been working for the past eight months to improve overall information security throughout the city system. Password strength and other technical changes that have come to their attention through the technical audit have been applied also to the rest of the city system to protect that information as well.
May said that additional costs to High Springs to address the areas of concern would be minimal as some of those items were already built into the other measures HSPD is in the process of implementing.
"I am very happy to see that our police department has made such significant strides in addressing both the violations and concerns expressed by FDLE last January," said Mayor Sue Weller. "The remaining concerns are in the process of being addressed and we can anticipate they will be resolved shortly as well. This is a step forward for the High Springs Police Department and, I believe, the commissioners were all glad to receive audit results of this kind."
# # #
Email cwalker@
alachuatoday.com
Add a comment
Add a comment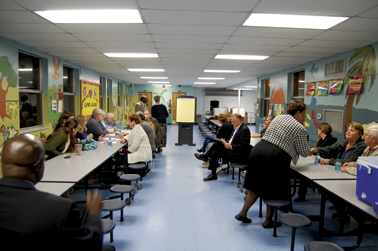 WALDO – Alachua County School Board Superintendent Owen Roberts paid a visit to Waldo on Monday, Dec. 8 to conduct the third community school board forum since he assumed his position this past summer.
Previous forums had about 60 people in attendance while Waldo's forum drew about 20 people who gathered in the school's cafeteria.
The crowd consisted of a mix of parents, teachers, school board members and city commission members. Once again, the group was given the same three questions offered to attendees at the previous meetings: What would you do if you were the new superintendent, how would you get parents more involved and what does the superintendent need to know about this community?
Once again, Roberts addressed the crowd before the forum.
"When you think about Alachua, sometimes people don't think about Waldo," Roberts said. "But I want you to know that this superintendent understands clearly that this is about the entire county."
Because of the smaller number, this time the group was able to go around and introduce themselves before the first question.
Throughout the night, many citizens spoke to the need of the children at the Waldo Community School. Waldo has only one school and it only goes up to the fifth grade. One group discussed the fact that the school is serving children from a broad spectrum of family situations.
One common theme that almost everyone touched on was the closeness of the community. Many groups said that what Waldo lacked in facilities, it made up for in small town feel. One said that the children felt safe and happy.
And although parent involvement could be improved, citizens said that the communication to and from teachers is not a problem at the school and that the teachers were generally well liked and respected.
Principal of Waldo Community School, Holly Burton, said she thinks the forums are beneficial to the community.
"I think it's important that they see that their input is valued, and that they have an opportunity to express what they think is important," Burton said.
Burton has been principal for two years and says she really believes in the teachers and the students.
"I think that the staff is extremely talented here and very hard working, and I think that the kids are amazing and I think that [the school] needs a self-esteem lift," she added.
At the close of the session, Roberts addressed the crowd once more.
"As I listen to your input, I want you to know that I am prepared to consider every recommendation or suggestion made very, very carefully," he said.
Roberts then spoke a little bit about his "100 days address" he would be giving the following day, assuring the citizens that moves are being made to better the education and lives of the children in the Alachua County community.
He mentioned a few of his plans, which included mobile classrooms out in the community and a new look at language development.
"Children's achievement is tied to their ability to use language, and that is critical," Roberts said.
"You should know that this superintendent cares about all of Alachua, not just Gainesville."
# # #
Email jhundley@
alachuatoday.com
Add a comment
Add a comment
ALACHUA COUNTY – Waste hauling is just as important during the holidays as any other time of year. A brief survey of the rural Alachua County cities provided the names of two companies serving those communities: Waste Pro and WCA Waste Corporation.
Both companies will be closed on Thursday, Dec. 25 and Thursday, Jan. 1. Residential waste service for those dates will be picked upon the following Friday and Saturday.
Waste Pro will split their pickups for commercial customers between Wednesday evening before the holiday and the Friday after to try to keep their commercial customers as close to their regular pick up times as possible.
For further questions about each company's schedule or for any other waste hauling questions, Waste Pro can be reached at 386-462-2500 and WCA can be reached at 352-377-0800.
# # #
Email Cwalker@
alachuatoday.com
Add a comment
Add a comment
HIGH SPRINGS – High Springs City Manager Ed Booth and the city commission are forging ahead to resolve issues that have lingered through the past several months, and in some cases, years. Commissioners approved a letter on Nov. 20, which is expected to be sent on or about Nov. 25, requiring property owners who are not paying for solid waste services to do so.
In previous meetings, Booth said the city has apparently known about this for some time, but has not had the manpower to identify those parties and address the issue. This past year property owners not in compliance have been identified and a letter to owners requiring them to abide by Section 62-37(b) of the High Springs Code of Ordinances will be sent to each.
The letter states that even if a property owner elects to dispose of their garbage and trash themselves, they will continue to pay the minimum monthly charge of $19.50. "This is a public health issue," said Booth. "We have the tools to resolve this problem and to make it less likely people will dump trash on vacant property in our city," he said in a subsequent interview.
A little more than 250 properties are currently not paying for solid waste removal, although some of them may be receiving the service. Aside from a public health issue, it also is a financial issue as the income from those properties which may already be receiving the service, but not paying for it, amounts to almost $60,000 a year in lost fees.
The letter states, "The monthly charge will be billed to your residence or business account through September 2015. After that time the annual amount, along with any unpaid amounts, will be assessed and paid through your property taxes. The deposit for garbage is fifty dollars ($50.00) and will be refunded to you once your garbage fees have been added to your property tax bill."
In other action, commissioners set workshop dates in January to tackle some of the items the previous commission had identified and requested workshops be held.
On Jan. 13 the city commission will hold a workshop concerning whether restaurants can serve hard liquor on Sunday. Part of that question also involves whether hard liquor can only be served in the business district or throughout the city.
On Jan. 20 the commission will hold a workshop to discuss the costs and benefits of continuing to provide a local police dispatch system.
In February, a symposium on economic development will be held, although the exact date has not been set as of this printing.
"I want to bring all the stakeholders to the table," said Booth. Business and industrial park owners will be invited to participate. "We need to create a pamphlet to hand out to businesses considering a move to this area...something showing future development opportunities. In the system we're in now, the county reacts to information provided by the state. We will continue to work through that system, but we need to determine what we can do to bring businesses to our area. What can we offer? Should we offer abatement as an enticement to businesses to come here? These and several more questions that need to be discussed and a plan of action needs to be produced," he said.
"We need to decide what types of businesses we want to attract to our area and aggressively go after them," he said.
# # #
Email cwalker@
alachuatoday.com
Add a comment
Add a comment