Details

Published on

Friday, 28 December 2012 16:14

Written by Special to Alachua County Today
Hits: 3423
GAINESVILLE – Florida Farm Bureau has received national honors for its superior accomplishments during the past year. Officials at the American Farm Bureau have announced that the state organization earned Awards of Excellence in all categories of operation evaluated for 2012.
The awards recognized Florida Farm Bureau's work in Education and Outreach, Leadership Development, Member Services, Policy Development and Implementation and Public Relations and Communication.
Membership growth helped to garner another prize for Florida Farm Bureau. By meeting its membership quota, the organization brought home the American Farm Bureau's Navigator Award. These combined achievements qualified the state Farm Bureau for the President's Award – a recognition for the best programs within specific membership categories. Florida won the President's Award for Leadership Development and Member Services.
Florida Farm Bureau is now qualified for the Pinnacle Award, given to the most outstanding state Farm Bureau in each membership group. The Sunshine State will also compete for the new Horizon Award, a recognition for innovative programs undertaken during 2012. The two awards will be announced at the American Farm Bureau's Annual Meeting in Nashville, Tenn. next month.
Florida Farm Bureau President John Hoblick said he was extremely proud of county Farm Bureau leaders, county Farm Bureau employees, state board members and state employees for their collective efforts in securing the multiple distinctions.
"I have marveled at the ability of our Farm Bureau members to overcome challenges as they reached one notable milestone after another," Hoblick said. "Our members and staff have proven that there is virtually no limit to our strength as a grassroots organization when we pursue a collective effort."
"They make Farm Bureau truly effective by creating the dynamic energy behind the Voice of Agriculture," Hoblick added. "I thank them for the exceptional dedication that made these achievements possible."
# # #
Submit your story by
Emailing community@
alachuatoday.com
Add a comment
Add a comment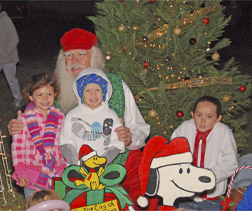 Photo by RONN JONES special to Alachua County Today
HIGH SPRINGS – Residents flocked to downtown High Springs Friday, Nov. 16, to participate in several seasonal events.
At 2 p.m., the New Century Woman's Club's opened its doors for their two-day Holiday Expo. Visitor attendance was steady on Friday and 13 people, who had earlier bought raffle tickets, received huge gift baskets, each with its own theme such as gardening and cooking. Proceeds from the raffle will be used for various community service programs sponsored by the Woman's Club each year.
The Holiday Expo continued until dusk on Friday, at which time club members closed their doors to head to the Tree Lighting event on Railroad Avenue.
Adding to the cheerful atmosphere generated by the official lighting of the Christmas tree on Railroad Avenue, downtown shops kept their doors open later than usual as part of the festivities. The Merchants' Open House attracted visitors before and after the tree lighting, who might want to shop for themselves or friends and neighbors.
The newly planted tree, which was surrounded by Charlie Brown characters provided by Ceilah's Treasure Trove on 1st Avenue, was lit at dusk by Vice-Mayor Bob Barnas.
Face painting, musical entertainment, singing, balloons and children's visits with Santa Clause were all part of the evening's lineup of activities.
# # #
Email Cwalker@
alachuatoday.com
Add a comment
Add a comment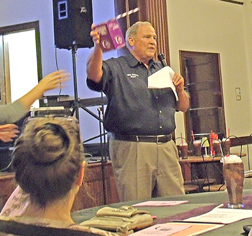 Newberry Mayor Bill Conrad kicked off the Newberry Relay for Life event on Tuesday night with a great crowd dressed in 50's style for some Rock & Roll fun. Honorary Chairperson Larry Keene and his family and friends team were all in attendance and special surprise guest "Elvis" jumped in and entertained the crowd. This year promises excitement and the opportunity to raise even more money than last year. The youngest team members, Katie Thomas, Julia Martin and Christianna Norfleet, were all dressed up and registered their team to support this worthy cause.
NEWBERRY – "One day. One night. One vision. One fight," quoted cancer survivor Kelsey Tainsh on Tuesday night at the first event to mark the start of fundraising for Relay for Life 2013. Every seat in the municipal building was filled as the Newbery Jonesville Archer Relay for Life committee informed interested parties about the basics of the organization and future events.
There was a luminaire ceremony to honor survivors, those currently in the fight and those who lost. This kickoff symbolized a renewing of the community's fight against cancer. The first team meeting will be held Nov. 25 at the Milam Funeral Home, and the committee will meet at 6 p.m. each second Tuesday of every month at the Little Red School House.
The '50s-themed gathering had a special guest appearance, Elvis impersonator Randy Elvis Walker and a raffle drawing. Gainesville's Bacon's Bbq and Catering and Susie's Sweet Shop donated a dinner for the meeting.
March 15 and 16, 2013 at Newberry High School will be the official relay event, an 18-hour journey meant to span from night to day to represent the many feelings and mindsets of a person battling cancer.
The committee informed attendees of various services such as the Road to Recovery program that drives patients to their treatments, and the 1-800-ACS-2345 information line. Also available to locals is the Jonesville at First Choice Immediate Care Center Resource Closet that provides women with beauty products on the order of wigs and makeup and a family-oriented Rock Program that throws events like camping.
Relay teams consist of 12 to 15 people that come together to fundraise for the American Cancer Society and each participant is asked to raise a minimum of $100. The sponsors for tonight's kickoff meeting were Cox Communications, Edifice, Newberry Animal Hospital and Waste Pro.
# # #
This email address is being protected from spambots. You need JavaScript enabled to view it.
Add a comment
Add a comment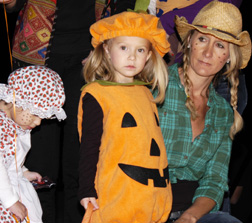 Costume contests and sweet treats were favorites at Alachua's Trick-or-Treat on Main Street Wednesday night. Superheroes, princesses and witches all made appearances at the annual celebration. See more pictures of Trick-or-Treat on Main Street at Alachua County Today's Facebook page at http://www.facebook.com/ACTNEWS
Add a comment
Add a comment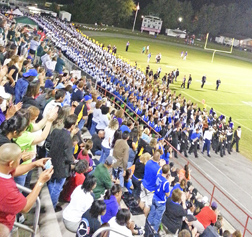 ALACHUA – Bands from all over the state gathered at Santa Fe High School for the 17th Annual Southern Showcase of Champions Marching Band Invitational Saturday.
Hundreds of high school students milled the fields around Santa Fe High and waited for their turn to perform. Twenty-one high school bands participated in the day-long event.
An event organizer estimated between 3,000 and 4,000 people attended the event Saturday, which organizers say they started planning for in May.
The Southern Showcase is recognized as the premier southeastern United States marching band invitational. The invitational is a Florida Marching Bandmasters Coalition (FMBC) sanctioned regional event with top caliber adjudicators who are committed to constructive comments and helpful suggestions for each and every band. As part of the event's commitment to excellence in music, marching, and overall band performance, adjudicators are members of the prestigious Central States Judges Association.
Participating bands included Newberry High, Eastside High, P.K. Yonge, Buchholz High, Gainesville High, Trenton Jr/Sr High, Trinity Christian, Chiefland High, Dixie County High, Suwannee High, Bell Jr/Sr High, Madison County High, North Marion High, Trinity Catholic, Orange Park High, Lawton Chiles High, Citrus High, Wharton High, East Ridge High, Fleming Island High and Nease High. The Santa Fe High School Raider Regiment presented a special exhibition Saturday night.
Newberry High placed eighth in the competition, and Buchholz High took top honors, placing first.
Not only was the showcase a venue for exceptional marching band performances, it also serves as a qualifier for the state finals in November in St. Petersburg, Fla.
Newberry High School band director Jermaine Reynolds said the band prepared for the event by focusing on what it needed to get done.
"The way I approach each week is to step up our focus," he said.
Reynolds said he thought the showcase was the band's performance.
"We had a very impressive show," he said. "I think we surprised a lot of people."
Gainesville resident Linda Steffen came to the showcase to see her daughter compete. Steffen said the quality of the performances often depend on whether students are prepared.
"It depends if they're ready in time," she said.
She said she doesn't get nervous before events because she's used to watching the performances.
"I grew up with it," she said.
Laurie Brown, publicity director for the showcase, said thousands of people visited Alachua and spent money at local eateries and hotels.
"We're really putting a boost to the local economy," she said.
She said there aren't any winners or losers in the showcase because the performers want everyone to be happy.
"It is a competition, but it is a friendly competition," she said. "They have so much admiration for their fellow band members."
Brown said Santa Fe puts a bright spot on the community when it hosts the showcase. She said Nate Bisco, Santa Fe's band director, is dedicated to his job.
"Santa Fe has a lot of respect throughout the state of Florida," she said. "It's a team effort all around."
# # #
Email This email address is being protected from spambots. You need JavaScript enabled to view it.
Add a comment
Add a comment