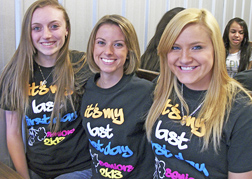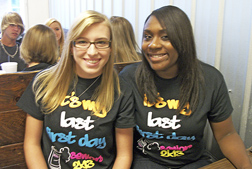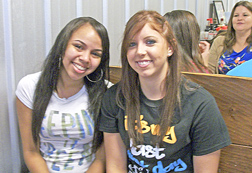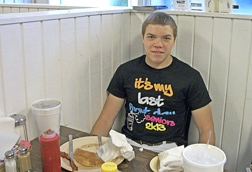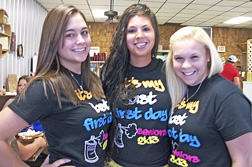 NEWBERRY – As all of my readers know, I think small town life is wonderful and this is one of the reasons that I enjoy living here so much. This Monday morning I joined some Newberry High School (NHS) seniors for a "Last First Day," at our Newberry Country Kitchen.
Lajuanna Jones owns this wonderful eatery, and says this tradition started about seven or eight years ago. The kids just show up for breakfast on their first day as seniors. They were so excited and having such a good time visiting with each other, and I moved from table to table so I could listen and visit with them. Christina Bridwell and her son, Brian, and his friend let me sit with them and then had to pay for my coffee since I left home with no money.
Lajuanna opened this restaurant 25 years ago and has been serving breakfast and lunch ever since. You can get breakfast all day and they have a super good hamburger. Lunch specials are on Wednesday, Thursday and Friday. The restaurant is open Monday through Saturday and is a favorite place for many locals. Homey atmosphere and country cooking is what you'll get when you eat here. I love stopping in during breakfast because I can see friends and get some visiting done. Stop by and join the hometown group that eats here most every day.
On Friday's before home football games, the football team and cheerleaders gather to eat and visit. They just seem to know that they are welcome to stop by and order their burgers and fries. How many restaurants would welcome a crowd of teenagers and their noise and mess? Well, they have found out that they are welcome at the Country Kitchen.
Hopefully Lajuanna can last another few years so more NHS kids can enjoy the traditions that have become a part of the downtown Newberry Country Kitchen.
# # #
Submit your story by
Emailing This email address is being protected from spambots. You need JavaScript enabled to view it.
Add a comment
Add a comment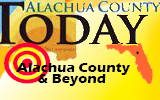 NEWBERRY – Cane Day without bottles of traditionally made sugar cane syrup is unimaginable.
Dudley Farm Historic State Park is working to preserve its historical sugar cane syrup boiling complex by building a new one.
Morgan Tyrone, the park manager for Dudley Farm, said the original furnace was used so much that it couldn't take the continuous wear and tear and risked being damaged beyond repair. The original furnace was build by the Dudley family, the homesteaders and farm namesake.
Tyrone said the only way to keep its historical value is to build a modern replica that can be used eight times a year without structural damage.
The new firestone brick furnace will be safer to use than the original lime rock. It will make about eight gallons of syrup, which is two gallons more than its predecessor.
Friends of Dudley Farm is funding the project with a $10,000 budget, according to Bill Dunk, a member of the Cane Day committee. And donations are being requested to help purchase the furnace.
To date, an 80-gallon cooking kettle was purchased for $700 and a cane mill for $500.
The next steps, which are required to finish the project, include building the furnace and the 12 X 24 sq. ft. pole barn, and mounting the cane mill.
The complex is scheduled for completion on Nov. 1, giving volunteers enough time to begin making the syrup the second week of November.
Dunk said if the project isn't finished by then, they're in trouble, as that will affect the amount of syrup sold at Cane Day.
The $5,000 made from cane day sales helps fund the park.
"With state cutbacks they [Dudley Farm] really need the money," Dunk said.
Cane Day is the park's largest event. There have been years when syrup sold out in the first two hours, according to Tyrone. This year Cane Day will be Dec 1.
Dudley Farms is listed on the National Register of Historic Places, and through three generations of the Dudley family, represents Florida farming from the 1850s to the mid-1940s. It is an authentic working farm, which includes the family farmhouse, complete with original furnishings. In addition to the cane syrup area, there is a general store, post office and an 1880s kitchen outbuilding.
The park is located at 18730 W. Newberry Road, Newberry, and is open from 9 a.m. to 5 p.m. Wednesday through Sunday, closed Monday and Tuesday.
Persons wishing to help with fundraising for the new syrup boil complex can donate at the Friends of Dudley Farms web site, http://friendsofdudleyfarm.org/learn/goals.html or by check, marking the donation "syrup complex" and mail to Friends of Dudley Farm, lnc., 18730 West Newberry Rd., Newberry, FL 32669.
# # #
Email This email address is being protected from spambots. You need JavaScript enabled to view it.
Add a comment
Add a comment
Details

Published on

Sunday, 15 July 2012 14:01

Written by Special to Alachua County Today
Hits: 1471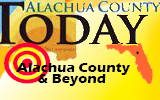 ALACHUA – In 1925 Helen Keller challenged Lions to become "Knights of the blind in the crusade against darkness."
Lions Club members have worked on projects designed to prevent blindness, to restore eyesight and improve eye health and eye care for hundreds of millions of people worldwide. Since 1990, Lions have raised $415 million through two SightFirst fundraising campaigns to help provide vision for all.
The Alachua Lions Club has successfully completed their $20,800 contribution over the past five years. Through the effort of Lions, over 15 million children have had their sight saved through eye screening, glasses and treatment through Sight for Kids; helped to eliminate the spread of trachoma in Ethiopia by providing 10 million doses of a sight-saving drug; improved eye care for 100 million people by training more than 650,000 people worldwide; distributed more than 147 million treatments for river blindness; provided 8 million cataract surgeries, and vaccinated 41 million children in Africa against measles --- a leading cause of childhood blindness.
Lions International has paired with the Bill and Melinda Gates Foundation in eradicating measles in Africa where as many as 400 children die a day from measles. Through coordination efforts with various organizations, measles, river blindness and trachoma can be eradicated for $1 for each person treated. Past President Jimmy Carter, a Lion, has been instrumental in distributing the medicines to third world countries.
The Alachua Lions have been involved with the Alachua community since 1931. Even though the Alachua Lions have contributed $20,800 to the SightFirst campaign serving world-wide, their focus has always been for the Alachua community first.
Each year the Alachua Lions have provided eye screenings, eye glasses, eye surgeries, hearing aids, a college scholarship to a Santa Fe High School student, mentors to tutor at Alachua Elementary, Food 4 Kids of Alachua, recreation and team sport programs for youth, literacy programs, and many other projects for people in need.
The Alachua Lions Club has also proudly sponsored Boy Scout Troop 88 for over 75 years. The club has also sponsored cub scouts and has pledged to pay dues for any child who needs the assistance to belong to a scouting organization.
It is due to the continued support of the Alachua community in participating in the various fundraising activities through-out the year that the Alachua Lions Club is able to provide these services. All funds raised from the public must go back to help those in need.
# # #
Submit your story by
Emailing This email address is being protected from spambots. You need JavaScript enabled to view it.
Add a comment
Add a comment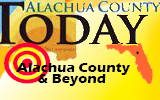 ALACHUA – The new Alachua County school grades for the 2011-2012 school year indicate that while many schools in the area are progressing, some have taken a step back.
The school district assigns letter grades to schools, using students' FCAT scores to measure both performance and learning gains. Learning gains are achieved when a student scores a 3 or higher on the FCAT 2.0.
High Springs Community School maintained its solid performance, receiving an A as it has every year since 2001. Newberry Elementary faltered slightly, dropping to a B, down from last year's A.
Alachua Elementary dropped a letter grade for the fourth consecutive year, earning a D after earning an A in 2009, a B in 2010 and a C in 2011. Likewise, Waldo Elementary dropped to a D from last year's C.
Grades for Alachua County high schools have not yet been assigned.
The entire list of Alachua County elementary and middle school grades for the 2012-2012 school year:
Elementary
Alachua D
Archer A
Chiles A
Duval C
Finley A
Foster A
Glen Springs B
Hidden Oak A
High Springs A
Idylwild B
Lake Forest F
Littlewood B
Metcalfe F
Newberry B
Norton C
Rawlings C
Shell D
Talbot A
Terwilliger A
Waldo D
Wiles A
Williams C
Middle
Bishop B
Ft. Clarke A
Kanapaha A
Lincoln A
Mebane C
Oak View A
Westwood B
# # #
Email This email address is being protected from spambots. You need JavaScript enabled to view it.
Add a comment
Add a comment
Details

Published on

Monday, 09 July 2012 20:10

Written by Special to Alachua County Today
Hits: 1207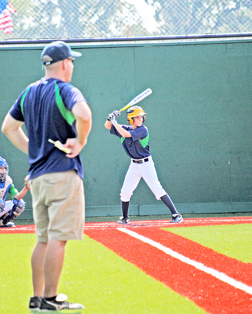 NEWBERRY – Action was happening this weekend at Nations Park in Newberry. The heat did not stop the games and teams from far and near played all day. Trent Simmons from Newberry and Trey Drummond from Chiefland played on south Georgia's "Chain Dirt Dogs." Simmons said he enjoyed meeting the other kids and working together to form a good team. Playoffs are schedule for this week, so if you want to watch them play head out to the ball field south of Newberry.
# # #
Submit your story by
Emailing This email address is being protected from spambots. You need JavaScript enabled to view it.
Add a comment
Add a comment