ALACHUA – The City of Alachua has prevailed in a seven-year litigation with the developer of the Heritage Oaks commercial and residential development adjacent to Santa Fe High School on U.S. Highway 441.
"On March 9, less than 24 hours after presenting its argument before the First District Court of Appeal, the City received an opinion upholding the final judgment rendered in favor of the City by the trial court," said Alachua Assistant City Manager Adam Boukari in a press release.
The case has undergone several twists and turns, including the City's appeal of the original results of a jury trial in which $3.9 million was awarded to developer John Curtis, Jr. on the grounds that the City interfered in the development of the subdivision.
Curtis was forced to abandon the project after the City banned him from working on the subdivision.
In the case, Heritage Oaks residents were able to show the damages that had occurred to their homes since he left the project, noting sagging roofs and unpaved roads as some of the issues that the development faced, according to reports.
Curtis alleged the city breached contract and interfered with the development. The trial called attention to issues relating to quality of construction, such as improperly paved roads. Photos at the trial showed that wastewater pipes had been repaired using duct tape.
According to reports filed by the court, Judge Hulslander set the jury verdict aside and called for an appeal because he felt that the City did not interfere with the construction, said David Theriaque, attorney for the City handling the lawsuit.
"He believed the jury verdict form was flawed and that a new trial needed to be held," Theriaque said at that time. "It invalidates the $3.9 million jury verdict."
The judge then made a summary judgment in favor of the City, which was upheld March 9 by the Florida District Court of Appeals after they heard attorneys from both sides present their cases.
"The City is pleased with the Court's decision and the conclusion of the lawsuit," said Boukari.
# # #
Email Cwalker@
alachuatoday.com
Add a comment
Add a comment
LACROSSE – Three members of LaCrosse's town council will keep their seats after they were unopposed for an election that was scheduled to take place on March 8.
Mayor Dianne Dubberly, Vice Mayor Tom Ewing and Councilwoman Jennifer McLendon will each be returning to office.
Dubberly said no other candidates qualified to run for those seats.
"We're a small town and really getting people to serve is not the same as it is in a large town," she said. "When you're a town council person, it is not unusual not to have any opposition when your term ends."
McLendon said the town's efforts to advertise the elections included a Facebook page, a notification on LaCrosse's website and newspaper advertisements.
"I was also passing it around word of mouth as well," McLendon said.
She said she believes the lack of participation is due to a general apathy toward local government.
"In towns this size, it's very common not to have elections because there's not enough people to generate interest in the election," she said.
The only time she recalled a turnout of more than five to six people at a council meeting was during discussion over LaCrosse's fire department.
"But, as for day-to-day governing, there's not a whole lot of interest."
The council members will be sworn in for another two year term in April.
# # #
Email Korrego@
alachuatoday.com
Add a comment
Add a comment
NEWBERRY – After lengthy negotiations with the Alachua County Sheriff's Office (ACSO), the Newberry City Commission voted unanimously to opt out of the Alachua County Law Enforcement Municipal Service Taxing Unit (MSTU).
The decision was made during the Feb. 8 commission meeting.
Although it may appear that the city will soon be without law enforcement services, Mayor Bill Conrad said, "Not so. We will still have crossing guards, school resource officers, road patrols, etc." The city plans instead to negotiate a separate contract with ACSO to provide those services to its citizens.
At issue is how the City budgets for the services it receives from Alachua County. For the past 10 years, the City has had to issue what Conrad calls a "blank check" to cover those services.
"We have to agree to opt into the MSTU before we know what it will cost our city for law enforcement services," he said. "We can't budget for it because the amount isn't known at the time we have to agree to opt in. The MSTU amount increased by 28 percent in one year and our city has to pay it because we had already opted in."
City Manager Mike New tried to negotiate different deals with the Sheriff that would allow the city to know in advance what the MSTU amount would be.
"Apparently, that's not possible," said Conrad. "So this year we decided to opt out of the MSTU and write a separate contract with the Sheriff. We think that's a better deal because we'll have a contract, we'll know what services we're getting and how much we're going to pay before we go into the budget cycle."
By negotiating a separate contract with ACSO, Conrad believes the citizens will get more service for their money, and the City will know exactly what it is paying for and how much it will cost.
The City of Newberry will be paying for law enforcement either through the city's General Fund or through increased ad valorem taxes rather than through the separate charge that appears on tax bills as "Law Enforcement MSTU."
"That will cause city taxes to go up considerably...somewhere between one and two mills," said Conrad. "Right now our taxes are at about four mills. Citizens will see a significant increase in city taxes, which will be offset by a decrease in the fact that our citizens won't be paying MSTU."
An increase in ad valorem taxes, however, would require a unanimous vote of the city commissioners.
"The city opted out of the MSTU with a unanimous vote. We are hoping we will get a unanimous vote for the contract," Conrad said. "We are taking a little bit of a risk because it only takes one commissioner to negate the terms of the contract, but we are willing to take that risk."
The current MSTU agreement will be in place until Sept. 30.
Three items covered by the MSTU that commissioners want to ensure are included in the final contract are provisions for school resource officers, crossing guards and a marked car in Newberry.
Additional police presence when a road is closed for a parade or city event is also part of the MSTU services provided by ACSO according to ACSO Public Information Officer Art Forgey.
If the new agreement between ACSO and the City of Newberry does not address extra police presence for city events, the city will have to contract with the ACSO Extra Duty Coordinator to provide police presence for those events at a cost of just over $40 per hour, said Forgey.
"The charge pays for a deputy at an overtime rate, plus it allows for him to use the car and uniform," he said.
Sporting events for schools are paid for through a contract with the Alachua County School Board and would not be affected by the city's agreement.
"The Sheriff is concerned about Newberry and its citizens," Forgey said. "She wants to work out an amicable agreement with the City that both the City and County will be happy with. Once the City tells us what services they want to contract with ACSO to provide, we can
# # #
Email Cwalker@
alachuatoday.com
Add a comment
Add a comment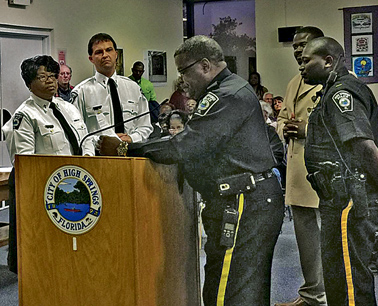 Photo special to Alachua County Today
HIGH SPRINGS – Following a program instituted by previous High Springs Police Chief Jack Anterio, two police chaplains were sworn in by current High Springs Police Chief Joel DeCoursey to serve members of his department.
Pastor Derek Lambert of the First Baptist Church of High Springs and Evangelist Jessica Hall were sworn in at a ceremony that took place during the High Springs City Commission meeting last Thursday.
In addition to commissioners and audience members, High Springs Police Department Executive Lieutenant Antoine Sheppard and Chaplain Program
# # #
Email Cwalker@
alachuatoday.com
Add a comment
Add a comment
Photo special to Alachua County Today
LaCrosse Mayor Diane Dubberly, right, was recently honored by the Florida League of Cities for 30 years of service.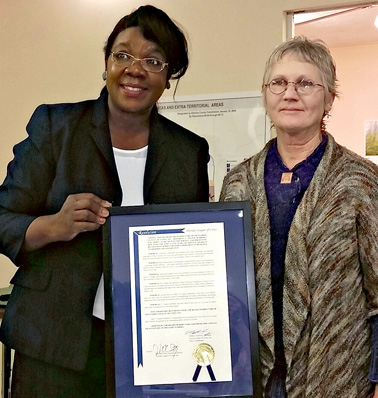 Add a comment
Add a comment