NEWBERRY – After lengthy negotiations with the Alachua County Sheriff's Office (ACSO), the Newberry City Commission voted unanimously to opt out of the Alachua County Law Enforcement Municipal Service Taxing Unit (MSTU).
The decision was made during the Feb. 8 commission meeting.
Although it may appear that the city will soon be without law enforcement services, Mayor Bill Conrad said, "Not so. We will still have crossing guards, school resource officers, road patrols, etc." The city plans instead to negotiate a separate contract with ACSO to provide those services to its citizens.
At issue is how the City budgets for the services it receives from Alachua County. For the past 10 years, the City has had to issue what Conrad calls a "blank check" to cover those services.
"We have to agree to opt into the MSTU before we know what it will cost our city for law enforcement services," he said. "We can't budget for it because the amount isn't known at the time we have to agree to opt in. The MSTU amount increased by 28 percent in one year and our city has to pay it because we had already opted in."
City Manager Mike New tried to negotiate different deals with the Sheriff that would allow the city to know in advance what the MSTU amount would be.
"Apparently, that's not possible," said Conrad. "So this year we decided to opt out of the MSTU and write a separate contract with the Sheriff. We think that's a better deal because we'll have a contract, we'll know what services we're getting and how much we're going to pay before we go into the budget cycle."
By negotiating a separate contract with ACSO, Conrad believes the citizens will get more service for their money, and the City will know exactly what it is paying for and how much it will cost.
The City of Newberry will be paying for law enforcement either through the city's General Fund or through increased ad valorem taxes rather than through the separate charge that appears on tax bills as "Law Enforcement MSTU."
"That will cause city taxes to go up considerably...somewhere between one and two mills," said Conrad. "Right now our taxes are at about four mills. Citizens will see a significant increase in city taxes, which will be offset by a decrease in the fact that our citizens won't be paying MSTU."
An increase in ad valorem taxes, however, would require a unanimous vote of the city commissioners.
"The city opted out of the MSTU with a unanimous vote. We are hoping we will get a unanimous vote for the contract," Conrad said. "We are taking a little bit of a risk because it only takes one commissioner to negate the terms of the contract, but we are willing to take that risk."
The current MSTU agreement will be in place until Sept. 30.
Three items covered by the MSTU that commissioners want to ensure are included in the final contract are provisions for school resource officers, crossing guards and a marked car in Newberry.
Additional police presence when a road is closed for a parade or city event is also part of the MSTU services provided by ACSO according to ACSO Public Information Officer Art Forgey.
If the new agreement between ACSO and the City of Newberry does not address extra police presence for city events, the city will have to contract with the ACSO Extra Duty Coordinator to provide police presence for those events at a cost of just over $40 per hour, said Forgey.
"The charge pays for a deputy at an overtime rate, plus it allows for him to use the car and uniform," he said.
Sporting events for schools are paid for through a contract with the Alachua County School Board and would not be affected by the city's agreement.
"The Sheriff is concerned about Newberry and its citizens," Forgey said. "She wants to work out an amicable agreement with the City that both the City and County will be happy with. Once the City tells us what services they want to contract with ACSO to provide, we can
# # #
Email Cwalker@
alachuatoday.com
Add a comment
Add a comment
Photo special to Alachua County Today
LaCrosse Mayor Diane Dubberly, right, was recently honored by the Florida League of Cities for 30 years of service.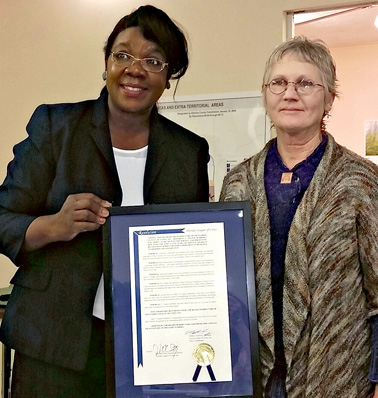 Add a comment
Add a comment
NEWBERRY – Representatives from The Florida Department of Transportation (FDOT) held a public information meeting last Thursday to further talks about a controversial two-way pair road system to be constructed on State Road 26 through Newberry.
The purpose of the roads, according to Newberry City Commissioner Jordan Marlowe, is to be able to transport large numbers of people from the west of Florida to the east in case of an emergency.
The gathering was a continuation of the first meeting held on June 11, 2015, where three alternatives that addressed capacity improvements were proposed.
The two-way pair system was recommended for further consideration as a result of comments received at the June meeting.
Under this plan, FDOT would construct four new lanes of traffic that would begin west of County Road 337. The lanes would continue until 264th Street, where they'd split to create a two-way pair system.
SR 26 would diverge into a one-way street running east, while NW 1st Avenue would become a one-way street running west.
The total cost of the project is projected at approximately $15.5 million.
Construction would tentatively begin in 2025 with completion within the next two years.
About 30 people stayed after the meeting in order to voice their concerns during a public comment forum with FDOT Project Manager Stephen Browning and Planning and Environmental Manager Bill Henderson.
One young mother was worried about the safety of her small child.
"We purchased [our] property because it was not on a main street," she said. [The proposed road] is going to be right past my house. People are not going to go that speed limit. You're taking away that stop sign, so the road is going to be less safe for my child. There's going to be more litter on the road."
Another citizen voiced concern that Newberry's fate would be similar to that of Waldo, a nearby town once notorious for its highway speed traps.
Marlowe said that while the changes might be beneficial for Florida at large, they won't be for Newberry.
Residents on 1st Avenue would be sandwiched between two two-lane roads in which traffic never stops or slows down, he said.
"It becomes potentially hazardous for kids who are crossing the road," he said.
Besides the social consequences, Marlowe mentioned how businesses on 1st Avenue would be negatively impacted.
"Everybody drives very quickly down Newberry [Road] to get to their job," he said. "And the west-bound traffic will be on 1st Street where all the residents are. So, the businesses would lose their drive-by traffic at the time of the day where they might be more inclined to do an impulse stop.
"Right now they live on a quiet street in a small town. They would be living on a very busy freeway style street. That's what they feel."
# # #
Email Korrego@
alachuatoday.com
Add a comment
Add a comment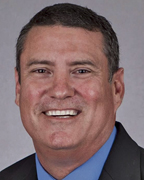 HIGH SPRINGS –Governor Rick Scott announced three new appointments and five reappointments to the State of Florida's Construction Industry Licensing Board last week. Among the new appointments is Scott Thomason, 46, building official for the City of High Springs.
Thomason, who is from neighboring Ft. White, has been High Springs' building official since June 2015. He is one of only two building officials named to the licensing board. He holds four state contractors licenses and is a third generation contractor. Thomason succeeds Edward Weller and is appointed for a term beginning January 27, 2016, and ending October 31, 2018.
"I am very honored to receive this appointment both personally and professionally," said Thomason. "I have always been a proponent of contractors being properly licensed. Unlicensed contractors put people's lives and property in danger."
Thomason and the Florida Department of Business and Professional Regulation (DBPR) recently conducted a sting operation in High Springs to try to put a stop to unlicensed contractor activity. On Jan. 5, DBPR issued a Consumer Advisory announcing that 13 unlicensed contractors were found to be doing business in Alachua County. "The unlicensed individuals offered professional electrical and construction services that require a license issued by DBPR," said the Consumer Alert.
"Although the police were involved in this sting," said Thomason, "most of the penalties this time were financial. I don't think that will be the case next time."
The Construction Industry Licensing Board's responsibilities include working with contractors who are trying to get their licenses and with contractors who have had issues that need to be resolved; reviewing and approving contractors' license applications; and suspending or revoking licenses.
The Board meets 11 times per year at different locations in central Florida.
Other new members named to the Board include Michael Strickland, Lakeland, a building contractor and the president of Strickland Construction, Inc. and Rachelle Wood, Jupiter, a sheet metal contractor and the president of Dolphin Sheet Metal, Inc.
Members reappointed include Mary Layton, Tampa, a general contractor and the senior project manager for Walbridge; William "Brian" Cathey, Port Saint Joe, a general contractor and the president of Cathey Construction and Development; Aaron Boyette, Tallahassee, the president of PSBI; James Evetts, New Port Richey, a building official and floodplain manager for the City of New Port Richey; and Roy Lenois, Daytona Beach, a pool contractor and the chief executive officer of Artesian Pools of East Florida Inc.
All appointments are subject to confirmation by the Florida Senate.
# # #
Email Cwalker@
alachuatoday.com
Add a comment
Add a comment
GAINESVILLE – For two weekends each year, the clear blast of trumpets mingles with the laughter of children as the kingdom of Hoggetowne opens its gates. Performers in period garb sing and dance in the streets, while knights joust on horseback and magicians captivate the crowds. Tucked away in the enchanted forest of the Alachua County Fairgrounds in Gainesville, this medieval marketplace will come to life Jan. 30-31 andFeb. 5-7.
Hoggetowne is home to more than 160 talented artisans from across the country who journey to the faire to sell and demonstrate their wares, offering medieval crafts such as weaving, blacksmithing, leatherworking, wood carving and glass blowing. Fairgoers can browse through a selection of delicate medieval jewelry or glimpse into their future with a mystical fortune teller.
"Visitors should arrive early to take full advantage of the exciting medieval magic," said Linda Piper, faire coordinator. "Each morning, all the entertainers greet the Hoggetowne guests as the city gates open to this enchanted kingdom."
The sound of applause echoes from the faire's nine stages, where the forgotten skills of full-flight falconry, gripping aerial acrobatics and old-world magic come to life. Jugglers, knife throwers and gypsy dancers add to the excitement as they fill the streets of Hoggetowne.
"Visitors should plan to spend the entire day enjoying Hoggetowne's enticing blend of artwork, period music and medieval traditions," Piper said. "People wait all year for this highly anticipated event."
One of the faire's most popular attractions is the joust. The audience cheers on their champion as the armored knights charge across the field wielding lances or swords as they battle on horseback. Afterwards, children can meet the knights and their magnificent steeds.
This year's theme is "The Adventures of King Arthur," where you can meet King Arthur, Queen Guinevere, Merlin and the Knights of the Round Table as they battle the forces of evil during a living chess game in a stunning show of combat entertainment.
Visitors can also engage in traditional medieval games of chance and skill. They can shoot arrows or hurl battle axes at targets, or they can navigate their way through a winding maze. Thrilling, human-powered push rides, as well as camel and pony rides, attract eager children and adventurous adults.
Children can also enjoy the faire's School Day Friday, Feb. 5, in which thousands of students from Florida journey to Hoggetowne for a day of face painting, hair braiding and medieval crafts. General admission tickets are reduced and larger discounts are available to school groups that register in advance.
"It's so great to be able to provide this educational opportunity to children who are learning about medieval times in their schools," Piper said. "This is a chance for students to see the Middle Ages come to life."
After roaming the streets of Hoggetowne and working up an appetite, both adults and children can enjoy a feast fit for a king at the food court. The tempting aromas of freshly baked pastries, blooming onions, sweet potato fries, giant turkey legs and succulent ribs attract scores of lords and ladies.
Produced by the City of Gainesville Parks, Recreation and Cultural Affairs Department, the Hoggetowne Medieval Faire draws more than 53,000 guests each year. On Saturdays and Sundays, the faire is open from 10 a.m.-6 p.m. \and costs $17 for adults and $7 for children age 5 to 17. The faire is free for children under 5. School Day, \Friday, Feb. 5, is open from 9:30 a.m.-3 p.m., and admission is $8 for adults and $3.50 for children. Pets are not permitted.
The Alachua County Fairgrounds is located east of Gainesville at 3100 NE 39th Avenue adjacent to Gainesville Regional Airport.
# # #
Email editor@
alachuatoday.com
Add a comment
Add a comment