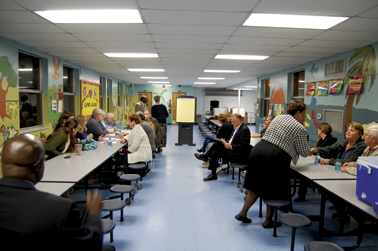 WALDO – Alachua County School Board Superintendent Owen Roberts paid a visit to Waldo on Monday, Dec. 8 to conduct the third community school board forum since he assumed his position this past summer.
Previous forums had about 60 people in attendance while Waldo's forum drew about 20 people who gathered in the school's cafeteria.
The crowd consisted of a mix of parents, teachers, school board members and city commission members. Once again, the group was given the same three questions offered to attendees at the previous meetings: What would you do if you were the new superintendent, how would you get parents more involved and what does the superintendent need to know about this community?
Once again, Roberts addressed the crowd before the forum.
"When you think about Alachua, sometimes people don't think about Waldo," Roberts said. "But I want you to know that this superintendent understands clearly that this is about the entire county."
Because of the smaller number, this time the group was able to go around and introduce themselves before the first question.
Throughout the night, many citizens spoke to the need of the children at the Waldo Community School. Waldo has only one school and it only goes up to the fifth grade. One group discussed the fact that the school is serving children from a broad spectrum of family situations.
One common theme that almost everyone touched on was the closeness of the community. Many groups said that what Waldo lacked in facilities, it made up for in small town feel. One said that the children felt safe and happy.
And although parent involvement could be improved, citizens said that the communication to and from teachers is not a problem at the school and that the teachers were generally well liked and respected.
Principal of Waldo Community School, Holly Burton, said she thinks the forums are beneficial to the community.
"I think it's important that they see that their input is valued, and that they have an opportunity to express what they think is important," Burton said.
Burton has been principal for two years and says she really believes in the teachers and the students.
"I think that the staff is extremely talented here and very hard working, and I think that the kids are amazing and I think that [the school] needs a self-esteem lift," she added.
At the close of the session, Roberts addressed the crowd once more.
"As I listen to your input, I want you to know that I am prepared to consider every recommendation or suggestion made very, very carefully," he said.
Roberts then spoke a little bit about his "100 days address" he would be giving the following day, assuring the citizens that moves are being made to better the education and lives of the children in the Alachua County community.
He mentioned a few of his plans, which included mobile classrooms out in the community and a new look at language development.
"Children's achievement is tied to their ability to use language, and that is critical," Roberts said.
"You should know that this superintendent cares about all of Alachua, not just Gainesville."
# # #
Email jhundley@
alachuatoday.com
Add a comment
Add a comment
HIGH SPRINGS – High Springs City Manager Ed Booth and the city commission are forging ahead to resolve issues that have lingered through the past several months, and in some cases, years. Commissioners approved a letter on Nov. 20, which is expected to be sent on or about Nov. 25, requiring property owners who are not paying for solid waste services to do so.
In previous meetings, Booth said the city has apparently known about this for some time, but has not had the manpower to identify those parties and address the issue. This past year property owners not in compliance have been identified and a letter to owners requiring them to abide by Section 62-37(b) of the High Springs Code of Ordinances will be sent to each.
The letter states that even if a property owner elects to dispose of their garbage and trash themselves, they will continue to pay the minimum monthly charge of $19.50. "This is a public health issue," said Booth. "We have the tools to resolve this problem and to make it less likely people will dump trash on vacant property in our city," he said in a subsequent interview.
A little more than 250 properties are currently not paying for solid waste removal, although some of them may be receiving the service. Aside from a public health issue, it also is a financial issue as the income from those properties which may already be receiving the service, but not paying for it, amounts to almost $60,000 a year in lost fees.
The letter states, "The monthly charge will be billed to your residence or business account through September 2015. After that time the annual amount, along with any unpaid amounts, will be assessed and paid through your property taxes. The deposit for garbage is fifty dollars ($50.00) and will be refunded to you once your garbage fees have been added to your property tax bill."
In other action, commissioners set workshop dates in January to tackle some of the items the previous commission had identified and requested workshops be held.
On Jan. 13 the city commission will hold a workshop concerning whether restaurants can serve hard liquor on Sunday. Part of that question also involves whether hard liquor can only be served in the business district or throughout the city.
On Jan. 20 the commission will hold a workshop to discuss the costs and benefits of continuing to provide a local police dispatch system.
In February, a symposium on economic development will be held, although the exact date has not been set as of this printing.
"I want to bring all the stakeholders to the table," said Booth. Business and industrial park owners will be invited to participate. "We need to create a pamphlet to hand out to businesses considering a move to this area...something showing future development opportunities. In the system we're in now, the county reacts to information provided by the state. We will continue to work through that system, but we need to determine what we can do to bring businesses to our area. What can we offer? Should we offer abatement as an enticement to businesses to come here? These and several more questions that need to be discussed and a plan of action needs to be produced," he said.
"We need to decide what types of businesses we want to attract to our area and aggressively go after them," he said.
# # #
Email cwalker@
alachuatoday.com
Add a comment
Add a comment
HIGH SPRINGS – High Springs City Commissioners approved a resolution at the July 24 regular commission meeting to set the ad valorem tax rate at 6.15 mills, the same millage rate the city set last year. Setting the proposed millage rate has the effect of setting a cap on the amount the city can charge for ad valorem taxes during the coming year. Once the cap is set and Alachua County is noticed, the city cannot exceed that millage rate.
The good news is that the commission can choose to lower that rate, and may actually do so this year.
City Manager Ed Booth already proposed a millage rate reduction from 6.15 to 6.1326 mills when he recently presented a balanced general fund budget of $3,923,601.
At the lower millage rate, citizens could see a slight reduction to their tax bill. However, if the taxable value of their property increased during the past year or some other change occurred, it is possible that property owners may not notice a reduction. However, those property owners will still reap the benefit as their next year's taxes will be lower than they would have been at last year's higher millage rate.
A reduced rate would mean the city can expect to realize approximately $5,000 less in revenues next year according to Booth, but he's planned for that and built it into his budget.
The proposed budget has a minimum of $25,000 set aside in the city's contingency fund for the coming year. "Last year's budget process saw very little money set aside for contingencies," said Booth.
His long-range goal is to reduce the millage rate slowly over the next five years, hopefully to 5.2 mills by the end of that time.
"The reduced rate I proposed this year is just a start," he said. "As the city gets better financially, I believe we should share with the citizens who have borne the brunt of less lucrative years along with the city," said Booth.
At Booth's proposed roll back rate of 6.1326 mills, all of the anticipated expenses would be covered plus the city would see a much-needed improvement to vehicles, including police cars, and equipment, as well as reasonable salary increases for employees.
Booth explained that the city is in much better financial shape this year than last and attributed it, in part, to increases in construction and, as a result, increases in inspection fees and income to the city. He also anticipates paying off loans taken out on previously purchased police vehicles and purchasing a new police car out of this year's budget and a second one out of next year's budget.
In addition, Booth anticipates the city will be able to pay off a bridge loan, which has cost $60,000 yearly, out of the coming year's budget. The loan was originally taken out as part of the sewer project.
"All of these things should put this city in a much better position financially by the time we have to sit down and plan a budget for the 2015/2016 fiscal year," said Booth.
Commissioners seemed generally pleased with the budget, but thought it might be possible to reduce the millage rate even further. They requested Booth and Finance Director Jennifer Stull provide them with figures on additional millage reductions.
A final determination of the millage rate will be set at a public hearing, which is currently anticipated to be on Sept. 11, at which time citizens can comment on the proposed millage rate and budget for 2014/2015.
# # #
Email cwalker@
alachuatoday.com
Add a comment
Add a comment
HIGH SPRINGS – The Madness and Mayhem event held recently in conjunction with Halloween, scared up some funding to help out three non-profit organizations whose members volunteered their time to the frightening haunted house. The High Springs Historical Society Museum, Our Santa Fe River (OSFR) and Plenty of Pit Bulls (POPB) each received $1,468 for their efforts in support of the production of M&M.
Presentation of each organization's check took place on Sunday, Nov. 16, and was made at a location that represented each group's interest. The steps leading up to the Historic High Springs Elementary School and Civic Center, which currently houses the Historical Society Museum, was the ideal place for that group's presentation, while Rum Island Springs at the Santa Fe River was the site for OSFR. A Gainesville park used for dog training classes was the choice of the POPB group.
It took a few days after the event for Creative Director Chris Scott, Technical Director Andy Phelan and Volunteer/Public Relations Director Terry Phelan to tally up the volunteer hours from each organization, said Bob Watson, President of High Springs Historical Society Museum.
Although the original plan was to divide the money based on each group's participation, "The number of volunteer hours from all three groups were close and they were all in it to the end," said Terry Phelan. "Under the circumstances, we decided the best way to divide the proceeds was equally," she said. "We left the 50 cents off of the presentation check, but they got it in the actual check," said Phelan with a chuckle.
"It took 80 volunteers and thousands of hours to put this together and then take it all down again," said Phelan. "It was remarkable how many people pitched in. Our volunteers were incredible," she said.
Pointing to one in particular, she mentioned Kent Brush, an artist who specializes in construction and design. "There were times he stayed until 3:30 a.m. to finish something he was working on. People sometimes volunteered their time for 12 hours or more in order to get everything completed on time," said Phelan.
In talking about what the Historical Society's contributions were to the project, Watson said their volunteers helped build some of the sets and props for the haunted house, which was located this year at the city's Historic High Springs Elementary School and Community Center, behind City Hall. "We helped put up the fence, set up and break down the sets, helped with lighting and a couple of our people helped out with sound," he said. "We probably had at least 1,000 volunteer hours into the set up and cleanup effort," said Watson.
While all three groups worked together to accomplish everything, some volunteers specialized in costuming and makeup, others in set design, painting and construction. "There was always something to do and all of our volunteers participated in all aspects of this project," said Phelan.
Asked about what was the worst part of the cleanup, Watson volunteered that the women's restroom was the worst. "People did makeup in the women's restroom and costuming in the men's restroom. There was fake blood everywhere in the women's room. If you didn't know any better, you would think a real massacre had occurred in there," he said.
It took two days to clean up the old building and bring it back to normal, said Terry Phelan. Watson, whose museum is housed in the same building as the haunted house, corroborated her story. "You'd never know anything had happened in there now," he said.
Watson said the proceeds his group received from this event will be put into a reserve account for the organization's many projects. "The money could be used for repairs to the city's first 1927 Brockway La France fire engine, a structure to house it or any one of the many other projects the museum is working on currently."
OSFR President Merrillee Malwitz-Jipson said their organization would be using their charitable donation for stationary and portable scanners. One of their projects involves a search for photos of the Santa Fe River that are 20 years old or older to archive, as well as to compare past and present water levels of the river.
POPB will use their donation to help support their efforts to foster and place pit bulls into forever homes. "We are always looking for foster homes," said POPB President Anna Peterson. The donation they received is not earmarked for one item, but will be used to help the organization continue to provide free veterinary care, training, food, toys and other accessories like collars and leashes. POPB not only provides free training for all dogs in foster care, but continues to provide additional training after an animal is adopted.
This year's haunted house fundraiser was so successful that the three co-directors have decided to begin the process of becoming a 501(c)3 non-profit charitable organization. "Our endeavors will be to raise money for local charities through a haunted house experience," said Phelan. "Our choice of charities will focus on those in which there are no paid employees."
# # #
Email cwalker@
alachuatoday.com
Add a comment
Add a comment
HIGH SPRINGS – The City of High Springs issued a statement Tuesday, April 8, notifying residents that the Florida Department of Transportation (FDOT) will be closing S.R. 45 (Main Street) at the railroad crossing Monday through Friday, April 14-18.
During the road closure, railroad tracks and accompanying railroad signals will be removed. City Manager Ed Booth said this section of track is a spur that is not being used. The roadway will be repaved and sidewalks will be replaced as part of the work.
Donna Whitney, FDOT's District Railroad Coordinator, will alert the city to the detour plan when it has been finalized. Meanwhile, any questions about the temporary road closing should be directed to High Springs City Hall at 386-454-1416.
# # #
Email cwalker@
alachuatoday.com
Add a comment
Add a comment