ALACHUA – Economic development is not a new concept in Alachua. As the second largest municipality in the county, the City of Alachua has been in the forefront the state's burgeoning biotechnology industry as well as home to several large distribution centers and associated support businesses. But while the biotech hub is located along U.S. Highway 441 and the distribution centers are located in proximity to Interstate 75, the City of Alachua is now turning its economic development efforts to Main Street and the downtown area.
What began with a workshop in January spearheaded by the City of Alachua has now resulted in a draft market study and economic development plan for the downtown area. Redevelopment Management Associates (RMA) was retained by the City to develop strategies for downtown economic development. In addition to the workshop, the firm conducted a survey of local business owners to gain insights into existing conditions and ways to improve the business climate throughout the city and downtown.
The City of Alachua City Commission and RMA will be holding a public workshop on June 13 to present a draft market study and economic development implementation plan for Main Street and the Community Redevelopment Area.
Some of the issues raised at the January workshop included possible ways that traffic along U.S. 441 could be directed to the business district in downtown Alachua; the creation of adequate parking; better signage; how to maintain foot traffic on Sundays when some stores are closed; removing stop signs on Main Street; modifications to city codes to encourage shorter business startup times; and ways to help keep retail buildings from being rented out as office space. Additional issues and suggestions were submitted through the survey process as well.
Kevin Crowder, Director of Economic Development at RMA said at the January workshop that the timeline for his firm's work would be to complete a market assessment by the end of February followed by development of an action plan.
The June 13 workshop will be held at 3 p.m. at Alachua City Hall in the Commission Chambers, 151 NW 142nd Terrace, Alachua. Interested parties are encouraged to attend.
# # #
Email editor@
alachuatoday.com
Add a comment
Add a comment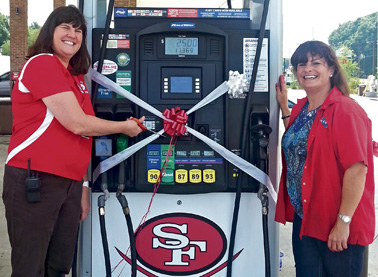 ALACHUA – A new gas pump at the Raceway gas station in Alachua near Publix and Santa Fe High School (SFHS) on U.S. Highway 441 is donating $.01 for every gallon sold to the athletic program at Santa Fe.
All 14 sports offered at Santa Fe will benefit from the fundraiser.
The principal of Santa Fe High School, Dr. Elizabeth LeClear, and Teala Yaus, manager at Raceway of Alachua, have headed the project.
It took Yaus over a month to organize and gain approval and garner help from others for the project.
"I worked with a great group of people from designers to the principal herself," Yaus said.
The "wrap" for the gas pump itself took weeks to design, print and apply. The concept was proposed on March 1, and as of May 11, it was officially up and running for business.
The gas pump profits will be maintained for the foreseeable future.
Yaus said she wants what is best for SFHS.
"I know of other gas stations in other areas that had this idea, but this is the first in Alachua," Yaus said.
# # #
Email Rbarnett@
alachuatoday.com
Add a comment
Add a comment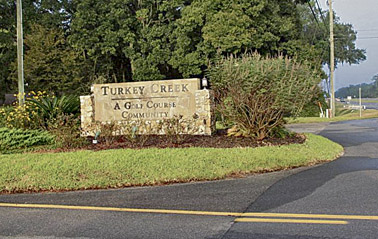 Alachua County Today file photo
ALACHUA – Following an open house co-hosted by The Turkey Creek Master Owners Association (TCMOA) and Billy Casper Golf, LLC (BCG) on April 25, TCMOA is attempting to gauge members' interest in having BCG become the golf management company to reconstruct the golf course and run the day-to-day management of the currently closed facility.
BCG has provided cost estimates to renovate and re-open the golf course in 2016. The sources of such funds are sale of a limited number of Platinum and Gold memberships (target of 30 members with a cap of 50), investment income and operational income from pre-opening and annual memberships.
"The potential partnership between TCMOA and BCG has created a unique situation for residents of the Turkey Creek community and surrounding area to participate in the revitalization and re-opening of the course," said Sarah Beavers in a Turkey Creek Master Owners Association email bulletin. "The ultimate success of the golf course reconstruction plan is dependent upon identifying a limited number of families (or individuals) that would be interested in purchasing Platinum or Gold level memberships as further defined in the attached Membership Offering packet."
TCMOA is sponsoring this initial membership drive to help raise the necessary funds to restore the course. TCMOA is accepting non-binding Platinum and Gold membership reservations through May 25. The reservation forms will be accepted on a first-come, first-served basis. Anyone interested in becoming a Platinum or Gold level member needs to sign a reservation form and return it to TCMOA by the May 25 reservation date.
Membership fees run from $18,000 - $45,000, depending on whether a property owner chooses Gold Single or Platinum Unlimited Plus. Different plans come with options which include the use of a cart, length of the plan and other amenities.
After May 25, TCMOA will determine whether there is sufficient interest to proceed with the new Club Membership program.
Interested parties with questions or for further information related to the Platinum or Gold membership plans may email This email address is being protected from spambots. You need JavaScript enabled to view it. .
# # #
Email Cwalker@
alachuatoday.com
Add a comment
Add a comment
NEWBERRY – The annual audit of the City's fiscal year 2014-2015 financial statements has been completed by Purvis, Gray & Company, the city's independent audit firm. Auditors Ron Whitesides and Barbara Boyd delivered the results to city commissioners at their May 23 meeting.
Overall, the City received an "Unmodified" Opinion on its Annual Financial Report, the best level an organization can receive on its financial statements.
The audit included a review, on a test basis, of documents supporting the amounts and disclosures in the financial statements. The audit also included assessing the accounting principles used and significant estimates made by management, as well as evaluating the overall general purpose financial statement presentation.
"We are happy with the report," said Dallas Lee, Finance Director. "We almost always receive an unmodified opinion, which we are very proud of," he said.
"At the end of the year, our assets exceeded our liabilities by more than $25 million. The city reduced its debt by around $300,000, a little more than 3 percent," Lee said. "We put money into our reserves in most of our major funds. We saw an increase in revenue of 13 percent, and an increase in our expenses of 9 percent, which are both good increases.
"We're really pleased on the results of the audit. The auditors said a couple of times that we're making good progress putting money into our reserves."
Although Lee said he has a 13-page summary of the financial statements if anyone wanted a high level overview of the City's finances, he commented that the final budget amount for the same time period was just shy of $32 million.
"We had some refunding of some bonds, which inflates the budget amount, but that one-time money comes in and goes back out. Without those funds, our budget would be a little over $20 million," he said.
"Revenues were higher than we budgeted for and expenses were lower than we expected," said Mayor Bill Conrad. "Best practices require us to have six months operating expenses in reserve in our General Fund. We had a rough couple of years because of the recession and revenues have been low. In this last year things have turned around. We were able to add to our General Fund reserves and are headed in the right direction. We're happy about that."
# # #
Email Cwalker@
alachuatoday.com
Add a comment
Add a comment
Details

Published on

Wednesday, 18 May 2016 09:52

Written by Special to Alachua County Today
Hits: 992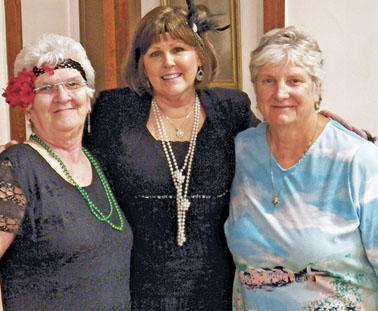 Photo Special to Alachua County Today
Honored for five years of service at this year's Hospice of Citrus and the Nature Coast Volunteer Appreciation Banquet held at the New Century Woman's Club in High Springs were Joyce Ida (left) and Janis Youngblood (right), surrounding Volunteer Manager Emily Hines, along with (unavailable for photo) Susan Beck, Hal and Linda Cohen, Sharlene Hotary and Julia Owen.
LECANTO – Hospice of Citrus and the Nature Coast celebrated National Volunteer Appreciation Month with its volunteers at Roaring 20s banquet events in High Springs, Chiefland, Citrus County, Lake City and Pomona Park.
During 2015, 770 volunteers provided the organization with 83,000 hours of service at a value of $1.8 million, enabling Hospice of Citrus and the Nature Coast to deliver services to patients, their families and neighboring communities; efficiently run its offices; staff its Hospice Thrift & Gift Shoppes; and speak about hospice services at community events.
Each Roaring 20s banquet featured music, period dancing and a sumptuous dining experience. Five volunteers were awarded pins for 15 years of service achieved in 2015, 16 volunteers for 10 years of service and 62 volunteers for 5 years of service.
Hospice of Citrus and the Nature Coast, a not-for-profit charitable organization licensed in 1985, provides comprehensively responsive and compassionate end-of-life services to terminally ill patients and their families in North Central Florida.
# # #
Email community@
alachuatoday.com
Add a comment
Add a comment